It can be frustrating when your Apple Watch gets stuck on the Apple logo. This can occur for various reasons, including software glitches, hardware problems, or even a failed update. Fortunately, there are several troubleshooting tips you can try and fix the Apple Watch stuck on Apple logo issue. This post will explore potential causes and provide solutions to help you resolve the problem.

Apple Watch Stuck on Apple Logo
Part 1. Why Is Apple Watch Stuck on the Apple Logo
A software glitch is one common reason for the Apple Watch to be stuck on the Apple logo. It can happen due to a failed software update or if your Apple Watch encounters an unexpected error during boot-up. If you recently updated your Apple Watch's software and it subsequently got stuck on the Apple logo, it is possible that the update process did not complete successfully.
Another possible cause for your Apple Watch being stuck on the Apple logo could be a drained battery. If the battery level is critically low, it may not have enough power to complete the boot-up process.
In some cases, hardware problems can lead to the Apple Watch getting stuck on the Apple logo. This can happen if there are issues with the display, the buttons, or other internal components.
Part 2. Five Ways to Troubleshoot Apple Watch Stuck on Apple Logo
As mentioned above, many factors can cause your Apple Watch to get stuck on the Apple logo. With a few troubleshooting steps, you can easily resolve the issue yourself. When your device screen is stuck on the Apple logo, follow the helpful tips below to get it back to normal.
Restart to fix Apple Watch stuck on the Apple logo
The first and simplest step to try is to restart your Apple Watch. Keep pressing the Side button until you see the Power Off slider. Then drag the slider to turn off your watch. After a few seconds, press the Side button again to restart it. This operation usually helps resolve minor software issues and can potentially fix the problem.
If the issue still exists, you can try force restarting it. Press the Side and Digital Crown buttons simultaneously for at least ten seconds. Release the buttons when your Apple Watch turns off, and the Apple logo appears.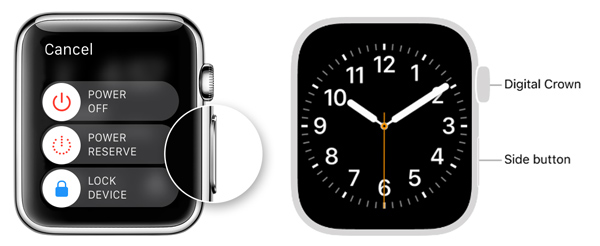 Charge the battery to fix Apple Watch stuck on Apple logo
Connect your Apple Watch to its charger and charge it for at least 30 minutes. Once the battery has sufficient charge, try restarting the watch again and check if the problem is solved.

Update watchOS to troubleshoot Apple Watch won't turn on
An outdated software version is one common reason for the Apple logo stuck issue. Updating your Apple Watch to the latest system can fix software-related bugs and glitches. To update your watch, ensure your iPhone is connected to a stable Wi-Fi and your Apple Watch is on its charger. Open the Watch app, go to the My Watch tab, tap General, and select Software Update. Follow the prompts to install the available update.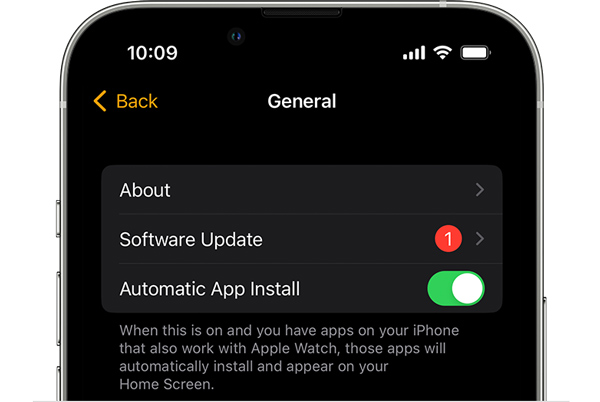 Hard reset your Apple Watch
If the above methods don't work, you may need to perform a hard reset on your Apple Watch. Before doing this, you should back up all valuable data, as a reset will erase all content and settings on your watch.
To factory reset your Apple Watch, open the Watch app on your iPhone, switch the My Watch tab, select your watch, tap the i button next to your watch, then choose Unpair Apple Watch. Follow the on-screen instructions to complete the unpairing process. Once the watch is unpaired, you can pair it again with your iPhone and set it up as a new device.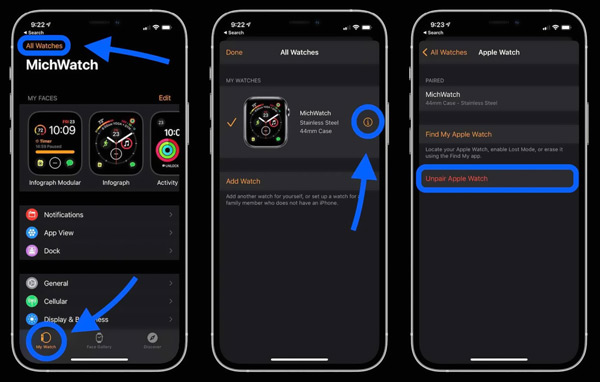 Contact Apple Support to troubleshoot Apple Watch stuck on the Apple logo
If you have tried all the troubleshooting steps mentioned above and your Apple Watch is still stuck on the Apple logo, it's recommended to seek help from Apple Support or visit an Apple Store. They have the expertise to diagnose and repair any hardware-related issues your Apple Watch may be experiencing.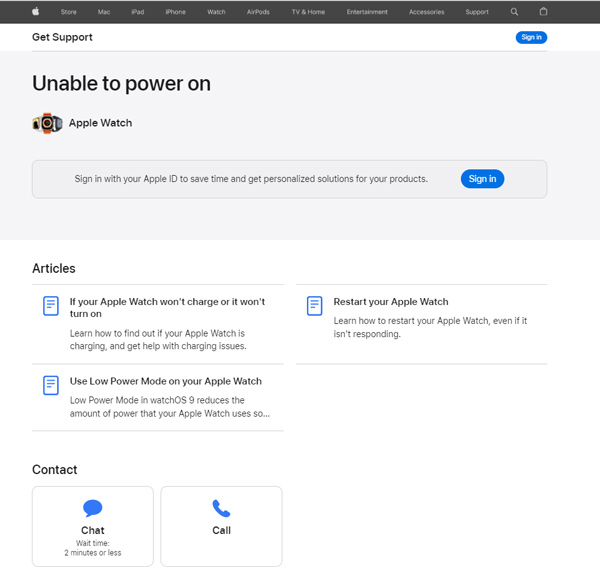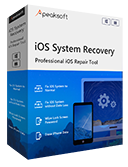 4,000,000+ Downloads
Troubleshoot system-related issues on iPhone and iPad without losing data.
Fix crashed iOS to normal safely and restore data from frozen Apple devices.
Offer Free Quick Fix and two repair modes to fix various issues.
Support all commonly-used iPhone and iPad models and iOS versions.
Part 3. FAQs of Apple Watch Stuck on Apple Logo
How to play a sound on your Apple Watch?
You can play a sound on your Apple Watch to find it in the Find My app. Open the app, tap the Devices tab on the bottom screen, select your Apple Watch in the list, then choose the Play Sound option.
How can I factory reset my Apple Watch?
You can factory reset an Apple Watch through the unpair method above. Also, you can go to your watch's Settings, choose General, then tap the Reset option. Here you can select Erase All Content and Settings, enter your password to continue, then tap Erase All to confirm your operation.
How to back up Apple Watch data?
All data on your Apple Watch will automatically be backed up to the paired iPhone. You don't need to manually back up it. Moreover, your Apple Watch data will be backed up to your iPhone when you unpair it.
Conclusion
When your Apple Watch stuck on the Apple logo, you can try restarting, force restarting, charging, updating, or hard resetting your watch. However, if none of these solutions work, you should consult Apple Support for further assistance. Remember to always keep your Apple Watch app up to date to minimize the risk of encountering such issues in the future.