There could be various possible reasons why an Apple Watch won't turn on. Whether your Apple Watch won't turn on after being dead or it suddenly shows a black screen and doesn't respond, you can check the most common reasons and learn five verified solutions to fix the issue.

Apple Watch Won't Turn on
Part 1. Why Won't My Apple Watch Turn On
When your Apple Watch won't turn on or charge, there are several possible reasons and solutions. Before telling you how to troubleshoot the problem, we explain some common reasons why an Apple Watch Series 7/8, Ultra, or SE might not turn on.
The most likely reason why an Apple Watch won't turn on is due to the battery. When your Apple Watch's battery is dead, you can't turn it on. If your Apple Watch doesn't turn on after being dead, it may be caused by a faulty charger. An Apple Watch sometimes won't charge because of a damaged cable.
An outdated watchOS or app bug may also cause an Apple Watch to not charge or turn on. The Apple Watch will freeze or get stuck on a black screen. Moreover, some incorrect settings can limit your use and cause the Apple Watch to not turn on. Also, if your Apple Watch is water-damaged, you will get the problem.
Part 2. Five Ways to Troubleshoot Apple Watch Won't Turn On
This part shares five useful tips to help you fix the Apple Watch does not turn on issue. Whether you use an Apple Watch Serious 6/7/8, SE, or Ultra, you can use them to turn your Apple Watch on with ease.
Check the Apple Watch battery and ensure it is charging
The most common reason why Apple Watch won't turn on is the battery issue. To check the battery level, press the side button on the Apple Watch once. If the battery is dead, the screen will remain black and won't turn on. To charge the Apple Watch, connect the charging cable to the back of your watch and wait for it to charge.
After connecting it to a charging cable and power, a green or yellow lightning bolt appears on the Apple Watch screen. Your Apple Watch will show a red lightning bolt on its screen to prompt you to charge it.

Ensure you use the official Apple Magnetic Charging Cable or USB-C Magnetic Fast Charging Cable. If it is still not turning on after charging for some time, check if the charging cable and adapter are working properly. Try charging your Apple Watch using a different charging cable and adapter. If the watch turns on and starts charging, the original charging cable and adapter may be the problem.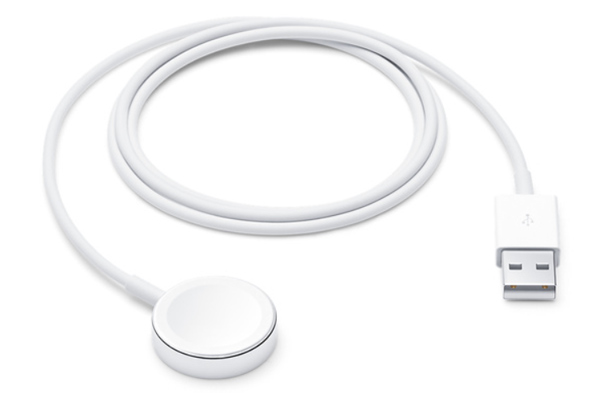 Restart to fix Apple Watch won't turn on
You can reboot your Apple Watch when it won't turn on or is unresponsive. Keep pressing the Side button to display the Power Off slider. Drag the slider to turn off the Apple Watch. After your watch turns off, press and hold the Side button to turn it on again.
If your Apple Watch does not respond, you should force restart it. Press the Side button and the Digital Crown simultaneously and hold them for at least ten seconds until you see the Apple logo. Release them when your watch turns back on. This operation will unfreeze its operating system and get Apple Watch working again.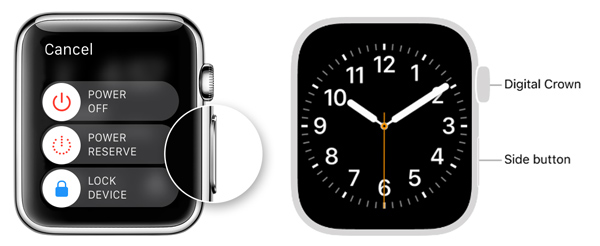 Update watchOS to troubleshoot Apple Watch won't turn on
Software updates are essential in keeping your Apple Watch functioning properly. Check if there is an available update for your watch when it doesn't turn on or charge. You should use an iPhone 8 or later with iOS 16 to update watchOS 9.
Before updating watchOS, you should charge your Apple Watch and ensure it has at least 50 percent battery. If your Apple Watch doesn't support the latest watchOS version, you can get the newest version that it can use.
Open the Watch app and tap the My Watch tab. Tap General and choose Software Update. If an update is available, tap Install. You may need to enter your iPhone or Apple Watch passcode to proceed. After that, you can see a progress wheel on the watch screen. When the update is complete, Apple Watch will turn on and back to normal.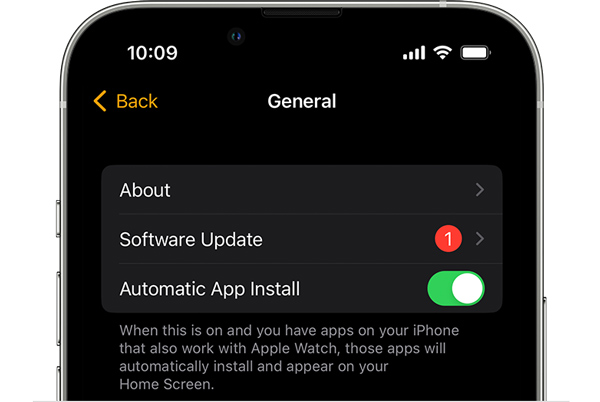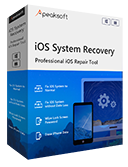 4,000,000+ Downloads
Fix various system-related issues on iPhone and iPad safely.
Fix crashed iOS to normal and rescue data from frozen Apple devices.
Offer Free Quick Fix and two repair modes to troubleshoot problems.
Support iPhone and iPad models in all commonly-used iOS versions.
Customize Apple Watch settings
If you mistakenly enable the Screen Curtain feature on your Apple Watch, it will turn the screen all black even when turned on. In that case, the Apple Watch will be operated by sound through VoiceOver. You can go to the Watch app on your iPhone to turn off Screen Curtain and VoiceOver. You can turn off these features in Accessibility under the General.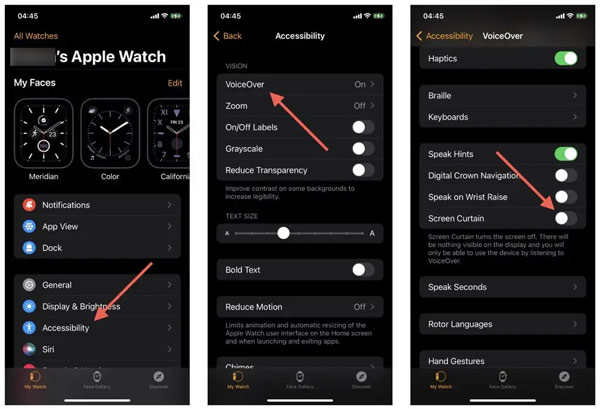 Contact Apple Support
Check if the Apple Watch has been exposed to water. If it is water-damaged, you should dry out the watch completely. If your Apple Watch doesn't turn on due to other hardware issues, contact Apple Support for assistance. They can diagnose the issue and give further guidance on resolving it.
Part 3. FAQs of Apple Watch Won't Turn On
How do you turn off your Apple Watch?
Press and hold the Side button to raise the Power Off slider, then drag it to turn your Apple Watch off. When your Apple Watch doesn't turn off, you can force restart it by pressing the Side and Digital Crown buttons at the same time.
How can I pair a new Apple Watch to my iPhone?
After turning your new Apple Watch on, you can wear it on your wrist, bring it close to your iPhone, then tap Continue and follow the prompts to connect your new Apple Watch to the iPhone. Also, you can open the Watch app on your iPhone, choose Pair New Watch, then follow the instructions to pair your new watch.
Where to turn off Power Reserve on Apple Watch?
You can easily exit the power reserve mode by restarting. Just keep pressing the Side button of your Apple Watch until you see the Apple logo. After restarting, the Power Reserve feature will be disabled automatically.
Conclusion
Many reasons may cause an Apple Watch won't turn on. But there are some useful tips you can try to fix it, including checking the battery, charging your Apple Watch, updating watchOS, restarting it, adjusting settings, and contacting Apple support. With these tips, you can get your Apple Watch back on.