When Windows 10 laptop became wired, which turned to be very slower and even freezing, some times suddenly corrupted, but the blue screen of death went green.
What is wrong with the laptop and how to fix green screen of death?
If there is one color that strikes fear into the hearts of Windows users, it is blue, of course. But some Windows owner found that the alarming screen of death was going green.

In this tutorial, we are going to share the basic knowledge of Windows 10 green screen, such as what it is, how to fix it, and how to protect your data when it occurs.
Part 1

: Green screen of death on windows 10 computer

Microsoft brought the new crash screen in Windows 10 build 14997. The green screen of death is used to test builds released through the Windows Insider program. There is a QR code on the death screen and users can report the bugs. Microsoft is able to distinguish between problems with consumer Windows 10 builds and those on early versions.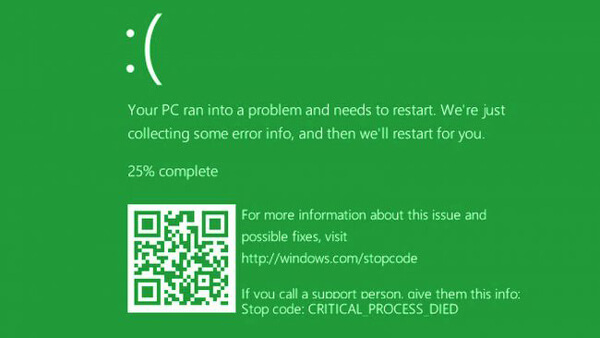 Recommend: Apeaksoft Data Recovery
In another word, green screen of death means something wrong on your PC, much like the blue death screen, so you need a professional tool to protect your data when it happens, such as Apeaksoft Data Recovery. Its key features include:
Get back files from your Windows 10 in one click.
Data recovery in various situations, including green screen of death happens.
Support a variety of data types and formats.
Restore files in original conditions, format and quality.
Look for all data arranged by types and formats for selectively recovery.
Quicker and lighter.
Moreover, Data Recovery is available to Windows 11/10/8.1/8/Vista/XP.
Download for Win
Download for Mac
In short, it is the best option to protect your data without loss even though green screen of death occurs.
Part 2

: How to Fix Windows 10 Green Screen of Death

In this part, you can learn multiple tricks to fix Windows 10 green screen of death and stop this problem occurring again.
Trick 1: Remove all peripherals
Many people use removal devices on their computer for backup and transferring data, but they may trigger the computer green screen issue, especially the unauthorized devices. In such cases, disconnect all peripherals, including external keyboard, and restart your PC. This problem should not appear again.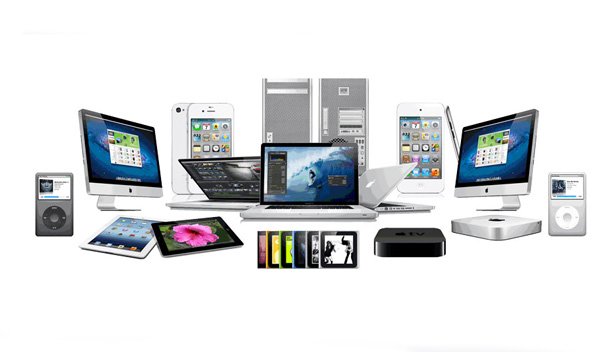 Trick 2: Disable antivirus software
Antivirus software is a kind of useful programs to protect Windows against virus, Trojan, ransomware and other malicious programs. That is why most Windows users have third-party antivirus software on their PCs. The problem is that antivirus software may be conflicted with new Windows 10 updates and activate green screen computer. The solution is simple: uninstall third party antivirus software.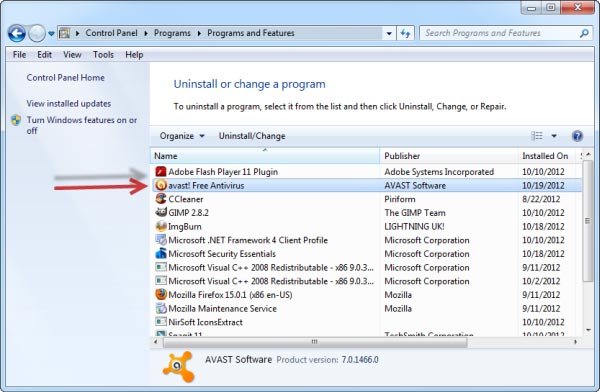 Trick 3: Update Windows drivers
Outdated drivers of key services could generate many problems, including the green screen of death. Generally speaking, Windows should install updates for primary drivers automatically. But if not, you have to update it manually.
Step 1: Reboot your PC and keep clicking "F8" key or "Shift + F8" before Windows logo appear.
If it is not feasible, insert Windows 10 DVD or bootable medium to open the boot options screen.
Step 2: Go to "Troubleshoot" > "Advanced Options" > "Startup Settings" and click "Restart" button. Wait for the Startup Settings menu to appear, you can choose "Enable Safe Mode" to boot into Windows Safe Mode.
Step 3: Expand the "Start" menu and open "Device Manager". Click each primary device, such as "Keyboards", right click on your keyboard and click "Update Driver Software".
You can try to select Uninstall on the menu bar and restart your PC. Windows will look for and install the latest drivers automatically.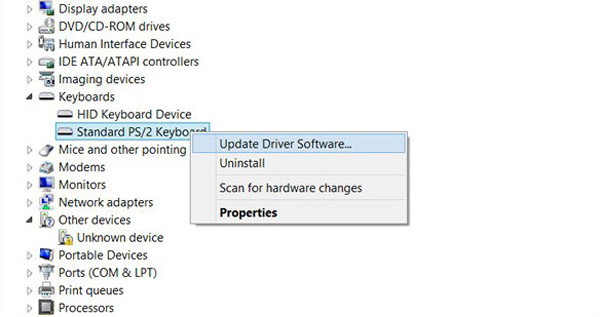 Trick 4: Try Windows 10 Troubleshooter
Microsoft has introduced many new features into Windows 10, including a Startup Repair for Windows 10 green screen troubleshooting.
Step 1: Download the Creators Update ISO file from Microsoft and create a Windows 10 DVD or bootable USB with an accessible computer.
Step 2: Put the bootable medium into your PC and restart it. When the Windows Installation screen pops up, you can head to "Repair your computer" > "Troubleshoot" > "Startup Repair" and select "Windows 10".
Step 3: Then the troubleshooting process will be trigger and all you need to do is to wait for it to finish.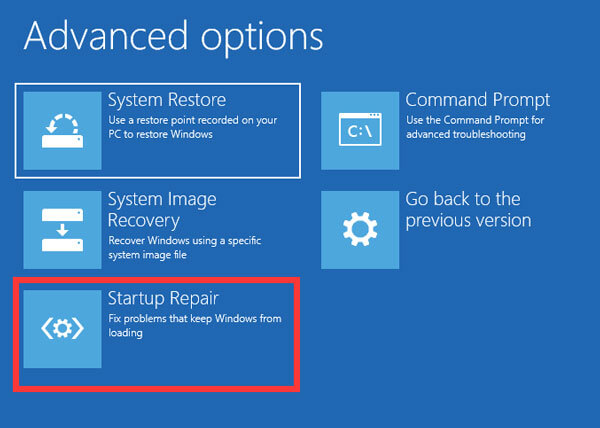 Trick 5: Reinstall Windows 10
The more dramatic trick is to reinstall Windows 10. This could fix green screen of death effectively.
Note: Reinstalling Windows will lose data on your drive, so you had better backup computer to iCloud, other external drives, etc
Step 1: Make sure to insert the bootable medium into your computer and reboot it.
Step 2: Choose your language and fill out other necessary information on the screen and click on "Install now".
Step 3: Follow the onscreen instructions to complete reset steps and reinstall Windows 10 on your PC.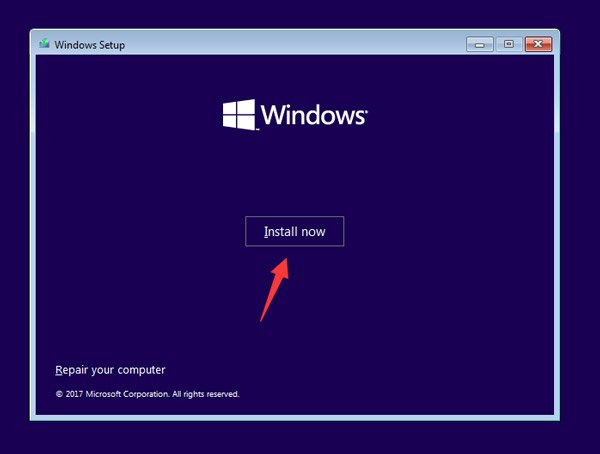 Part 3

: How to Protect Data from Windows 10 Green Screen of Death

Step 1: Scan entire Windows 10 to look for data

Install your hard disk on an accessible PC or connect it to a machine as external hard drive.

Download and install Data Recovery on the PC, and then launch it. Go to the Data Type area and choose what data types you want to recover. Then head to Location section and choose your hard disk. Click on the "Scan" button to start the data recovery process.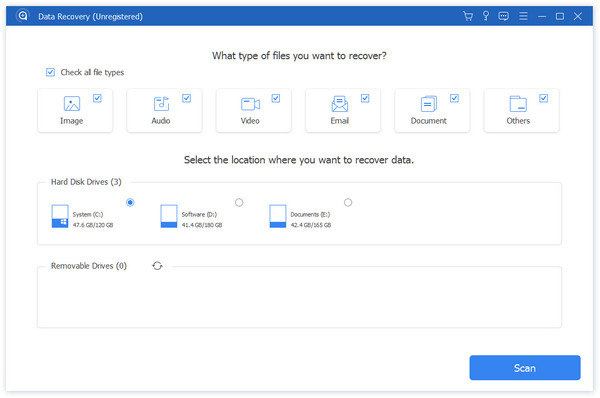 Step 2: Preview before data recovery after green screen of death
When the result window shows up, you can look at your files ordered by types and formats.
For instance, go to the "Audio" tab from left hand side, you can view all music and audio files readable on right detail pane.
To quickly find a single file, drop a key word into the top box and click "Filter" button.
Plus, the "Deep Scan" function at upper right corner is able to recover more data.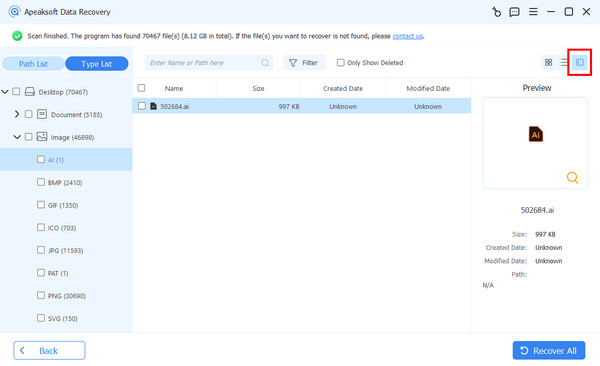 Step 3: Recover data in one click after green screen of death
Make sure to select all data that you'd like to recover by checking corresponding boxes and click the "Recover" button. Wait for the process to complete and you can use your data normally.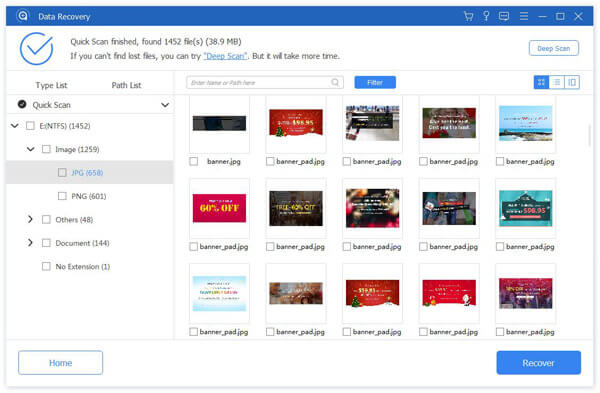 Part 4

: FAQs of Windows 10 Green Screen of Death

What does it mean when your screen goes green?

Usually, it could mean that the connectors to your monitor and PC are loose. You'd better make sure that both ends of your video cable are connected and secure.

Why is my Windows 10 screen green?

The problem might be caused by a bad video card. You can try reconnecting all your connectors. Or the problem could just be a bug in the unstable build.

Why does my computer screen go green when playing game?

The reason could be that the GPU rendering becomes incompatible with the system hardware. Or it might be caused by the outdated graphics card drivers, outdated Flash player, etc.
Conclusion
Encounter green screen of death on your Windows 10 PC? You may find what you need in our tutorial above. We not only shared troubleshooting to fix this problem, but also told you how to protect your data with Apeaksoft Data Recovery after green screen of death happens. We wished that our guides are helpful to you.