This piece of troubleshooting will talk about an important physical button on an iPhone, the Power or Side or Top button. Recently, lots of people asked how to fix the iPhone Power button not working on the Internet. Much like all other digital devices, although iPhones are high-end mobile phones, the components are vulnerable. If you encounter the same problem, don't worry! You can learn indispensable information from this post.

iPhone Power Button not working
Part 1: Why iPhone Power Button Stops Working?
There are many reasons why the iPhone Power button not working, such as it is dropped on the floor. Moreover, some software issues can lead to the problem too. According to our research, the main causes include:
1. The phone case interferes with the Power button on your iPhone. Some people prefer to use the phone case to protect their handsets, but that may block the physical buttons too.
2. There is too much dirt around the Power button.
3. Hardware damage.
4. Software issue. Some software issues, like incorrect settings, app conflict, or viruses, can lead to this problem.
Part 2: What You Can Do When iPhone Power Button Not Working
Compared to the causes, you may care more about how to fix this problem and whether it is possible to turn off your iPhone without the Power button. Here we list six actionable solutions.
Solution 1: Enable AssistiveTouch
The Power button is also used to perform a variety of tasks, such as taking screenshots, putting the iPhone to Recovery Mode, and more. However, as its name indicated, the Power or Side or Top button is primarily used to turn on or off an iPhone. Can you restart an iPhone or iPad without a Power button? The answer is AssistiveTouch, an accessibility feature.
Step 1 By default, the AssistiveTouch feature is disabled. To turn it on, go to the Settings app, head to Accessibility, tap Touch and then AssistiveTouch, and toggle on AssistiveTouch.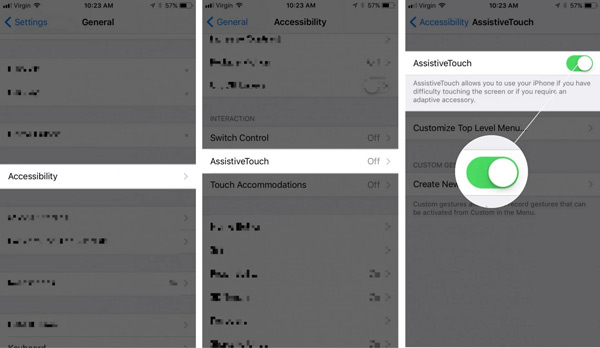 Step 2 Now, you will see a button that floats on any screen.
Step 3 When you need to restart your iPhone, tap the AssistiveTouch button, go to Device, then More, and tap Restart.
Step 4 When prompted, tap Restart again.
Solution 2: Remove the Phone Case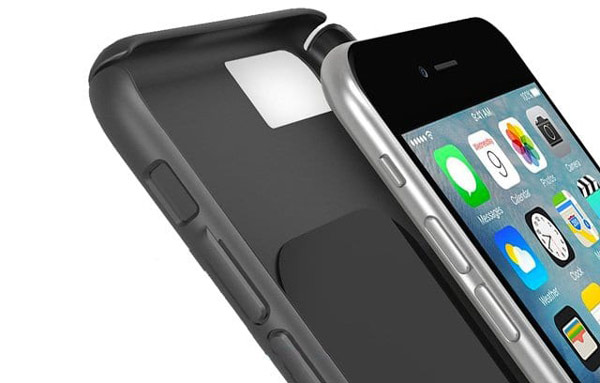 When the Power button is not working on your iPhone, the first thing you should do is remove the phone case. Each iPhone model has a unique design. The Power button locates on the top of the iPhone 5 and older, and on the side starting with the iPhone 6. Therefore, an inappropriate phone case may block the physical buttons on your device. The solution is simple, remove it from your handset.
Solution 3: Clean the Power Button
As mentioned previously, dirt and dust may be responsible for the problem that iPhone or iPad Power button gets stuck. You can clean your phone and resolve this problem quickly.
Step 1 Remove the phone case and other accessories from your iPhone.
Step 2 Check for debris or dirt around the button.
Step 3 Next, clean it with a soft cotton swab. Then try the Power button gain.
Solution 4: Adjust the Click Speed of the Side Button
Another solution to make the Power button work normally on your iPhone 11 or other models is adjusting the click speed. You can choose the double or triple-click speed according to your preference.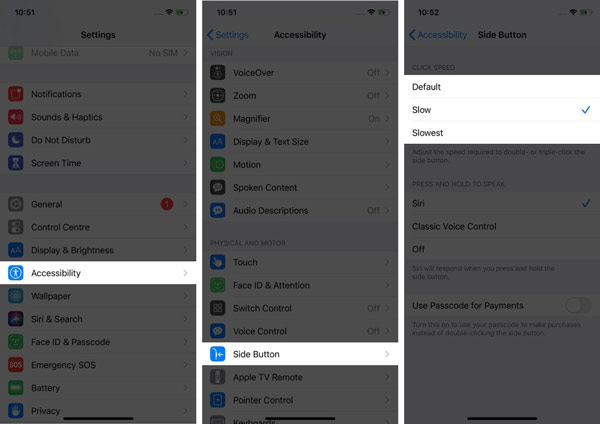 Step 1 Run the Settings app from your home screen, and head to the Accessibility settings screen.
Step 2 Scroll down and press the Side Button option.
Step 3 Here you can choose Default, Slow, or Slowest. You can test each one and make the decision.
Solution 5: Use iOS System Recovery
The software issues that lead to iPhone's Power button not working are often more subtle. Fortunately, there is a one-stop solution, Apeaksoft iOS System Recovery. It can scan your iPhone, detect the software issues, and fix them.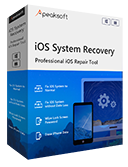 4,000,000+ Downloads
Fix a variety of software issues with one click.
Available to a wide range of software issues.
Include a free quick fix and two modes.
Compatible with almost all iPhones and iPad models.
Here are the steps to fix the iPhone Power button not working:
Step 1Install iOS System Recovery
Run the iOS System Recovery tool once you install it on your computer. It is compatible with PCs and Mac computers. Choose iOS System Recovery, hook up your iPhone to the same computer with a USB cable, and click the Start button.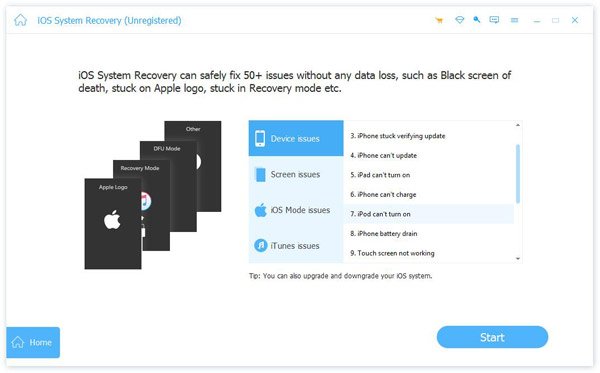 Step 2Select a mode
After your iPhone is detected, click the Free Quick Fix link to repair the device. If it is not valid, press the Fix button, select a proper mode, and hit Confirm.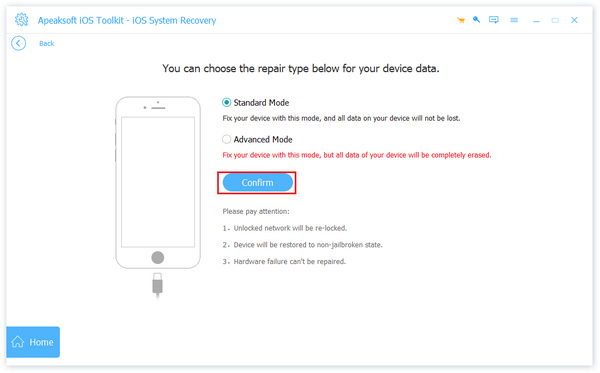 Step 3Fix the iOS system
Next, check the information of your iPhone, like device category, type, and model. Correct it if anything is wrong and download the corresponding firmware. After downloading, the software will fix your iPhone immediately.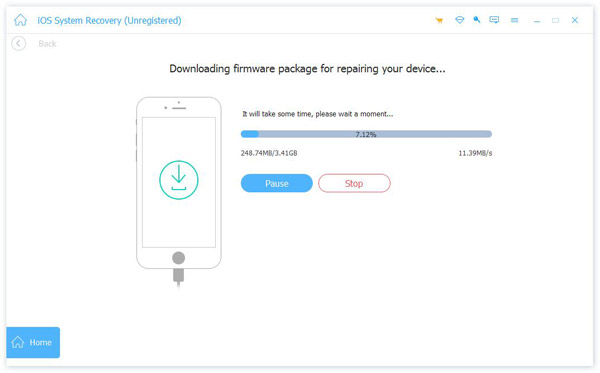 Solution 6: Set up an iPhone Repair
The last solution is repairing your device in the nearest Apple Store. This way is the only solution if your iPhone Power button stop working due to hardware damage. Here are some tips for setting up an iPhone repair.
1. Back up your iPhone or iPad with a stuck Power button. You can back up the entire device or specific data using iTunes, Finder, iCloud, or a third-party tool. That is essential if you do not want data loss.
2. Have your Apple ID and password ready. Even the experts at Apple cannot access your account without your Apple ID and password. And that would be impossible for him to repair if your Apple ID is locked.
3. Charge your iPhone and make sure the battery percentage is at least 30%. Or you can take your charger to the Apple Store with your iPhone.
4. Turn off Apple Cash and remove your cards and passes.
If you are not sure, you can make a phone call before visiting the Apple Store.
Part 3: FAQs about iPhone Power Button Not Working
How much does it cost to fix the Power button on an iPhone?
If the Power button itself is damaged, that might be all that needs replacing. Otherwise, you need to replace the Power button flex cable. A replacement iPhone Power button costs between $3 and $9. A Power button flex cable costs between $4 and $14.
Does the iPhone Power button wear out?
The Power button should last a long time and you do not use it too much. For example, the Power button on an old iPhone 4 is still working after 10 years. Moreover, you can always take your mobile phone to the Apple Store and get it fixed.
How do I lock my iPhone without the Power button?
To lock your iPhone when the Power button is not working, enable AssistiveTouch, tap the hovering button, go to Device, and tap Lock Screen.
Conclusion
Now, you should understand what you can do when the iPhone Power button is not working. Firstly, you can do most tasks with the AssistiveTouch feature. Then try to fix it with the solutions above. Apeaksoft iOS System Recovery is the easiest way to fix software issues that lead to the Power button working abnormally. More questions? Please feel free to leave a message below this post in the comment area.