FaceTime is a popular communication app offered by Apple to its iOS users. With FaceTime, Apple users can conduct a high-quality video or audio call with many people at one time and have a good time of facing their friends at a distance. And it is compatible with iOS 10 or later versions of iPhones and other iOS devices.
But more and more people abandon FaceTime for some annoying reasons. One of them is that iPhone often stuck on FaceTime ending. I think one of you have met this problem and you have tried with all the possible clicks. But nothing changes.
That is why you come here! In this article, we will give you 6 working solutions to fix iPhone stuck on FaceTime ending. Read carefully and collect it.

Solution 1

: Force Quit FaceTime

When we can't end FaceTime calls normally, we can try to force quit FaceTime. It would be the easiest method to fix iPhone stuck on FaceTime ending. And this method also can help you quit other apps on your iPhone, Fast, rude and easy-to-use.

Step 1 Double click on the iPhone home screen. Then you will see all apps launching on background on your iPhone.

Step 2 Find the interface of the FaceTime app from them. Swipe up it to stop using the FaceTime app. Check if the problem still exists or not.

When you launching FaceTime next time, it may clarify its everything.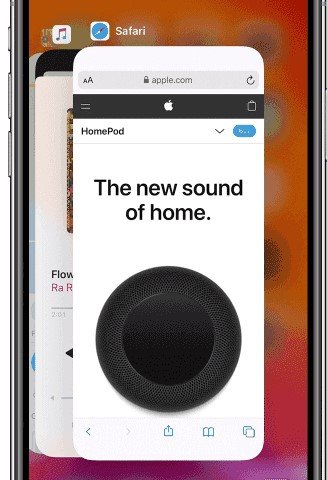 Solution 2

: Reactivate FaceTime

When something goes wrong, first we may guess there would be some problems in it. So, when you meet iPhone stuck on FaceTime ending, there would be something wrong. To correct it, you need to reactivate FaceTime on your iPhone. This method is an enforced deactivation, and it can help you refresh everything. Here are steps.

Step 1 Go to Settings on your iPhone and find Message section. Tap it.

Step 2 In the Message menu, go down and click Send & Receive option. Here you need to sign out the Apple ID.

Step 3 Then come back to the Settings main menu. Find FaceTime and click on it to sign out the Apple ID.

Step 4 After signing out, turn off FaceTime and iMessage service in Message section

Step 5 Then turn on FaceTime and iMessage service by repeating the above steps

Step 6 Sign in your Apple ID in the iMessage and Facetime Section.

The FaceTime app should be closed already.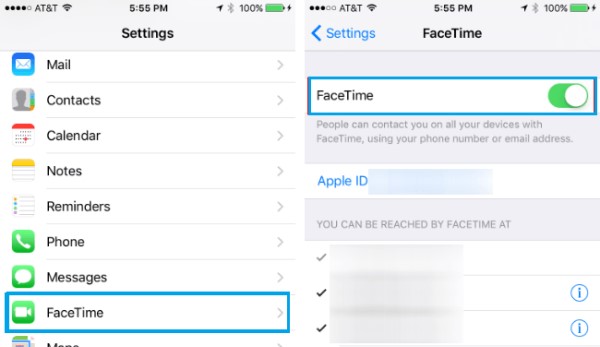 Solution 3

: Reset Settings on Your iPhone

As the last method, this method is also about settings. If reactivating FaceTime doesn't work for you, you can try to reset other settings on your settings. Here, we list two settings you need to reset.

1. Reset Network Settings on iPhone

Step 1 Go to Settings on your iPhone and find General section. Tap it.

Step 2 Tap "Reset" and "Reset Network Settings". Then you need to enter the password to confirm it. Sometimes iPhone stuck on FaceTime ending also can be caused by poor network.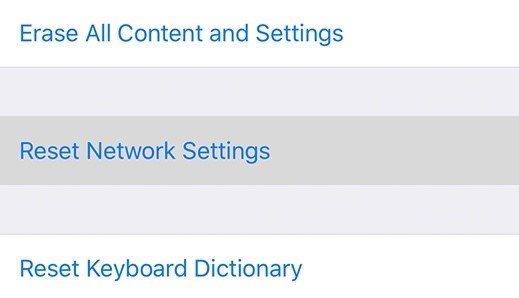 2.Reset All Settings on iPhone
The technical problem usually can be repaired and removed by resetting all settings, but at times on the cost of some data loss. So if you choose this method to fix the problem, please think about it carefully.
Step 1 Click Settings icon and find General section. Tap it.
Step 2 Click Reset and Reset Network Settings in order. Then you need to enter the password to continue the process. Finally, all settings on your iPhone will be in the default status.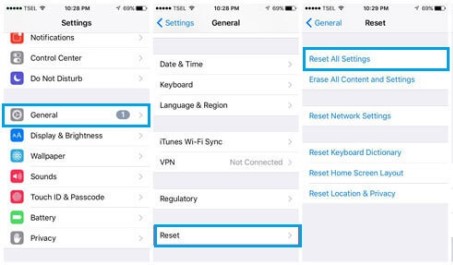 Solution 4

: Uninstall and Reinstall FaceTime

If the FaceTime ending issue remains as itf is, you can try to delete and reinstall FaceTime on your iPhone. To some degree, this method can reset all settings. So here are steps for you.

Step 1 Long press the FaceTime icon on your home screen. Then it will shake once and pop up a menu for you. Choose Delete App and FaceTime will be uninstalled.

Step 2 Download and install the latest FaceTime app from the App Store on your iPhone.

Step 3 Click its icon to open the FaceTime app to see if the iPhone stuck on FaceTime won't turn off problem still exist.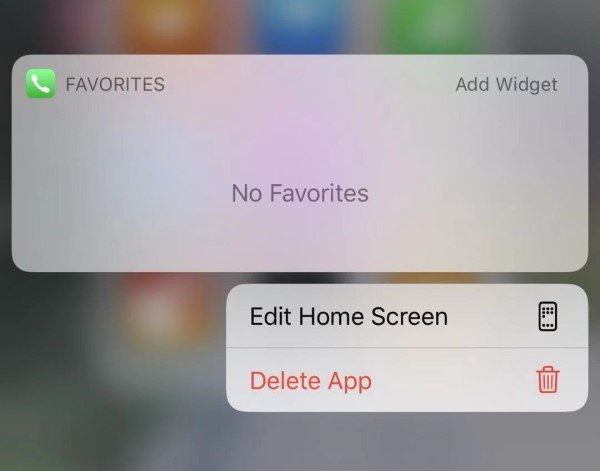 Solution 5

: Restart Your iPhone

As we know, when your computer goes wrong, just restart it. The same goes for iPhone. Restarting iPhone is a simple but highly effective way to fix iPhone errors. It is available to resolve the problem that iPhone gets stuck on FaceTime. Here's two ways to restart your iPhone.

1. Force Restart iPhone

For the iPhone X and later: Press and hold the Side and one of the Volume buttons. Drag it to turn the device off. Then hold the Side button until you see the Apple Logo.

For iPhone 8 and earlier: Press and hold the Top (or Side) button on the device. Drag it to turn off the device. Then hold the same button until the Apple Logo appears on the screen.

2. Shut Down iPhone From Settings

If your Power button does not work in many cases in this case, you also can power down your iPhone in settings.

Step 1 Go to Settings on your iPhone and click General section.

Step 2 Here is Shut Down" option in the end of the General menu. Tap it turn off your iPhone.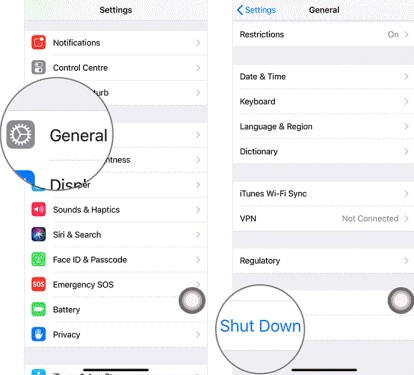 Solution 6

: Restore iPhone by 2 Ways

If all the above solutions don't work for you, we think there would be something goes wrong in your system. This would be serious. In this condition, you need to restore your iPhone to fix this trouble.

And there are also two ways to restore your iPhone. You can choose the one you like and convenient for you.

1. Restore iPhone by iTunes

By restoring iPhone via iTunes, you can reinstall the iPhone to the factory setting. Apart from fixing iPhone stuck on FaceTime ending, it will also delete all the data stored on the mobile. You need to think again and backup all your important data on your iPhone before you try it.

Step 1 Connect the iPhone to your PC and launch the iTunes.

Step 2 Find the device icon on the top right corner and click on it.

Step 3 Click Summary option and then select Restore iPhone on the main panel.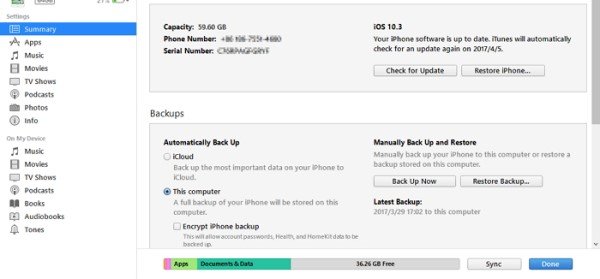 2. Restore iPhone by iOS System recovery
If you want to fix the problem and keep your all data on iPhone, here is a powerful tool for you to make the best of both worlds. It is Apeaksoft iOS System Recovery. iOS System Recovery is the best professional program that can help you to fix all kinds of iOS system errors, like iPhone stuck on FaceTime ending, safely. It is also easy to use. In addition, it applies to all Apple devices, including iPhone 14/13/12/11/XR/XS/X, iPad Pro/Air/mini, iPod, etc.
FoneLab - iPhone Data Recovery
Recover deleted or lost data like photos, messages, contacts, notes, call history, videos, calendar, app data, etc.from iOS device and iTunes/iCloud backup.
Step 1 Free download and install iOS System Recovery on your PC. Connect your iPhone to computer with a USB cable. Then choose "iOS System Recovery".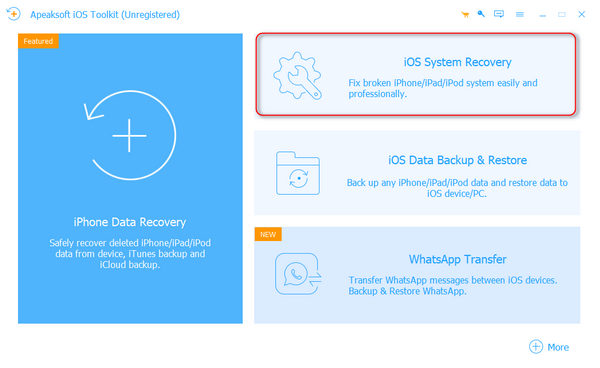 Step 2 Then click "Start" button, then it will detect your iOS device automatically.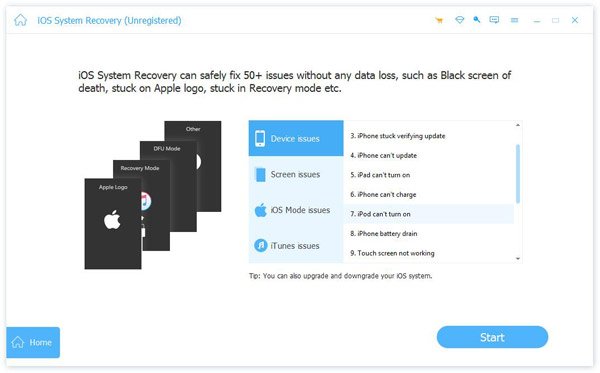 Step 3 You can click "Free Quick Fix" try to fix iPhone stuck on loading screen. This FREE function will help you solve the problem in few seconds.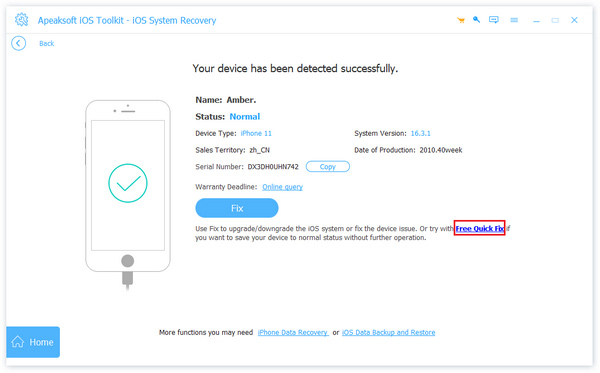 Step 4 If the "Free Quick Fix" function does not fix the problem, please click "Fix" to enter the next window to find the solution. Here are two repair types in the following window. Think about it carefully and choose the mode you need. Then click "Confirm".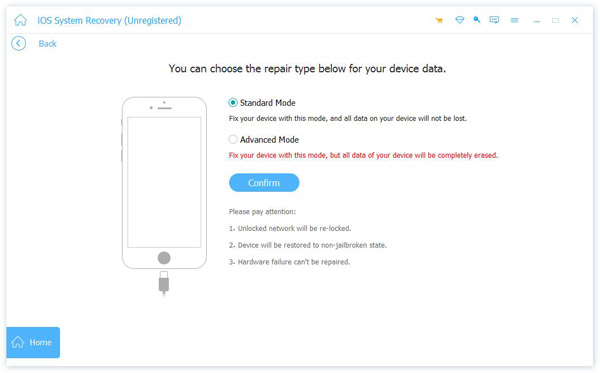 Step 5 Then you need to choose the category, the type and the proper iOS model of your iOS device. After you have set all options, click "Next" to start the recovering process.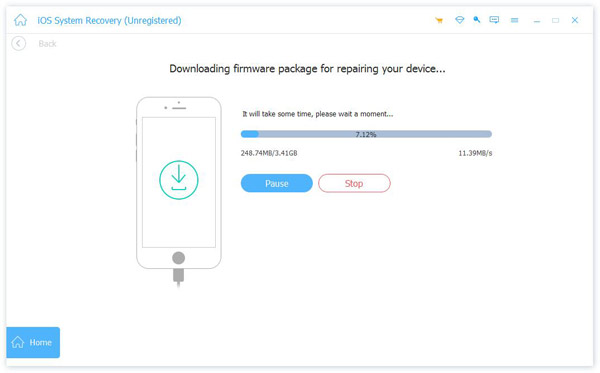 Conclusion
FaceTime is being prominent and widely accepted by more and more people. But the problem, iPhone stuck on FaceTime ending really makes users annoyed. Restart or reinstall the app can be applied as a quick fix to the problem, but it may only work as a temporary solution.
If you want to fix this problem forever, you should use iOS System Recovery software. It can solve any technical inconvenience in using the Apple device, including iPhone stuck on Facetime ending. And the process is very easy and takes very little time.