As an Apple user, you may have encountered the problem of your iPhone switching on and off for no reason and being bothered by it. There are various reasons why this phenomenon occurs, and there is an appropriate solution for each scenario.
To help you better sort out and solve the iPhone turning on and off repeatedly issue, we will list 7 ways to solve the problem and the detailed steps for each. We hope that our guide will be helpful to you.

Fix iPhone Turns On and Off Repeatedly
Part 1. Why Your iPhone Turns On and Off Repeatedly
First, let's analyze the reasons for this problem in detail from several aspects. Only when the root cause of the problem is found can the problem be solved more efficiently.
Update Failure
This is one of the most common culprits that cause the iPhone to switch on and off constantly. If your iPhone recently updated its system, but the update progress was interrupted, or the update failed, your iPhone may be stuck in a constant on/off cycle.
Hardware Issues
This is probably the most intuitive reason. If your iPhone's hardware components malfunction, such as a broken power button or an out-of-control screen, your device will receive the wrong commands and thus repeat the on/off action.
Malware Attacks
If you've ever jailbroken your iPhone, your phone may be more susceptible to malware attacks. The malware may mess up your system, thus causing the iPhone to switch on and off repeatedly.
Unstable Driver
If you have recently made some changes to the system of your device, this may cause the driver to malfunction. And reboot loops will happen on your device. This also means you need to update your iPhone's firmware.
Part 2. How to Fix iPhone Turns On and Off Repeatedly
Force Restart Your iPhone
This is the most direct and quickest way to solve iPhone turning on and off repeatedly problem. For the layman, restarting your iPhone can solve many inexplicable system problems. However, it should be noted that different models of iPhone reboot differently.
For iPhone 8, X, XS, XR, 11, 12, 13, 14
Step 1 Press and release the Volume Up button of your iPhone, then press and release the Volume Down button.
Step 2 Press and hold the side button until the Apple logo comes out.
For iPhone 7/7 Plus
Step 1 Press and hold the Power and the Volume Down buttons simultaneously.
Step 2 When the Apple logo appears, release all the buttons.
For iPhone 6, 6S, Earlier SE, 5S, or earlier versions
Step 1 Hold the Home and the Sleep/Wake buttons.
Step 2 Release these buttons as soon as the Apple logo appears on your device's screen.
Free Up the Memory Space
If the phone does not have enough memory space, the system may become stuck, or some errors may occur. So you can organize the content on your phone, clear unnecessary files, zip installers, etc. For some software that you no longer use, you can also uninstall them.
If you need to uninstall the program, long press its icon on your phone's desktop and then click on X that appears at the top left of the icon.
Update iOS System
Failure to update the program to the latest version in time may also affect the normal use of some phone functions. So you can check whether your program is the latest version first. If not, update it.
Step 1 Go to Settings on your iPhone, and tap General. Then choose Software Update. If there is a new version, tap Install Now.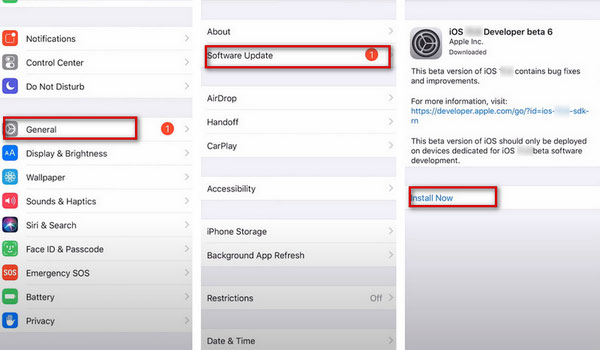 Drain iPhone Battery
If your iPhone is always turning on and off repeatedly between 10% and 50% charge, then there may be a faulty battery calibration. You need to completely drain your battery to recover.
Step 1 Let the battery of your iPhone drained completely, and wait for it shut down automatically.
Step 2 Fully charge your phone, and turn it on to check if the problem has been solved.
Use Apeaksoft iOS System Recovery
If these more basic methods do not solve your problem, we recommend trying a professional system repair tool. Apeaksoft iOS System Recovery ensures you act like an expert in solving system issues with your iOS device. With it, the iPhone switching on and off repeatedly will be solved smoothly.
Here are the detailed steps to follow with.
Step 1 Download and install Apeaksoft iOS System Recovery on your computer.
Step 2 Open it, and choose iPhone System Recovery on the interface.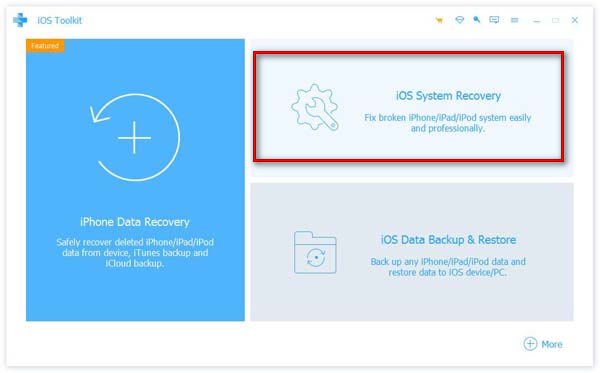 Step 3 Connect your iPhone to the computer via a USB cable, and click Start.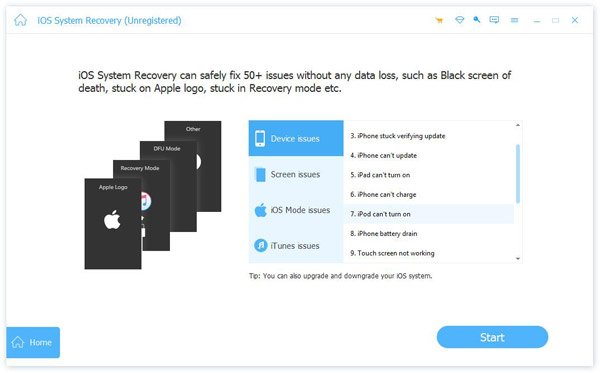 Step 4 If your problem is tinny, click on Free Quick Fix. If this function does not meet your needs, click Fix.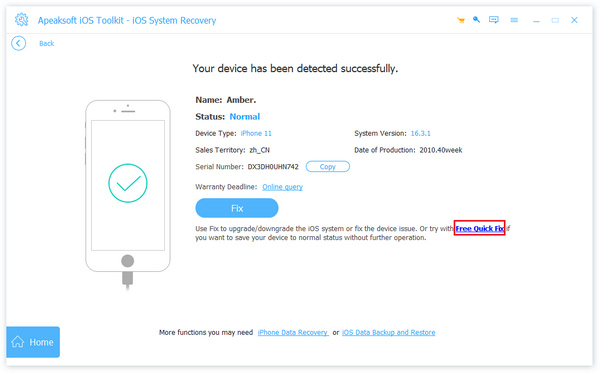 Step 5 Choose the repair mode according to the condition of your phone, and choose Confirm.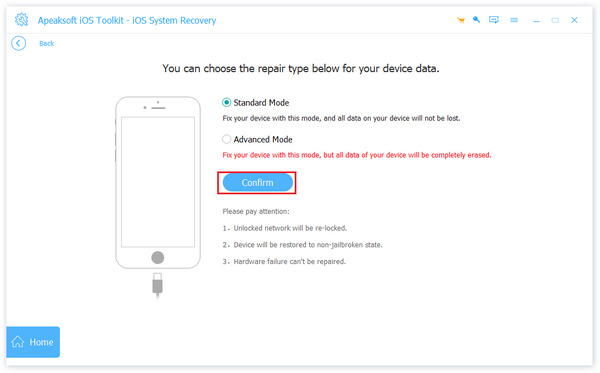 Step 6 Choose the type and model of your device. Click Download to get the corresponding system, and choose Next.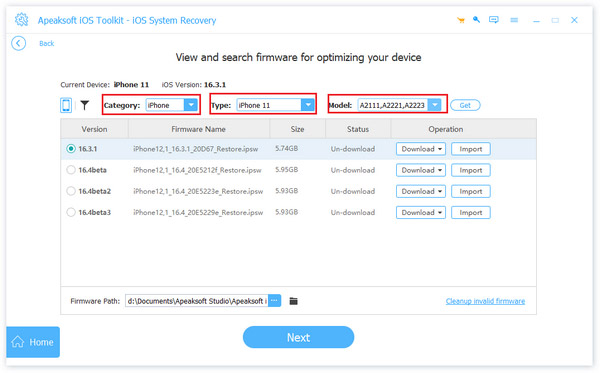 If none of the above methods work, please try the following two methods.
Go to the Repair Shop
If you can't solve the problem properly, you'd better seek help from professionals in time. Find a reliable repair store and let them help you determine the cause of the malfunction and make repairs.
Contact Apple for Help
If you want to seek the most reliable and professional help or none of the above ways can solve the problem of your iPhone cycling on and off, then you can seek official help from Apple. They may have a way to restore your device to its normal state. At the same time, the best professionals will guarantee your equipment maintenance.
Part 3. How to Prevent Your iPhone from Turning On and Off
To reduce the number of cases where your iPhone keeps switching on and off and interfering with normal use, develop good charging habits and pay more attention to the health of your battery. Take timely action, including saving battery life or replacing it with a healthy new battery.
You must take good care of your iPhone and avoid being harmed by external forces. Regularly organizing your phone files and cleaning the memory will also go a long way in keeping your phone functioning properly.
Part 4. FAQs about iPhone Turns On and Off Repeatedly
Will force restarting iPhone delete everything?
The iPhone will store your files in nonvolatile memory. Whether the phone is turned off, the battery runs out and shuts down automatically, or the phone freezes, none of your data will be lost. However, the files you edit and do not save will not be recovered.
What kills iPhone battery health?
Frequent overcharging can cause current to an already fully charged battery, which can be very damaging to your battery's health. Therefore, you need to unplug the charging cable in time after the battery is fully charged.
Why is my iPhone storage taking up so much space?
Apart from the apps you download and files you save, the app cache is the largest part of your phone's memory space. They are generally made by streaming and social media apps, and they can hold a lot of pictures, audio, and video, thus ensuring smoother display and playback speed.
Is it worth updating to iOS 16?
The iPhone's iOS 16 has been improved in many ways, such as providing deep Lock Screen customization options and physical security keys. It is best to update your device to the latest version in time. Otherwise, it may affect some features' use or cause glitches.
How do I restart my iPhone if my screen and buttons are not working?
If you have set up voice control, you can help by calling out Siri. In addition, you can also press and quickly release the volume up button and press and quickly release the volume down button. Then press and hold the side button until the Apple logo appears. Both of these methods ensure you restart your iPhone without a screen.
Conclusion
This article provides 7 top solutions, including the best system recovery tool. No matter your situation, we believe there is always one of these solutions for you. Follow the detailed step-by-step guide now to try to solve the iPhone repeatedly turning on and off. If you have other opinions, you are welcome to leave your views.