For most iPhone users, the screen is a very important part of the daily use of the iPhone. But when you find yellow light on iPhone screen from time to time, this can bother you a lot. If your iPhone screen turns yellow, please read this article to find out the cause of the iPhone yellow screen and the 6 solutions to solve the problem.

iPhone Yellow Screen
Part 1. Why Does My iPhone Screen Look Yellow
Why my iPhone screen is turning yellow?
Until now, iPhone yellow screen problem is still common and troubling to users. Although there are many solutions for iPhone, it mainly depends on the cause of the yellow screen. In this part, we have listed the most common reasons for you.
Set Night Shift wrongly
Enable True Tone display
Turn on Auto-Brightness
Set Yellow for Tritanopia wrongly
iPhone's hardware is damaged
Part 2. 6 Effective Ways to fix iPhone Yellow Screen
In the above part, we have learned about the causes of screen yellowing. To solve iPhone yellow screen faster and safer, there are 6 methods listed in this part that you can use.
Method 1: Turn off the Night Shift Mode
Night Shift automatically will adjust the colors of your iPhone screen to the warmer end of the spectrum. That's why the color of your phone screen will turn yellow. If you want to turn off the Night Shift, there are two ways.
On the one hand, you can open the Control Center of the iPhone. Press the Brightness control icon, then tap Brightness to turn off Night Shift. On the other hand, you can go to Settings, tap Display & Brightness, and find Night Shift to close.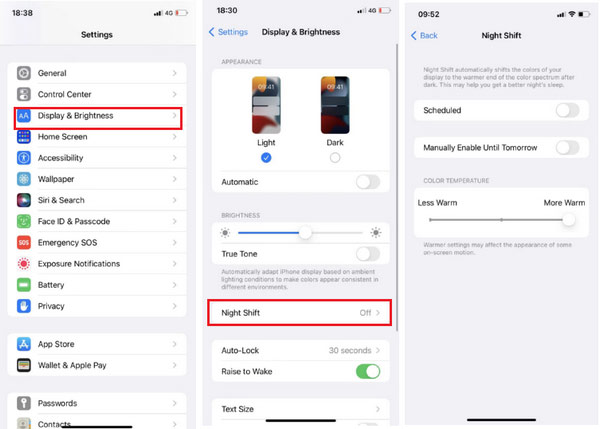 Tips : Night Shift is only supported on iPhone 5s or later.
Method 2: Disable True Tone
True Tone is present within the display of the iPhone. iPhones with True Tone technology have sensors that measure the color and brightness of ambient light to adjust the display automatically. Therefore, it will sometimes bring a yellow screen on the iPhone
If you want to restore the color of your screen, you can open Control Center, touch the Brightness button, and tap True Tone to turn off True Tone. Alternatively, you can open Settings and turn off True Tone within the Display & Brightness option.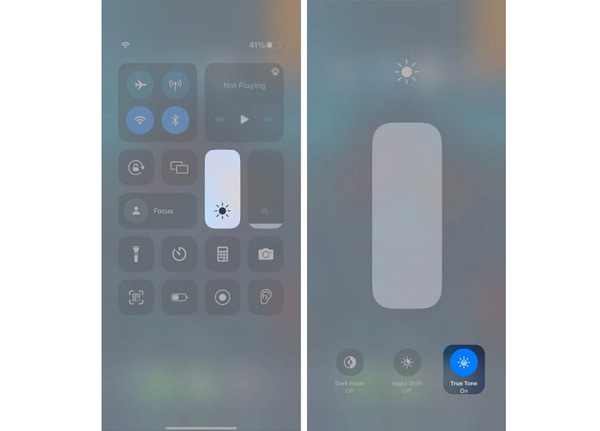 Tips : True Tone is available for these iPhones: iPhone 8 and later, iPhone SE (2nd generation), and later.
Method 3: Turn off Auto-Brightness
All iOS devices use an ambient light sensor to adjust brightness levels according to the light conditions. When Auto-Brightness is on, the brightness slider on iPhone moves according to changing light conditions. To turn off Auto-Brightness, you can follow the ways.
Go to the Settings app, tap Accessibility, enter the Display & Text Size screen, scroll to Auto-Brightness, and turn it off.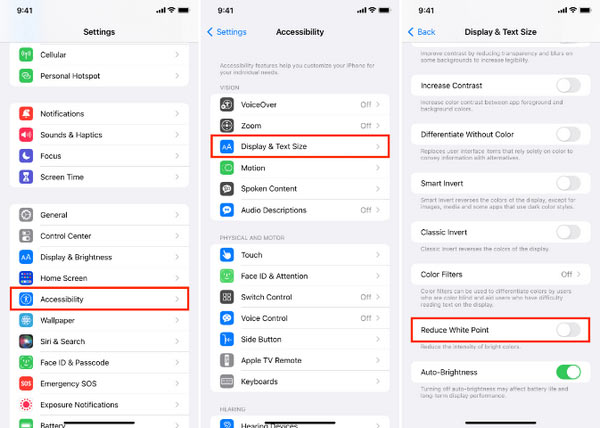 Method 4: Change the Color Filter
When your phone screen has a yellow tint, you can use Color Filter to modify it if needed.
On the Settings app, tap Accessibility and Display & Text Size. You can choose a filter except for the Yellow for Tritanopia in Color Filters. In addition, you can use the sliders to adjust the color intensity and hue of the Color Tint option to better adapt to screen colors.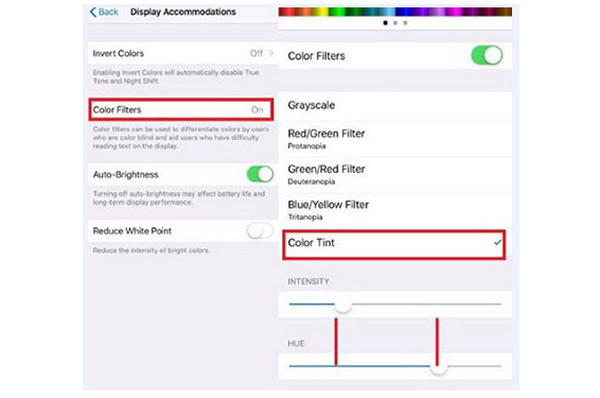 Method 5: Update iPhone to the Latest iOS Version
If a problem like the iPhone yellow screen is recurring on your iPhone, it may be a problem involving an iOS system update. Apple will include a solution at any time to this problem in their iOS updates. Therefore, you should update your iPhone to the latest iOS version to eliminate the yellow tint. Continue reading the following ways.
Open your iPhone Settings app. Launch the General option and select Software Update. Then you can tap Download and Install to update the iOS version manually. If you want to update to the latest version of iOS automatically, you can turn on the Automatic Updates option.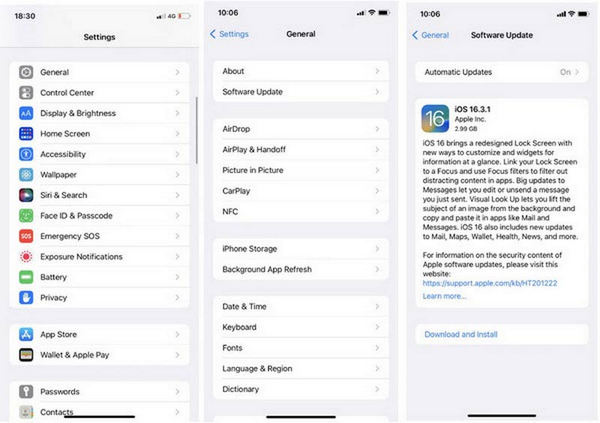 Method 6: Highly Recommended- Apeaksoft iOS System Recovery
If you have tried the above solutions, but your iPhone is still stuck with a yellow screen, it could be the presence of a serious software failure. The easiest and most reliable solution is to use Apeaksoft iOS System Recovery. This program will allow you to fix your iPhone's yellow screen to normal in minutes. And you don't have to worry about any data loss while fixing your iOS system back to normal.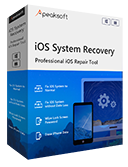 4,000,000+ Downloads
Fix the iPhone screen yellow without data loss.
Fix various iOS-related issues safely.
Compatible with all popular iOS devices.
User-friendly interface and easy to use.
Free download this iPhone screen fixer and follow the guide to solve iPhone Yellow Screen.
Step 1Connect iPhone
After you download this iPhone screen fixer, run it. And you need to connect your iPhone to your computer with a USB cable. Find the iOS System Recovery panel and click the Start button.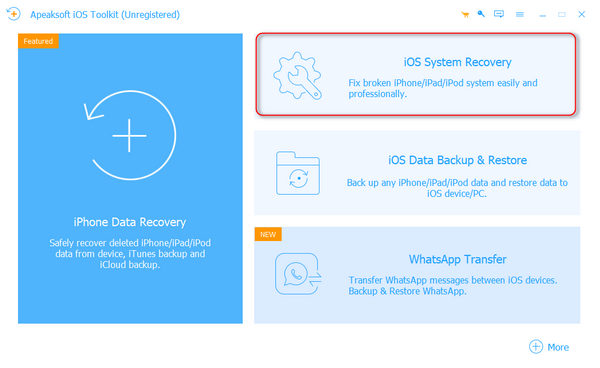 Step 2Select Free Quick Fix
Now, this software will detect your iPhone automatically. You can try to click Free Quick Fix, and this tool will start fixing your iPhone automatically.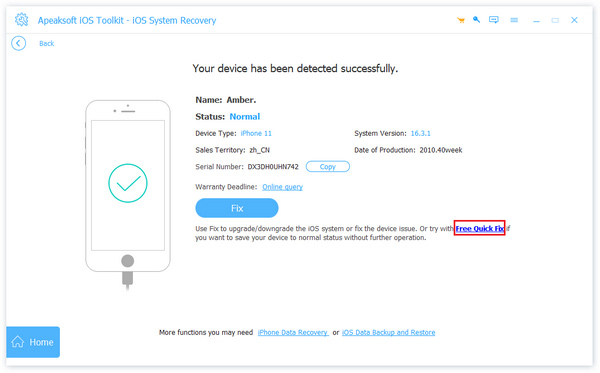 Step 3Select a repair mode
Furthermore, if your iPhone yellow screen is not solved by the above steps, you can choose either a repair mode for the iPhone from Standard Mode and Advanced Mode. Click the Confirm button.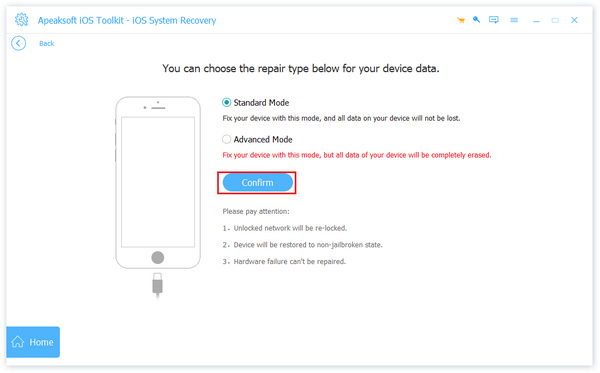 Step 4View and select firmware for optimizing your iPhone
You will enter a new window. Check your iPhone Category, Type and Mode information, and modify them once they are not identical to your iPhone.
Select the iOS version that you want to install on your iPhone.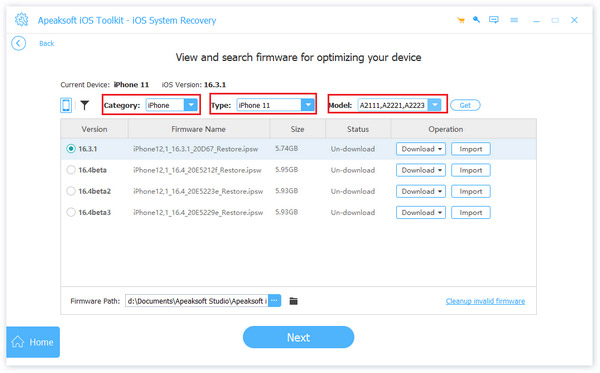 Step 5Download the firmware
Next, click Download to download the firmware this software gives you. After downloading the firmware, install it. And click the Next button.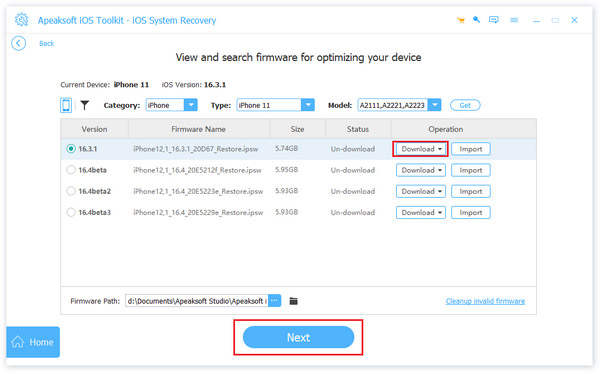 Step 6Fix iPhone yellow screen
Now, the iOS System Recovery will automatically fix your iPhone yellow screen. And after that, your iPhone will go to normal.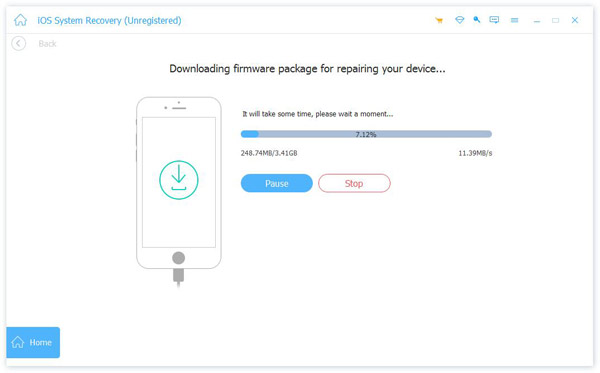 Part 3. FAQs about iPhone Yellow Screen
Question 1. Why is my iPhone display yellowish?
Your iPhone screen looks yellow because Night Shift is turned on. Night Shift can help you get a better night's sleep by filtering out the colors from iPhone's display.
Question 2. What is the yellow dot on your iPhone screen?
A yellow dot means that your iPhone microphone is being used. If you would like to turn it off, you can close the recording app, force restart iPhone, close the Microphone privacy in Settings, or use powerful software like Apeaksoft iOS System Recovery.
Question 3. Does the iPhone 13 have screen issues?
Not all iPhone users experience an unresponsive iPhone 13 screen such as iPhone blue screen.
This depends on the device screen usage and the time the phone is used. If you have tried various methods and cannot solve the issue, then you can use the AppleCare+ service.
Conclusion
Displaying a normal light on your iPhone screen couldn't be more basic. However, a yellow iPhone screen diminishes your experience of using your iPhone. This article has listed the common causes and how to fix iPhone yellow screen. In addition, this powerful tool, Apeaksoft iOS System Recovery, will not only help you when you encounter iPhone yellow screen but also solve your various iOS device problems. Have a try!