"After I updated to iOS 11, my Messenger app started crashing, how to fix this problem?" According to our survey, some people who had not upgraded to iOS 11 and still encountered the same problem. It may be due to the Facebook's update, which introduce bugs or conflicts into the Messenger app.
As a prevalent message app, Facebook Messenger collects more and more loyal users. If you encounter the same trouble, don't panic and we will share everything you need to know to fix Messenger app crashing on iPhone or iPad.

Part 1

: Why Messenger Keeps Crashing

Both Facebook and Apple have not disclosed the exact reason behind the Messenger app keeps crashing on iPhone. However, it is obvious that the problem is related to the latest update by Facebook.
Part 2

: 5 Solutions to Fix Messenger App Crashing

Here we reveal a few potential solutions and recommended procedures to help you fix the problem that Facebook Messenger app keeps crashing.
Solution 1: Close Background Apps
After you quit an app on iPhone, it runs in the background. If it conflicts with the Messenger app, the later will keep crashing on your iPhone. The solution is simple: close all background apps. There are two ways to achieve it.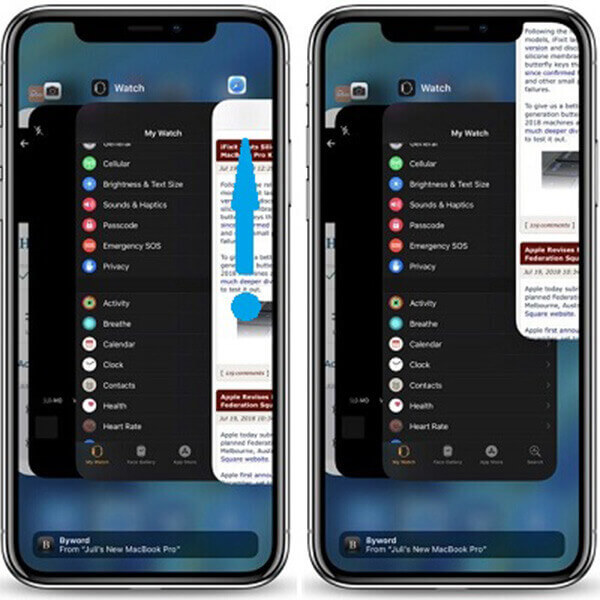 Close background apps by swipe-up
Step 1: On iPhone X and above, swipe up from the bottom and hold for a second in the middle of your screen. That will display all apps running in the background.
Step 2: Swipe each app upward to close them
Close background apps using AssistiveTouch
Step 1: Double-tap the AssistiveTouch button and select Device -> More -> Multitasking.
Tip: The AssistiveTouch can be enable in Settings -> General -> Accessibility.
Step 2: Now, close all background apps by the swipe-upward gesture.
Solution 2: Up Messenger App to Date
Once Facebook relizes the bug that Messenger app keeps crashing on iPhone, it will fix it and release a new update. So, you'd better to check the latest app and update it.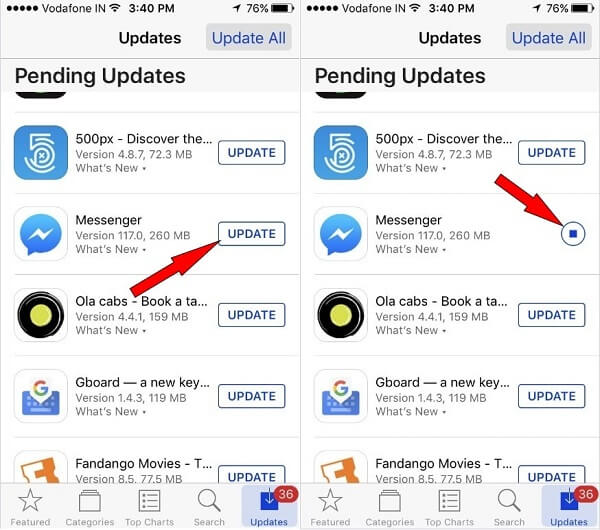 Step 1: Run your App Store from the home screen and go to the Updates tab from the bottom.
Step 2: Scroll down to find if there is a new update for your Messenger app.
Step 3: Then tap the Update button to get your Messenger up to date. Now, open your app to check if the problem that Messenger keeps crashing disappears.
Solution 3: Reinstall Messenger
Sometimes, the update cannot fix Messenger app crashing. Then you should try reinstalling.
Note: Do not forget to save your Facebook messages for avoiding any data loss.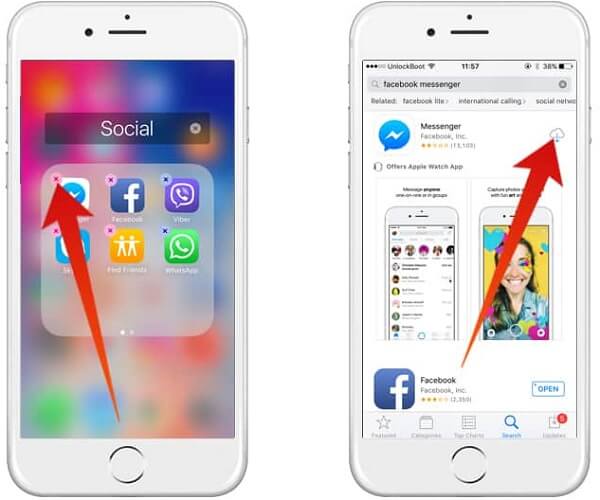 Step 1: Deep tap the Messenger app on your home screen until it goes to the edit mode. Then tap the Delete icon to uninstall it.
Step 2: Restart your iPhone and start App Store. Search for the Messenger app.
Step 3: Tap the Install button. When prompted, enter your password associated to Apple ID.
Step 4: Wait for Messenger app to download and try it again.
Solution 4: Remove TypeStatus 2 If Your iPhone is Jailbroken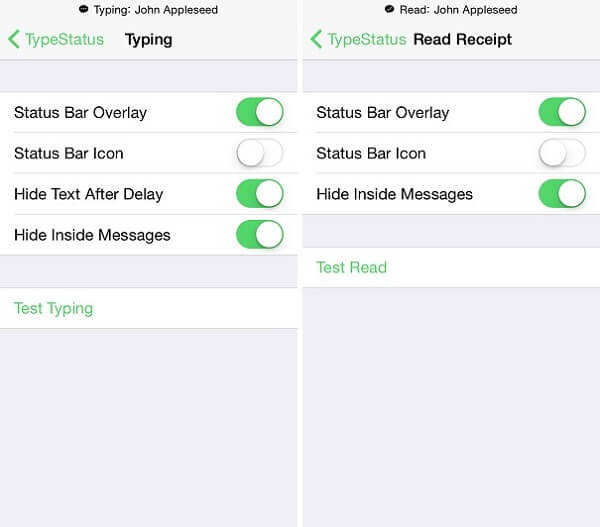 TypeStatus 2 is a useful tool on jailbroken iPhone. It allows you to customize your status bar. Once jailbreak your iPhone, you can download it from Cydia for free. However, it may conflict with your Messenger app and lead to the crashing issue. If it is your case, the fix is to remove TypeStatus 2 from your iPhone. If it still does not work, just try to restore your jailbroken iPhone.
Solution 5: Downgrade Messenger App
Downgrading app is another way to get rid of the problem that Facebook Messenger app keeps crashing. It is only available to the jailbroken iPhone.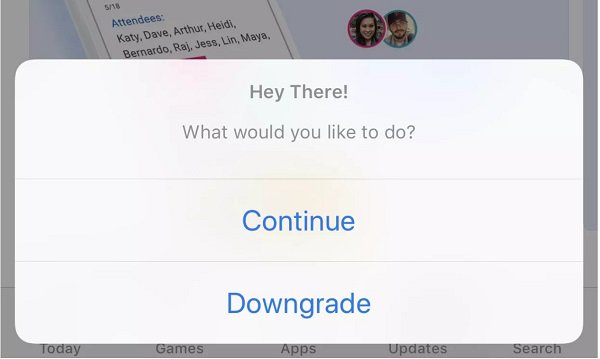 Step 1: Open Cyndia -> Sources -> Edit -> Add.
Step 2: Enter alpha.unlimapps.com and tap Add Source.
Step 3: Return to Cydia -> Search, type in App Admin and install it on your iPhone.
Step 4: Next, go to your App Store, search for the Messenger app, tap Downgrade when prompted.
Step 5: Select an old version from the list and install it on your iPhone.
Part 3

: How to Recover Chats When Messenger Crashing

After Messenger app stops crashing, you may need a data recovery tool to get back your messages. From this point, we recommend Apeaksoft iPhone Data Recovery.
Recover messages and attachments when Messenger app crashes.
Support both text messages and multimedia attachments in your Messenger app.
Get back your conversations in the original condition.
Available to iPhone XR/XS/X/8/7/6s/6 or earlier, iPad and iPod Touch.
In a word, iPhone Data Recovery is the best way to recover lost messages when your Messenger app keeps crashing.
How to Recover Chats When Messenger Crashing
Step 1: Install iPhone Data Recovery
Download the Messenger recovery tool for iPhone and install it on your computer.
Plug your iPhone to the computer via a USB cable. Launch the recovery tool and it will detect your device.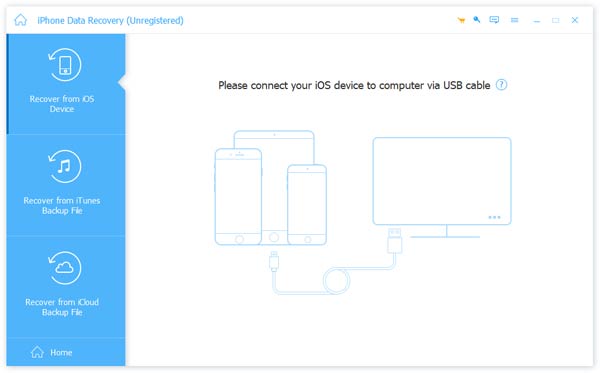 Step 2: Preview lost messages
Go to the Recover from iOS Device tab and click the Start Scan button to look for lost data from your iPhone. When it is done, select the data types you want to recover from the left side and check all desired items.
Note: If you want to recover messages from iTunes or iCloud backup, select Recover from iTunes Backup File or Recover from iCloud Backup File from the main interface, and follow the onscreen instructions to get what you want.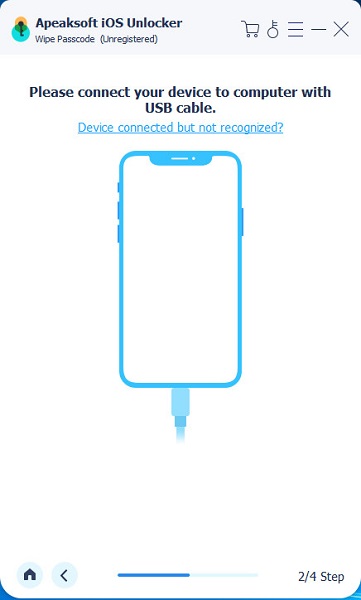 Step 3: Recover chats from Messenger
If you are ready, click the Recover button at the bottom right side. On the popup dialog, choose a specific folder to store the lost conversations and hit Recover again to start data recovery. According to our research, it only takes a few seconds to recover hundreds of messages and attachments.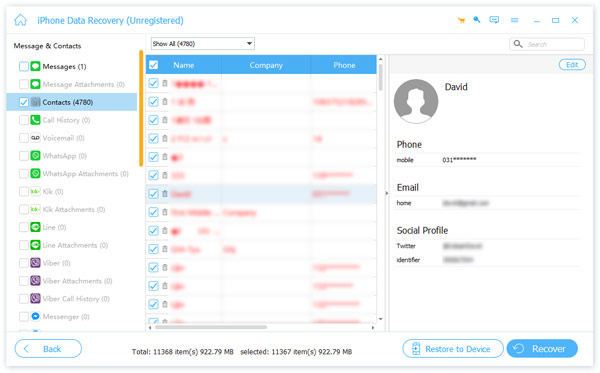 Note: Not only Messenger messages recovery, this software also allows you to recover messages from Kik, Line, Viber, etc.