Many users reported that they encountered a variety of issues after installed Windows 10 Creators Update. One common issue that is quite a disastrous for affected users is that some of the essential DLL files got overwritten or missed. Therefore, we are going to share the basic knowledge about DLL files and tell you how to fix missing DLL files in this tutorial.

Part 1

. What Is a DLL?

DLL, stands for Dynamic Link Library, is a kind of file that stores instructions that programs can call upon to do certain tasks, including the built-in and third party programs. Actually, several programs can share the abilities in a single DLL file and even do so at the same time. Unlike the program client file that is ended with EXE file extension, DLL files cannot be open or read directly. And they keep quiet on your hard drive until be called up by certain code that is running. In other word, DLL error could cause programs and some features on Windows corrupted.

Most DLL files are ended in .DLL file extension; others may use .EXE, .OCX, .CPL or .DRV.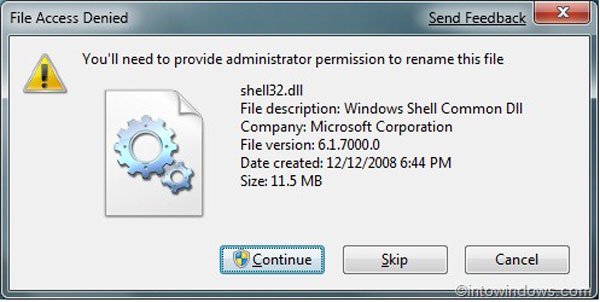 Part 2

. Common DLL Errors

1. D3dx9_43.dll (D3dx9_43.dll Not Found). D3dx9_43.dll errors are caused by issues with Microsoft DirectX.

2. Ieframe.dll (Res://ieframe.dll/dnserror.htm#). ieframe.dll DLL error is related to Internet Explorer. And reinstalling and updating IE could lead to it.

3. Xinput1_3.dll (Xinput1_3.dll is Missing). This error is involved with Microsoft DirectX, especially games and advanced graphics programs.

4. Hal.dll (Missing Or Corrupt Hal.dll). This error usually appears shortly after the computer is first started.

5. Kernel32.dll (Invalid Page Fault in Module Kernel32.dll). Kernel32.dll is able to protect memory space of Windows and prevent other programs from using the same space.

6. Ntdll.dll (Unknown Hard Error Ntdll.dll). The ntdll DLL error is usually caused by ntdll file corrupt, hardware drivers and more issues.

7. Ceber attacks your computer. (Use cerber decryptor.)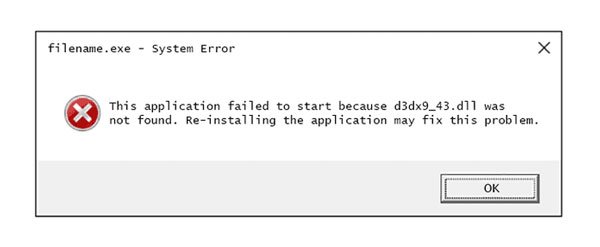 Part 3

. Fix Missing DLL files error
Method 1: Fix missing DLL files by SFC tool
SFC scan is a built-in function of Windows, aiming to scan system files and restore any corrupted or deleted.
Step 1: Go to "Start" menu and run "Command Prompt as Administrator".
Step 2: Type in "sfc/scannow" and click "Enter" key to trigger the scanning process. After that, the system should restore missing DLL files automatically.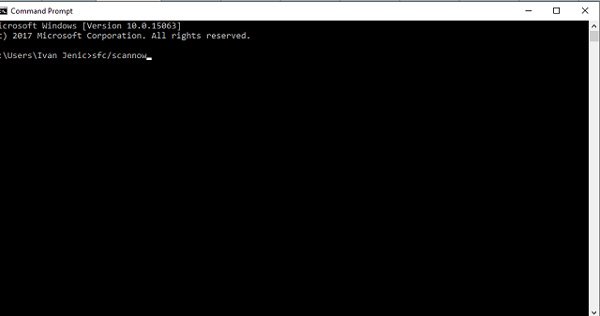 Method 2: Fix missing DLL files by DISM
Another method is DISM, Development Image & Servicing Management tool.
Step 1: Run CMD as well and execute the command "DISM /Online /Cleanup-Image /RestoreHealth".
Step 2: 10 minutes later, when you find the process is finished, you can reboot your PC. The DLL error should disappear.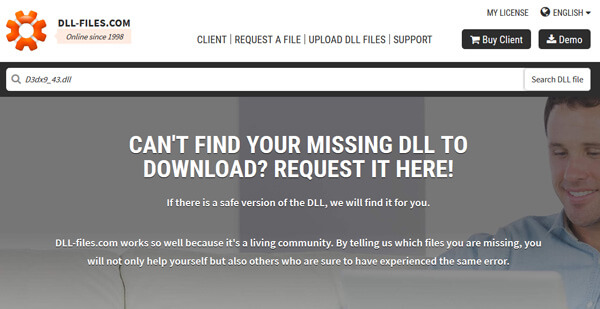 Method 3: Reinstall programs
As mentioned before, DLL files are related to programs. If error pops up when you open certain program, such as Internet Explorer or third party application, update the program or reinstall it. The update and installation may contain the missing DLL file.
This solution will also help you recover orphaned file, and other system files easily. Surely, you will lose DLL files on C drive.
Method 4: Download certain DLL file online
If you have tried the methods above and the problem persists, you can download certain DLL file online.
Step 1: Write down the name of the missing DLL file on the error message.
Step 2: Access dll-files.com in your browser, input the DLL name into the search bar and click on "Search DLL file".
Step 3: On the download page, click on the Download button next to the proper version and move the DLL file to the original path. If prompted whether to replace the original file, confirm it.
Method 5: Fix missing DLL files by resetting Windows PC
Step 1: Open the "Start" menu, go to "Settings" > "Update & Security" and select "Recovery" from the left pane.
Step 2: Click on "Get Started" button under Reset this PC and choose "Keep my files" to start resetting Windows and fixing missing DLL files.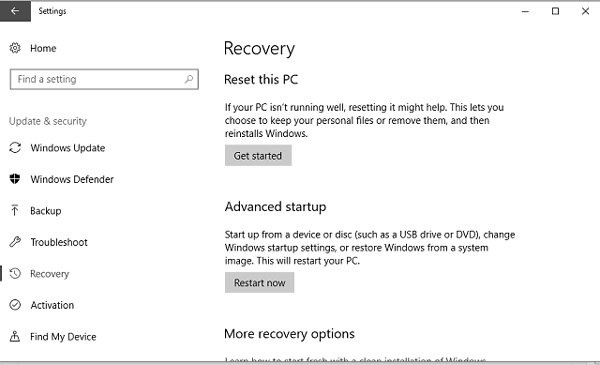 Method 6: Fix DLL error by restoring system
Step 1: When DLL error happens, reboot your computer and keep pressing F8 before the Windows logo appears. Then choose "Safe Mode with a Command prompt" on the boot menu.
Step 2: Execute the command below when command prompt window pops up:"%systemroot%\system32\restore\rstrui.exe".
Step 3: Then follow the onscreen instructions to restore your PC and missing DLL files.
Part 4

. How to restore missing DLL files

If you just want to restore the missing DLL files quickly, we suggest you to try Apeaksoft Data Recovery. Its main features include:

1. Restore DLL files in one click, so even novices could grasp it in a few seconds.

2. Missing DLL files recovery in various situations, such as the file is deleted by accident, corrupted, damaged, affected by virus, and more.

3. Support a variety of data types and formats, including DLL, EXE, OCX, CPL, DRV, etc.

4. Restore deleted DLL files in original format and quality.

5. Look at all lost DLL files organized by formats and decide to recover all of them or several specific ones.

6. Apart from DLL files, you can also recover music, videos, photos, documents, and other data from your computer.

7. Moreover, Data Recovery is available to Windows 10/8.1/8/Vista/XP.

In short, it is the best option to restore missing DLL files quickly and get rid of problems related to DLL files.
How to restore missing DLL files in one click
Step 1. Scan entire system to look for DLL files
Download and install Data Recovery on your PC. When DLL error message pops up, launch the program, you will get two parts on home window.
Go to the data type area, select the "Others" option. And then head to location area and choose where the DLL file stayed originally, such as Local Disk C. Data Recovery will work as soon as you click on the "Scan" button.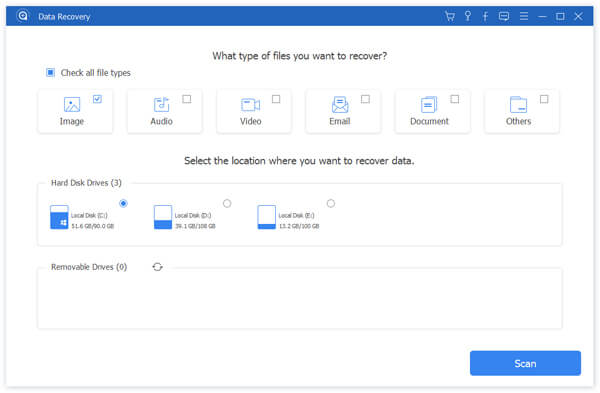 Step 2. Preview missing DLL files before restoring
When scanning result window shows up, click on "Others" on the left side, and open the folders titled "DLL" on right pane to preview deleted DLL files. Moreover, the "Filter" feature at top ribbon could find the file quickly by key words. If you cannot find the corresponding DLL file, click on the "Deep Scan" button to scan the system deeply.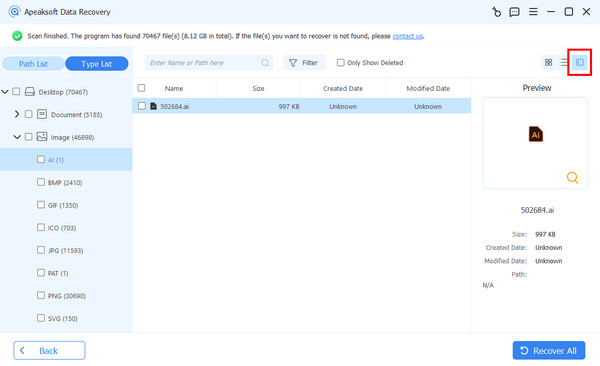 Step 3. Restore missing DLL file in one click
Finally, select the lost DLL file in result window and click on the "Recover" button to restore it to original status.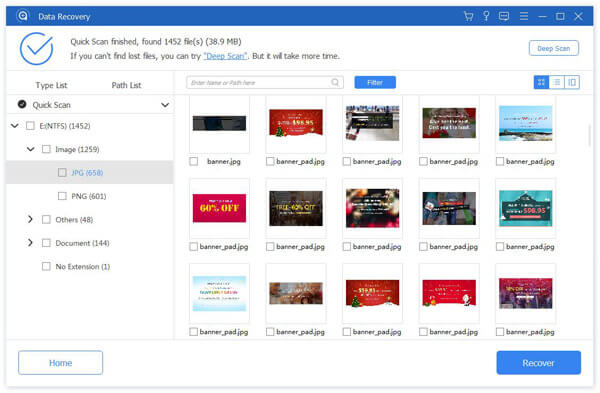 Conclusion
Some programs won't be able to work normally due to missing DLL files. What's worse is that ordinary people do not know what DLL is or what they should do when they get the message said DLL not found & missing. Based on the tutorial above, you might understand how to fix missing DLL file effectively.