"My Samsung Galaxy S8 is frozen and won't do anything, how to fix it?" Today, the smartphone has become an essential part of our life. According to a recent survey, the majority of respondents said that they cannot live without their handsets. It makes sense if you consider that our smartphones almost can do everything from listening to music to watching videos, from reading emails to tracking health. The good news is that you can fix your phone unless it is a significant hardware issue.

My Phone Is Frozen and Won't Do Anything
Part 1. How to Back up a Frozen Phone
No matter why is your phone frozen, you'd better back up all data on your device to avoid data loss during troubleshooting. From this point, we recommend Apeaksoft Android Data Backup & Restore. It simplifies the process and saves you time to repair your frozen tablet or phone.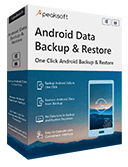 4,000,000+ Downloads
Back up the entire phone or specific data types on your phone.
Add passwords on backup files to protect your privacy.
Keep everything in its original condition.
Restore backups to your Android device quickly.
Here are the steps to make a backup even if your phone is frozen:
Step 1Scan your phone
Launch the best phone backup tool after you install it on your computer. Then connect your phone to the computer with a USB cable. Turn to the software, and choose Android Data Backup & Restore. If your phone is broken, choose Broken Android Data Extraction instead, and follow the on-screen instructions.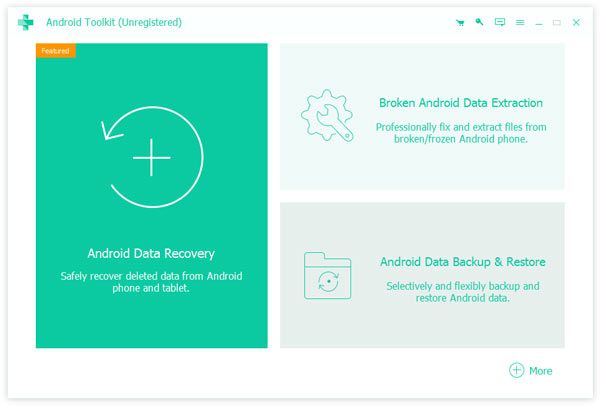 Tip: Make sure that you have enabled USB debugging on your phone.
Step 2Make a backup
To back up the entire phone, click the One-click Backup button to make a backup immediately. If you just wish to back up specific data types, choose the Device Data Backup mode, check the desired data types, and click the Start button.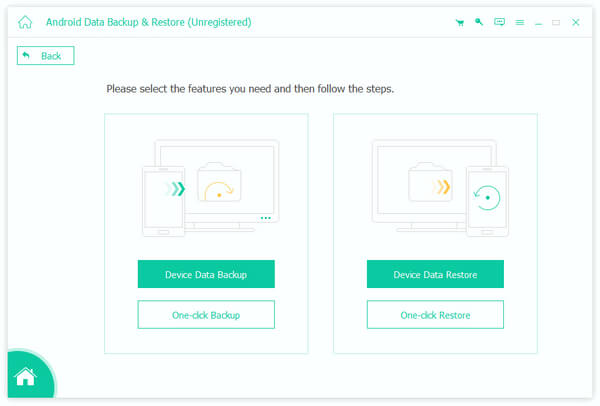 Note: To encrypt the backup, check the Encrypted Backup option and input a password.
Part 2. How to Fix My Phone Is Frozen
Solution 1: Force Restart Frozen Phone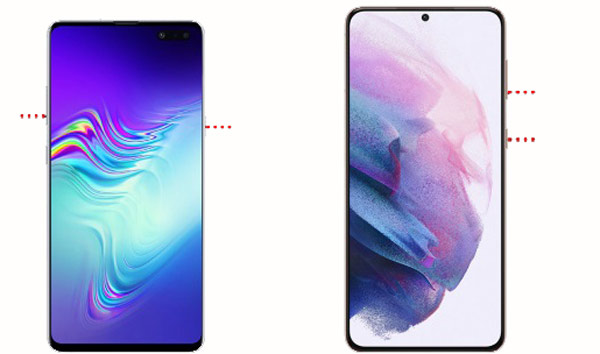 When your phone is frozen and won't turn off or on, the easiest fix is performing a hard restart. A part of Android devices has special button combinations to do a force restart, but there is one trick that almost works for any phone and tablet:
Hold down the Power button for 30 seconds. Let it go when your device shuts down.
On a frozen Samsung Galaxy device, keep pressing the Volume down + Power buttons for seven seconds.
Solution 2: Charge Your Phone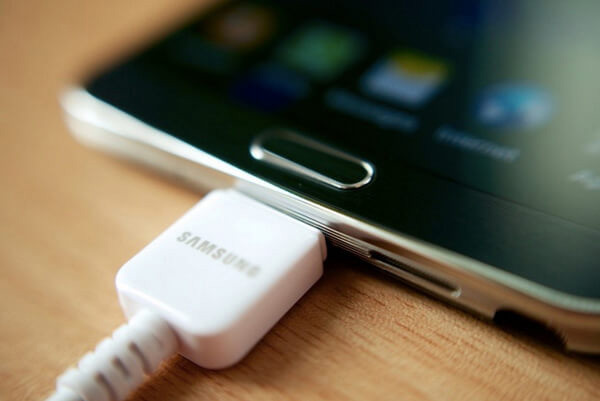 Charging is another way to restart a frozen phone even if the Power button is not working. Plug your phone into the charger and wait for a while. Then you will see the charging icon on the screen. Now, reboot it by pressing the Power button. This way is valid when your phone is frozen and won't do anything since it has run out of battery.
Solution 3: Check Phone Storage
Some Android users reported that their phones are running slow and freezing. That is partly because of a lack of storage space. Android operating systems and apps require an amount of free space to run properly.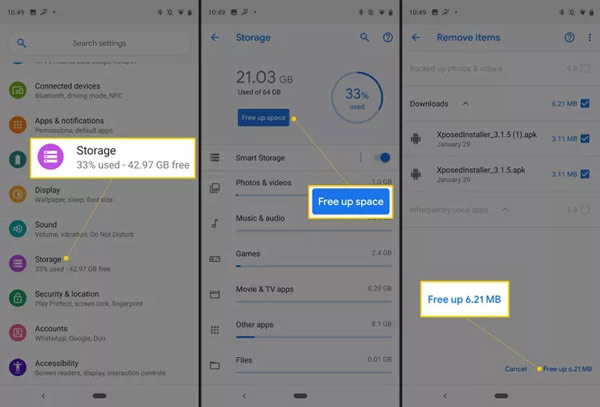 Step 1 Run the Settings app.
Step 2 Head to the Storage or relative tab. On Samsung Galaxy devices, go to Batter and device care, and choose Storage.
Step 3 Then your phone will analyze the storage usage. Tap the FREE UP SPACE button to remove useless downloads and files or free up space manually.
Solution 4: Clean up Conflict Apps
Some apps might lead to your phone screen freezing. For instance, your phone is frozen only when you open a specific app. It means that the app conflicts with your device and you'd better uninstall it immediately.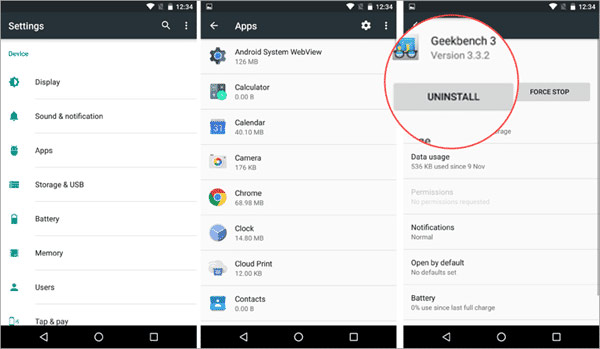 Step 1 Go to the Settings app, and head to the Apps tab.
Step 2 Find the problematic app, and tap it. Touch the UNINSTALL button, and follow the on-screen instructions to remove the app and data.
Solution 5: Ultimate Way to Fix Phone Frozen
If you have performed the solutions above but your phone is still frozen and won't do anything, you will need a powerful troubleshooting tool, such as Apaksoft Broken Android Data Extraction. It can help you get rid of various software issues without technical skills.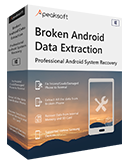 4,000,000+ Downloads
Fix software issues on Android devices quickly.
Keep data on your phone without interrupting.
Available for a variety of situations.
Support almost all Android devices from Samsung, LG, Google, etc.
How to Fix a Frozen Phone
Step 1Install the phone fix tool
Install the software on your PC and start it. Plug your frozen phone into the same PC with a USB cable. Click the Broken Android Data Extraction, and hit the Start button on the right side.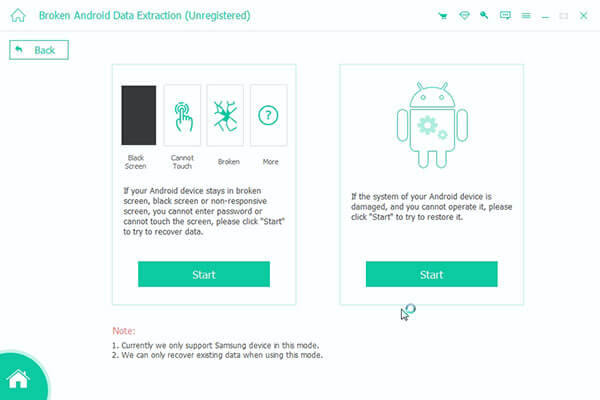 Step 2Check phone info
Select an appropriate issue according to your phone, and click the Next button. Then choose your device name and model from the drop-down options. Hit the Confirm button to move on.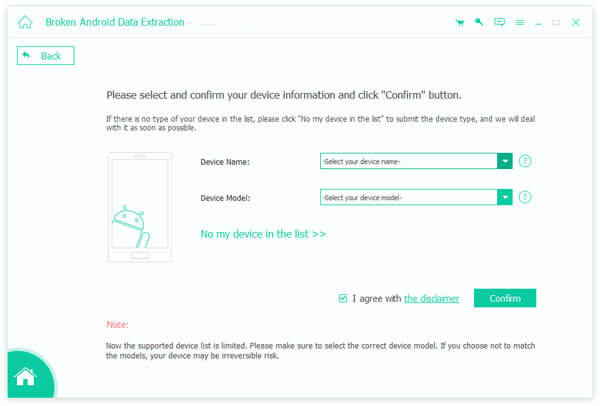 Step 3Fix a frozen phone
Follow the on-screen instructions to put your phone in download mode, and click the Start button to begin fixing the frozen phone.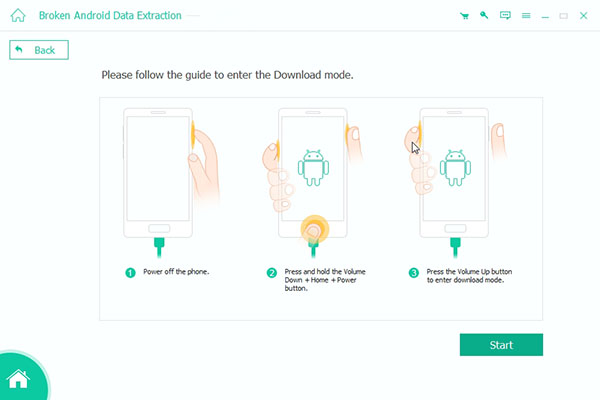 Further Reading:
Part 3. FAQs about My Phone Is Frozen and Won't Do Anything
Why is my phone frozen?
In most cases, a phone is frozen due to software issues, such as lack of storage, insufficient memory, software bugs, and more.
How to enter the safe mode on an Android phone?
Keep pressing the Power button until the power-off screen pops up, and choose Reboot to safe mode.
Can I access my phone again when it is frozen?
Yes, you can fix the phone frozen issue and access your phone as usual.
Conclusion
This piece of troubleshooting helps you to get rid of the trouble that your phone is frozen and won't do anything. First of all, you'd better back up your phone with Apeaksoft Android Data Backup & Restore. Then perform the solutions one by one. Apaksoft Broken Android Data Extraction is the ultimate solution. More questions? Please leave a message below.