By default, the emergency alerts functionality is active on your iPhone. It would send you alarms about extreme weather, child abduction, and other public safety issues. The alert is a convenient feature, but sometimes you may think: why am I not getting emergency alerts on the iPhone? But the next day, you see it on News on TV. Unfortunately, it is hard to locate the underlying reasons, but you must fix this bug on your iPhone. So, this article will focus on the solutions for not getting emergency alerts on the iPhone and provide detailed steps.

No Emergency Alerts On iPhone
Part 1: Manual Solutions for No Emergency Alerts on iPhone
There are seven workable ways to fix such an issue when there are no emergency alerts on the iPhone. Try the solutions here to get the emergency alerts back to your iPhone.
Solution 1: Restart Your iPhone
Restarting is a one-stop solution for all kinds of trivial issues on the iPhone. If an app is stuck, restart your iPhone. Can't receive emergency alerts? Restart your iPhone, of course. But different models have different ways of restarting, find your iPhone model here and check the corresponding methods.
iPhone 8 or earlier (with a home button) : Press the side button and hold it until you see the power-off slider appears on your iPhone screen. Wait a little while and turn on your iPhone again.
iPhone X and later: You need to press and hold one of the volume buttons together with the power button. Slide the power-off bar on the screen to turn your iPhone off.
Solution 2: Switch to Airplane Mode
Why doesn't my phone receive emergency alerts? That might be because of your iPhone network issue. Therefore, you can turn on and turn off airplane mode. To do so, you can tap the airplane icon from the Control Center and turn it on/off. Or you can go to the Settings app and tap the Airplane Mode option to turn it on/off.

Solution 3: Reset All Settings
The third solution for fixing no emergency alerts on the iPhone is to reset all settings on your iPhone. But don't worry; this will not wipe off the data and files on your iPhone. You get the settings you set before back to the default state.
Step 1Tap the General option from the Settings app.
Step 2Scroll down and choose Reset, leading you to a new screen.
Step 3 You can tap Reset All Settings and tap it again to confirm in the pop-up.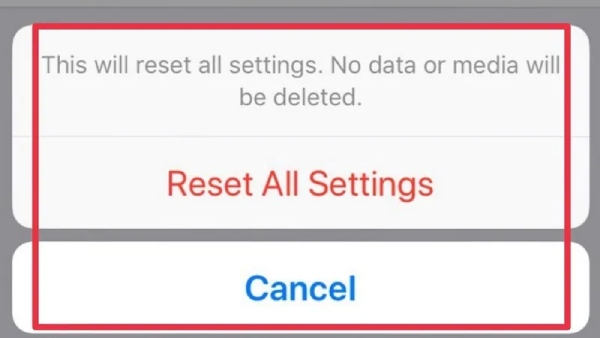 Solution 4: Upgrade iOS System
An obsolete iOS system might also cause no emergency alerts on the iPhone, and upgrading your iPhone to the latest iOS system can fix most bugs. Therefore, go to Settings, tap General, and tap Software Update to see if there is a new iOS. If there is, you can follow the instructions on your screen to update.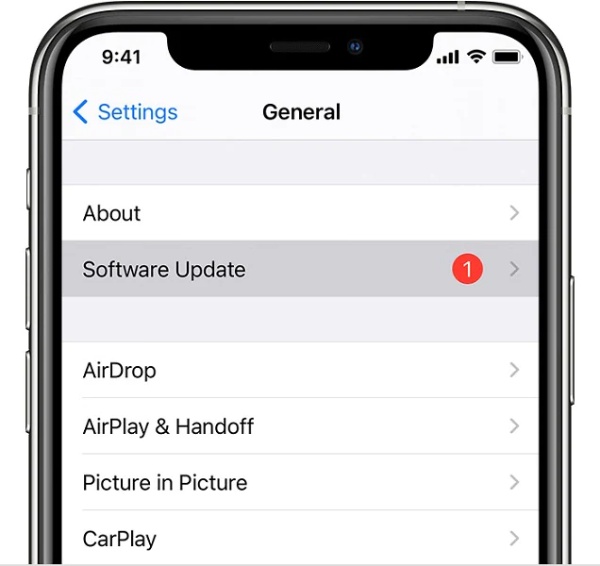 Solution 5: Reset Network Settings
Speaking of network issues, resetting the network settings on your iPhone is also an excellent solution to fix no emergency alerts on the iPhone.
Step 1You must find the Reset option from the General option in the Settings app.
Step 2On the Reset screen, find the Reset Network Settings option and tap on it.
Step 3All your network settings will return to the default ones.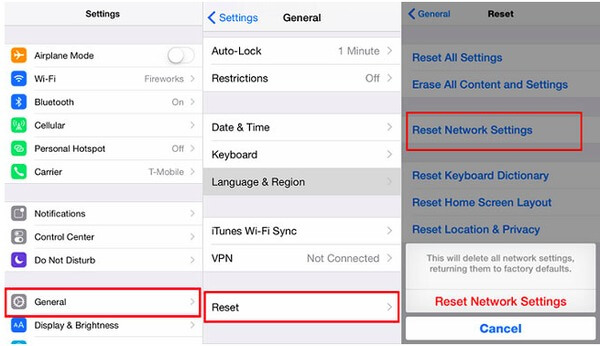 Solution 6: Factory Reset Your iPhone
Can't receive messages on the iPhone? Why am I not getting emergency alerts on my iPhone? How to fix the notification not working on the iPhone? All these issues can be resolved by factory resetting your iPhone. This also requires you to go to the Settings app, tap General and Reset, and select the Erase All Content and Settings option. Be careful before you tap it. This will erase all the data and files on your iPhone.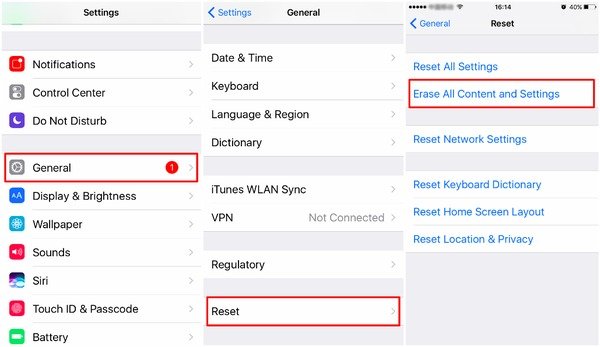 Solution 7: Contact Apple Support
This is your ultimate solution to fix no emergency alerts on the iPhone. Contact Apple Support for further help instantly, and the officials will give you professional help and solve the problem. Online customer services will give you comprehensive and detailed solutions.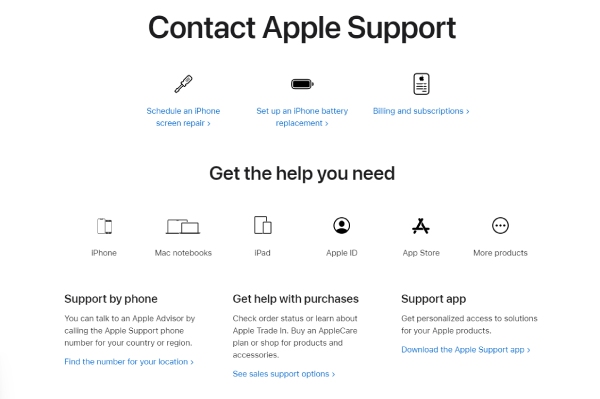 Part 2: Why doesn't My Phone Receive Emergency Alerts [Quick Solution]
Use iOS System Recovery to get the quickest experience in resolving no emergency alerts on the iPhone. One small program on your computer will help you eliminate multiple iOS system problems regardless of your iPhone model. The program's flexibility allows you to choose a recovery mode for different system issues. Under this circumstance, you can prevent your iPhone data from accidents.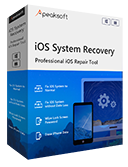 4,000,000+ Downloads
Scan and recover your iPhone quickly.
Promise a clean recovery with absolute safety.
Identify almost all iOS devices, including iPhone 15.
Protect your iPhone when recovering system issues.
Step 1First of all, download the program via the button above. Install and launch it on your computer. Find a workable USB cable and connect your iPhone to your computer. You might need to trust this computer to continue. Then, click the iOS System Recovery button.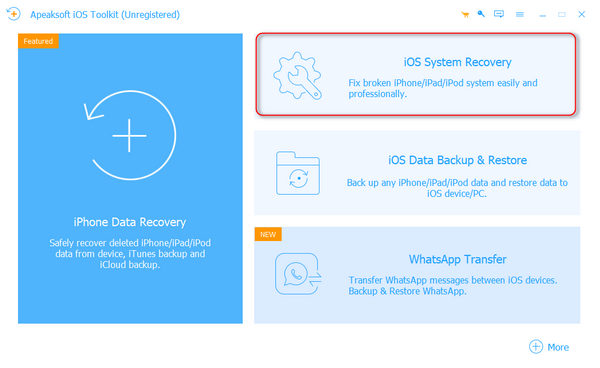 Step 2Once the connection succeeds, click the Start and Fix buttons to go on. Now, you can choose a recovery mode, from which the Standard mode would suffice. Because this mode can resolve your emergency alerts issue and will not clean off your essential data.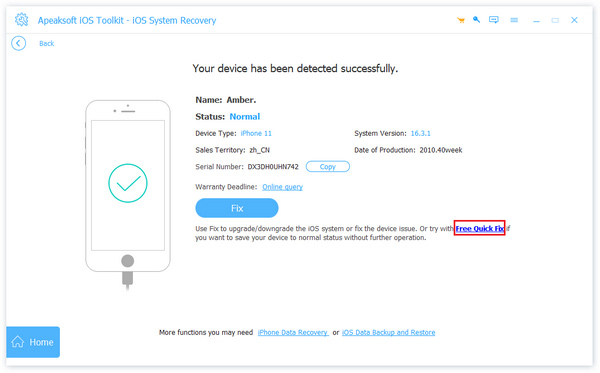 Step 3Choose the corresponding category, type, and model that match your iPhone. Click the Get button to see the firmware needed for recovery. Click the Download button to download it, and the firmware will be saved in the default folder. Finally, click the Next button to recover.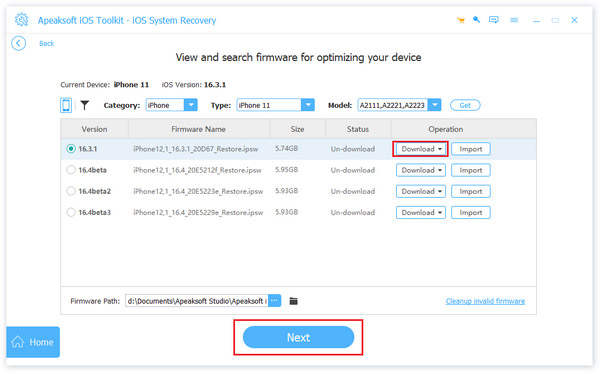 Tip :
These steps are suitable for all kinds of iOS problems like notification failures,
iPhone not ringing
, stuck apps, and so on. Make sure you have chosen the correct firmware for your iPhone so the recovery process can go smoothly.
Part 3: FAQs about No Emergency Alerts on iPhone
Question 1. How to turn off emergency alerts on the iPhone?
You can find such options from the Notifications options in the Settings app. Go there and scroll down. There will be options for different government alerts; tap to turn them off.
Question 2. Why don't I get AMBER alerts?
Firstly, you must make sure you didn't turn the alert off before. You can check this in Notifications from the Settings app. If this feature is active, but you can't receive it, use the exact solutions above to identify the real cause and fix it.
Question 3. Can I receive emergency alerts if the iPhone has no SIM card or eSIM?
No, you can't. There will be no emergency alerts on the iPhone since this service is provided only when you are using a SIM card from a supported carrier.
Conclusion
To wrap things up, you have got 8 solutions that can help you thoroughly solve the "why doesn't my phone receive emergency alerts" issue. All these solutions are worth a try since the exact cause of the such problem cannot be identified correctly. But, among all these solutions, you might find that iOS System Recovery is the quickest to help you resolve it. Now, grab your iPhone and follow the steps to solve it.