Connected your AirPods to your iPhone, only to find that one of them isn't playing beautiful music as you'd expect? This situation is very common among Bluetooth headset users. The source of the failure can be the AirPods themselves or the device to which they are connected. To solve this problem, you first need to find the root cause and the right remedy.
To help you get out of handicap as soon as possible, we'll cover in this article how you should fix having one AirPod not working in case of AirPods failure and device failure, respectively. The 8 methods we offer will be accompanied by detailed step-by-step tutorials that are all fairly simple to follow, so you don't need to worry about being unable to finish the process smoothly. Now, follow in our footsteps to discover what works for you!

Fix One Airpod Not Working
Part 1. How to Fix One AirPod Not Working
Way 1. Reconnect AirPods to Your Device
One AirPod may suddenly not work because the connection between it and the device was broken. So you can try to repair your AirPods with your device and connect them via Bluetooth again.
We will take iPhone as an example. Here are the steps to re-pair AirPods and iPhones.
Step 1 Go to Settings, and choose Bluetooth. Find your AirPods in the drop-down list. Tap the i icon nearby the name of your AirPods.
Step 2 Tap Forget This Device, and put your AirPods into the charging case.
Step 3 Press and hold the Setup button on your charging case until the light flashes orange, followed by white.
Step 4 Reconnect your AirPods to the iPhone, and check if the one that is not working is back to normal.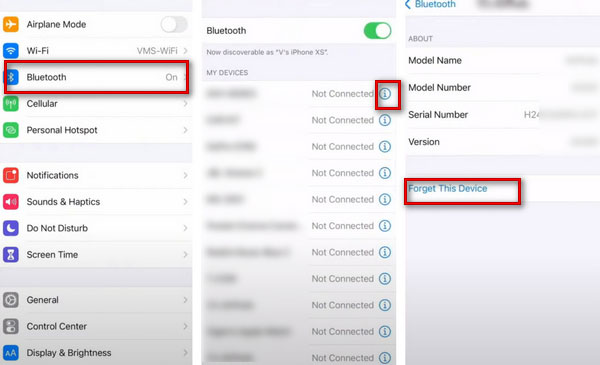 Way 2. Restart Bluetooth on Your Device
If one of your Airpods is not working even after resetting, then there may be a problem with the connection on your device. In this case, you can try to turn off and re-enable the Bluetooth connection on your device.
Here is what you need to do.
Step 1 Open Settings on your device, and find Bluetooth.
Step 2 Turn off Bluetooth. Wait for a while, then turn it on. Connect your AirPods to the device again.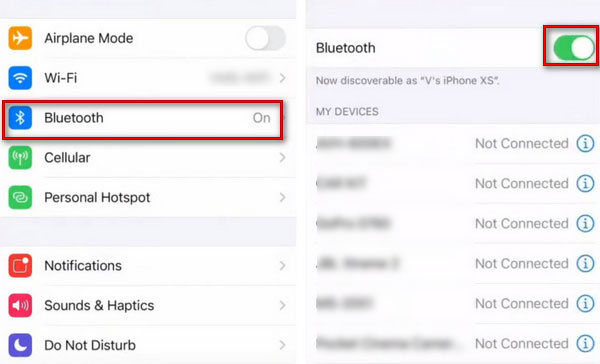 Way 3. Check the Battery Level of AirPods and Charge It
This is probably the simplest and most direct cause of only one AirPod not working. If an AirPod runs out of power, it will automatically shut down and will not start up again. So you can check the battery level of both AirPods and charge them first. See if the problem is solved when the power is sufficient.
Here are the detailed steps.
Step 1 Put your AirPods back into the charging case. Open the lid of your case, and hold it near the device.
Step 2 The battery level of the charging case and each AirPod will be displayed on the device's screen. If AirPods run low on power, charge them promptly to ensure proper use.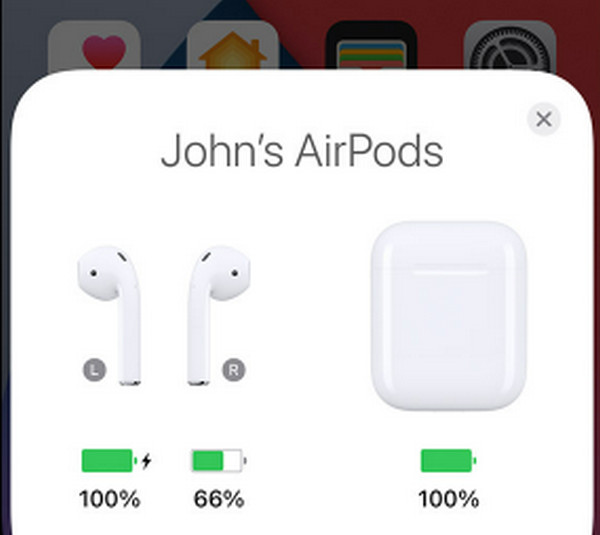 Way 4. Clean Your AirPods
If your AirPods microphone or speaker does not work even with a full charge, you can check its surface and mesh to see if dust, dirt, or debris is attached. The presence of these things can affect the proper functioning of AirPods. To solve the problem, you can use the appropriate tools to clean the AirPods.
Here are the guidelines to help you clean your Airpods.
Step 1 Clean AirPods with a damp cloth lightly dipped in water.
Step 2 Wipe them with a soft, dry lint-free cloth. Do not use them until they are dry.
During this process, do not allow any liquid to enter the openings, and do not use sharp objects to clean them.
Way 5. Check the Stereo Balance of Your Device
AirPods adjust the volume of the left and right AirPod to ride to different sizes, known as Stereo Balance. It aims to help some hearing-impaired people use them properly, even with a weaker ear. So if you find your left or right AirPod not working normally, check to see if your balance is not at the level you're used to. If they're not, adjust them to a normal level directly on the device.
Step 1 Go to Settings, tap Accessibility > Hearing > Audio/Visual.
Step 2 Adjust the slider in the middle between L and R, and ensure Mono Audio is turned off.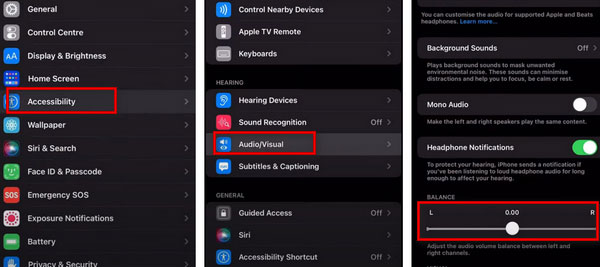 Way 6. Reset Network Settings
If one of your AirPods cannot connect to a Mac or iPhone, there may be a problem with the device's network connection. If you've established too many Bluetooth or Wi-Fi connections and used a VPN, your network connection settings may be confused. To get it back on track, you can reset it.
Here are the steps to reset network settings on your device.
Step 1 Open Settings, choose > General > Transfer or Reset iPhone.
Step 2 Tap Reset Network Settings, and connect your AirPods to your device.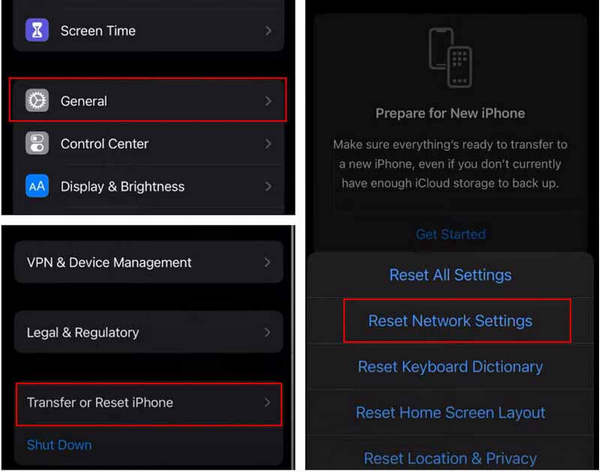 Way 7. Update the iOS System of Your Device
If the iOS system of your device is not updated to the latest version, some of its functions will not be used properly. So if you find that your Apple AirPods are not working, check if your system is updated to the latest version.
Here are the steps we provide to help you.
Step 1 Go to Settings > General > Software Update. Let your device find out if there are any available iOS updates.
Step 2 If you find a version that can be updated, tap Download and Install.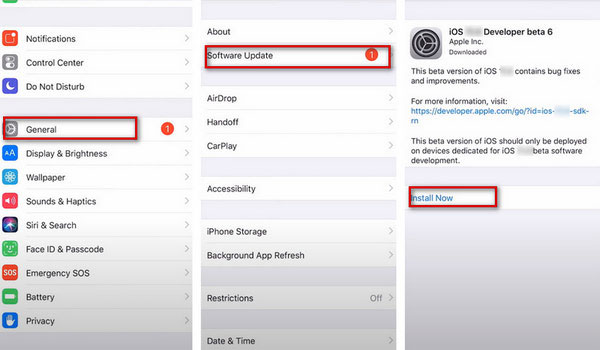 Way 8. Recover the iOS System with the Best Tool
If, after checking, it turns out that it's not the AirPods themselves and restarting the device's network settings doesn't fix the problem of AirPods not working, then there might be something wrong with the device's system. You can use some tools to help you fix the system. We recommend you try Apeaksoft iOS System Recovery, the best repair software. It can provide the most professional system repair service to restore your device to its normal state efficiently while guaranteeing no data loss.
Here are the steps to operate it.
Step 1 Download and install Apeaksoft iOS System Recovery on your computer, and choose iOS System Recovery.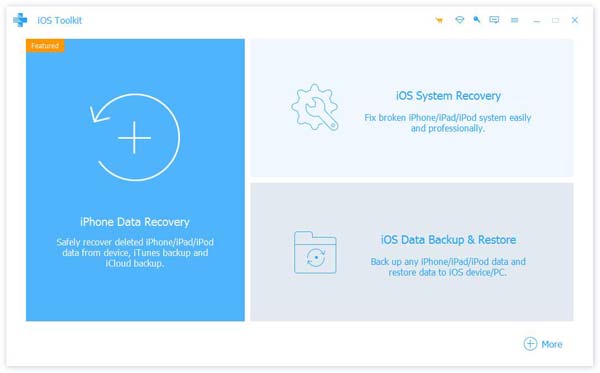 Step 2 Link your device to the computer through a USB cable. Click Start to let the software detect your device.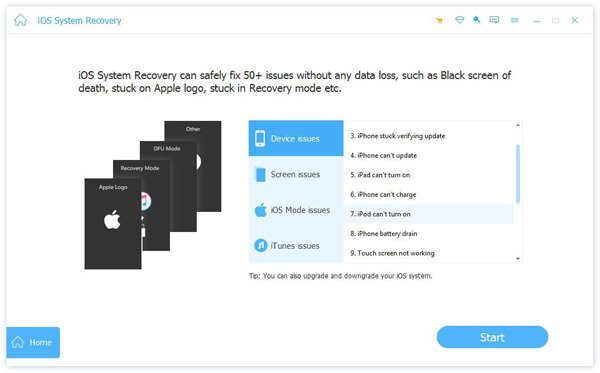 Step 3 Click Fix and choose a mode that suits your condition. Then press Confirm.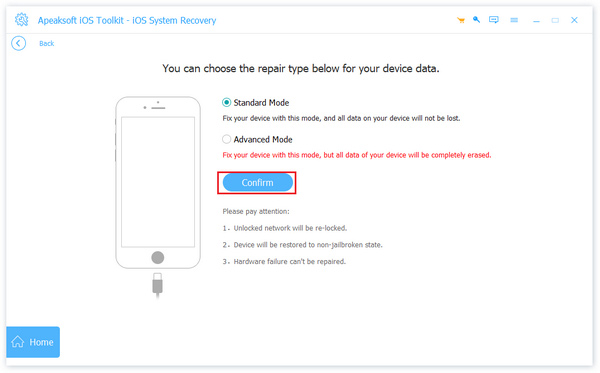 Step 4 Choose the type of your device and download the according system. Click Next to start repairing.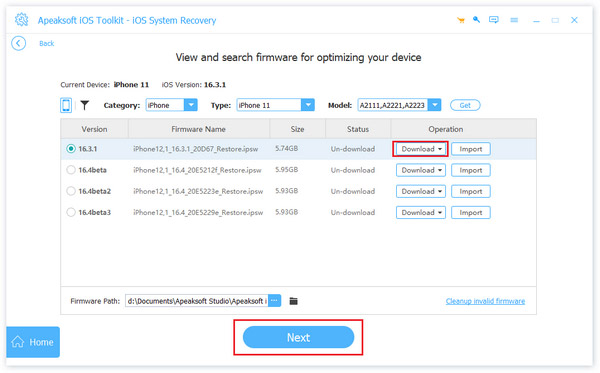 Part 2. Tips to Protect Your AirPods from Damage
AirPods are still more vulnerable to damage. And for most people, it's not cheap. So you need to keep it carefully. Here are a few tips to protect your AirPods from harm.
Gently clean your AirPods regularly with non-woven fabric, or you can wipe them with an alcohol pad.
Avoid exposing your AirPods to any liquids, especially not placing them under running water.
Placing AirPods back in the charging case when not in use.
Use ear tips that fit your ear size to avoid AirPods from falling out often due to size discrepancies.
Following the tips to protect your AirPods can effectively extend their life and reduce the frequency of problems such as AirPods not connecting to iPhone or not working properly.
Part 3. FAQs About One AirPod Not Working
How long do AirPods last?
If you're using third-generation AirPods and give it a full charge with a healthy battery condition, it can support you for 30 hours of listening and 20 hours of talking. The average lifespan of AirPods is two to three years. Due to battery wear and tear, you must replace AirPods with a new one.
Does AirPods need updating?
Yes, AirPods need to be updated on time as well. If you need to update, you can do it on your iPhone. Start by connecting your AirPods to your device, open Settings, and find Bluetooth. Tap the Info button nearby your AirPods. Then scroll down to find the firmware version in the About section.
Does AirPods drain your phone battery?
Since AirPods are connected to your phone by Bluetooth, you must always leave Bluetooth on. This can cause your phone's energy consumption to increase. If you also play music and talk to others after connecting, your phone's power will be consumed more quickly. So when you don't need to use your AirPods, put them back in the charging cases and turn off your phone's Bluetooth promptly.
Can stolen AirPods be tracked?
If your AirPods are stolen or lost, you can use the Finder App on your Apple device to locate them. iPhone, iPad, iPod, and Mac all have this feature. Or you can enter icloud.com into your browser to find it. But the further away you are, the more difficult it is to find.
Can you pair mismatched AirPods?
Sometimes we can re-pair two individual AirPods from a different origin. As long as two AirPods that are not a pair are the same generation and model, you can mix and match them together. But if they are not of the same generation or not the same model, this method does not work.
Conclusion
We have 8 solutions for different situations to help you fix your AirPods more smoothly. After finding out the triggers, you can follow the step-by-step guide to fix AirPods and its connected devices. If one AirPod is not working because of the system problem of the connected device, try Apeaksoft's iOS System Recovery to restore it to normal efficiently to protect your sense of use.