"I prefer to take photos with my high-end Galaxy S8, but the internal storage is limited, so I bought a Micro SD card, I put it into my Android phone, it displays the blank SD card message rather than the card. It works in other phone just not mine, what can I do to fix this problem? Please help."

There are some representative SD card errors like SD card is blank or has unsupported filesystem, especially among multi-device users. What should you do in order to fix the problem? In this tutorial, we will tell you how to fix this problem.
Part 1

: Why SD card is blank or has unsupported file system

Why SD card is blank or has unsupported filesystem? There are several factors could trigger this error, like:

1. When you use the SD card on different operating system without reformatting the card, the file system may be not supported.

2. Some people remove the SD card without turning off their phone, and then the error shows up.

3. If you have used the SD card on an unsafe device, it may be infect by virus, malware or Trojan and destroy your data.

4. Another common reason is to pull off the SD card without taping on eject.

Reading more: Ways to Solve SD Card Stopped Working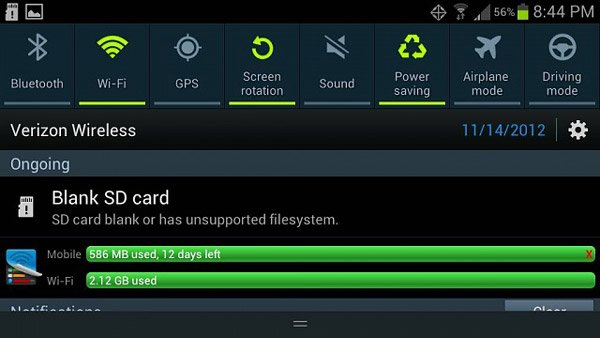 Part 2

: Top 5 methods to fix unsupported SD card error

In this part, we are going to concentrate on how to get rid of unsupported SD card error.
Method 1: Reconnect the SD card and device
No matter you get the message said SD card blank on computer or Smartphone, the first thing you can try is to pull off the card and re-insert it into the device again. In some cases, people put the SD card into the card tray or slot incorrectly. If it is upside down, your machine cannot read the SD card. Next, turn of your phone or computer and reboot it to see if unsupported SD card error disappears.
Method 2: Fix unsupported SD card by chkdsk command
Microsoft has introduced a built-in disk diagnosis feature into Windows, chkdsk. It may be able to help you to do blank SD card fix.
Step 1. Insert your SD card into a PC. Open an Explorer, find the SD card under "Portable Devices" section and remember the drive letter of the card.
Step 2. Press Win + R keys to open the Run dialog, input "cmd" into the box and hit Enter key to open a command window.
Step 3. Type "chkdsk [SD card drive letter]/f" and then hit the "Enter" key to fix SD card error.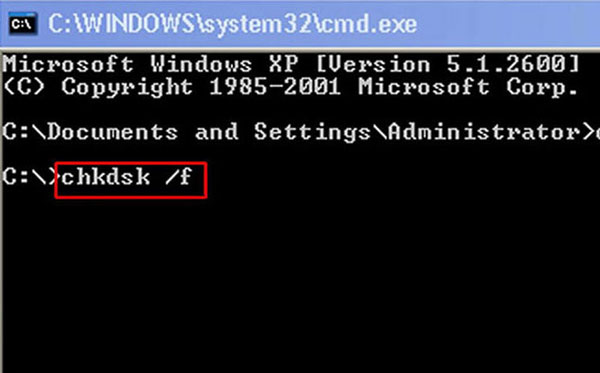 Method 3: Reinstall drivers to do blank SD card fix
Computer relies on the drivers to detect SD card and other portable devices. If there is something wrong on the driver, unsupported SD card error will happen.
Step 1. To reinstall the driver, right click on "My Computer" from desktop and choose "Manage" on the menu bar to open "Disk Manager".
Step 2. Scroll down to find the "Disk Drives" entity and right click on the SD card drive, click on "Uninstall" and then click "OK" to confirm it.
Step 3. Next, restart your computer, Windows will search for and install the latest driver automatically.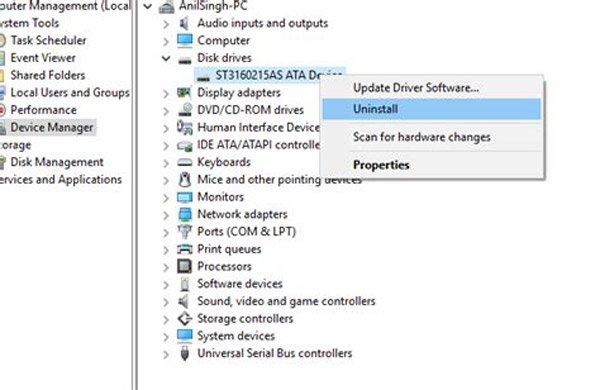 Method 4: Recover data from blank SD card
Even though the problem of unsupported SD card happens, you can recover data from the SD card with Apeaksoft Data Recovery. It is the best SD card recovery program integrated many useful features, such as:
1. Get back your files in one click when SD card is blank.
2. Work on various factors caused SD card error, like wrong operations, virus attack, file system corrupt, etc.
3. Support a variety of data types and formats, including all image, video, audio, document, archive and email formats.
4. Recover the files on unsupported SD card in original format and quality.
5. Preview all files and decide to recover all of them or specific items.
6. This SD card recovery tool is lightweight and could recover files quickly and safely.
7. Moreover, Data Recovery is compatible with 10/8.1/8/7/Vista/XP.
In short, it is the best option to recover your data from an unsupported SD card.
How to recover files from an unsupported SD card
In this part, we will show you how to do compact flash data recovery in detail. We use a 2GB SD card and Windows 10 as the example.
Step 1. Run Data Recovery and make sure to insert the SD card into your PC. Firstly, navigate to the data type area, select the file types by ticking the corresponding checkboxes, such as Image, Video, Audio, etc. Then head to the location area and select the SD card in "Removable Devices" section. Once click on the "Scan" button, Data Recovery will work automatically.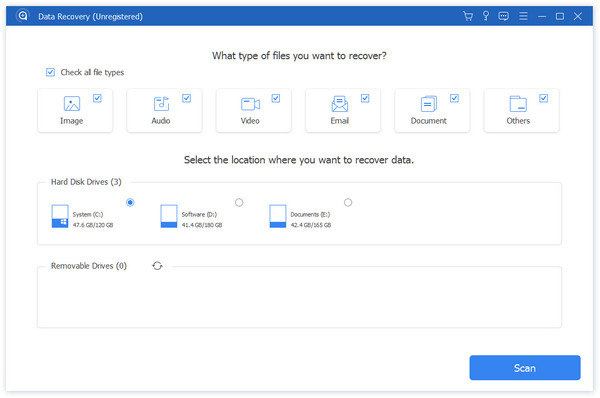 Step 2. You will be brought to the result window after standard scanning. And all recoverable files will be saved according to types and formats. Go to each folder and look at them. Moreover, the "Filter" feature at top ribbon could locate the desired files quickly. If you cannot find the files you want to get back, click on the "Deep Scan" button to scan the SD card deeply.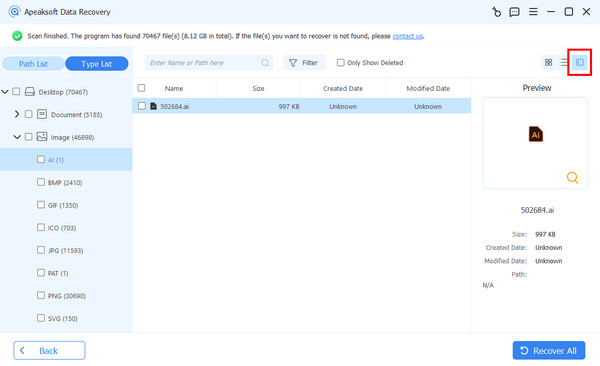 Step 3. Finally, select all desired files on unsupported SD card, and click on the "Recover" button to start extracting data to your computer. When it is done, you can open, copy and paste, or edit your files as usual.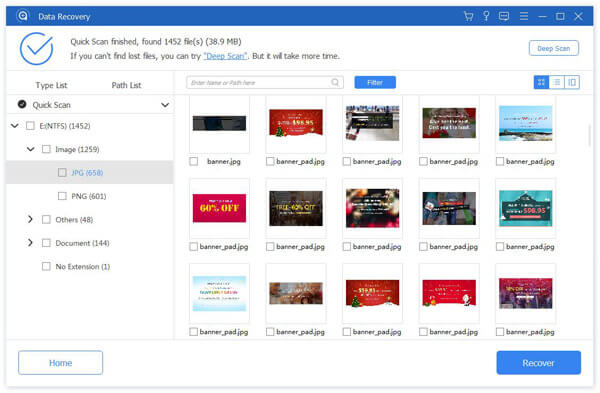 Here you may also want to know: how to fix Windows cannot access the specified device path or file.
Method 5: Format unsupported SD card
After recover data from the unsupported SD card, you can feel free to format the card and rebuild the file system.
Step 1. Put the SD card into an Android phone, Windows PC or Mac.
Step 2. On Android phone, navigate to "Settings" > "Storage", locate to the SD card section and tap on "Format SD card". Then Android will change the file system to supported format.
On Windows PC, go to "My Computer", right click on the SD card under the "Portable Devices" area and select "Format". Unfold the dropdown menu under "File System" and select a proper file system:
NTFS is default Windows operating system format;
FAT32 is a widely compatible format;
exFAT is compatible with Windows and Mac.
Next, click "Start" the button to format the SD card.
On Mac, open the "Disk Utility" app and select the blank SD card under "External", and click "Erase" on top ribbon. Change the file system of the SD card and click "Erase" again. Now, the unsupported SD card should work fine.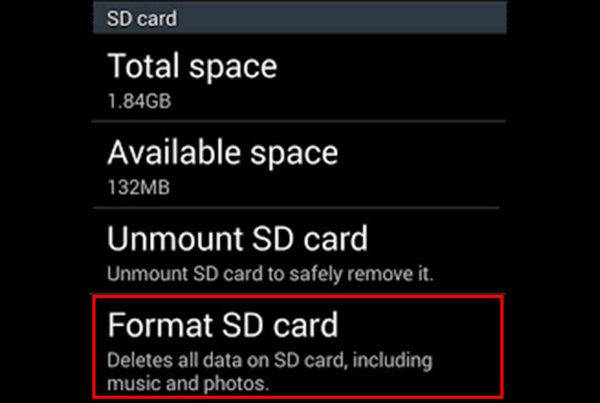 Conclusion:
In recent years, SD card has gained great prevalent in all areas, Smartphone owners use it to transfer data, expand Android phone storage, save photos in camera. It has made sense that more and more people encounter the problems related to SD card. We have shared multiple methods to fix unsupported SD card error on computer and Smartphone.