Many users have reported that their iPhones have horizontal or vertical lines on screens. In fact, it is an ongoing problem with the iPhone. In addition to physical reasons such as accidental damage to the iPhone can cause the screen to malfunction. Sometimes there are bugs in the software and system that cause blue, green, black, red, pink, grey, or purple lines. In this article, you will get some causes of screen line failure. Then you can pick the most effective way to solve the iPhone screen lines issue from 8 methods. Please read on.

Vertical Horizontal Lines on iPhone Screen
Part 1. Why are There Horizontal & Vertical Lines on iPhone Screen
There could be several reasons your iPhone screen shows horizontal or vertical lines. It could be due to a software glitch, a hardware problem, or even physical damage to the screen. Sometimes, the issue could be the display connector is not properly connected to the logic board.
Understanding the root cause of the problem is the first step toward finding a solution. If your iPhone screen has lines because of water damage, dropped iPhone, or excessive ESD (Electro-Static Discharge), read the first to second solution. If you face iPhone software or system issues, you can read the third to eighth solution in the next part to fix iPhone screen glitching lines.
Part 2. How to Fix the Lines on iPhone Screen [8 Ways]
1. Repair LCD Screen
If you drop your iPhone or it suffers water damage, this can cause lines to appear on your iPhone screen.
Because the impact from dropping and water damage in your iPhone can damage the internal components or the screen itself, causing the lines to appear.
In this case, the best thing to do is to take your iPhone to a professional repair service. They can assess the damage condition and replace the screen or other damaged parts as needed.
2. Cycle Charge the Battery
Sometimes, the iPhone screen's vertical lines issue could be due to the battery problem. You can cycle charge the battery to see if it solves the problem. Just charge the battery to 100%, use it to 0%, and then charge it again fully.
3. Professional System Recovery
If it is not a physical failure, the best way to fix all lines across the iPhone screen caused by software or system glitches is to use a professional repair tool. Apeaksoft iOS System Recovery is one of the best software you cannot miss. It can help you fix iOS systems to normal in a few clicks, including the lines on iPhone screen. It provides 2 effective repair modes, including Standard Mode and Advanced Mode. And its user-friendly interface is easy for beginners when encountering screen issues for the first time. Just download the iPhone screen issues fixer first and then follow the steps.
Step 1Choose iOS System Recovery
Run the iPhone fixer on a computer. Enter the iOS System Recovery panel and click Start. Next, connect the iPhone to your computer with a USB cable.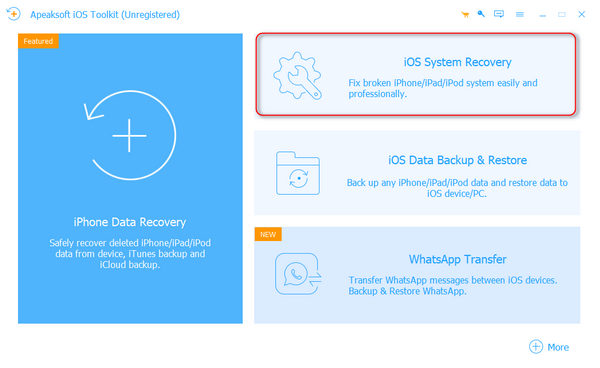 Step 2Start Free Quick Fix
Once the software detects your iPhone, click Free Quick Fix to fix the screen to normal status. If it does not work, go to the next step.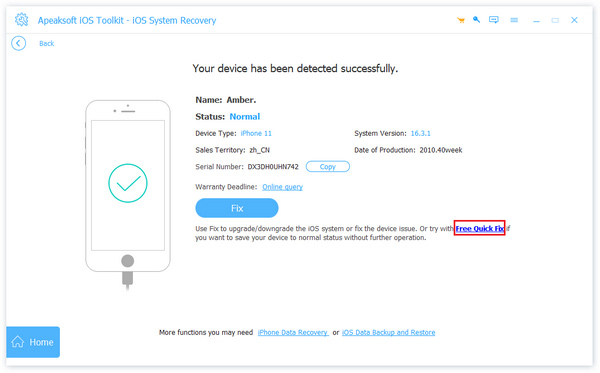 Step 3Choose Repair Mode
Click Fix on the detecting interface. Then, choose a repair mode.
Try the Standard Mode first since it can fix some iPhone system issues and keep all data. If it doesn't work, try the Advanced Mode to fix more system issues. But it will erase all data and settings on iPhone.
After selecting, click Confirm.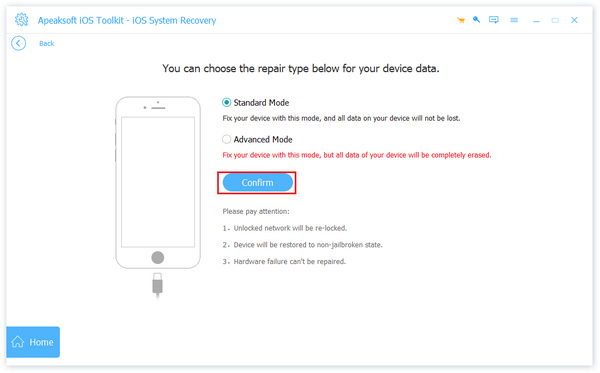 Step 4Check iPhone Information
Read the iPhone's information, including Category, Type, and Mode. If they are incorrect, modify them by clicking the drop-down list.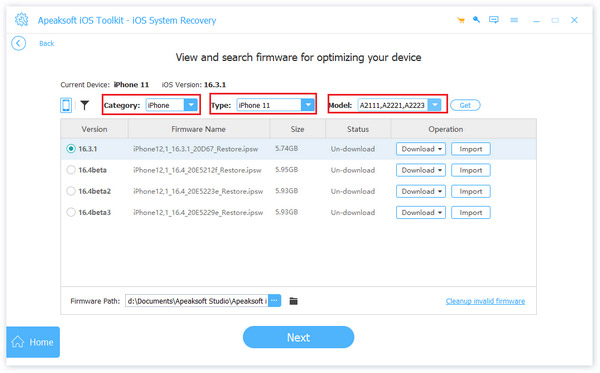 Step 5Download a Firmware
Click Download to get the firmware from the showing list. Install it and click Next.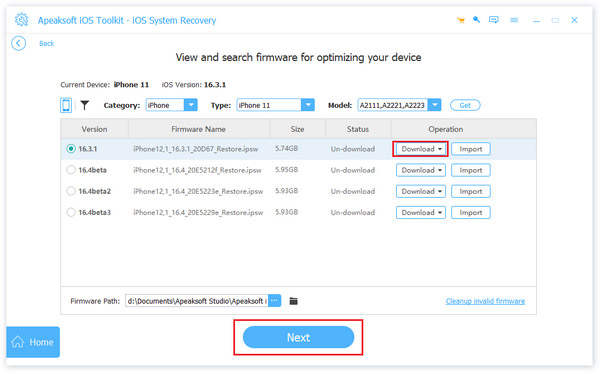 Wait for a moment, and the software can fix the lines on the iPhone screen automatically. Besides using professional tools, you can also try other simpler ways to fix your screen lines. Continue reading.
4. Force Restart iPhone
Usually, restarting iPhone is a simply way to solve the lines issue. But it sometime doesn't work. In this case, you can try to force restart iPhone. It can solve more software glitches that might be causing the lines on your iPhone screen. The process is simple and direct. And you can follow the steps below according to your iPhone model.
For iPhone 8/X/XR/11/12/13/14: Press and release the Volume up button. Then, press and release Volume down. At last, long-press and hold Side until the Apple logo appears on the screen.
For iPhone 7/7 plus: Long-press and hold the Side and Volume down button simultaneously. Then, you will see the Apple logo on your iPhone screen.
For iPhone 6/6s/6s plus/SE (1st generation): Long-press and hold the Side and Home button together until the Apple logo appears on the screen.
5. Update iOS Version
Besides adding new features, the new iOS version usually includes bug patches, which are crucial to the iPhone's regular operation. Try to update your iPhone to the latest iOS version if you want to fix these software bugs that causes the horizontal or vertical screen lines on your iPhone 14/13/12/11 or earlier. Follow the steps to do it.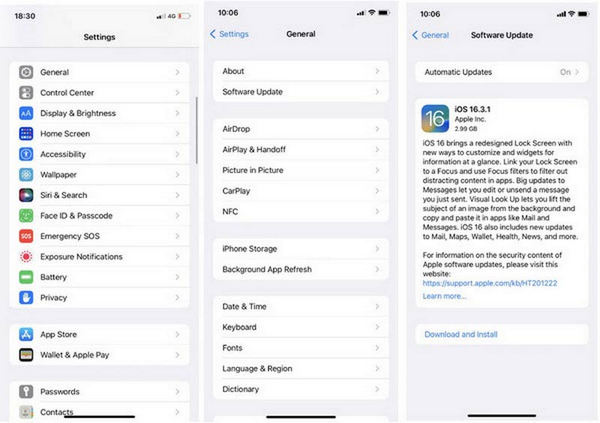 Step 1 Enter the Settings app. Tap General.
Step 2 Tap Software Update on the top screen.
Step 3 Tap Download and Install. Then, type the iPhone passcode to confirm the upgrade. Next, tap Use Cellular Date or Don't Use Cellular Date to start updating.
6. Factory Reset Settings
Restoring your iPhone to factory settings directly can solve serious software issues, including screen lines. But it will erase all content and settings on your iPhone. Before doing this, make sure to back up your iPhone.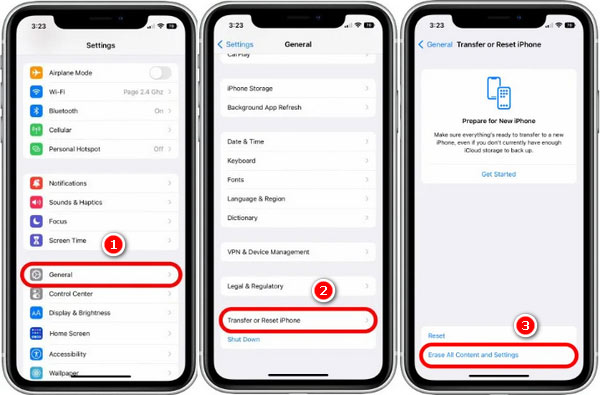 Step 1 Go to the Setting app and tap General.
Step 2 Tap Transfer or Reset iPhone on the bottom screen.
Step 3 Select Erase All Content and Settings and tap Continue. You should enter the screen passcode to confirm the process.
This process will take a few minutes. A Hello screen will appear, and you can check the screen again.
7. Restore with iTunes
Restoring your iPhone with iTunes is another way to put the device into a factory setting. It also can fix the lines on your iPhone screen. Here are the quick steps for you.
Step 1 Connect your iPhone to your computer. Open iTunes on your desktop.
Step 2 Select the iPhone icon on the top left screen. Then, click Restore iPhone on the right panel.
Step 3 Confirm your action and wait for the process to complete.
Note : When restoring iPhone to its factory settings, the process will erase all your media and other data.
8. Put iPhone into DFU Mode
The last way to fix the horizontal or vertical lines on iPhone screens is to put your iPhone into DFU mode (Device Firmware Update). Please note that the DFU mode will delete all iPhone data, like factory settings. Here's how to enter DFU mode.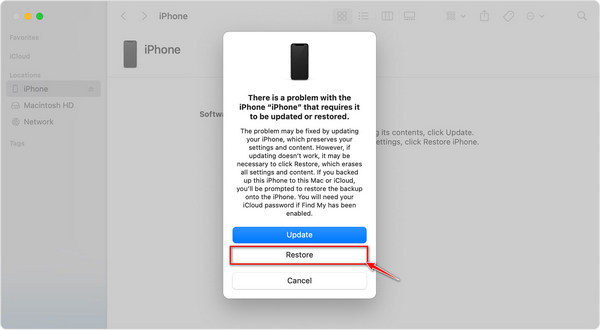 Step 1 Open iTunes on your computer. If iTunes is already open, close it first and then open it again.
Step 2 Connect your iPhone to your Mac or PC. Then Force Restart iPhone (with the steps mentioned in method 4) and wait until the recovery mode screen appears.
Step 3 When you see a pop-up window, click Restore.
After finishing the process, enter the iPhone to check if the screen lines have been removed.
Note : Please ensure the iTunes version you've downloaded is the latest before starting the operation.
Part 3. FAQs of Horizontal & Vertical Lines on iPhone Screen
Will Apple fix my screen for free?
It needs to pay if you need to replace a cracked iPhone screen. Because the Apple warranty doesn't cover physical iPhone damage.
But if your iPhone needs screen repairs, you can get coverage for accidental damage from handling with your AppleCare+.
Can you fix the horizontal lines on the iPhone screen after water damage?
Yes. You should turn off your iPhone immediately and try to dry it out as much as possible. And you should avoid charging it or turning it on until it's completely dry. If the lines persist after the iPhone is dry, you can ask for help from a professional repair service.
Why does my iPhone screen have green lines?
A software glitch will cause horizontal green lines on an iPhone screen. Part of iPhone 14 users have reported issues with flashing, horizontal green lines appearing on the screen at startup or locked. Fortunately, the issue will disappear after you update to the last iOS version.
Conclusion
This article shares 8 ways to fix the horizontal and vertical lines on iPhone screen. You can read the reasons that may cause the issue first. Then, choose one way to get rid of it. Remember to back up your iPhone when the way may cause data loss. If you have other questions about iPhone screen lines, comment below.