5 Effective Ways to Fix Mac Keeps Shutting Down Randomly
It's quite annoying that your Mac keeps shutting down .
This post covers several possible causes why a Mac keeps shutting down and 5 useful solutions to fix it. If your MacBook Pro, MacBook Air, iMac, or Mac mini keeps shutting down unexpectedly, you can try using them to solve the problem

Part 1. Why Does My MacBook Keep Shutting Down
Before we show you how to solve the Mac keeps turning off problem, you should know the most probable cause of it. There are many possible causes will read your MacBook keeps shutting down randomly. This part lists several main reasons why your Mac shuts down unexpectedly.
Software errors. It can be one of the most probable causes of Mac keeps shut down randomly. You should install software from App Store. Also, you need to keep your Mac applications updated to avoid various errors.
Virus or malware. If you mistakenly have some virus or malware on your Mac, you may face all sorts of problems including the Mac keeps shutting down.
Old macOS version. Some older system versions on your Mac will also cause different issues. If you are running an old version of macOS, that can cause your Mac device to turn off randomly.
Hardware problem. In some cases, the MacBook keeps shutting down problem is due to the peripheral device malfunction. When it is malfunctioning or just not compatible with your Mac system , you will get unexpected shutdowns.
Part 2. How to Fix Mac Keeps Shutting Down with 5 Effective Solutions
From this part, we like to share 5 useful tips to help you solve the Mac keeps turning off problem. You can try using them one by one until the problem is solved.
Force shut down to fix Mac shuts down randomly
Even though your MacBook keeps shutting down, it may not complete a full shutdown. So when you want to get rid of the shutdown problem, you should first try performing a complete and proper shutdown.
You can press and hold the Power button for 10 seconds or more to shut down your Mac. Also, you can press Control + Option + Command + Power keys at the same time to safely shut down your Mac. After that, you can turn your Mac on again and check if the issue is fixed.

Note that, if there are some non-responding applications on the Mac, you can press Control + Option + Esc to make a force shut down.
Update macOS to fix Mac keeps shutting down
As mentioned above, an older macOS may cause your Mac shut down randomly. So, you can check if there is an available Mac system updating version.
Click on the Apple menu in the upper-left corner, select About This Mac from its dropdown, and then choose Software Update. In the pop-up Software Update window, click on the Update Now button to update your Mac to the latest macOS version.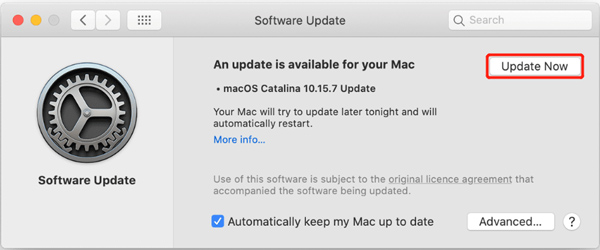 Detect and remove Mac malware
If your Mac gets infected by malware or virus, you can choose to remove it from your Mac to fix the Mac keeps turning off issue. You can use the professional Mac Cleaner to help you easily remove malware, virus, adware, and other threats from Mac and fix various Mac problems.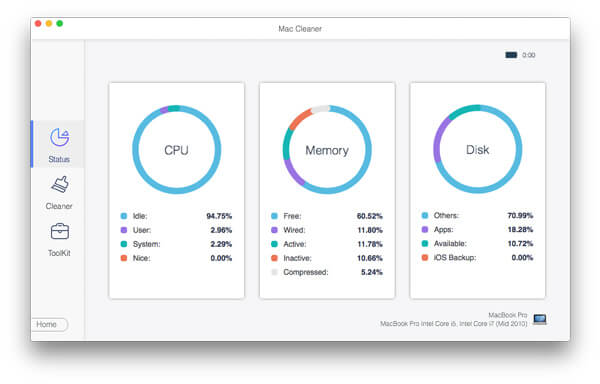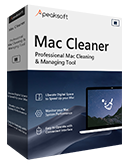 4,000,000+ Downloads
Detect and remove malware, viruses, adware, and more on Mac.
Protect Mac from different threats and keep Mac in good status.
Delete system junk, duplicates, old data, and others to free up Mac storage.
Monitor current Mac status, optimize Mac performance, and secure privacy.
Check Mac hardware to fix Mac keeps turning off
When your Mac keeps shutting down randomly, you should check your connected devices and other hardware. You can first disconnect all peripheral devices, and then reboot your Mac to check if the problem is still there. What's more, you need to check and monitor battery health.
You can use the recommended Mac Cleaner above to view the Mac battery status. Also, you can go to About This Mac under the Apple menu, choose System Report and then Power to show the current battery cycle count. You need to replace the battery if it is reaching 1000 cycles.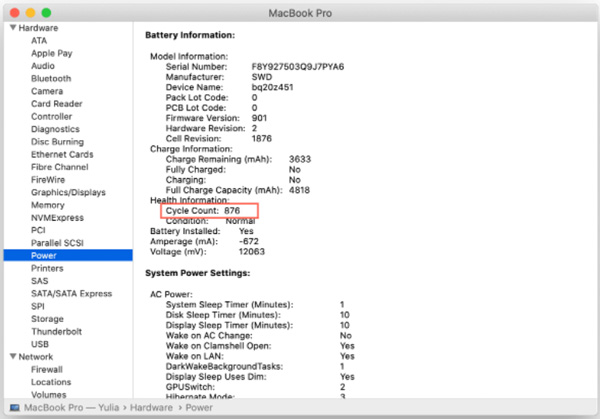 Report to Apple to fix Mac unexpected restarts
You may get a prompting message on your Mac screen when it shuts down because of a problem. When you see the prompt, you can simply click on the Report button to tell Apple about this problem. Also, you can choose to contact Apple Support to ask for help.

Part 3. FAQs of Why Does My Mac Keep Shutting Down
Question 1. How to put my Mac into safe mode?
When you want to guide a Mac into the safe mode, you can turn off your Mac, press and hold the Power button until you see the startup options window. Here you can choose the Continue in Safe Mode option while pressing the Shift key.
Question 2. How can I reinstall macOS?
You can power off your Mac, and press the Power button to reboot it. During the Mac restarting, you need to keep pressing on the Command + R keys. Then use Reinstall Mac OS to make a fresh reinstall of the macOS.
Question 3. Where to change Mac sleep settings?
Click on the top Apple menu, go to System Preferences, and then select Energy Saver. In the Energy Saver window, you can freely custom various Mac sleep settings based on your need.
Conclusion
Here in this post, you can learn 5 useful methods to fix the random Mac shutdowns. Whether you are using a MacBook Pro/Air, iMac, or another type of Mac device, you can use them to solve the Mac keeps turning off problem.