This guide demonstrates the easiest methods to convert WebM to GIF or vice versa online and offline. WebM is a video format developed by Google for HTML5 in 2021. GIF is an animated image format. In a nutshell, WebM can do the same as GIFs can while having superior quality and a smaller file size. Therefore, it is seen as GIF's successor. However, WebM does not work in old archaic browsers. Anyway, you can get the concrete how-to below.

Convert WebM and GIF
Part 1: Three Ways to Convert WebM and GIF Offline
Way 1: The Easiest Way to Convert WebM and GIF
For average people, the best video converter should be easy to use and navigate. Therefore, we recommend Apeaksoft Video Converter Ultimate. It integrates a wide range of pro-level features in a way that everyone can master in a few seconds.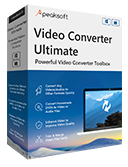 4,000,000+ Downloads
Convert WebM to GIF with a single click.
Keep the output quality as much as possible.
Include a wide range of bonus features, such as video editing.
Come with a user-friendly interface and custom options.
How to Convert WebM and GIF without Quality Loss
Step 1Open WebM
Launch the best WebM to GIF converter after you install the software on your desktop. It is compatible with Windows 11/10/8/7 and Mac OS X. Switch to the Toolbox window and choose the GIF Maker tool. Choose Video to GIF and open the WebM file that you want to convert.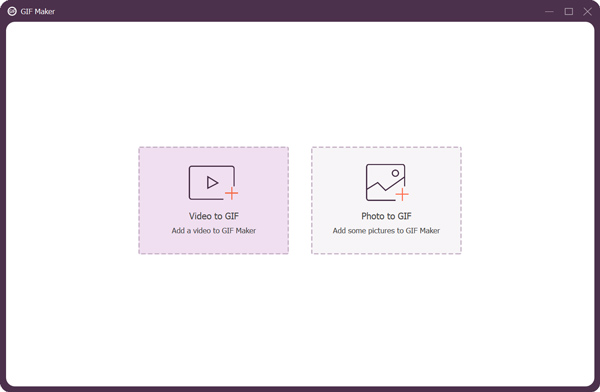 Step 2Trim the video
The maximum length of a GIF is 15 seconds. Therefore, you may need to trim the WebM video and remove unwanted frames. Click the Cut button under the timeline, and cut the video. The built-in media player enables you to preview the result in real time. If you want to do other editing, click the Edit button.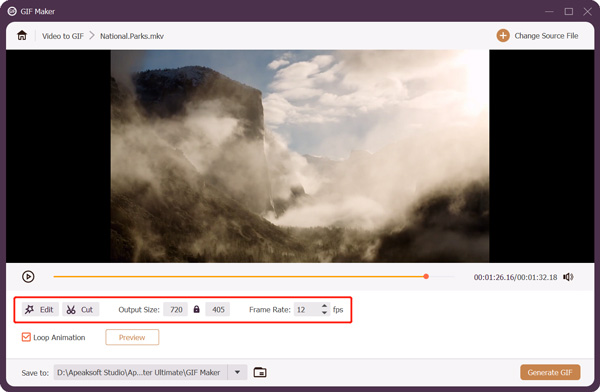 Step 3Convert WebM to GIF
As long as you are done video editing, press the Folder button at the bottom and set a specific directory to save the result. At last, click on the Generate GIF button to begin turning the WebM video into GIF.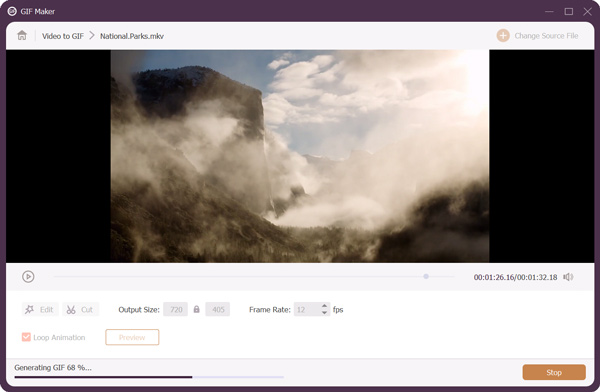 Note:
To convert GIF to WebM, you can do it on the
MV
window in the software.
Way 2: How to Convert WebM and GIF with GifTuna
GifTuna is a free WebM to GIF converter on Windows, Mac, and Linux. It is an open-source project powered by FFmpeg. Moreover, it is a portable program and does not require you to install it on your desktop. The downside is the lack of bonus features. Here are the steps to change your WebM videos to GIF images.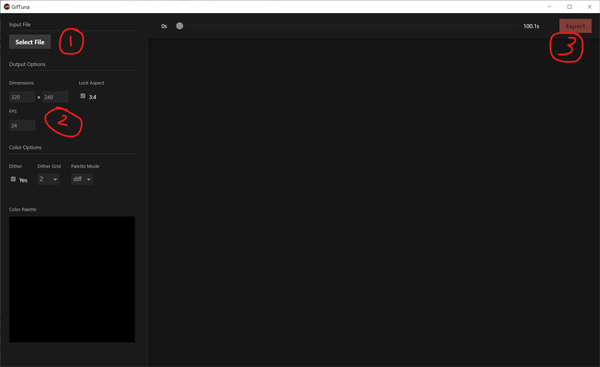 Step 1Download the software from the official website. It comes as a ZIP file. Extract the zip and run the executable file. It will ask you to install FFmpeg. Follow the instructions to complete it.
Step 2After setup, click the Select File button at the top left corner, and open the WebM video file on your disk. Then you can change the dimensions, aspect, FPS, and color options on the left side.
Step 3At last, click the Export button on the upper right side.
Note: Since the open-source GIF maker is abed on FFmpeg, you must install the library on your computer; otherwise, the software cannot work.
Way 3: How to Convert WebM and GIF by Premiere Pro
Premiere is a professional video editor released by Adobe. Some studios use it to produce commercial movies. If you already have it on your desktop, it is a great choice to convert WebM to GIF.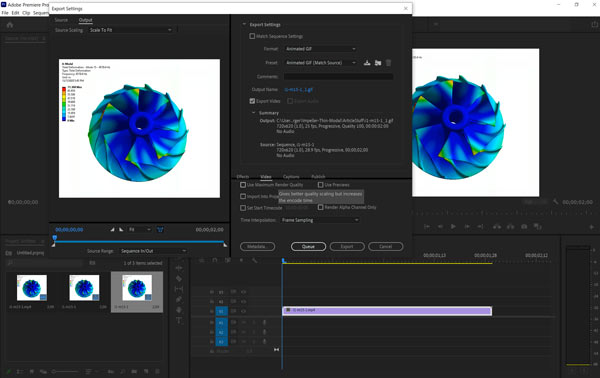 Step 1Create a new project in Premiere or open an existing project. Then open the WebM that you wish to convert in the Project window, and drag it to the timeline.
Step 2Now, you can edit and retouch the video as you wish. Next, go to the File menu, choose Export, and select Media.
Step 3Pull down the Format drop-down list, and select Animated GIF. Then click the Output Name field, and set the filename and directory.
Step 4After setting other options, click the Export button to turn the WebM to GIF.
Note: The software is expensive and costs $20.99 per month. Moreover, the learning curve is not friendly. Therefore, it is not suitable for beginners.
Part 2: How to Convert WebM and GIF Online
Compared to desktop software, online GIF converters are another way to change WebM to GIF. However, most web apps are not free to use and have a variety of limitations, such as file size, watermarks, signup, and more. Fortunately, Apeaksoft Free Video Converter is an exception. Firstly, it is completely free to use. Moreover, it won't add watermarks to your videos. It does not ask you to register with your personal information. The web app allows you to handle multiple videos at one time. Plus, the output quality is okay.
Step 1When you need to change WebM to GIF, access https://www.apeaksoft.com/free-online-video-converter/ in your browser. Click the Add Files to Convert button and download the launcher.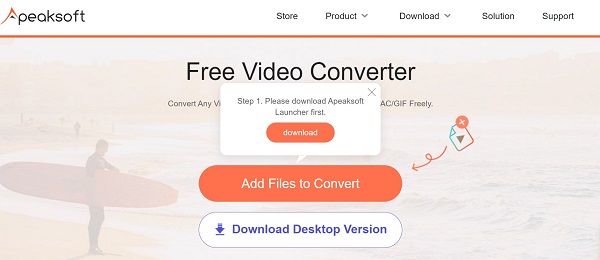 Step 2Once the download finishes, the launcher will pop up automatically. Press the Add File button and upload the target WebM video files.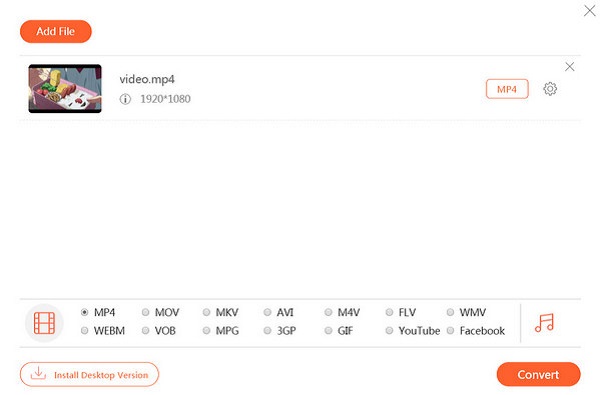 Step 3Next, locate the bottom, select GIF, and click the Convert button. Wait for the process to finish and download the output.
Note:
Bear in mind that the web app requires an internet connection. Moreover, the better your network, the faster the process. By default, the web app trims your videos automatically when converting WebM to GIF. If you want to keep specific frames, you will need another tool to
trim the videos
before converting.
Part 3: FAQs about Converting WebM and GIF
Is a WebM the same as a GIF?
Some people use WebM as an alternative to GIF. It makes sense since WebM's visual quality is much better than GIFs and at a much smaller file size. WebM is supported by all modern browsers, such as Google Chrome, Firefox, Safari, and more, but it does not work in Internet Explorer. Plus, WebM enables you to control video playback, like start, stop, autoplay, and loop with program language.
How to convert WebM to GIF with VLC?
VLC alone cannot convert WebM to GIF. VLC does support lots of video output formats, but it cannot turn videos into GIFs. In other words, you have to use another software to complete the job, such as Photoshop.
Can I save a WebM as a picture?
Firstly, WebM is a video file format and extension. If you change the file extension in the filename, your video may be corrupt. To save a WebM as a still picture, you can make a screenshot with a proper media player, such as VLC. Some GIF makers also let you save WebM to animated pictures.
Conclusion
This guide has identified four ways to convert your WebM video files to GIF format on Windows, Mac, and Linux. Moreover, we demonstrated the workflow in detail. GifTuna is the best free method. Premiere allows you to turn a WebM into GIF once. Apeaksoft Free Video Converter is the best option for people who do not like desktop software. Apeaksoft Video Converter Ultimate can produce the best output quality. Other questions? Please feel free to write them down below this post.