PNG, stands for Portable Network Graphics, is a commonly used image format. Though it is a lossless file format, it does compress visual content. However, PNG image files always come with larger file size. In order to save storage space or publish online quickly, you might need to compress PNG image files regularly. Therefore, this article expects to introduce four ways to help you compress PNG image files on Windows, Mac OS X/11 and Linux. Some of them even can compress images by 70% without blurring.

Compress PNG
Part 1: Easiest Way to Compress PNG
If you do not like to install software to your computer, Apeaksoft Free Online Image Compressor is the best option to compress PNG online. It is not only easy to use, but also able to shrink images from MB to KB without losing quality.
1. Compress PNG images online while preserving transparency.
2. Batch handle up to 40 images without quality loss.
3. Improve the performance using advanced technology.
4. Available to all machines running Windows, Mac OS X/11 and Linux.
In a word, Free Online Image Compressor is the easiest way to compress PNG image file size.
How to Compress PNG Online
Step 1Open your web browser, copy and paste https://www.apeaksoft.com/free-online-image-compressor/ into the address bar, and hit the Enter key to access the online PNG compressor.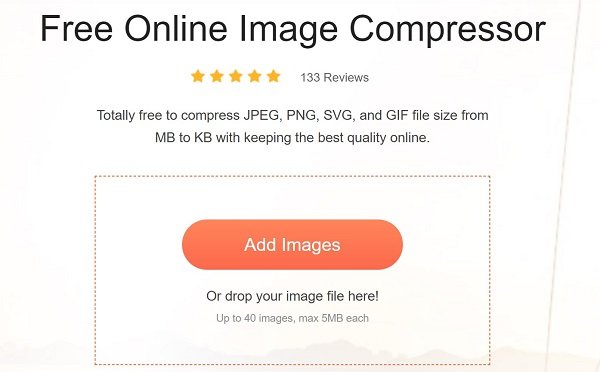 Step 2Hit the Add Images button on the page to activate the open-file dialog. Then find the PNG files that you want to compress, select them and click Open to upload them. Or you can drag and drop these PNG images into the web page directly.
Tip : Make sure that each PNG image is no more than 5MB.
Step 3After uploading, the online PNG compressor will do the job automatically. When it is done, you will see the Download button. Here you can download each compressed image separately or get all files in one package by hitting the Download All button.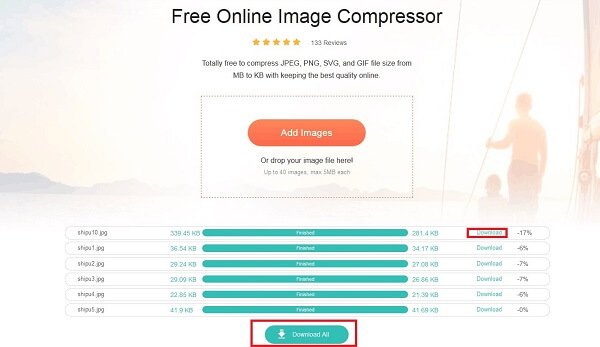 Part 2: Compress PNG Image on Windows
If you prefer to compressing a PNG image manually on PC, the built-in Paint program is a simple choice. With Paint, you can crop your PNG image to decrease the file size or resize the dimension. Moreover, converting PNG to JPG can compress the original image further.
Step 1 Locate the PNG image that you wish to compress to JPG. Right click on the file, select Open with and choose Paint to open it in Windows Paint.
Step 2 Firstly, use the Select tool on the top toolbar. Drag the box to cover the portion to leave, and then press the Crop tool to cut the image.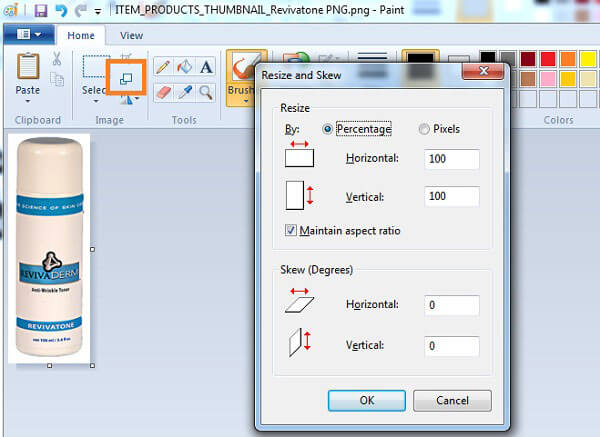 Step 3 Next, select the Resize tool to open the resize dialog. Choose Pixels, and set smaller values in Horizontal and Vertical boxes. Click OK to confirm it.
Step 4 Finally, click the File menu, select Save as and choose JPEG picture. On the popup dialog, navigate to a specific directory to save the output, drop a name and save the compressed PNG to your computer.
PowerPoint is also the tool to help to compress the images on Windows computer.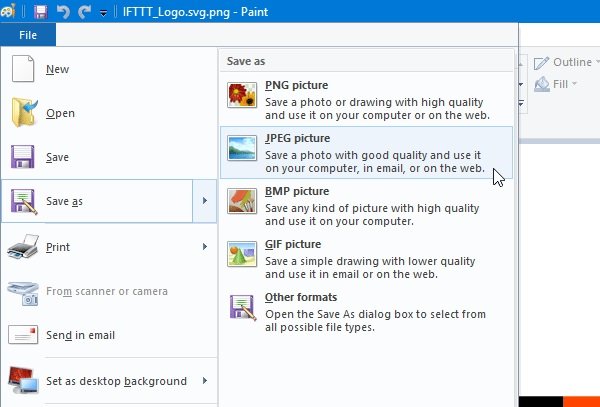 Part 3: Compress PNG Image on Mac
When it comes to compress PNG image on Mac OS X/11, you have less options than doing it on PCs. There are several image editors offer the Mac version, such a Photoshop. It allows you to resize a PNG image and compress it.
Step 1 Run your Photoshop and drag the PNG image into the program.

Step 2 Click and expand the Image menu and select Image size to open the Image Size dialog. Adjust Width and Height to a smaller size to compress PNG. Check Resample and select Bicubic Sharper, which preserve the sharpness while compress an image.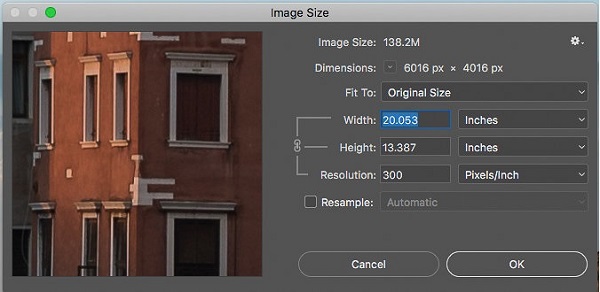 Step 3 Hit OK button to close the Image Size dialog. If you want to compress PNG image without losing quality, export the image directly. Otherwise, you can compress PNG to JPG to shrink the file size.
Note : Similar to Paint, Photoshop can only compress one PNG image at one time. If you have more large images, repeat the procedure above to compress them one by one.
More solutions to resize a photo on Mac, you can check it here.
Part 4: Compress PNG on Linux
Although you can compress PNG images while preserving transparency using TinyPNG and other web apps on Linux, command lines are still the prevalent method. We use Pngquant as the example to show you the procedure.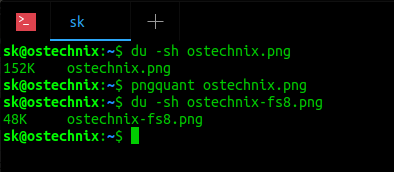 Step 1 Install the PNG compressor by executing the command line $ sudo apt install pngquant.
Step 2 Show the original PNG file size with the command $ du -sh pngimage.png. Replace pngimage.png with the filename of your PNG image.
Step 3 Compress your image with the command $ pngquant pngimage.png. Then the compressed file will be named pngimage-fs8.png.
Step 4 Check the compressed file size with $ du -sh pngimage-fs8.png. You will find the PNG file size becomes much smaller. According to our test, the command line can compress a 152KB PNG image into 48KB.
Part 5. FAQs of Compressing PNG
Question 1: Can PNG images be compressed?
Answer: Yes, PNG images can be compressed. PNG image files are lossless compressed bitmapped images. Even though the PNG images are compressed, the file size can be very large. So, you can shrink PNG file size with an image compressor.
Question 2: What's a typical file size for PNG before and after compression?
Answer: The file size of PNG is various depending on the type of image data saved. Generally speaking, an image file saved in PNG is larger than saved in JPG. When it comes to the compressed file size, it is determined by the output format and compression level. Briefly, compressing PNG to JPG and higher compression level can produce smaller file size, but the image quality may be damaged.
Question 3: What is PNG file format used for?
Answer: A PNG file contains a bitmap of indexed colors and uses lossless compression. It is similar to a GIF file, but without copyright limitations. In short, PNG files are commonly used to store graphics for web images.
Question 4: What are the advantages of PNG?
Answer: To learn the advantages of PNG, we compare it with other popular image formats. Firstly, PNG was originally created as an improved replacement for GIF. PNG cannot store dynamic visual content, but it is much smaller than GIF. Compared JPG, PNG is larger, but it can store transparency layers. If you want to compress PNG while preserving transparency, you should keep the image format. Compressing PNG to JPG will lose the transparency layer. Plus, JPG has a big compressing ration, which reduce the quality of the image. JPG is the better output format for photographs, while PNG is a better option for images storing text, line art and other graphics.
Conclusion
This article told you multiple ways to compress PNG image files on Windows, Mac OS X/11 and Linux. They all have unique advantages and benefits. Apeaksoft Free Online Image Compressor, for example, has the capacity to compress PNG online without asking you to install any software. Plus, as a web app, it is available to all laptop and computer. You can pick up your favorite tool and follow our guide to complete the task. If you have more questions related to PNG compression, please write it down below this article.