"I have a lot of SVG files that are pretty large in size and I need to make them smaller, how can I compress SVG files online?" If you are making websites, you may be familiar with SVG files. It is not a commonly used image format, but supported by most modern web browsers, like Google Chrome, Microsoft Internet Explorer, and Mozilla Firefox. This article is going to explain how to compress large SVG vector images using online apps.

Part 1: What Is SVG?
SVG, stands for Scalable Vector Graphics, is an XML-based vector image format for graphics. It is an open standard developed by W3C. It can store interactivity and animation content since the images and behaviors are defined in XML text. Another advantage is that SVG files can be searched, indexed, scripted and compressed with command lines.
Part 2: Compress SVG File Online
You can create an SVG file through your favorite vector graphics editor, such as Adobe Illustrator. However, it cannot remove redundant codes and compress SVG files. Fortunately, you can use some web-apps to do it.
Method 1: The Best Way to Compress SVG Online
It is difficult to compress SVG images, partly because it utilizes XML code to create visual content. An SVG compressor must has the capacity to understand the program language and delete the useless codes. Apeaksoft Free Online Image Compressor is able to simplify the procedure.
Compress up to 40 SVG image files per conversion online.
Totally free of charge without any restrictions or watermark.
Support a wide range of image formats, including SVG, PNG, JPG, etc.
Optimize image quality automatically while compressing.
Pretty safe and do not save your image files to server.
Briefly, Free Online Image Compressor is the easiest way to compress SVG code online, even though you do not understand program language.
How to Compress SVG Images Online
Step 1Upload the SVG images
When you have some large SVG images that you want to compress them, open your web browser, copy and paste https://www.apeaksoft.com/free-online-image-compressor/ into the address bar, and hit the Enter key to open the online SVG compressor.
Click the Add Images button to trigger the open-file dialog. Then find the large SVG files from your hard drive and click the Open button to upload them.
Tip Make sure that each SVG image is no more than 5MB.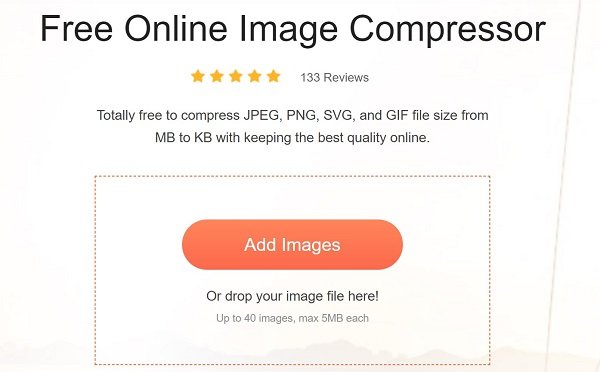 Step 2Download compress SVG files
Once the SVG images are uploaded, the web app will start compressing them immediately. According to our research, it only takes a few seconds to process dozens of SVG images. When SVG compression is done, click the Download All button to get all compressed SVG images to your computer. Alternatively, you can download an individual SVG image by hitting the Download button on each file.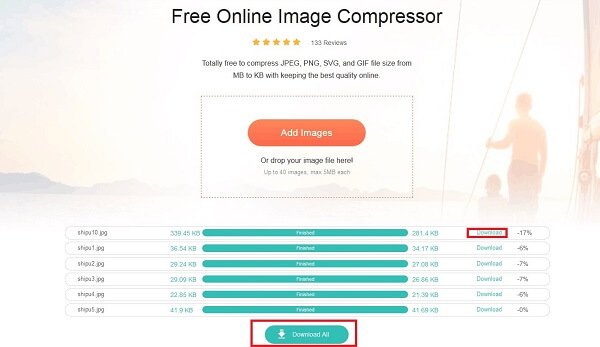 Method 2: How to Compress SVG with ShrinkMe
As its name indicates, ShrinkMe is able to compress an SVG image online for free. The concise interface makes beginners master the online SVG compressor quickly. Unfortunately, it does not provide any custom options.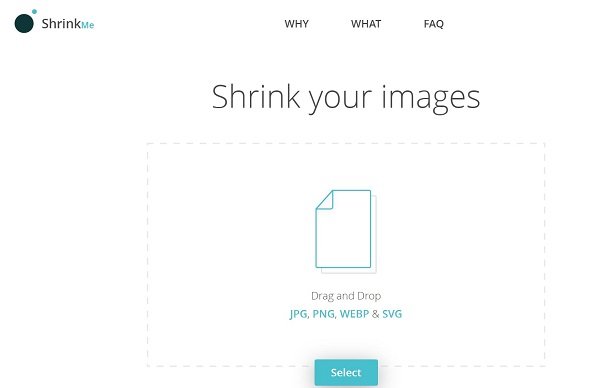 Step 1Open an Explorer window and locate the SVG image file to compress online. Then visit the SVG compressor app in a web browser.
Step 2Drag and drop the SVG image into the dashed box to start uploading and compressing it online.
Step 3When finishing, click the Save button to download the compressed SVG image.
Method 3: How to Compress SVG Online Using SVGMinify
SVGMinify is another way to compress SVG created by Illustrator. You can upload an SVG file no more than 12MB or paste the SVG file code for compressing them online.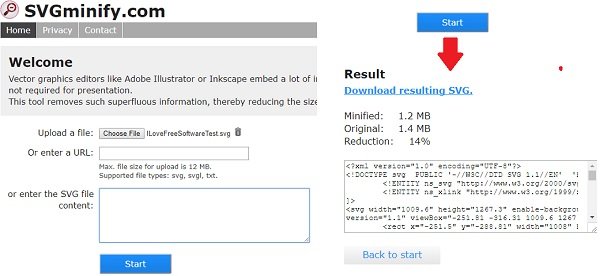 Step 1Access the online SVG compressor in your browser to open it directly.
Step 2Click the Choose File button to upload the SVG file from your hard drive. Or copy and paste the SVG file codes into the big box.
Step 3It may take a while to compress SVG code online. When you see the Result page, click the Download resulting SVG button to get it.
Method 4: How to Compress SVG Images via Vecta.io
If your SVG file embed a lot of text, which make the file very large, Vecta can help you to compress SVG image online by removing useless scripts, events and more.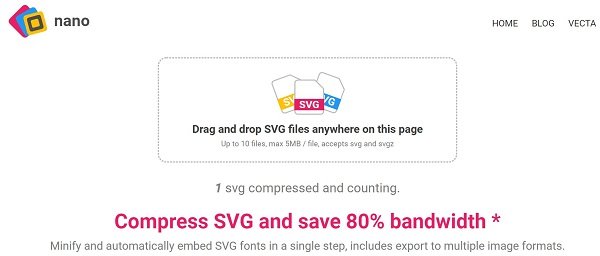 Step 1Open the web SVG compressor app in a browser, such as Chrome,
Step 2Next, drag and drop the SVG files on the page. It can process up to 10 files per time.
Step 3After uploading, the web app will start compressing your SVG files. Then you can save the smaller SVG images to your computer.
Part 3. FAQs of Compressing SVG
Question 1: What is SVGO?
Answer: SVGO, stands for SVG Optimizer, is a Nodejs-based tool for optimizing your SVG vector graphic files. As mentioned previously, SVG files usually contains a lot of redundant and useless information, such as metadata, hidden elements, etc. SVGO has a plugin-based architecture and perform every optimization with a separate plugin. However, you have to master some technical knowledge since it is set of command lines.
Question 2: Is it better to use SVG or PNG?
Answer: Both SVG and PNG are graphic file formats. The biggest benefit of SVG is that you can scale an SVG image to any size without losing quality. So, you should use SVG format for the image that has vector artefacts. When it comes to bitmap artefacts, PNG is the better choice.
Question 3: How do I convert a PNG to SVG?
Answer: To convert a PNG to SVG, you can use a desktop software, such as Adobe Illustrator, or an online converter app, like Convertio.
Conclusion
Now, you should master at least four ways to compress your SVG images online without losing quality. They all have unique benefits. SVGMinify, for example, can compress your SVG file code directly. Apeaksoft Free Online Image Compressor, on the other hand, is not only easy to use, but also able to handle dozens of SVG images at the same time. More suggestions or questions? Please, leave a message below.