Does Google Drive or Google Photos compress photos? When you want to upload some large photos, or even RAW files into Google Photos, you should learn more details about the Google image compression, such as the size or DPI. As for the case, you can always upload the high-quality photos to Google Photos with ease.
Moreover, the article also shares multiple excellent Google compress image tools that enable you to reduce the photos for Google Photos or Google Drive. Just learn more details about the requirements and choose a suitable tool from the article now.

Google Photos Compression
Part 1. Does Google Drive/Google Photos Compress Photos
In order to upload a high-quality photo to Google Drive or Google Photos, you should know more about the restrictions as below.
1. Google Drive is only a Cloud service for file storage, which you can upload some large photos into it with the original status. It may just present a resized preview if you are looking at the photos from a web browser. Just in simple, Google Drive does not compress photos uploaded.
2. When you need to upload photos to Google Photos, it should be totally different. If the camera takes a photo with 16MP (megapixels) resolution or above, the photos will be downsized to 16MP automatically. Of course, you can print good quality 16MP photos in sizes up to 24 inches x 16 inches.
Why Does Google Photos Compress Photos?
The unlimited storage is available for all Google Photos users, but the free tier only uploads the Google photos with compression as High Quality. When you use the Original Quality, you can save all the photos and videos in the same quality as the original files. In order to backup the photos to Google with the original photo quality, you have to subscribe the Cloud service instead.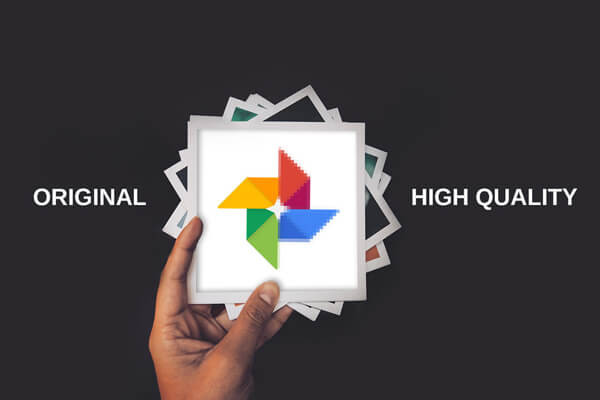 Part 2. How to Compress Photos with Express via Google Photos
What should be the Google photos compression algorithm for the High Quality compression? It is known as the Express back up on the Android devices, which lets you compress photos to the size of a 3MP (megapixels) image. Just learn more details about how to compress photos via Google Photos on Android as below.
Step 1 Launch the Google Photos app on your Android phone. Make sure you have already logged into the Google account with ID and password. (Google account forgot? Just recover it.)
Step 2 Head to the Settings menu and choose the Back up & Sync option. After that, you can click and enter the Backup mode.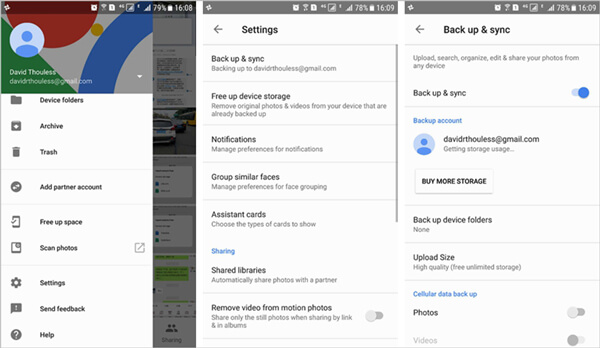 Step 3 Choose the Express option and tap on the Select option to have a free and fast backup at reduced resolution for Android photos.
Step 4 If you use mobile data for backups, you can put a daily limit on data used for that activity through Mobile data usage option in Back up & sync.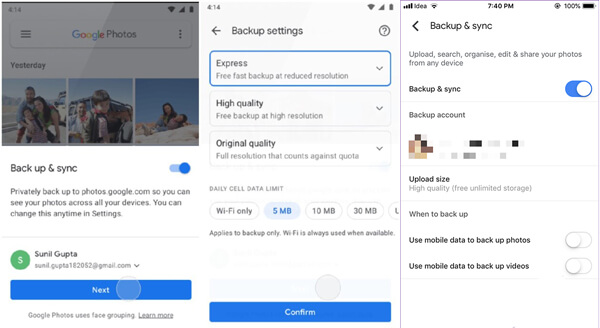 Part 3. Best Google Compress Image Tool Alternative
Is there a method to upload the photos to Google Photos as desired? How to compress photos for Google lossless? If you need to compress the photos for Google in the desired size, Free Online Image Compressor is the desired photo resizer to reduce the photos for Google Photos with keeping the best quality online.
1. Capable of shrinking your image file size with a high compression.
2. Bulk convert images up to 20 images online at the same time.
3. Compatible with the most popular 4 types of image files currently.
4. Adopting the most advanced lossless algorithm to compress photos.
Step 1 Access to the online image compressor for Google Photos. Click the red Add Images button and select the desired photos you want to upload to Google Photos into the program.
Step 2 Once you have uploaded the photos, it will automatically compress the video and shrink the size with keeping the best quality online. It just takes a few seconds to compress the photos.
Step 3 After that, you can click the Download All button on the Google compress images tool to upload the files to Google account.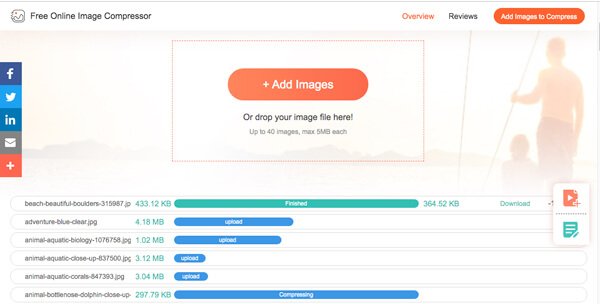 Part 4. FAQs about Google Photos Compression
Does freeing up space in Google Photos delete photos?
If you enable the free-up space option, those images backed up to Google Photos will be deleted from your device. They will be saved in the cloud to save storage space on your device.
Which is better, iCloud or Google Photos?
Both have their strengths. iCloud will provide you with stronger security and better customer service. And Google will provide you with more storage space and can be adapted to more devices. You can choose the right one for your needs.
Is Google Photos Unlimited now?
Google has now stopped offering unlimited storage. Each Google account now comes with 15GB of storage. Gmail, Google Drive, and Google Photos share the storage. If your storage is full, you can purchase more space on Google.
What formats do Google Photos support?
Video file formats Google Photos currently supports are MP4, MOD, MMV, TOD, WMV, ASF, AVI, DIVX, MOV, M4V, 3GP, 3G2, MPG, M2T, M2TS, MTS, and MKV. Image formats supported by Google Photos are JPG, HEIC, PNG, WEBP, GIF, AVIF, and most RAW files.
Does the resolution of a photo increase with its size?
Increasing the size of an image does not necessarily increase the resolution of the image. Generally, if an image's size is changed, the pixel size is affected, not the resolution.
Conclusion
When you want to upload photos to Google Drive or Google Photos, you should know whether Google Drive compress photos. Of course, you can use the default solution, such as the Express Google photos compression to reduce the size of the image. Free Online Image Compress is one of the best alternatives to compress the desired photos for Google Photos.