When you suddenly find the Apple Music playlists disappeared, whether you deleted them by accident, or lost the files on iPhone by auto sync, how to get back deleted Apple Music playlist? Does it mean that you cannot retrieve the files back? Just learn more details about the 4 best methods to retrieve deleted playlists on Apple Music from the article.

Part 1

. How to Restore Deleted Apple Music Playlists on Your iPhone

In order to get a workable solution to retrieve the deleted Apple Music playlist on your iPhone with ease, Apeaksoft iPhone Data Recovery is the ultimate method to recover files from iPhone, iTunes backup and iCloud backup. It enables you to save data lost by factory resetting, accidental deletion and more other scenarios.

FoneLab - iPhone Data Recovery
Recover the accidentally deleted, lost, missing or factory reset music playlists.
Preview the deleted music playlists or other files before the data recovery.
Retrieve the files from iPhone directly, as well as iTunes/iCloud backups.
Support the latest iPhone, iPad, iPod and iOS versions, including iOS 17.
Download for Win
Download for Mac
Step 1Connect your iPhone to a computer
Download and install the iPhone data recovery, launch the program on your computer. When the program detects your iPhone, you should unlock the device and tick the Trust on your iPhone. Moreover, you have to input iPhone password for 2-4 times after trusting the computer.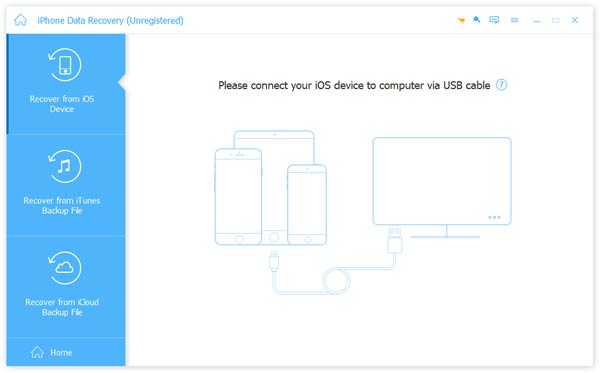 Step 2Recover Apple Music playlist from iPhone
Choose the Recover from iOS Device mode. You can click the Start Scan button to scan the deleted Apple Music playlists from your iPhone directly. It takes a period of time to retrieve all the files, including the music, videos, photos and more other files.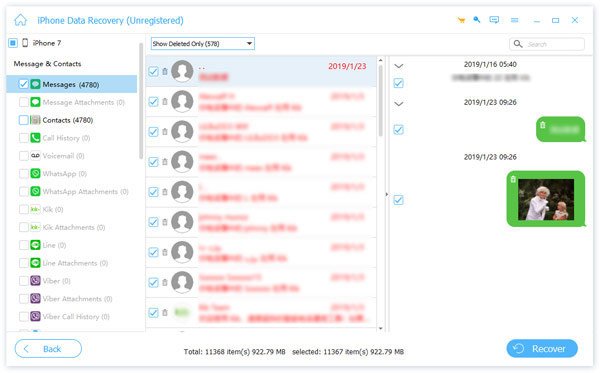 Note: To retrieve the deleted files only, you can select the shown result, such as the Show all or Show Deleted Only. It enables you to view the deleted Apple Music playlists with ease.
Step 3Retrieve the deleted Apple music playlists
When you select all the files you want to recover, you can click the Recover button to retrieve the file. After that, you can choose the target folder on your computer and save them as backup. Now click on the Open button to get the desired file.
Note : Since there is probability with data recovery, it cannot be 100% guaranteed that the deleted Apple Music playlist can be recovered. You are highly recommended to use the free trial version for a test before purchase.
Part 2

. How to Retrieve Deleted Apple Music from iCloud Music Library

When you sync the Apple Music via iCloud Music Library, some songs will replace with their own version while others replaced as a 256KBPS AAC files. Just tweak the settings of iCloud Music Library to retrieve the deleted Apple Music playlist as below.

Step 1 Go to Settings App on your iPhone. Scroll down and tap the Music section to tweak settings for iCloud Music Library.

Step 2 Enable both Apple Music and iCloud Music Library. If you have already enabled the feature, you should disable it and activate it.

Step 3 A popup will appear asking whether to enable iCloud Music Library, you can select the Merge option to confirm.

Note: It is a method to merge and replace the deleted Apple Music songs or playlists with the songs already in iCloud. You can turn back to Apple Music to find all your songs will be back.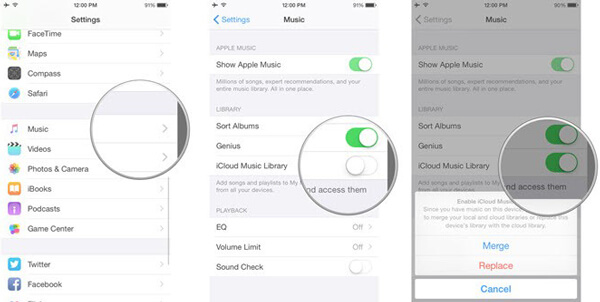 Part 3

. 2 Simple Methods to Get Back the Deleted Apple Music Playlists

You can also get back the deleted Apple Music playlists by creating new ones. Just check whether you have shared some playlist links, or followed the favorite artists, you can simply get back the deleted files within clicks.
Method 1. Get back the Playlist from the Link
If you have already shared the playlists to other friends via a link, you can select all your songs and create a new playlist. Don't forget to provide new links to your replacement playlists. It should be an efficient method to recover a deleted Apple Music Playlist via the Share option.
Method 2. Create Playlist with followed Artists
Of course, you can also check the Followed Artists under the Account settings to find the collections of the artist. If you haven't messed with these settings, you may have a list of every artist you ever added to your library or a playlist. Then you can get back the deleted Apple Music playlist with ease.
Part 4

. How to Avoid Accidentally Deleting Playlist on Apple Music

In order to avoid accidentally deleting playlist on Apple Music in your iPhone or iPad, you can follow the steps to avoid music playlist from being deleted on your iPhone as below.
Backup the music files as well as the music playlists to your computer or external hard drive frequently.
Make sure Apple knows the computer with your music library with all the playlist is your primary device.
Uncheck the Remove Download when you delete the music track or playlist from your iTunes on your computer.
Part 5. FAQs about Restoring Deleted Apple Music Playlists
When you delete a playlist on Apple Music, does it delete the songs?
When you delete a music playlist, all that is lost is the list itself. The music and files in the list are not affected in any way. They remain in your Library or on your computer. So you don't need to worry about losing your music files.
Why is my Apple Music playlist disappeared suddenly?
This can happen because your Apple Music subscription has expired, resulting in your music not being played and the music list disappearing. Another common reason is that your device has unpredictable bugs after a system update, which prevents the list from appearing properly anymore.
Why does my Apple Music keep deleting the playlist?
The reason this is happening is probably because you have Optimize Storage open. If you turn this on, Apple Music will automatically delete music that hasn't been played for a long time. To avoid this, you can turn it off in Settings > Music > Optimize Storage.
How to back up my Apple Music playlists in iTunes?
First, open iTunes on your computer, and find the playlist you want to backup in the sidebar on the left. Click File > Library > Export Playlist. A pop-up window will appear to let you choose the format. Select XML. Then you can choose a target folder to save your playlist on your computer.
Can people view the shared playlist on Apple Music if I delete it?
If you delete your shared lists, you won't be able to find them in the Library of your Apple Music, but if someone follows the song list, they will still be able to see the deleted song list.
Conclusion
If you just deleted some Apple Music playlists by accident, you can learn more details about the 3 best methods to recover a deleted apple music playlist on your iPhone. Just feel relax and choose a desired solution. Moreover, you can also have some preparations to avoid some accidents in the future.