Whether you want to fix a frozen iPod touch, or wish to factory reset iPod shuffle for data wiping, the only road is to reset iPod.
How to reset an iPod?
This post collects the most practical 4 ways to help you.
With or without iTunes, without or without computer or password, you can easily find the solutions here.

Way 1. Soft reset (restart) iPod to fix frozen iPod
Soft reset, which works similarly to reboot your computer. Hard reset, in contrary to soft reset, is to factory reset iPod.
Soft reset always happens when your iPod is frozen or not responding. Just try to soft reset to unfreeze an iPod.
1. On iPod nano 7th generation: Touch and hold down "Sleep/Wake" and "Home" button until the screen shut down. Wait for a few seconds, your device will reboot.
2. On iPod nano 6th generation: Press both the "Sleep/Wake" and "Volume Down" buttons for over 8 seconds. Wait until the Apple logo shows up.
3. On iPod nano 5th generation and earlier: Switch Hold in the unlocked position and then hold both the "Menu" and "Center" buttons for at least 8 seconds.
4. For iPod shuffle: Power off the iPod shuffle using the "Power" switch, wait for a few seconds and then turn on the iPod shuffle again.
5. On iPod classic: Put the "Hold" key in the unlocked position. Press both the "Menu" and "Center" for 8 seconds until Apple logo presents.
6. For iPod Touch: Press both the "Power" and "Home" buttons until you see Apple logo.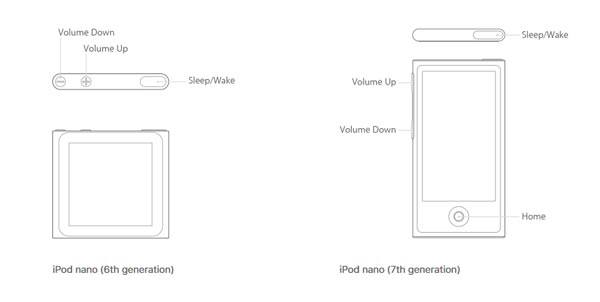 In the following ways, your iPod data will be wiped out. If you have some important photos, videos or music, you had better backup iPod firstly.
Way 2. Factory reset iPod without iTunes (password required)
When you want to give in iPod for sale or want it to run slowly as original, reset iPod to factory settings will be a good option.
You can make the settings on iPod directly.
Here we use an iPod Touch as the example.
Of course, users could hard reset iPod without iTunes as well. Similar to iPhone, Apple has integrated Reset feature into iPod. And if your device is still working, this is the easiest way to reset it. To avoid restoring automatically after reset iPod, you should turn off all auto sync or auto backup features on your device. Here we use an iPod Touch as the example.
Step 1. Unlock your iPod Touch and navigate to "Settings" > "General" > "Reset".
Step 2. Then you will be present several reset options; tap the one labeled "Erase All Content and Settings".
Step 3. Enter your Apple ID and password to confirm you are the owner and wait for the process to complete. Then you will see the Hello screen.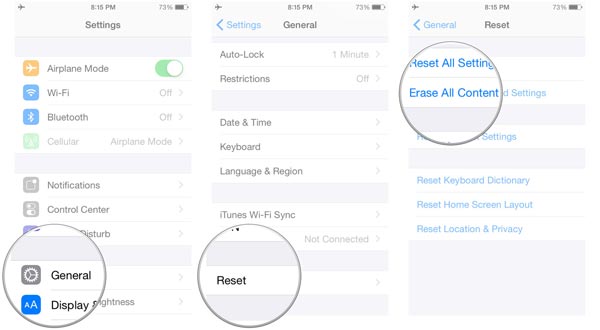 Way 3. Factory reset iPod with iTunes without updating iPod
Step 1. Update your iTunes to the latest version, you can find the update in "Help" > "Check for Updates". Connect your iPod to your computer using a USB cord.
Step 2. Hit the "Device" icon on top of the window, head to "Summary" tab and press the "Restore iPod" button.
Step 3. On the warning box, click "Restore" again to trigger the iPod resetting process immediately.
On iPod Nano 6th and 7th, force restart the iPod, and then press both the "Volume Up" and "Volume Down" buttons until iPod enters DFU mode.
For iPod with a click wheel, such as iPod classic, soft reset the iPod and then press both the "Center" and "Play/Pause" buttons for a few seconds to switch to the disk mode.
For iPod with a touch or scroll wheel, also soft reset it and then hold down the "Previous" and "Next" buttons at the same time to go to the disk mode.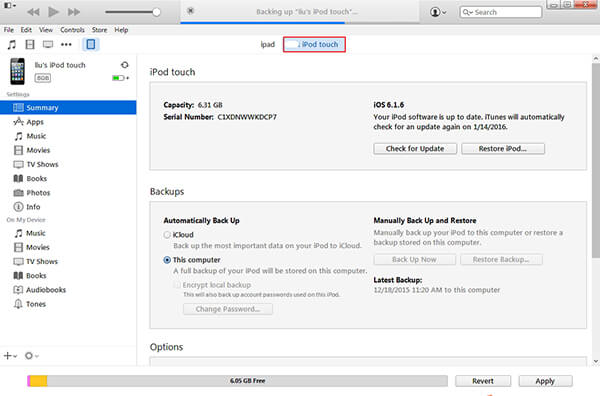 iTunes cannot detect your iPod? Just try the next solution to reset iPod without iTunes.
Way 4. Factory reset iPod without iTunes/password
Without iTunes, and you forgot your iPod password, how can you reset iPod?
This way can help you exactly reset a locked iPod with iOS System Recovery.
Note: This way also helps you restore iPhone without iTunes.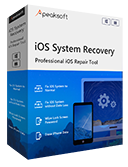 4,000,000+ Downloads
Reset iPod to factory settings quickly and safely.
Rescue iPod from Apple logo, disabled, headphone mode, etc.
Update iPod to the latest iOS version.
Compatible with iPod touch 7/6/5/4, shuffle, classic, nano, mini, etc.
Step 1. Run iOS System Recovery
Free download, install and run iOS System Recovery software on your computer.
In the main interface, select "iOS System Recovery". Meanwhile, connect your iPod to computer with USB cable.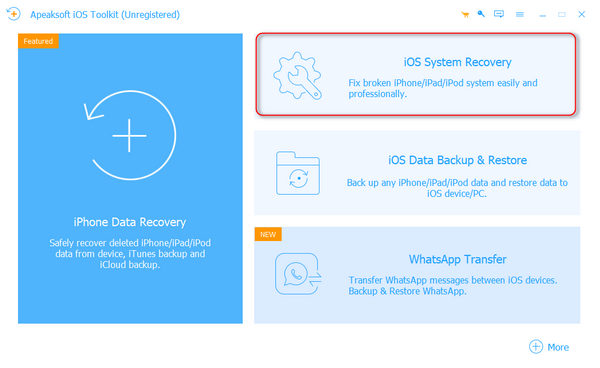 Step 2. Diagnose iPod state
If your iPod gets stuck in some state like Apple logo, DFU mode, Recovery mode, etc. just click it. If in other abnormal states, click "Others". If normal, just click "Start" directly.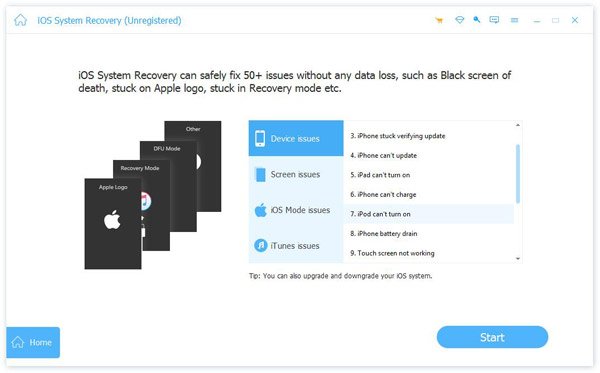 Step 3. Put iPod into Recovery/DFU mode
Click "Advanced mode" and let this software detect your iPod state, and "Confirm" to follow the on-screen instructions to get iPod into Recovery/DFU mode.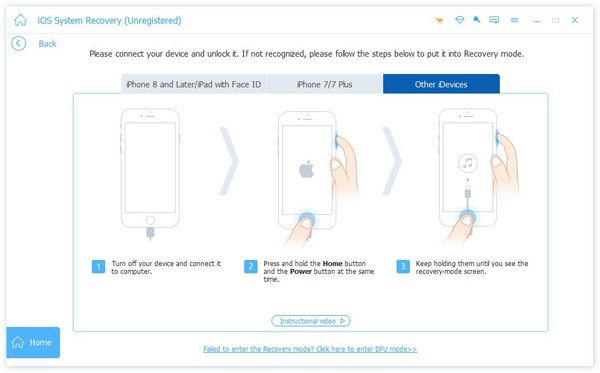 Step 4. Reset iPod
After entering your iPod into Recovery/DFU mode, you need to check your iPod information. If it is not correct, select the correct one from the drop-down option.
Click "Repair" to start to download firmware and reset iPod to the newest iOS version.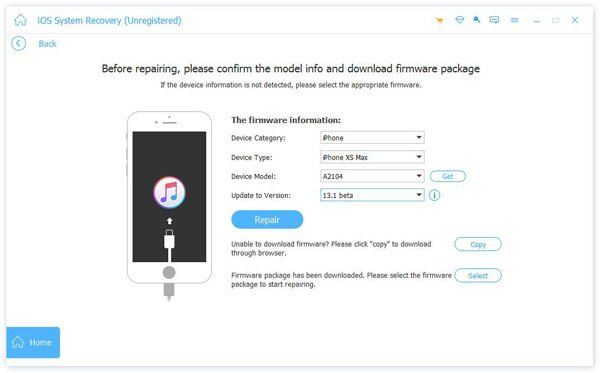 Check what this wizard can do for you:
Pro tip: Restore data from iPod after factory reset
Data are gone after resetting iPod to factory settings, but you do want to get back those data?
Just try iPhone Data Recovery.
iPod Data Recovery
It helps you recover deleted data from iPod directly. Alternatively, you are able to retrieve the lost files from iTunes or iCloud backup without iPod. Get the details here to restore iPod data.
FAQs About Resetting iPod
Can an iPad be traced once reset?
Before your iPad was reset, you could track your iPad through the Find My iPhone feature, but after you reset your iPad, this feature will no longer be able to be used properly. It will be difficult for Apple officials and the police to track your device again.
Can iPad data be recovered after resetting?
After your iPad has been reset, you can restore your device through previous iCloud, iTunes, or other backup means or with the help of some third-party places' data recovery tools to help you.
Does resetting remove hackers?
If you find that your device has been hacked, you can remove the hacker's control of your device by doing a factory reset on your iPad, but this will wipe out all the data, including your apps, photos, contacts, etc., on your device. So you'd better make a backup of your data before taking this step.
How to unlock iPad without a password?
You can put your device into Recovery Mode and then reset it. You first need to prepare a computer and turn your iPad off. Press and hold your iPad's top or Home button and connect it to the computer immediately. Don't release the button during the process until recovery mode appears on your screen.
What should I do before the factory reset?
If you restart your iPad to fix some system problems, then you'd better back up your data in advance; if you restart your iPad to sell it, then you'd better uninstall the apps and browsers that contain your account password information and remove the VPN apps first to keep your personal information safe.
Conclusion
In this tutorial, we have talked about how to reset iPod touch, nano, shuffle, classic and other models in 4 ways. Now you might understand the methods to restore an iPod to factory reset, hard reset an iPod or soft reset iPod. If you can remember Apple account, or get an iTunes, all the ways work exactly. If you want to fix disabled iPod without iTunes or password, iOS System Recovery is no doubt the best option. We hope that our guides are helpful and useful when you have troubles on your device.