It is a common problem that iPhone stuck in recovery mode during or after iOS 16 update. However, most people have no idea how to exit iPhone recovery mode and then turn a frozen iPhone or iPad back to normal state again. If you do not want to get iPhone out of recovery mode using iTunes, then TinyUmbrella is your good solution that you can fix recovery mode without losing any iOS data. In short, let's start to download and fix recovery in TinyUmbrella.

Part 1

: What is TinyUmbrella Fix Recovery

First of all, you need to know what TinyUmbrella is and then figure out functions about TinyUmbrella fix recovery. TinyUmbrella is a third-party tool that can get your iPhone/iPad/iPod Touch out of recovery mode safely. It is usually used for saving SHSHs blobs and downgrading to older iOS versions (iOS 16/15/14/13/12, etc.). For people who own jailbreak iPhone devices, TinyUmbrella is definitely one of the well-known apps. Well, non-jailbreak Apple devices are supported by TinyUmbrella too. All in all, TinyUmbrella fix recovery can recover your iPhone stuck in recovery mode without removing any data or settings.

There are many advantages of TinyUmbrella. For instance, you can fix recovery mode quickly using TinyUmbrella. And it offers well-coded program that you can complete the process with few clicks. However, you may have some difficulties when downgrade the iOS version with TinyUmbrella due to the unstable security loopholes by Apple.
Part 2

: How to Exit Recovery Mode Using TinyUmbrella Fix Recovery

You can get a step-by-step guide to operate TinyUmbrella fix recovery. TinyUmbrella is available for both Mac and Windows computers. So you can download TinyUmbrella app from its official site in advance.

Step 1. Connect iPhone to TinyUmbrella

Download and install TinyUmbrella on your Mac or Windows PC. Run it and use a lightning USB cable to connect your iPhone to the computer. It does not matter your iPhone is still stuck in recovery mode and being not responding. Wait until TinyUmbrella fix recovery tool recognize your frozen iPhone.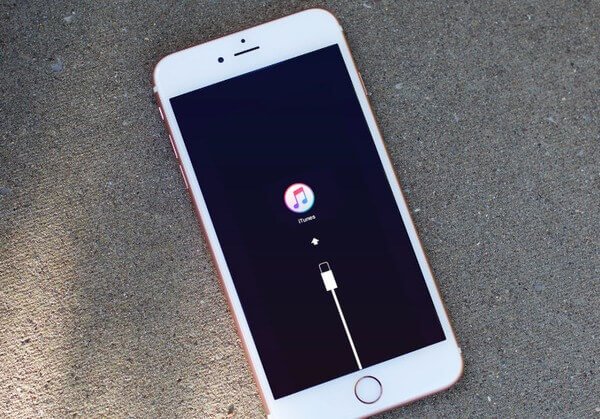 Step 2. Wait for TinyUmbrella detecting your iPhone
Once TinyUmbrella has detected your iPhone thoroughly, it will tell you that your iPhone is in recovery mode. As a result, you can see the "Exit Recovery" mode is enabled.
Step 3. Fix recovery mode without data loss
Hit "Exit Recovery" button to kick your iOS device out of recovery mode. If you want to fix iPhone recovery loop, you should choose "Fix Recovery" instead. After that, TinyUmbrella fix recovery program will exit recovery mode and reboot your iPhone instantly.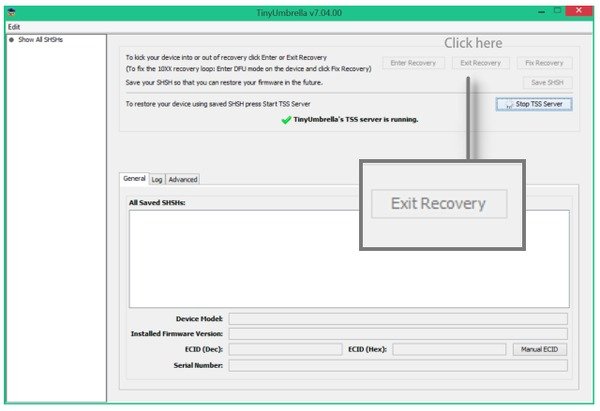 Part 3

: Alternative to TinyUmbrella: iOS System Recovery

What if TinyUmbrella fix recovery doesn't work, or TinyUmbrella cannot fix recovery mode? Here is a TinyUmbrella alternative software named Apeaksoft iOS System Recovery, which can recover iOS system and fix related Apple issues with better performance. The TinyUmbrella alternative program can fix iPhone stuck in DFU mode, recovery mode, Apple logo, black screen, loop restart and many other system problems easily too. And the moment you connect the frozen or disabled iPhone with iOS System Recovery, it can detect your iOS device immediately.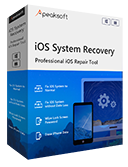 4,000,000+ Downloads
Compatible with all iOS devices like iPhone 14/13/12/11/XS/XR/X/8/7/6, etc. iPad Pro/Air and more.
Fixing iPhone from DFU mode, recovery mode, Apple logo, black screen, etc. to normal.
It is safe enough that you will not lose data in the process repair.
Which One Can Fix Recovery Mode Better – TinyUmbrella or iOS System Recovery
Just like TinyUmbrella does, iOS System Recovery will not put your iOS data at risky. So it is safe to fix iPhone stuck in recovery mode using the TinyUmbrella alternative. Moreover, iOS System Recovery supports most popular Apple devices than TinyUmbrella. To be more specific, the TinyUmbrella fix recovery alternative program is highly compatible with iPhone 14/13/12/11/XS/XR/X/8/7/6, etc. iPad Pro/Air/Mini, iPad 1/2/3/4 generations and iPod touch 1/2/3/4/5/6 generations. With wide support of iOS devices and system problems fixings, it seems that iOS System Recovery does a better job than TinyUmbrella. Though TinyUmbrella can downgrade to older iOS versions.
How to Fix iPhone Stuck in Recovery Mode Using the TinyUmbrella Alternative
Step 1. Connect iPhone to iOS System Recovery
Download and install the TinyUmbrella alternative to fix recovery mode. Launch the program and use a USB cable to connect iPhone with your computer. Click "More Tools" and then select "iOS System Recovery" on the preview window.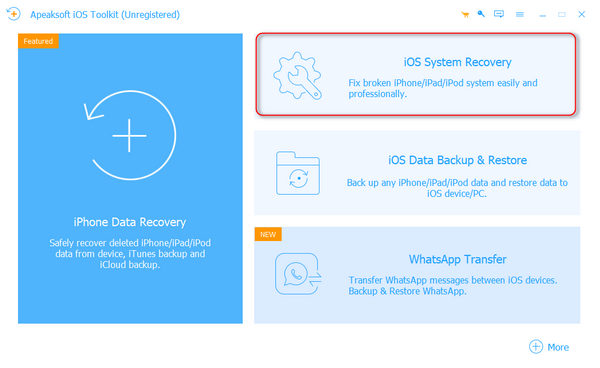 Step 2. Start to fix iPhone stuck in recovery mode
You need to know that the TinyUmbrella alternative program will restore your Apple device back to non-jailbreak state. And it will update your iPhone, iPad or iPod Touch to the latest iOS version as well. Tap "Restart" if you agree with those items.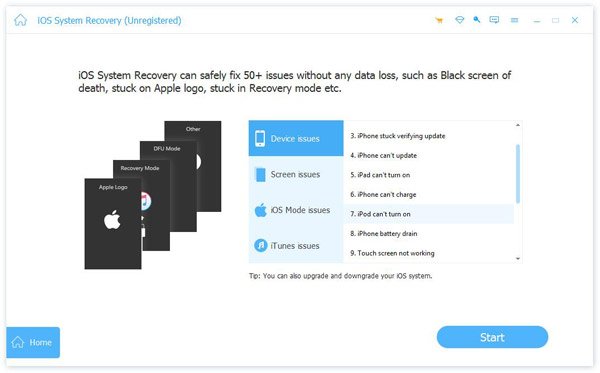 Step 3. Put iPhone into recovery/DFU mode
Follow the on-screen instruction to enter into recovery mode or DFU mode. No matter which iOS device you use, you can find its related operations.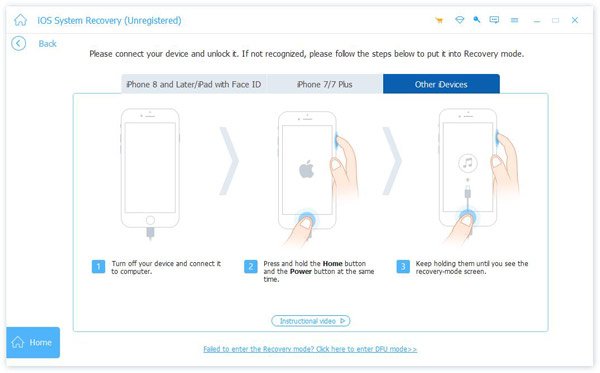 Step 4. Check the detected iPhone information
The alternative to TinyUmbrella fix recovery program will detect your iOS device thoroughly. Check and correct if there is anything wrong about your Apple product.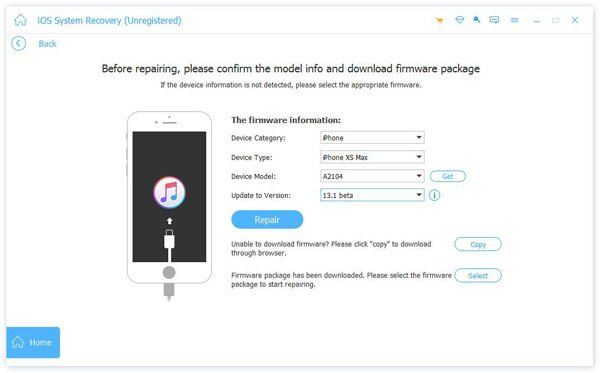 Step 5. Fix recovery mode on iPhone
Press "Repair" button to download firmware package and get iPhone out of recovery mode instantly. It will take you several minutes to complete the whole process. Later, your iPhone can exit recovery mode and return to normal state with no data loss.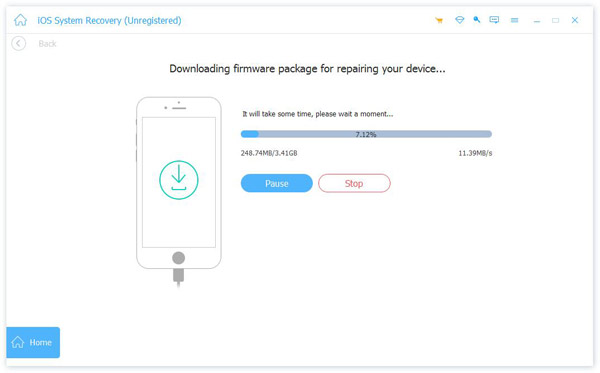 All in all, both TinyUmbrella and iOS System Recovery are excellent recovery mode fixing tools. The main difference between TinyUmbrella and its alternative is the performing functions. To be honest, iOS System Recovery is the pro version of TinyUmbrella fix recovery. Moreover, you can get well-designed interface and easy-to-use filters to fix iOS system errors professionally and easily. So if you are looking for a one-stop solution to get iPhone out of system problems, iOS System Recovery can work better. And if you just want to exit recovery loop, then using TinyUmbrella is also your smart choice.