Nothing happens when you plug your iPad into a power source? You may have experienced a mini heart attack. Keep calm, according to our research. iPad not charging is usually caused by software issues but not hardware damage.
There are a variety of factors could lead to iPad refuse charging. Of course, you can take your iPad to Apple Store and ask help. But before that, why not spend a few minutes to read this tutorial and follow the guides to fix your iPad not charging by your own?

Part 1

: iPad not charging? Why

The reasons why iPad not charging are rather complicated, for example, the Lightning cable is broken, the Lightning port is clogged by dust and detritus, iPad is stuck in low battery mode, and firmware corrupted, etc. Therefore, troubleshooting of iPad charging problems should be concentrating on these aspects.
Part 2

: Common ways to fix iPad not charging

In this part, we will tell you multiple common ways to fix iPad not charging problem in detail.
Tip 1: Hard Reset Your iPad
Performing hard reset on iPad is a good starting point of troubleshooting, when iPad is not charging.
Step 1. Unplug accessories from your iPad. Hold down the "Side" button on top of the iPad and press the round Home button together.
Step 2. Wait for your iPad to display the Apple logo on screen, let the buttons go.
Step 3. Plug your iPad into power source and it should charge normally.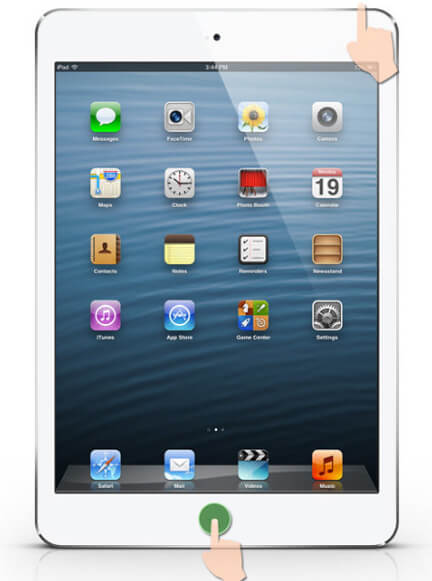 Tip 2: Check Your Lightning Cable For Damage
Similar to other tablet, we use a USB cable to connect iPad and power source. The slight Lightning cable is easy to broken due to pull and twist. When iPad not charging, unplug the Lightning cable from your iPad, and take close look at. If there are signs of damage on the cable, such as breakage or bent prongs, you'd better try a new one.
In the case when the Lightning cable looks fine, you should try to charging your iPad on your computer to test whether the cable is working. That can eliminate the Lightning cable fault.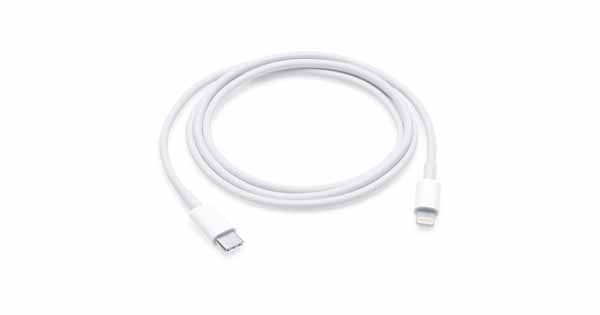 Tip 3: Try A Different iOS device charger
When charging iPad, iOS device charger is another important accessory. If you encounter the problem that iPad not charging, disconnect your iPad, the Lightning cable, the charger and the wall source, and then connect them again.
Make sure that you are not using your iPhone charger on your iPad, though they are much similar. If the problem persists, consider purchasing a new charger or using a different iPad charger.
Another thing you should do is to check if the wall source matches your iPad charger, especially when you travel overseas.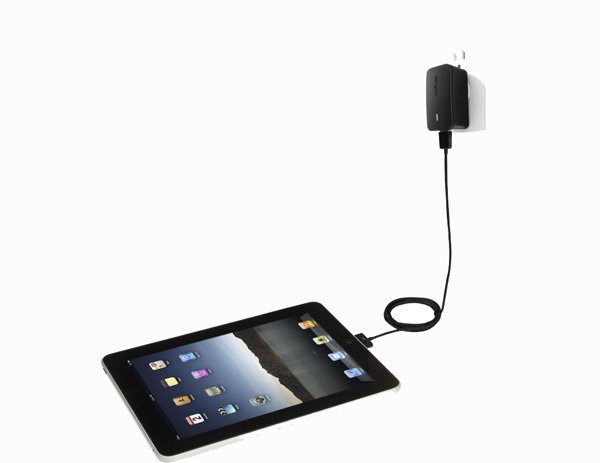 Tip 4: Brush The Gunk Out Of Your iPad's Charging Port
The charging port on iPad is open and easy to accumulate dust and debris as time goes by. That may block iPad from detecting the Lightning cable and charging. The solution is very simple: clean up the charging port when your iPad is not charging.
1. Use a dry Q-Tip or toothbrush to remove the dust and debris from the port.
2. Or you can blow the charging port with a hair dryer.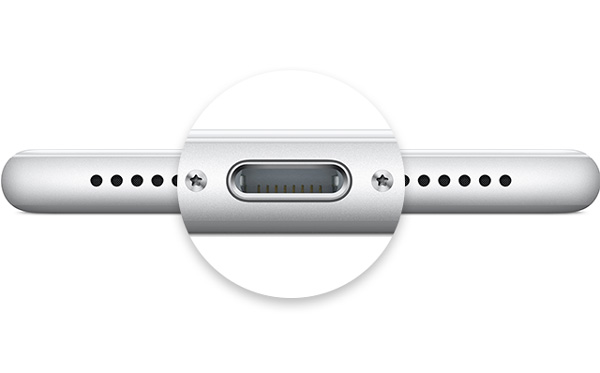 Tip 5: Put Your iPad into DFU Mode and Restore
In addition to accessory, software crash could lead to iPad not charging as well. In such case, you can fix it by restoring iPad in DFU mode. It will erase all content on your iPad, so you'd better back up your iPad data firstly.
Step 1. Remove your iPad from wall source, press the "Side" button to activate the power off screen, and then slide the switch to shut down the iPad.
Step 2. Connect your iPad to your computer using the Lightning cord. Launch the latest version of iTunes, and follow the instructions below to put your iPad into DFU mode.
Hold down the "Sleep/Wake" button, which also called Power or Side button, and press the round Home button together for about 10 seconds.
Let the "Sleep/Wake" button go and keep holding the "Home" button for extra 3-5 seconds.
Step 3. If the screen becomes black and iTunes pops up a message said iPad in recovery mode, it means your iPad boot into DFU mode successfully. Click "Ok" button on the message, now you will be presented two options, "Restore" and "Update".
Step 4. Click the "Restore" option to perform iPad restoring in DFU mode.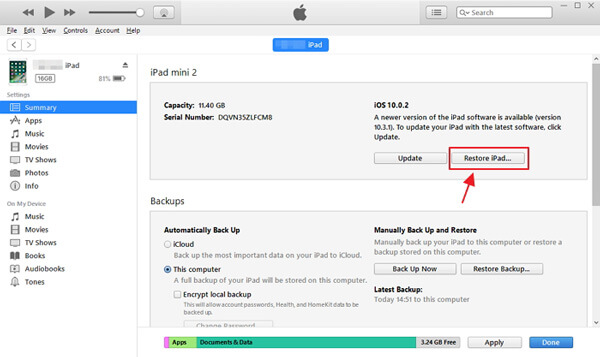 Tip 6: Repair Your iPad
The last common way to fix iPad not charging is to contact Apple and repair your device. Apple offers multiple options to repair an iPad:
1. Contact technical support on Apple Support website (support.apple.com/contact).
2. Repair iPad using the AppleCare or AppleCare+ plan.
3. Go to the nearest Apple Store or mail you iPad to Apple for repairing.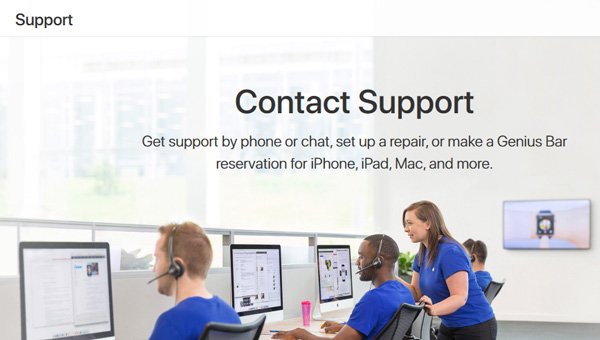 Part 3

: Ultimate way to fix iPad not charging

Besides common ways, there is an ultimate way to fix iPad not charging, Apeaksoft iOS System Recovery. Its benefits include:

1. Discover why iPad stops charging using advanced technology.

2. Fix a variety of iPad issues related to charging in one click.

3. Support to fix iPad in Recovery mode and DFU mode.

4. Not interrupt existing data on iPad during repairing.

5. Compatible all iPad models, like iPad Pro/Mini/Air and more.

In a word, it is the easiest way to let iPad charge normally on Windows 11/10/8/7/XP.
How to fix iPad not charging easily
Step 1. Connect your iPad to iOS System Recovery
Download and install the iPad fixing tool to your computer. Connect your iPad to your computer using the Lightning cable. Launch the application; it will detect your device.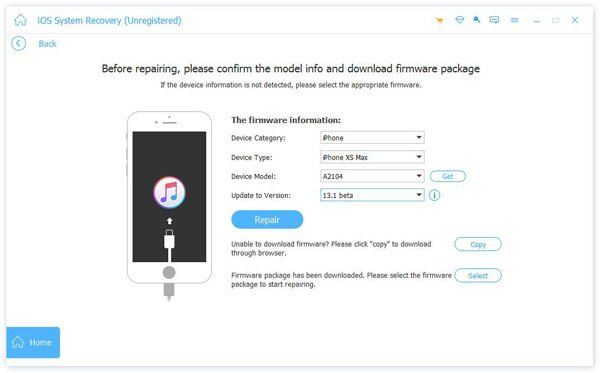 Step 2. Diagnose iPad in DFU mode
Click the "Start" button on main interface, and then press the "Question" icon on top ribbon and follow the onscreen instructions to put iPad into DFU mode.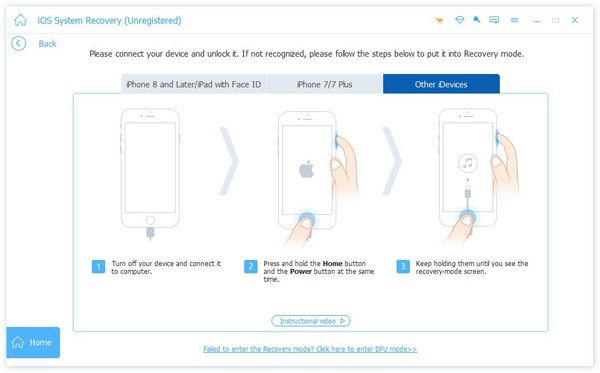 Step 3. Fix iPad not charging
Select your iPad model on the Info window, and click the "Download" button to get the firmware. When it is done, the application will repair your iPad automatically.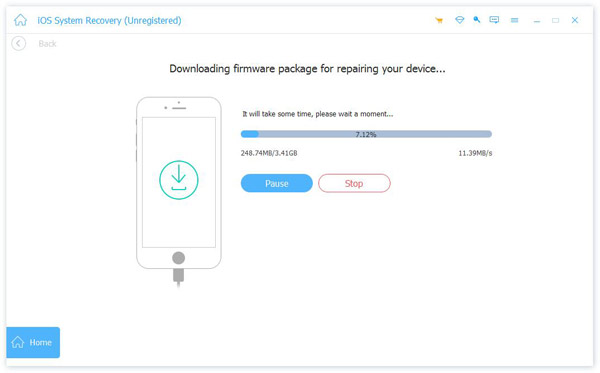 Conclusion
iPad not charging or charging slower is a headache problem, and many iPad users have encountered this problem. Before contact to Apple Support, you can follow the guides above to fix iPad within a few minutes. Moreover, we have shared a versatile iPad fixing tool, Apeaksoft iOS System Recovery, to help you get rid of iPad charging problems simply.