More and more iPhone users rely on iPhone alarm clock instead of traditional alarm clock. iPhone alarm do helps us a lot, such as reminding us some specific meeting scheduled. It really can be a big trouble if your iPhone alarm is not working due to some unknown error.
What should you do when iPhone alarm does not work? If you are looking for some solutions to solve the problem, fortunately, in this article, we recommend some best ways for you to fix iPhone alarm not working. Just keep reading!

First of all, we want to recommend you the best iOS transfer to you. iPhone Transfer is such a wonderful transfer you can use to transfer your files between iOS and iOS, iOS and computer, iOS and iTunes. It also supports you to manage your files but it is not just an alternative to iTunes. You can transfer all kinds of your iOS files and don't rely on iTunes anymore. What's more, it is really safe to use so that you don't worry about the privacy or losing your data. You will fall in love with such a great software.
Part 1

: Check Alarm Settings to Fix iPhone Alarm Not Working

If you find your iPhone alarm not working, the first thing you should do is to check your Alarm settings. Open Clock app and then select Alarm in the bottom of this interface. After that you need to click on Add Alarm and then choose the Repeat Alarm option. You are required to check if you have set the alarm for one day only or for every day. Actually, it makes a big difference. If you set only one day, your alarm won't work in the second day. If the reason of your iPhone alarm clock not working is because of your setting, you can fix it by adjusting the setting.

Moreover, you can change your alarm sound, because it may the file damage and is not working.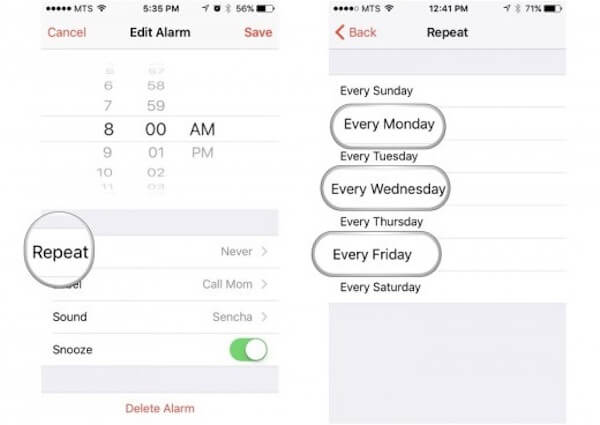 Part 2

: Reset All Settings to Fix Alarm Not Working on iPhone

Except Alarm settings, you can also reset all settings in your iPhone to fix your iPhone alarm not working. It can be a useful way in sometimes and can solve many issues. And the steps you follow to reset all settings are very easy as well. First launch Settings app and then tap on General option. When you are in General interface, scroll down to the bottom of the page, tap Reset and then tap Reset All Settings. You need to enter your password to confirm this request and then just wait for it to finish. Don't worry about your iPhone data. This operation won't make your data lost.

This solution also works when your iPhone GPS not working, iPhone messages not working, etc.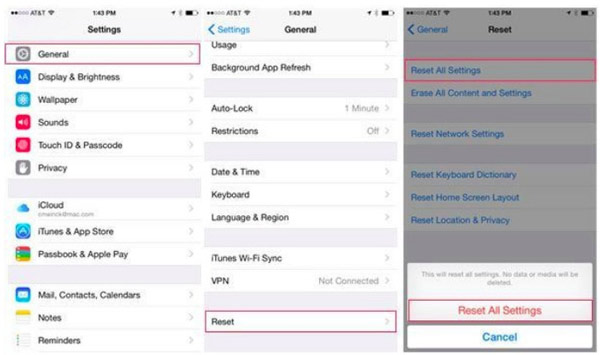 Part 3

: Update iOS to Fix iPhone Alarm Not Working

If you don't update iOS of your iPhone, it can be the reason, which causes your iPhone alarm not working. To solve this problem, just update your iOS and then try your alarm clock again. To update iOS and fix iPhone alarm not working, just go to Settings app and then select General. When you see Software Update, tap it and select Download and install. You need to enter the password to confirm and agree the terms, then you are allowed to update iOS.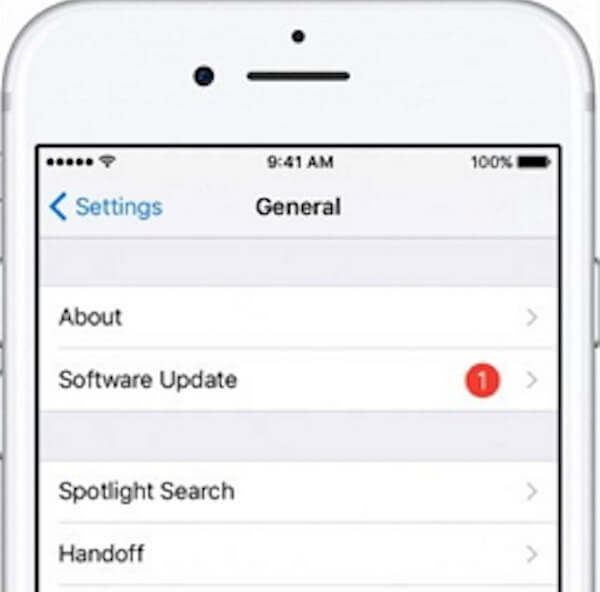 Part 4

: Restart Your iPhone to Fix iPhone Alarm Not Working

iPhone alarm not working and all the ways we mentioned above can't fix it, you can try restarting your iPhone to get rid of this issue.

You can simply press and hold power button to turn your iPhone off and then press and hold the power button again to turn it on. You can also restart your iPhone directly. If you are using iPhone 6s/6 Plus or below, just press both home button and power button until you see the Apple logo shows in your screen.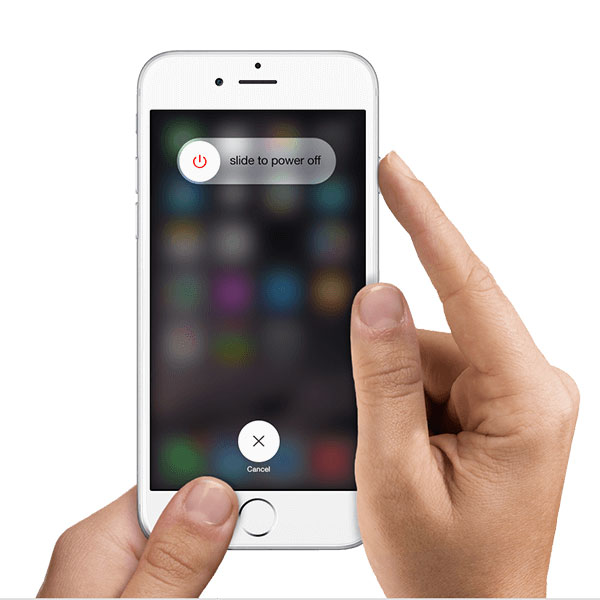 For iPhone 7/7 Plus, just press and hold both volume down button and power button at the same time, until you see the Apple logo.
For iPhone 8/8 Plus or later, press and quickly release the Volume Up button first and then press and quickly release the Volume Down button. Next just press and hold the power button. When Apple logo shows up, release them.
Part 5

: Professional Way to Fix iPhone Alarm Clock Not Working

To fix your iPhone alarm clock not working, here we recommend you one of the best professional way to solve this problem. The best software called iOS System Recovery can help you fix your iPad, iPhone and iPod from DFU mode, recovery mode, headphone mode, apple logo, black/blue/red/white screen and so on to normal. It works on all iOS devices like all versions of iPhone, iPad and iPod, as well as supports all versions of Windows system and OS system. The steps you fix your iPhone alarm not working are really easy. Just follow the next steps and you can get your iPhone to normal.

Step 1. Download iOS Data Recovery

To fix iPhone problem, find iOS System Recovery on the official website and then download it. Next install it on your computer.

Step 2. Start iOS System Recovery

Launch this software and then click "More tools" to enter "iOS System Recovery" window. Then reading the tips in the interface and click "Start" button to begin your iOS system recovery. This software will detect your iPhone first.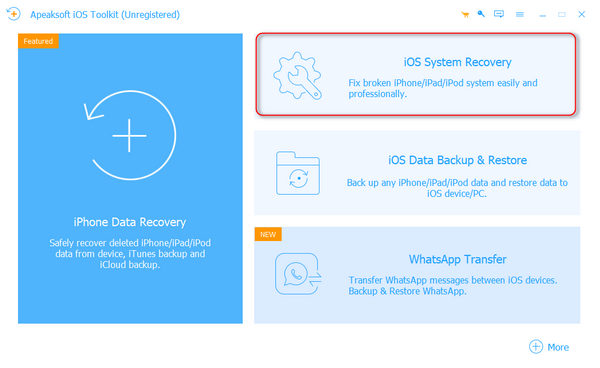 Step 3. Put iPhone into recovery mode
You need to click "Question" and follow the guide it gives you to put your iPhone into recovery mode. Next select the proper iOS model and then click "Download" to download firmware.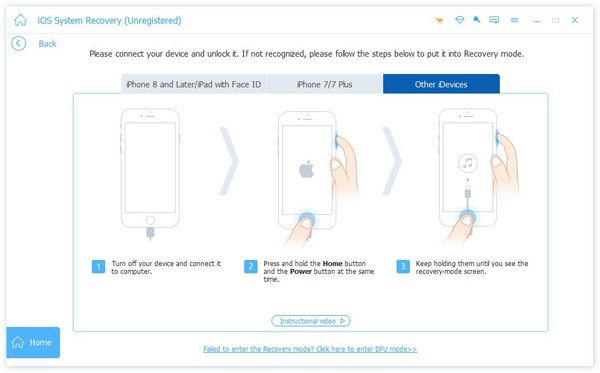 Step 4. Fix iPhone alarm not working
When the plug-in is downloaded, iOS System Recovery will fix your iPhone alarm not working automatically. Just wait for it patiently.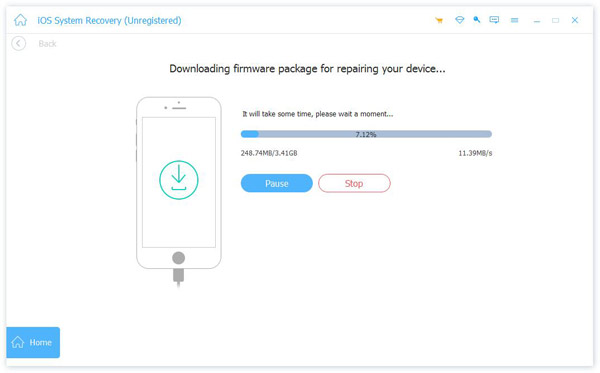 You may also want to know: How to fix iPhone photos not showing up in iPhoto/Photos on Mac
Tips: Simple Way to Backup iPhone Data
When you fix iPhone alarm, you should backup your iPhone data just in case. For iPhone files data backup, you need Apeaksoft iPhone Transfer to help you.
Check this video tutorial to help you learn how to backup iPhone data: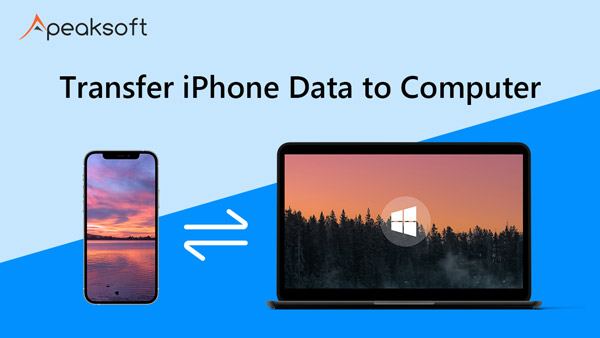 Also, you could check this post to learn how to backup iPhone music.
Conclusion
You must learn to how to fix iPhone alarm not working after reading this article. All the ways are easy to follow but are very useful in solving this problem. If your friends have the same questions as you, just share this article with them.