Unlike Recovery Mode and DFU Mode, most iPhone users might not be familiar with Safe Mode. Usually, Safe Mode is related to a jailbroken iPhone. One way of explaining Safe Mode is that it can disable the substrate, including all the extensions, themes and tweaks, to let you uninstall any packages that may have caused the crash. It works just like the safe mode on the computer operating system, which can help you remove crashed processes that may lead to mal-function to operating systems. So, how do you enable or disable the safe mode of iPhone? In this post, we will share with you the guide on how to turn on or turn off iPhone safe mode.

Turn on or Turn off iPhone Safe Mode
Part 1. What is Safe Mode on an iPhone
iPhone Safe Mode is a way to run iOS on a jailbroken iPhone. In Safe Mode, all the tweaks are disabled. If some of the tweaks cause trouble to the system, you may need to enter the safe mode. With the Safe Mode, you can safely and easily uninstall those problematic ones without any of the tweaks actually running.
Part 2. How to Manually Boot iPhone in Safe Mode
When your iPhone starts showing signs of malfunctioning, you can switch on safe mode manually. Here is how to start the Safe Mode manually:
1. Press and hold the Power button and the Home button.
2. Wait until you see the Apple logo, then press and hold the volume up button until the springboard loads.
3. When your iPhone has booted, it should be running in Safe Mode. Now, you can eliminate any tweaks or themes. To go back to the normal mode, just reboot it as the usual way.
Part 3. How to Turn off Safe Mode on iPhone
Sometimes, when your iPhone enters the Safe Mode, you might face some problems. For example, your iPhone gets stuck in safe mode. Don't worry. There are many ways you can get an iPhone out of safe mode. Here are 4 easy ways you can turn off safe mode on iPhone.
Option 1. Choose Restart from Safe Mode Notification
Tap Restart from the Safe Mode pop-up message and your iPhone will automatically restart. When the problematic tweaks have been removed, your iPhone will come back to its normal mode.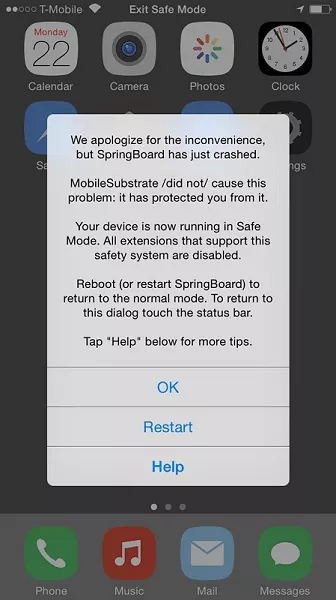 Option 2. Hard Reset iPhone
If the first way still leaves your iPhone to Safe Mode, hold Power and Home button until your iPhone turns off completely and restarts. And ignore the Slide to unlock that appears on the screen a few seconds after you start this process.
Option 3. Remove Incompatible Packages
If your iPhone is still in Safe Mode you'll need to delete incompatible Cydia packages in the system. Open Cydia and remove suspected extensions or tweaks. Reboot the iPhone to see if it boots up correctly.
Option 4. Complete Reset to Turn off iPhone Safe Mode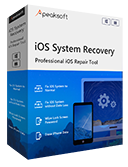 4,000,000+ Downloads
Fix iPhone system errors, such as stuck on Safe Mode, DFU Mode, etc.
Restore iPhone to factory settings even without a password.
Upgrade and downgrade the iOS version supported.
Two modes are optional for iOS system repairing.
Compatible with all iOS devices, including the latest iOS 16.
Step 1.
Connect iPhone to computer
Free download and install iOS System Recovery on your computer. After launching it, choose iOS System Recovery in the main interface.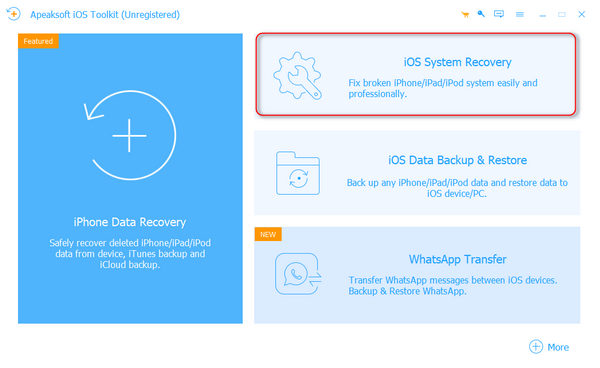 Step 2.
Start iOS system recovery
Now connect your iPhone to the computer via a USB cable. And then click the Start button to recover your iPhone's system. Then, this professional software will detect your iPhone system problem automatically.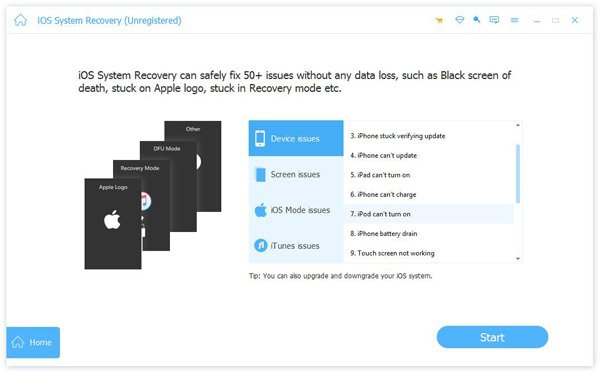 Step 3.
Select Fix Mode
You can solve iPhone stuck in safe mode issue instantly by clicking Free Quick Fix. If that doesn't work, just click the Fix button to enter the next window.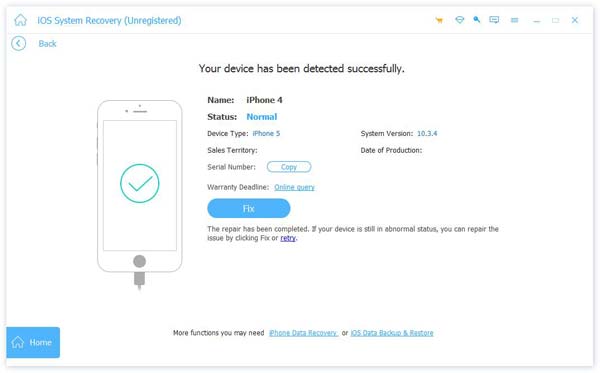 Here are two types of fixing modes, Standard Mode and Advanced Mode. Chooses one according to your needs. Then, click the Confirm button.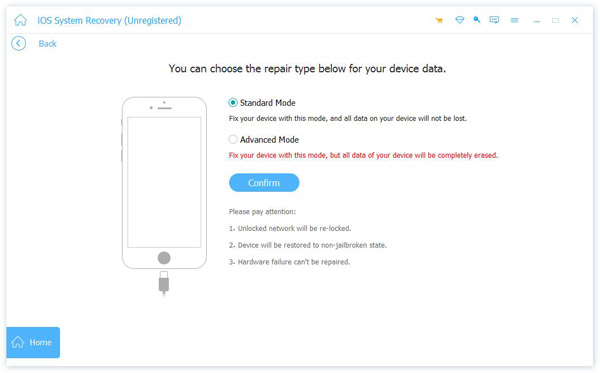 Step 4.
Select firmware for fixing
Choose the category, type and model for your iPhone. Then, click the Download button to get the proper firmware. Click the Next button to start downloading iOS firmware and help your iPhone disable the safe mode.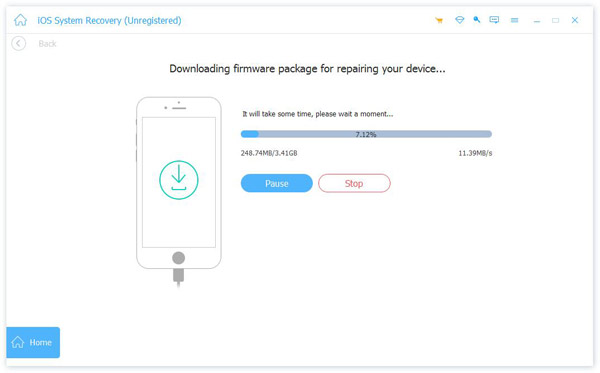 Option 5. Restore your iPhone
This is the last choice to exit iPhone Safe Mode. Make sure you have backed up your iPhone to iCloud or iTunes since all data on your iPhone will be wiped by restoring it to the factory settings. Navigate to Settings > General > Reset, and tap Erase All Content and Settings. After that, restore your iPhone from your iTunes or iCloud backup file. Then check whether you disable safety mode on iPhone.
If you find that your data on iPhone is lost, you can use Apeaksoft iPhone Data Recovery to help you recover deleted or lost data from iPhone.
Part 4. FAQs about iPhone Safe Mode
Why is my phone still in Safe Mode?
Mobile Phones still on Safe Mode may happen because you have installed apps that are incompatible with your system. You can check them in the app management center and uninstall the unsuitable apps quickly.
What is the difference between Apple safe mode and recovery mode?
Recovery Mode is often used to fix an iPhone. But it will empty all the contents on the device and make it start over as if it were new, so you need to have your data backed up first. Safe Mode is often used to remove corrupted processes. This mode will protect your phone when your iPhone jailbreak causes a system crash.
Will hard reset iPhone delete everything?
Hard resetting iPhone will delete all your device's data and personal information, including pictures, videos, contacts, files, messages, etc. So before doing so, ensure you have a backup of all your data.
What happens after I jailbreak my iPhone?
Jailbreaking iPhone means you can download Apps to your Apple device outside of the official store and personalize your phone's display style. This facilitates the use of more Apps on your iPhone, but it also poses security risks.
Can my iPhone be jailbroken without me knowing?
This does not usually happen. As long as the status of your device is normal, it will only jailbreak if you set it up. But you can't rule out the possibility of your phone being compromised or hacked and thus jailbroken.