Traditionally, the Mac has been regarded as a safe and reliable system compared to other desktop platforms. However, according to a recent survey, Mac users have become the target of digital crime. Therefore, Mac does need antivirus although every MacBook comes with default security functionalities. This article identifies a top list of antivirus for Mac. They will not only protect your device from potential malware but also keep your Mac away from human errors.

Antivirus for Mac
Part 1: Top 5 Paid Antivirus for Mac
Top 1: Apeaksoft Mac Cleaner
Apeaksoft Mac Cleaner is a one-stop solution to remove malware from Mac. Users can get rid of malware, viruses, unwanted extensions, and more with a single click. That is why it appears at the top of our list.
PROS

Check Mac for malware quickly.
Completely and permanently remove malware.
Scan and clean browsers and protect your privacy.
Hide private files on the hard drive.
Include a variety of bonus features.
CONS

It is not freeware although the price is affordable.
Top 2: Norton 360 Deluxe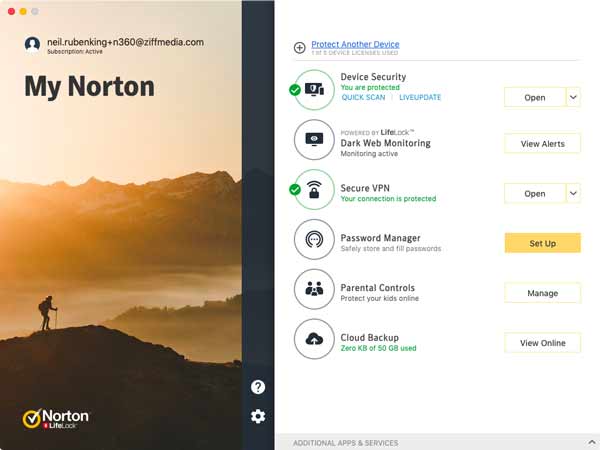 Norton 360 Deluxe is the premium version of Norton antivirus for Mac and one of the best antivirus applications for Mac since it combines device security, online privacy, and backup protection. It claims to give you 360 degrees security solution for 5 devices if you pay $104.99 per year.
PROS

Offer unlimited VPN and virus protection.
Come with online storage for backups.
Equip a powerful firewall.
Completely protect your Mac.
CONS

Some features are not available to Mac, like parental control.
The theft identity protection is only for U.S. users.
Top 3: Bitdefender Total Security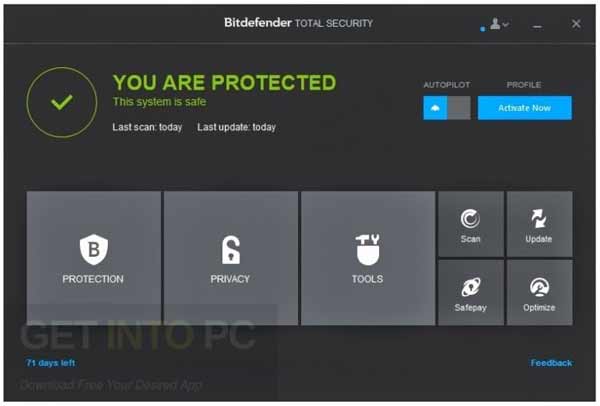 Bitdefender Total Security is the top security product of Bitdefender antivirus for Mac. It provides a great level of protection against plentiful security threats. The cost is $89.99 for 5 devices on the 1-year plan.
PROS

Protect Mac from viruses and malware.
Offer online management and remote control.
Block dangerous websites.
Include a highly efficient firewall.
CONS

Full VPN access requires an extra payment.
The parental control is limited.
Top 4: Intego Mac Internet Security X9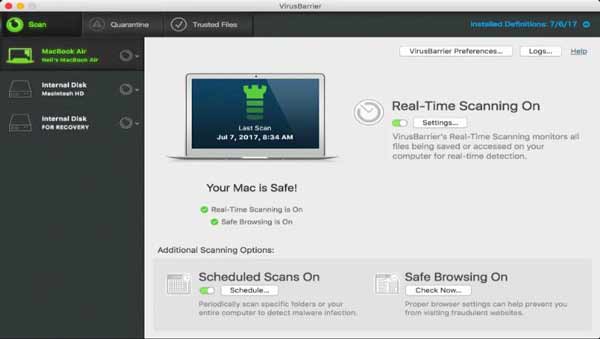 Intego Mac Internet Security X9 is one of the best malware removal software for Mac. It provides several scan models, such as making a schedule, doing it manually, or scanning your drives as new files are added. It costs $24.99.
PROS

Integrate a user-friendly interface.
Create a personal backup.
Clean up mac and free up space.
Monitor and protect children online.
CONS

The VPN requires an extra $19.99 per year.
It lacks some features, like a password manager.
Top 5: McAfee Total Protection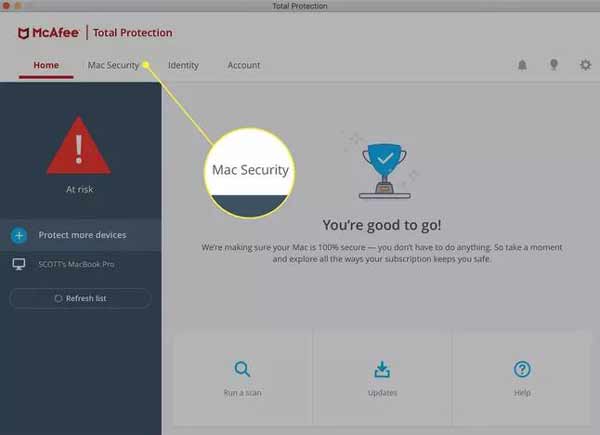 PROS

Include unlimited VPN.
Offer excellent phishing protection.
Protect against malware and online threats.
Encrypt files and protect them from unauthorized access.
CONS

The parental controls are not available to Mac.
Some features are not working currently.
Part 2: Top 3 Free Antivirus for Mac
Top 1: AVG AntiVirus for Mac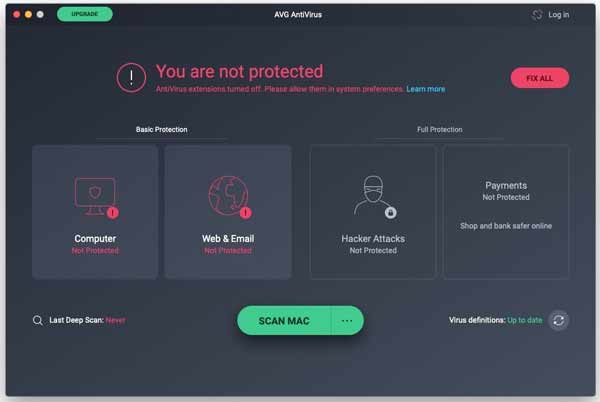 AVG AntiVirus for Mac is one of the best free antivirus software for Mac. Users can get basic protection against viruses and malicious URLs. If you want to extend the protection, a full version is available too.
PROS

Protect Mac for free.
Equip a clear interface.
Prevent web-based threats.
No ads or other limits.
CONS

There is no ransomware or phishing protection for Mac.
It asks you to upgrade frequently.
Top 2: Avira Free Antivirus for Mac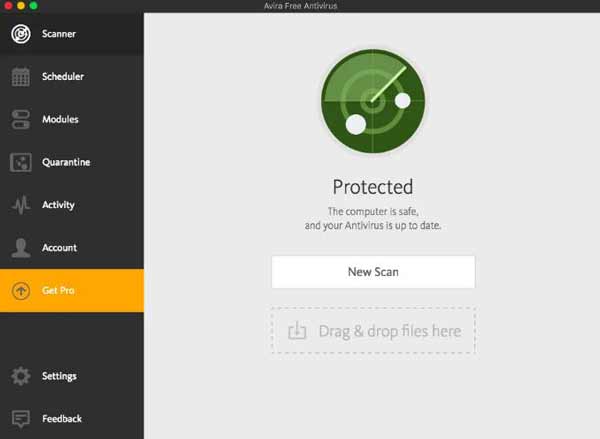 As its name indicated, Avira Free Antivirus for Mac is a free antivirus for Mac. Although it does not provide many features, antivirus protection is top-notch. It offers real-time protection and a firewall.
PROS

Include high-score protection.
Integrate an intuitive interface.
Offer a browser extension.
Easy to use.
CONS

It lacks web-based protection for Safari.
Advanced features require an upgrade.
Top 3: Avast Free Mac Security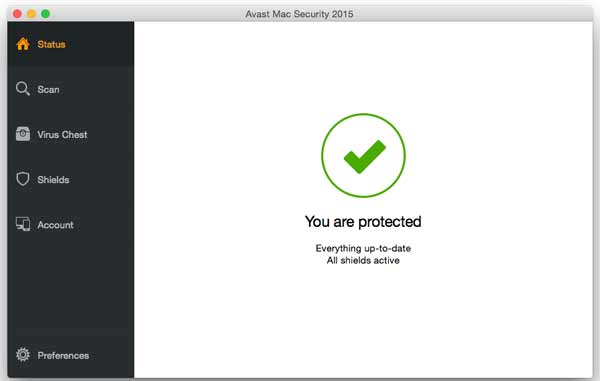 Avast Free Mac Security is a free malware removal application on Mac. If you are looking for a way to save some money on antivirus applications, Avast Free Mac Security is a good option for beginners.
PROS

1.Scan virus, ransomware, and malware.
2.Free of charge.
3.Protect from phishing.
4.Lightweight and not impact system.
CONS

1.The support team is weak.
2.The features are limited.
Part 3: How to Remove Malware from Mac
How to check and remove malware from Mac. Sometimes, it is not enough to have a powerful tool, like Apeaksoft Mac Cleaner. You also need a concrete guide to help you protect your Mac properly.
Step 1Check Mac status
Launch the best malware removal tool for Mac once you install it on your Mac. Click the Status button and see the information about your CPU, disk, and space. Malware usually takes a lot of resources and space, as well as slows down your machine.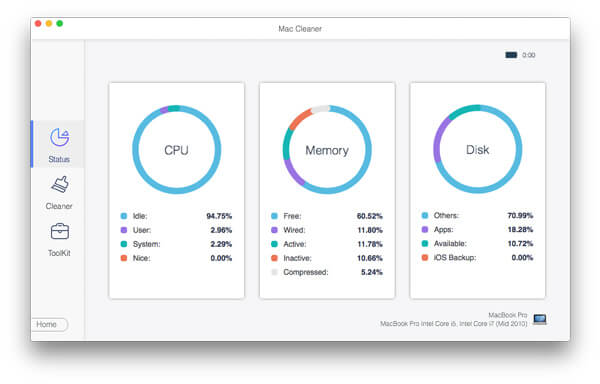 Step 2Scan malware
Go to the Toolkit tab, and choose the Uninstall option. Malware is an application too, so you can find them on the app list. Click the Scan button, and then hit the View button when scanning is done.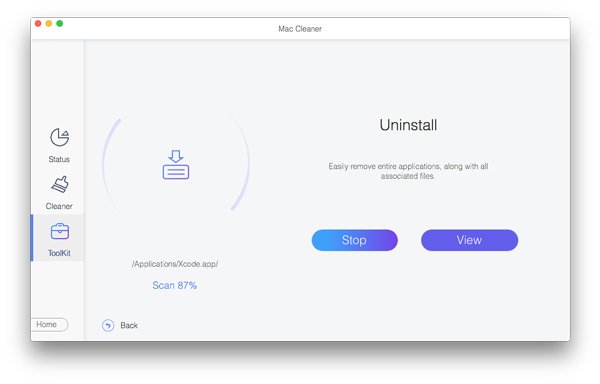 Step 3Remove malware
Select the malware or any unfamiliar apps on the app list, and check all associated files on the right side or check Select All. Finally, click on the Clean button. When prompted, confirm the deletion to permanently remove the malware.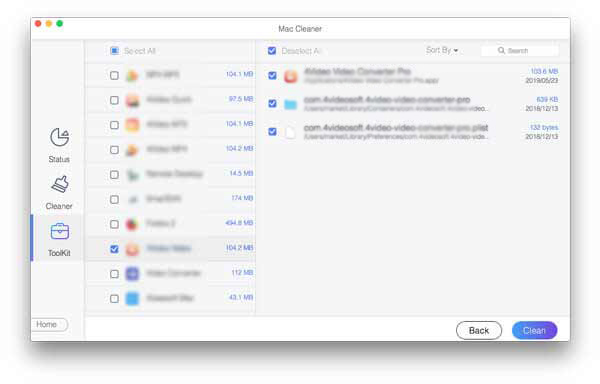 Step 4Clean malware extension
If the malware is installed on your browser, choose Privacy in the Toolkit window. Hit the Scan button, and then press the View button. Choose the target browser, check the items that you want to clean up, and click the Clean button.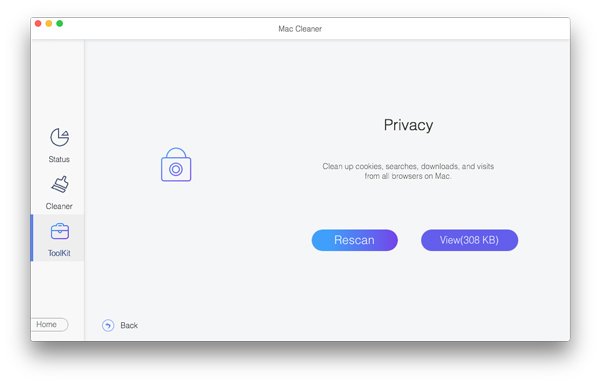 Part 4: FAQs about Antivirus for Mac
Do I need antivirus on a Mac?
The short answer is yes. Mac users also need antivirus protection for their machines. It is up to you and you alone to protect your Mac and keep your system safe.
Does Mac have built-in antivirus?
The built-in antivirus on Mac is called XProtect. It has been introduced to Mac in 2009 and is still Apple's main malware protection service right now. This technology scans files for malware traces and notifies you if there is any suspicious data.
How to set a firewall on my Mac?
To enable the application firewall, choose the System Preferences option from the Apple menu. Then click Security or Security & Privacy, and go to the Firewall tab. Now, click Turn On Firewall or Start to enable the firewall.
Conclusion
Now, you should learn at least 8 best antivirus applications for Mac. Some of them are completely free to use with basic features, like AVG AntiVirus for Mac. Others require payment or subscription after the free trial. We also demonstrated how to remove malware using Apeaksoft Mac Cleaner. If you encounter other troubles related to this topic, please feel free to leave a message below this post and we will answer it as soon as possible.