Mac offers you a simple way to uninstall applications. However, many additional files created by these apps will still leave on your Mac disk. So, after you move apps to Trash, you have to manually remove their leftovers. To completely remove apps from your Mac, you can try the popular Mac app uninstaller, AppCleaner.
This post gives you a detailed review of AppCleaner for Mac. You can know the main features of AppCleaner, its pros and cons, and how to use it to uninstall apps on your Mac. Moreover, you are introduced to an all-featured AppCleaner alternative, Mac Cleaner. You can try both tools and then keep your preferred one to remove Mac programs.

Appcleaner Review
Part 1. AppCleaner for Mac Review
AppCleaner is a small and easy-to-use app uninstaller app. It is specially designed for removing unnecessary apps from a Mac. Unlike the default app uninstallation on your Mac, AppCleaner for Mac can delete app attachments and other created files. It offers a convenient way to thoroughly uninstall unwanted programs.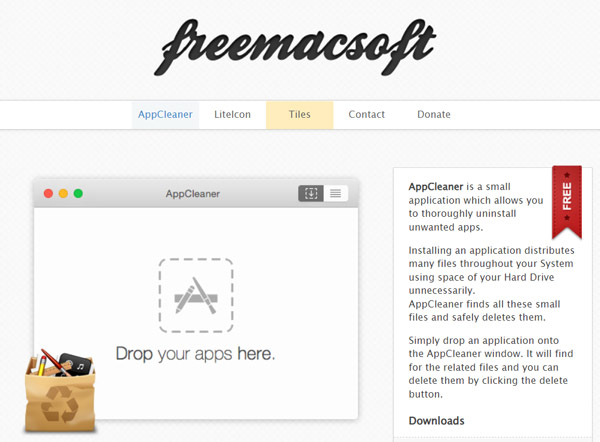 AppCleaner is compatible with Mac OS X 10.13 and later macOS versions. You can free install it from the official FreeMacSoft site and then use it to uninstall apps and remove all their leftovers. It can quickly scan all files created by the uninstalled app and then safely erase them.
AppCleaner for Mac download
When you want to download AppCleaner for Mac, you need to go to the official site of FreeMacSoft, click on the AppCleaner tab, and then select a suitable version to download. On the right side of the AppCleaner interface diagram, under the Downloads, you can access different versions for macOS.
When the AppCleaner DMG file is downloaded on your Mac, you can double-click on it. Now you will get a prompting message saying that, AppCleaner is an application downloaded from the internet, are you sure you want to open it. Here you need to click on the Open button to confirm that.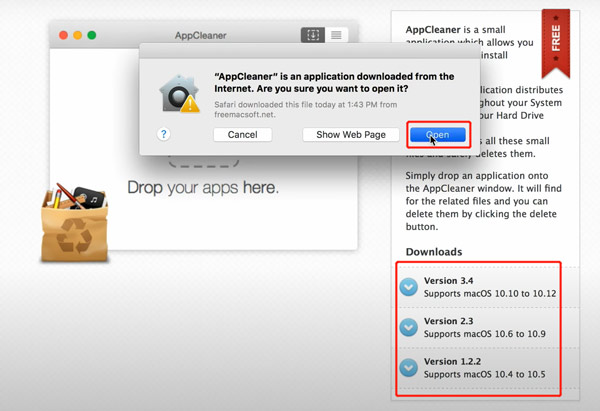 You can also open AppCleaner in a Finder window. Drag its icon to your Mac Applications folder. After that, you can follow the on-screen instructions to proceed with the AppCleaner installation.
How to use AppCleaner for Mac to uninstall apps
With the method above, you can install AppCleaner on your Mac. When you need to uninstall an app on your Mac, you can drag it onto the AppCleaner window to do that.
AppCleaner will list all the app associated files for you. You can select all data you like to delete and then click on the Remove button. You are required to enter your username and related password to confirm the app removal.

After you uninstall the app and delete its leftovers, you will be taken back to the source AppCleaner window. You can use the same steps to remove Bootcamp from your Mac.
Part 2. Best AppCleaner Alternative to Completely Uninstall Applications on Mac
AppCleaner is an easy-to-use app uninstaller for Mac. It is designed with a concise interface and one single function. If you want more features to manage applications and files on your Mac, view Mac status, and optimize Mac performance, you can try the great AppCleaner alternative, Mac Cleaner.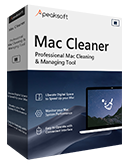 4,000,000+ Downloads
Uninstall unused applications on Mac and delete all their remaining files.
Remove useless data like system junk, duplicates, large/old files, etc. from Mac.
Check Mac's health, free up Mac storage, and protect Mac from virus and malware.
Design many useful tools in ToolKit for you to optimize Mac.
Compared with AppCleaner for Mac, Mac Cleaner is equipped with more useful functions. Moreover, it supports more macOS versions. You can free install it on any Mac device and then use it to uninstall applications.
This AppCleaner alternative collects all its features in Status, Cleaner, and ToolKit. After you launch it on your Mac, you will see these 3 options in the home window.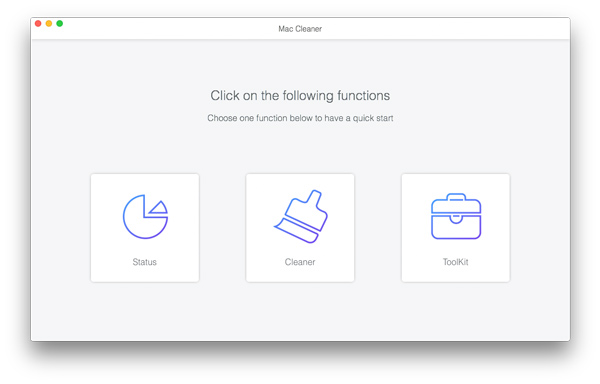 To completely remove apps from your Mac, you can go to ToolKit, and then use the Uninstall tool. As you can see, it also offers Optimize, Hide, Privacy, File Manager, and other tools.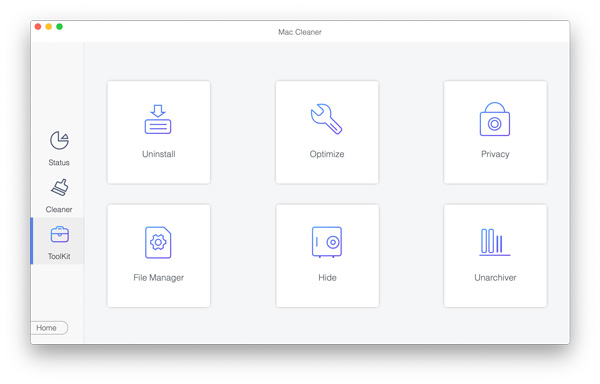 Click the Scan button to quickly scan all installed apps on this Mac. When the process is finished, you can click the View button to check them. Find the app you want to uninstall, tick the box ahead of it, choose all its leftovers, and then click on the Clean button.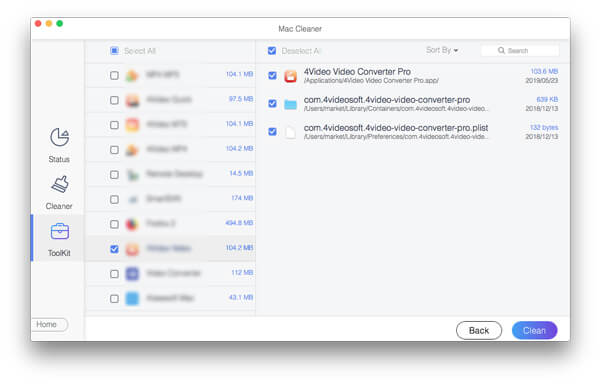 To get more available Mac storage, you can rely on its Cleaner feature. It offers 8 main data types for you to delete unwanted files.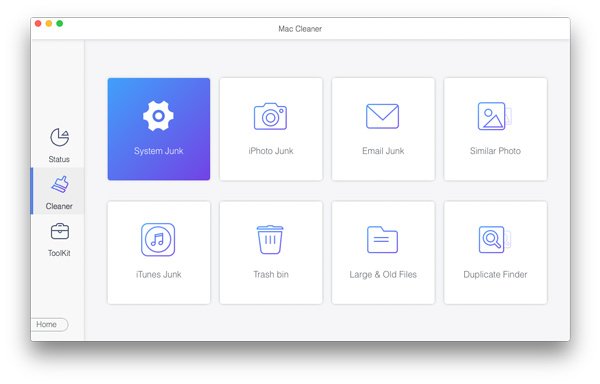 If you want to check the current status of your Mac, you can use its Status feature. You can view your Mac CPU, memory, and disk usage.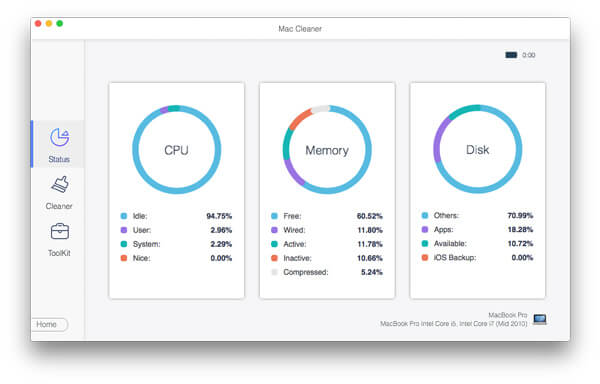 Part 3. FAQs of AppCleaner for Mac and App Removal
Question 1. Is AppCleaner for Mac safe?
Yes, AppCleaner is safe to use on Mac. Even though it has not been approved by Apple App Store, you don't need to worry about the disclosure of your personal data and privacy. Also, it won't affect other programs on your Mac.
Question 2. Is AppCleaner for Mac free?
AppCleaner is a totally-free app uninstaller for Mac. It won't prompt you to buy anything while using it. If you are really satisfied with it, you can go to the FreeMacSoft site, Click on the Donate tab, and then make your donation.
Question 3. Can I use AppCleaner on a Windows PC?
No. AppCleaner does not offer a Windows version for you to uninstall apps on Windows computers. For now, it can only be used on a Mac.
Conclusion
AppCleaner for Mac is a lightweight application designed for uninstalling apps and removing their related files. It is no doubt the best option if you only need to remove apps from a Mac. For more features to manage Mac programs and data, check Mac's health, and optimize its performance, you should try the recommended Mac Cleaner.