Mac batteries are designed to last for a maximum number of cycles counts before it needs to be replaced. The expected battery cycle count is 1,000. Are you facing the situation that your Mac battery does not seem to last near as long as it used to? Want to check the condition of your MacBook battery?
This post will show you how to check Mac battery health. Through that, you can figure out if the battery life of your Mac is functioning normally and how much charge it can still hold.

Check Mac Battery Health
Part 1. How to Check Mac Battery Health
Apple designs the Mac battery to retain up to 80 percent of its original capacity at 1,000 complete charge cycles. As a Mac user, you can easily check its battery health. This part will guide you to check battery health on your MacBook Air, MacBook Pro, and iMac.
Step 1To view your Mac battery's condition, you can click on the Apple menu in the upper-left corner and then select the System Preferences option from its dropdown. In the pop-up System Preferences window, find the Battery option and choose it.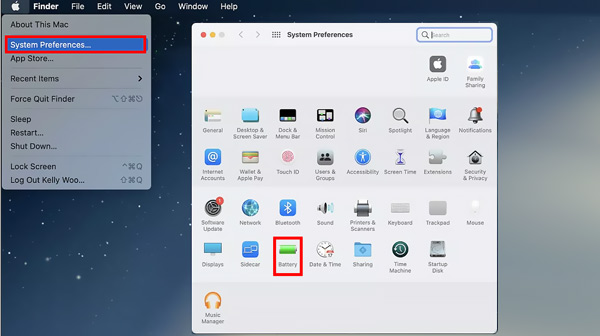 Step 2In the left sidebar, click on the Battery option. During this step, you are allowed to optimize video streaming while on battery power, dim your Mac display while on battery, optimize battery charging, choose to show battery status in the menu bar, and customize the time when you want to turn display off. Click on the Battery Health button to move on.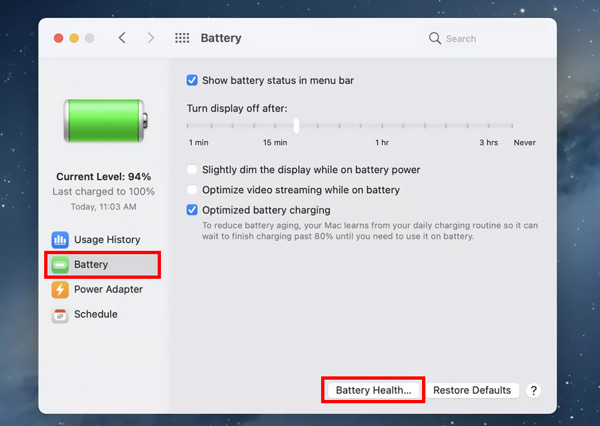 Step 3After you click on the button, a pop-up will appear on the screen to show you the Mac battery health like Battery Condition and Maximum Capacity. If the Battery Condition is Normal, that means your Mac battery is functioning normally.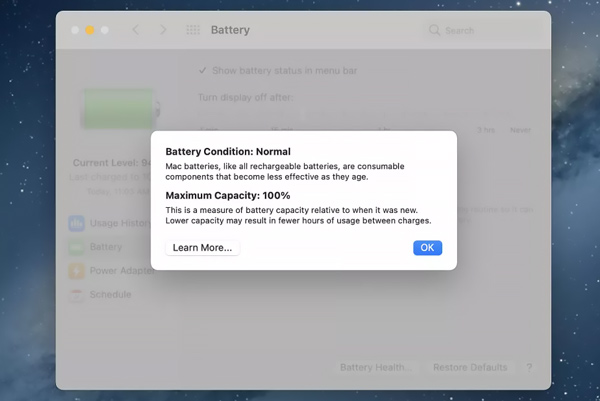 Part 2. How to View the Detailed Mac Battery Information
If you want to know more detailed information about your Mac battery health and determine the battery cycle counts, you can follow the steps below to access information about your Mac battery.
Step 1Press and hold the Option key on your Mac, and click on the Apple menu in the top-left corner. From its drop-down list, select the System Information option.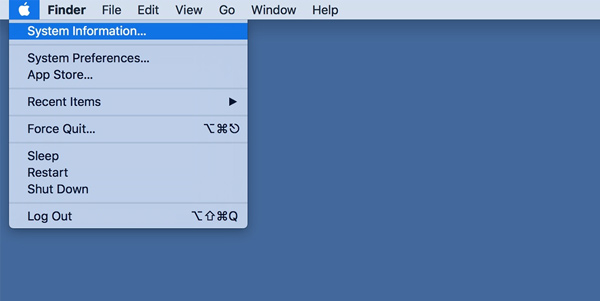 Step 2On the left sidebar, under the Hardware section, click on the Power option. Then you can view various battery information on the right side. Here you are allowed to check the battery charge information, health information, and system power settings. You can check the current cycle count and condition under the Battery Information.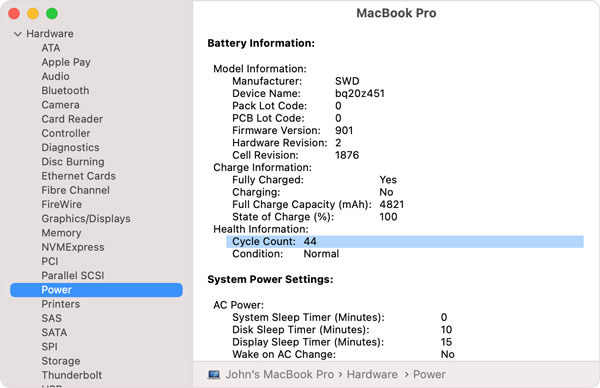 Part 3. Easier Way to Check and Optimize Mac Battery Health
To easily check battery life on Mac Pro/Air or iMac, optimize Mac performance, and free up Mac storage space, you can rely on the all-featured Mac Cleaner. It enables you to view the current Mac battery charging and health status.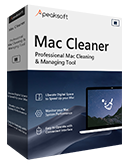 4,000,000+ Downloads
Check battery health on Mac and optimize Mac battery health management.
Manage and free up Mac storage space and optimize Mac performance.
Remove junk files, duplicates, large and old data, and others from Mac.
View current Mac status, speed up Mac, and protect it from various threats.
Free download and launch this recommended Mac Cleaner. When you enter it, you can see its 3 key features, Status, Cleaner, and ToolKit.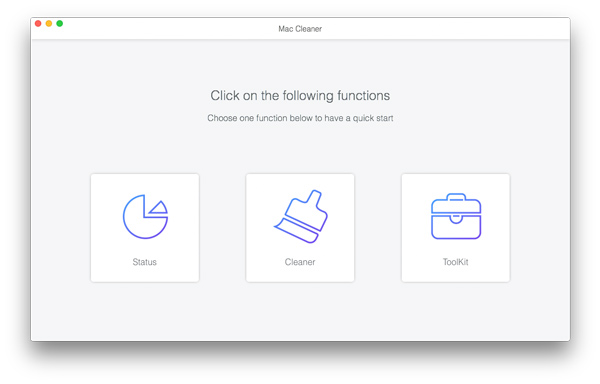 Here you can choose Status to check the current status of CPU usage, memory usage, and disk usage. Also, you can check storage on Mac.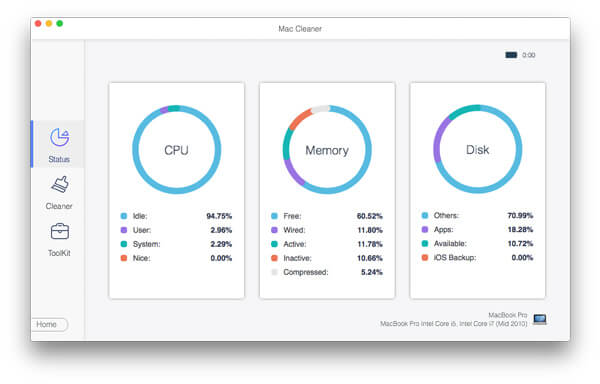 If you want to remove all useless data from your Mac and free up Mac storage, you can go to the Cleaner feature. As you can see, it allows you to easily delete junk files, duplicates, similar photos, large and old files, and others.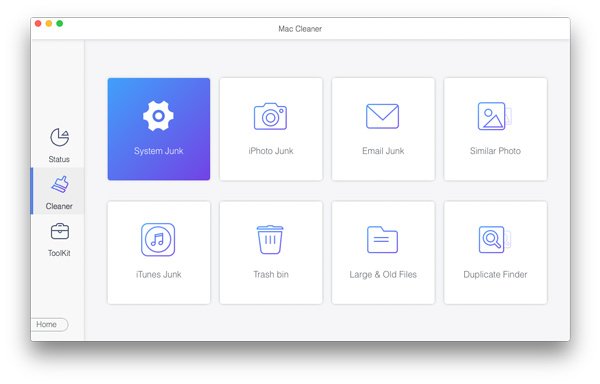 You can also go to ToolKit to access more useful tools, such as Optimize, Uninstall, File Manager, Hide, Privacy, and more. With this Mac Cleaner, you can keep your Mac always in good condition.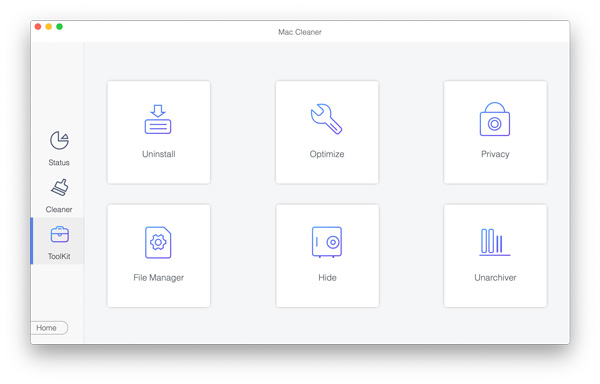 Part 4. FAQs of How to Check Mac Battery Health
Question 1. How to increase battery life on a Mac?
You can choose to put your Mac under a low power mode to reduce energy usage and increase the battery life. You can click on the top Apple menu and open the system preferences. Click Battery and then turn on the low power mode with ease. Also, you can adjust the screen brightness or set the computer or display to sleep at different times.
Question 2. How to turn off Mac battery health management?
If you want to disable the Mac battery health management, you can go to the System Preferences under the Apple menu, and then choose the Battery option. Click Battery in the left sidebar, and then click on the Battery Health button. Locate the Manage battery longevity checkbox and deselect it. Note that, this operation may reduce the Mac battery's lifespan.
Question 3. How to enable the automatically adjust brightness feature on a Mac?
To adjust the Mac battery charging and screen brightness settings, you can go to System Preferences from the Mac dock. Choose Displays and then locate the Automatically adjust brightness option. You can tick the box to set your Mac automatically change its screen brightness based on the surrounding environment.
Conclusion
You should often check Mac battery health to make sure your Mac laptop is always running smoothly. This post shares 3 simple ways to check battery health and other related information on a Mac. If you still have any questions about the Mac battery health, you can leave us a message.