Are you searching for a way to easily clear FaceTime history on Mac?
FaceTime offers a convenient way for iOS and macOS users to contact others who also have Apple products like iPhone, iPad, and Macbook. FaceTime will keep your call history and sync these data across all associated devices. Because of that, FaceTime calls you made on an iOS device will also be synced to your Mac. So it's quite necessary to delete FaceTime history on Mac.

Clear FaceTime History on Mac
This post will guide you to view and remove FaceTime history on your Mac step by step. You can learn two useful methods to delete FaceTime history.
Part 1. Common Way to Clear FaceTime History on Mac
For different reasons, you want to delete FaceTime history on your Mac and only keep these calls on the iOS device. You can take the following guide to clear FaceTime history on Mac with ease.
Step 1On your Mac, open the FaceTime app. Under the All and Missed tabs, you can handily view all recent calls you made on FaceTime, including these FaceTime calls on your iPhone, iPad, and Mac that signed with one same Apple account.
Step 2Choose the FaceTime call history you want to delete, right-click on it, and choose the Remove from Recents option. As you can see, here you are also offered a Remove all Recents option to clear all FaceTime history on Mac quickly.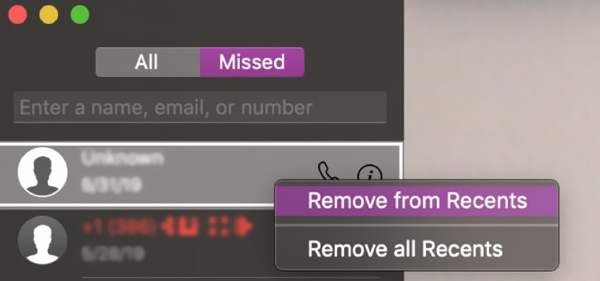 Step 3To clear FaceTime history on a Mac, you can also click on the top FaceTime menu. Use the Remove All Recents feature from the drop-down menu to delete all FaceTime history on your Mac computer.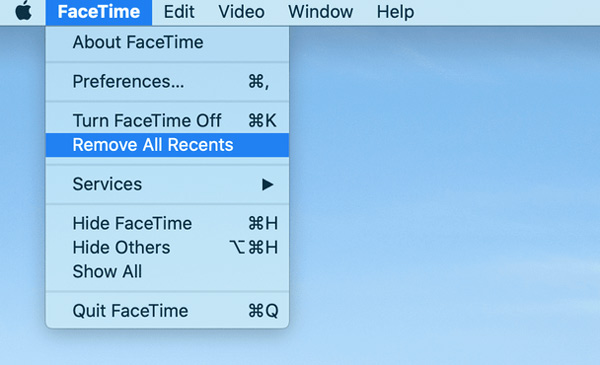 Part 2. Professional Way to See and Clear FaceTime History on Mac
To clear FaceTime call history and remove other personal data on Mac, you can rely on the professional Mac Cleaner. It allows you to check the current Mac status, improve Mac performance, remove useless data to free up Mac storage, protect your privacy, and do other operations to speed up your Mac.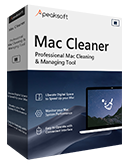 4,000,000+ Downloads
View and clear FaceTime call history, caches, logs, large/old files on Mac.
Erase system junk, iPhoto junk, iTunes junk, duplicate files, and more.
Remove adware, malware, virus, and associated files to optimize Mac.
Monitor Mac disk utilization, battery, memory performance, and CPU usage.
Step 1Install and open the Mac Cleaner software on your Mac. You can click the Status feature on the left panel to check the current status of your Mac.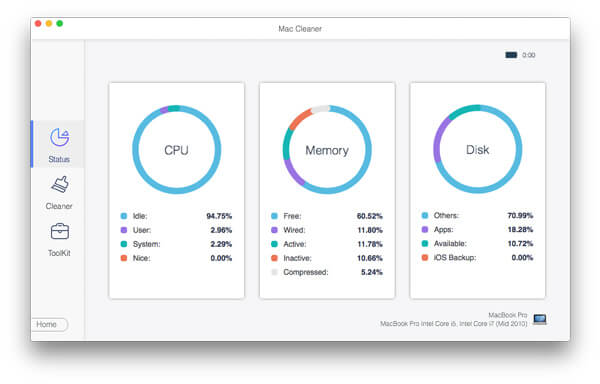 Step 2Click the Cleaner option, and you can quickly find and delete various junk files, old and large files, duplicates, and other unwanted data. For example, you can clear the cache on your Mac here.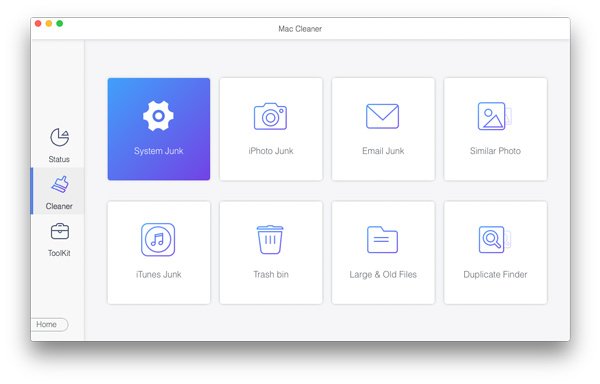 Step 3In the Tooltik, you can get more useful tools to free up Mac space and remove personal files.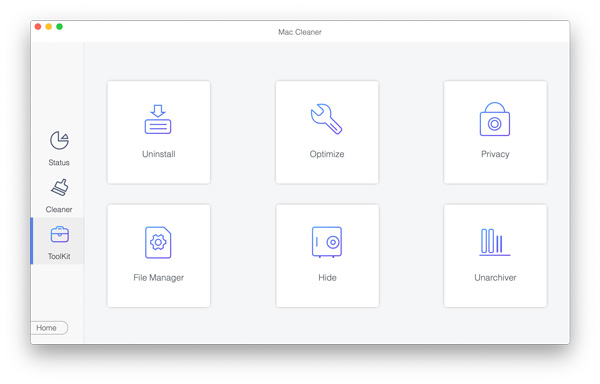 Step 4You can choose the Privacy option to protect your privacy better, clean cookies, search, and browsing history on Firefox and Safari.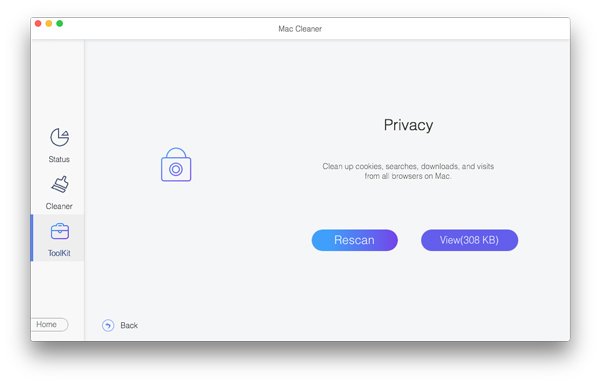 Part 3. FAQs of Clearing FaceTime History on Mac, iPhone, and iPad
Question 1. How to clear FaceTime history on an iPhone or an iPad?
Go to the Phone app on your iPhone or iPad. Tap the Recents button on the bottom screen to see a list of recent calls. In the top-right corner, tap Edit. Now you can freely delete a specific call or all FaceTime call history based on your need.
You can also open the FaceTime app, locate the FaceTime call under the Video or Audio, and then swipe it from right to left to reveal a Delete button. You can tap on the button to remove this FaceTime history.
Question 2. How can I see the FaceTime time?
After making a FaceTime video or voice call, you can go to the Phone app and locate it from the recent calls list. Tap the i icon at the right side of the FaceTime call to view the specific duration.
Question 3. How to turn off FaceTime on my Mac?
Open the FaceTime app on your Mac, click the top FaceTime menu, and select the Preferences option from the drop-down list. In the pop-up Preferences window, locate the Enable This Account option and uncheck it.
Conclusion
Here in this post, you can learn two easy ways to clear FaceTime call history on Mac. Moreover, you can know how to clear FaceTime history on an iPhone or an iPad from Question 1.