"I had been infected with an adware, and I also noticed that my search engine was something I had never heard of, I googled and was told to install Combo Cleaner, Has anyone tried this antivirus program?" Combo Cleaner advertises itself as a powerful Mac application to protect your computer from viruses and keep it fast. Does the antivirus software actually do what it says? This article will put it through an extensive test to answer this question.

Combo Cleaner Review
Part 1: What Is Combo Cleaner
Combo Cleaner is an antivirus application released by Lithuania-based RCS LT. It comes with a variety of features to help you protect your machine from malware and improve its performance. There are 6 key features including:
1. Disk Cleaner: find junk files and delete them.
2. Big Files Cleaner: search for unwanted files and remove them.
3. Duplicates Cleaner: scan and delete file duplicates.
4. Antivirus: search for malware with three scan types.
5. Privacy Scanner: keep your browser as private as possible.
6. Uninstaller: uninstall apps you no longer need.
Besides, there is customer support available 24/7.
Unbiased Review of Combo Cleaner
PROS

Combo Cleaner can detect and remove malware flawlessly.
The virus database updates frequently.
It helps you recover the disk without deleting any files.
It equips a user-friendly interface.
The built-in privacy scanner is effective.
It extends to the PC security ecosystem now.
CONS

It lacks some features, like scheduled scanning.
It is quite expensive compared to some competitors.
Combo Cleaner slows down computers when scanning.
The Cost of Combo Cleaner
There are two plans for Combo Cleaner. The single-user plan costs $39.95 semi-annual per device. The family plan costs $69.95 for up to 5 devices for 6 months. There is also a free version that does not cost anything but comes with limited functionality and won't protect your Mac from malware.
Part 2: How Does Combo Cleaner Work
You can download Combo Cleaner for free and get an overall idea of the application, and then decide if you'd like to upgrade to a plan. Bear in mind that it does not offer a free trial for the full application.
Step 1 Download Combo Cleaner for free from the official website. Drag the installer file into the Applications folder to install it on your Mac.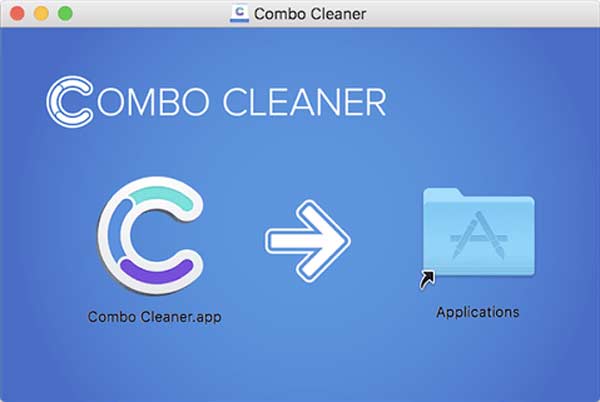 Step 2 Open the program, and you will see all features on the left sidebar. You can choose a tool, such as Antivirus, and move on.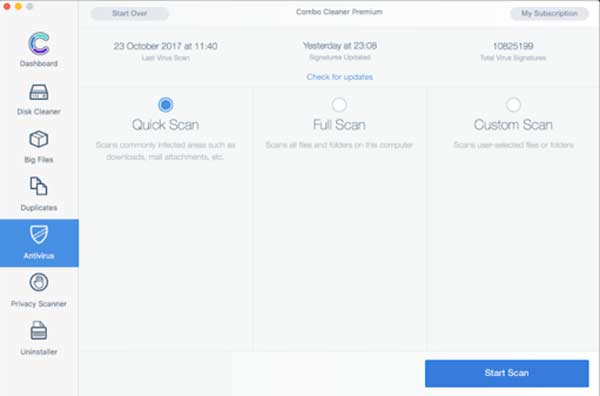 Step 3 There are three scan modes. Select a proper one according to your need, and click the Start Scan button.
Step 4 When the hidden threats are found, click the Remove All Threats button to delete them immediately.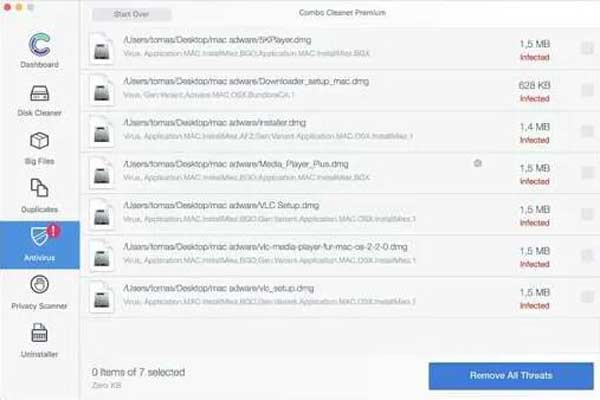 Bonus Tip: How to Uninstall Combo Cleaner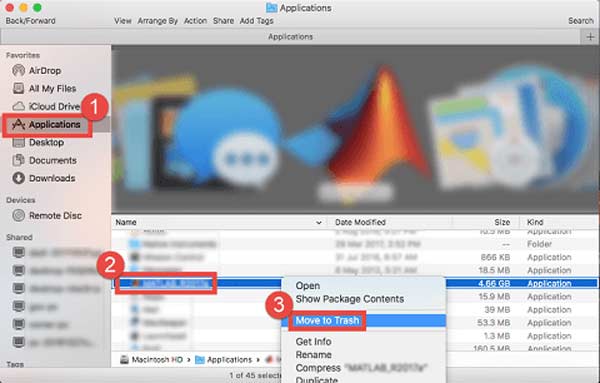 Step 1 Quit Combo Cleaner and related processes.
Step 2 Run the Finder app, go to the Applications folder, find the Combo Cleaner icon, right-click on it, and choose Move to Trash.
Step 3 When prompted, enter an administrator password, and hit OK. Then empty your Trash folder.
Step 4 Next, head to the Go menu, and select Go to Folder. Access each folder below and delete the files and folders related to Combo Cleaner:
~/Library
~/Library/Application Suppor
~/Library/Preferences
~/Library/Caches/
~/Library/LaunchAgents
~/Library/LaunchDaemons
~/Library/PreferencePanes
~/Library/StartupItems
Part 3: Best Alternative to Combo Cleaner
Combo Cleaner is a great antivirus application, but it is not the only choice to protect your Mac from malware. Apeaksoft Mac Cleaner, for example, is a one-stop solution to improve Mac performance and prevent threats.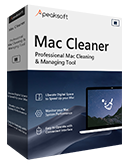 4,000,000+ Downloads
Free up space by deleting duplicates and large files.
Remove junk files and improve Mac performance.
Keep your privacy and browsers safe.
Include a lot of bonus tools, like a file manager.
How to Use the Best Alternative to Combo Cleaner
Step 1Check Mac status
Download and install the alternative to Combo Cleaner on your Mac, and launch it. Then you will see three buttons in the home interface. Before cleaning, click the Status button, and check the status of your CPU, memory, and disk.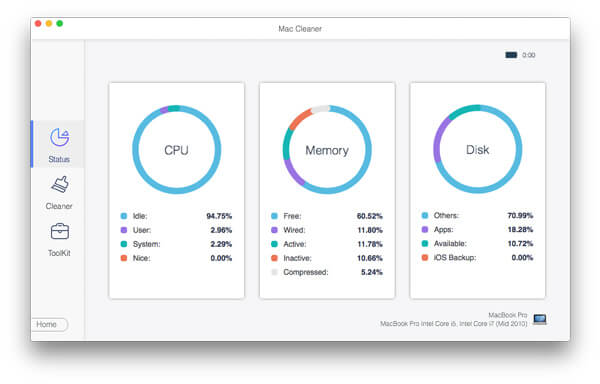 Step 2Free up space
If your Mac is low on storage or slows down, it is time to free up space. Go to the Cleaner tab from the left sidebar and you will see the items that you can delete, such as system junk, email junk, similar photo, large files, duplicate files, and more. To remove duplicates, for instance, choose Duplicate Finder. Click the Scan button to search for duplicates. Then hit the View button, select unwanted files, and click the Clean button.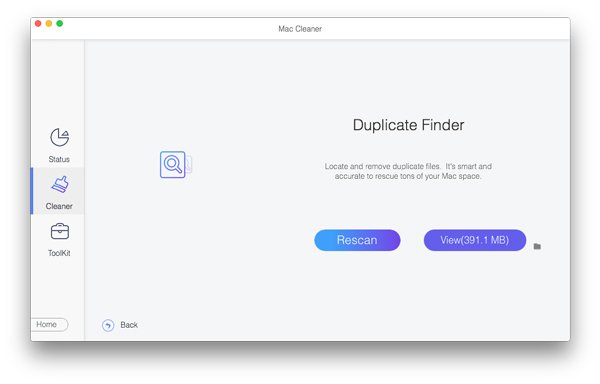 Step 3Remove malware
Choose the Toolkit tab, and you will see more tools. To protect your Mac from malware, select Uninstall. Press the Scan button to begin looking for malware. Then hit the View button, select the malware on the list, and check all associated files. Finally, click the Clean button.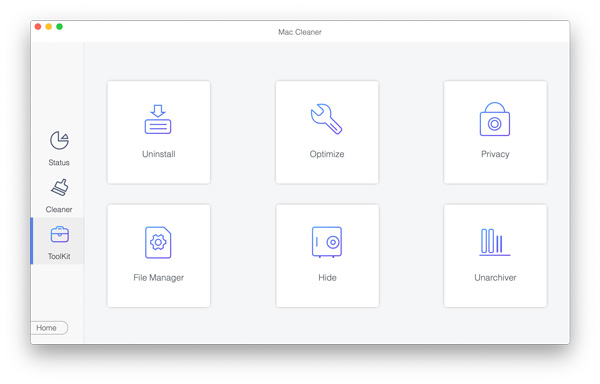 Further Reading
How to Turn off Blocker on Mac
Part 4: FAQs about Combo Cleaner
Is Combo Cleaner any good?
As a powerful and robust antivirus program, Combo Cleaner is worth every single penny because it gives complete protection to your Mac.
Is Combo Cleaner free?
Combo Cleaner does offer a free version with limited features, but you have to subscribe to a plan to access the full version. It provides two plans for different uses.
Is Combo Cleaner safe?
Yes, Combo Cleaner is a safe and legitimate anti-malware and optimizer for Mac and Windows. It is dedicated to keeping your Mac safe from different forms of malware and keeping it running at its full potential.
Conclusion
This post has introduced what is Combo Cleaner and how it work. More importantly, you could learn the unbiased review based on our testing and users' experience. If you do not like the application, we also identified one of the best alternatives, Apeaksoft Mac Cleaner. If you have more problems about this topic or better suggestions, please feel free to contact us by leaving your message below this post.