For different reasons, you may search for a Mac space cleaner or disk analyzer on the internet and finally find the DaisyDisk. Besides its stunning visual design, surely you want to know more about DaisyDisk cleaner for Mac before you decide to buy it.
Here in this post, we like to give you a full DaisyDisk Mac review. You can know its key features, pricing, downloading, and other useful information. Moreover, we introduce you to a great Mac data cleaning and system optimizing tool, Mac Cleaner, as the alternative to DaisyDisk for Mac.

DaisyDisk Review
Part 1. DaisyDisk Mac Review - Mac Disk Space Analyzer and Data Cleaner
DaisyDisk is a popular disk space analyzer and visualizer tool for Mac. It is mainly used for cleaning Mac startup disks and getting more available space. As a Mac disk analyzer and cleaner, it can scan and analyze all types of files on your Mac, and then give you a visual breakdown of the Mac disk in form of an interactive map.
DaisyDisk overview
DaisyDisk is designed with a graphic interface. After it visualizes your Mac disk usage, it will use an innovative circular design to show you various files taking up your Mac space. Besides its color-coded display, DaisyDisk also lists detailed information on the right. It enables you to check all connected Mac disks including Macintosh HD, flash, Thunderbolt disk, and network storage.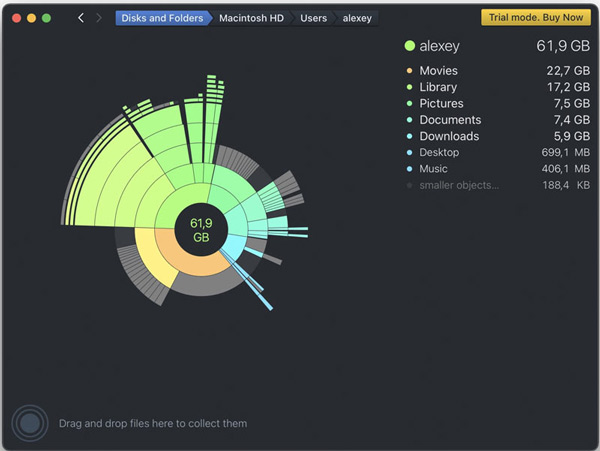 DaisyDisk will update all its displayed data in real-time. So, you can know the current Mac space and figure out if you have enough storage on your Mac. DaisyDisk is easy-to-use and stable. It can give you a fast disk space scanning and analyzing speed. Moreover, you are offered the full authority to view and delete all types of Mac data. Click here to learn how to clear SD card on Mac.
Is DaisyDisk full version free
DaisyDisk for Mac is not a free disk cleaner app. You can purchase it in the iTunes Store, the Mac App Store, or from its official site for $9.99. In the iTunes Store or Mac App Store, you have to pay $9.99 for installing it on your Mac. While from its product page, you are allowed to free download it and have a free trial first.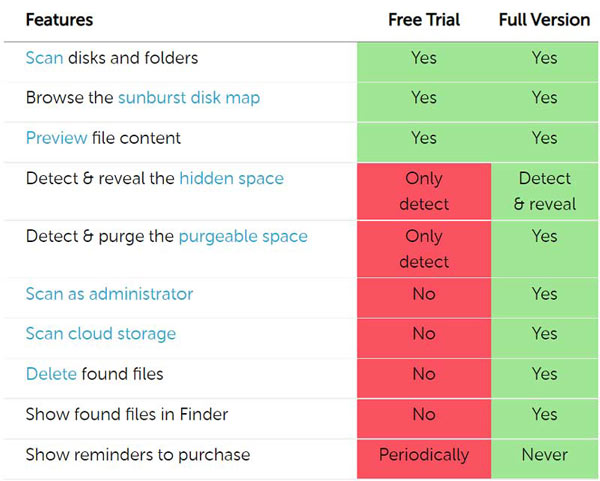 DaisyDisk free download
As mentioned above, you can choose to download DaisyDisk through iTunes Store, App Store, or its website. But when it comes to downloading DaisyDisk on Mac for free, you have to go to the official DaisyDisk site. When you get there, click the Free Trial button and then follow the instructions to install it on your Mac.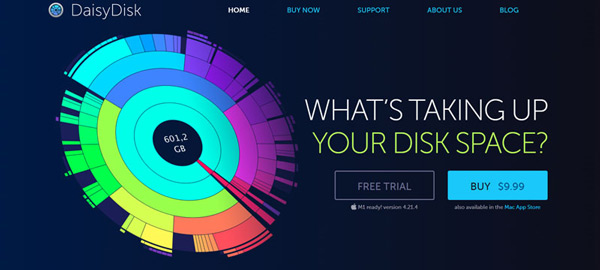 How to use DaisyDisk
DaisyDisk has a user-friendly interface and simple features. So even as a new user, you don't need professional skills to use it. After you open DaisyDisk on your Mac, it will list how much space is left on each of your Mac disks. You can simply click the Scan button to analyze various files on the disk. When the scanning process is finished, you are allowed to preview the detailed information of these data, and then remove unwanted files to free up your Mac space.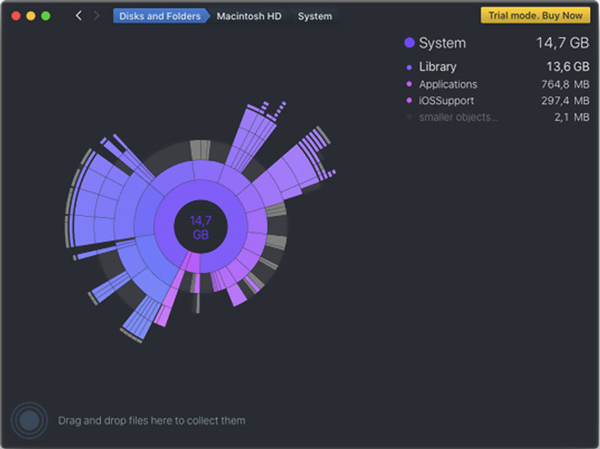 Part 2. Best Alternative to DaisyDisk for Mac
If you prefer an all-featured Mac cleanup app, DaisyDisk is not a good option. Moreover, even if you have a free trial of DaisyDisk, you can't access all its functions. If you are not satisfied with it, you can try the great DaisyDisk alternative, Mac Cleaner.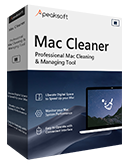 4,000,000+ Downloads
Scan and analyze various files on Mac and monitor disk usage.
Remove unwanted Mac files from Mac to free up storage space.
Uninstall unused applications and delete their associated leftovers.
View current Mac status, protect Mac, and optimize Mac in real-time.
Step 1You can free download, install, and use this DaisyDisk alternative on your Mac. It is compatible with all commonly-used Mac systems. You can simply click on Status to check the current status of your Mac, such as disk usage, CPU, and memory.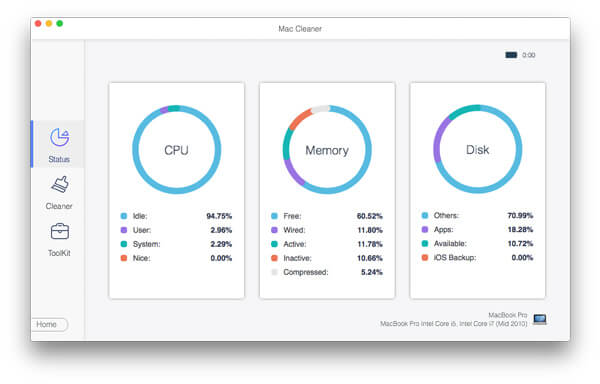 Step 2To manage all types of data on your Mac and free up its disk space, you can choose the Cleaner feature. As you can see, it allows you to easily remove system junk, duplicates, large and old files, and other useless data from your Mac.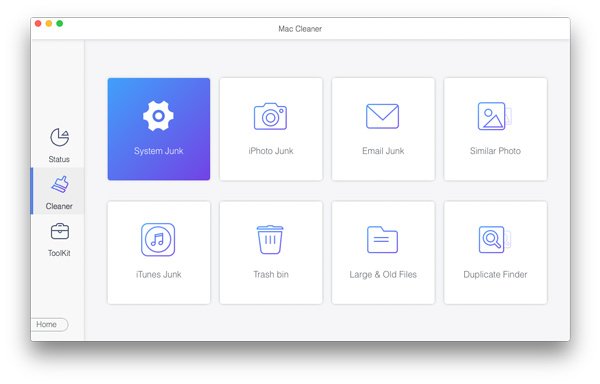 Step 3You can also access more useful tools in the ToolKit. You can free access and use all these features to optimize your Mac.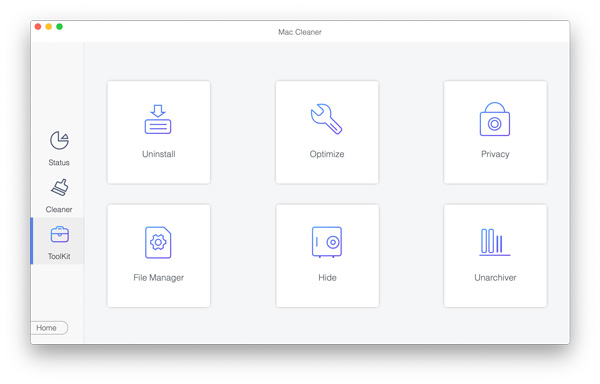 Part 3. FAQs of DaisyDisk and Mac Disk Space Cleaning
Question 1. Is DaisyDisk safe for Mac?
You can purchase and install DaisyDisk from the Mac App Store. That means it has been notarized by Apple and is trustworthy. Moreover, DaisyDisk is designed with built-in safeguards to keep the app from deleting critical system files. So, it is safe to use on your Mac.
Question 2. Is there a DaisyDisk version for Windows?
Till now, DaisyDisk does not have a Windows version. It can be only used on Mac devices. From the official report, the DaisyDisk company won't produce a version for Windows or Linux.
Question 3. How do you uninstall DaisyDisk on a Mac?
When you want to remove DaisyDisk from a Mac, you can simply drag the DaisyDisk app to Trash and then empty Trash. But you need to manually delete all its remaining files.
Conclusion
After reading this post, hope you can learn more useful information about DaisyDisk. You can free download both DaisyDisk and the recommended Mac Cleaner on your device, try using all their features, and then decide which one you want to keep on your Mac.