Summary
If you just delete a useless video from iMovie project, it is easy to drag it to the trash bin. However, if you want to erase the videos from iMovie to free up space on Mac, you will need the professional Mac cleaner software.
Free Download
-"How can I delete unwanted video from iMovie?"
-"How can I make iMovie delete videos from my iPhone?"
-"I can't delete iMovie files from my MacBook Pro hard drive. My Mac hard drive is full. So can anybody show me how to delete videos from iMovie Mac?"

There are many similar questions about how to get rid of videos from iMovie on iPhone, iPad or Mac. If you have the same question as above mentioned, then you are lucky to find this article. Here are some useful and easy solutions you can follow to delete videos from iMovie on iPhone 6 and other Apple models completely. Now let's start the trial to free up space and remove unwanted clips.
Part 1

: How Do You Delete Videos from iMovie APP

Some of your iMovie videos are stored in Camera Roll. So you can head to Camera Roll folder to delete a video from iMovie app in some cases. However, you cannot access all iMovie videos in that folder. Therefore, you need to find and delete videos through iMovie app.

Step 1: Open the project in iMovie app on your portable Apple device

Step 2: Click "Edit" option and then choose "Add Media"

Step 3: Select your video category

Step 4: Choose "Edit" button to get two options

Step 5: Click "Trash Bin" icon to delete videos from iMovie on iPad or iPhone.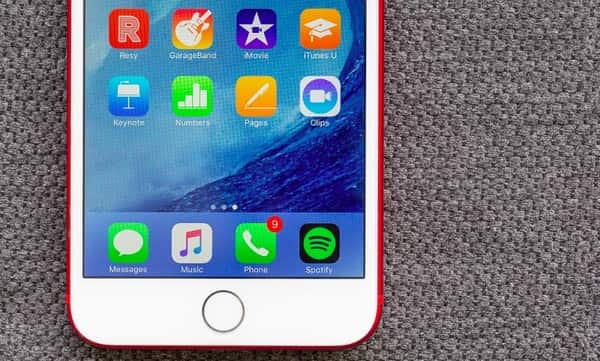 If you want to delete all videos from iMovie on Apple portable device, then you can remove iMovie app directly as well. Just tap and hold iMovie app icon until it starts to shake, then you can choose the small "x" icon to delete iMovie APP.
Part 2

: How Do You Delete an iMovie Project

You can free up more space on your computer by deleting iMovie projects. And it is quite easy to remove an entire iMovie project manually.

Step 1: Navigate "Project Library" to choose the project or project folder

Step 2: Select "Move Project to Trash" or "Move Folder to Trash"

Step 3: Wait for a while to complete the whole iMovie Project deletion progress

Step 4: Choose "Empty Trash" from "Finder" to delete video projects from iMovie entirely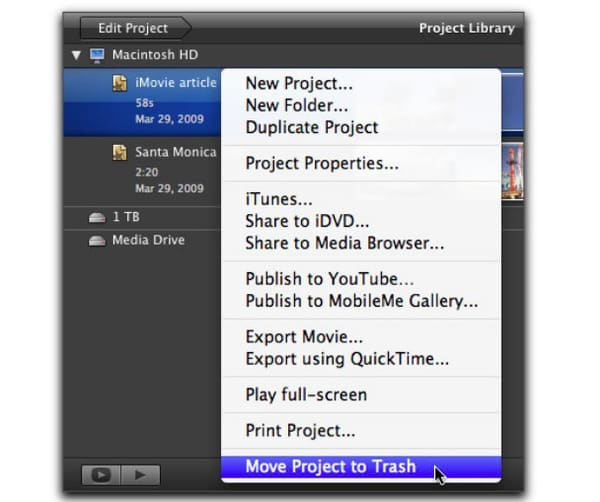 Once you empty the Trash Bin, you cannot recover the deleted iMovie project any more. So think twice before doing so.
Part 3

: How Do I Delete My iMovie Library

When you open iMovie after a long time, you may be required to update it to the latest version like iMovie 2013. As a result, your existing iMovie projects and events will be updated as well. After that, you need to remove the old iMovie library.

Step 1: Open Finder on your Mac computer

Step 2: Choose "Home" from the "Go" menu

Step 3: Head to the "Movies" folder

Step 4: Drag and drop "iMovie Events" and "iMovie Projects" folders to the trash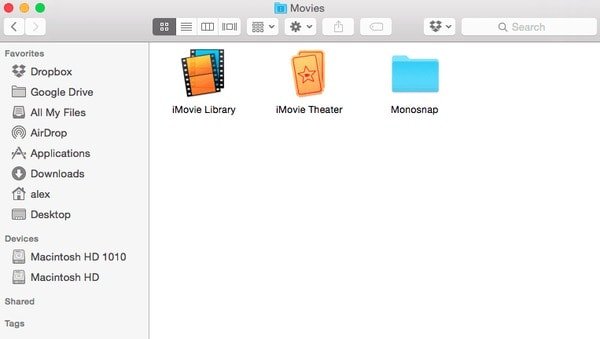 If you store iMovie projects in your external hard drive, then you can plug it into your computer to delete iMovie library file as well.
Before you delete the videos from iMovie, you should confirm the projects are useless. If they are still meaniful for you, you can upload videos from iMovie to YouTube and delete them locally to free up more space.
Part 4

: How to Delete Videos from iMovie Permanently

By using Apeaksoft Mac Cleaner, you can clean and optimize all your Mac files easily. Moreover, you can selectively preview and delete any junk file effortlessly. And this Mac data management tool can help users monitor a Mac computer all the time. In a word, you can run Mac Cleaner to delete videos from iMovie permanently to free up space and protect your privacy with ease.
Remove junk files, unneeded files, large and old files, privacy data and other unwanted files from your Mac safely.
Monitor hardware health of disk utilization, memory usage, CPU usage and battery status.
Speed up Mac system and free up Mac storage space.
Preview all scanned Mac files before cleanup.
Download for Mac
How to Permanently Delete iMovie Videos from Mac Computer
Step 1: Launch Mac Cleaner software
Free download and install Mac Cleaner on your computer. Launch this program after the installation. Then you can check the system status of your Mac first. Just locate its "System Status" page and choose "Scan" on the lower right corner.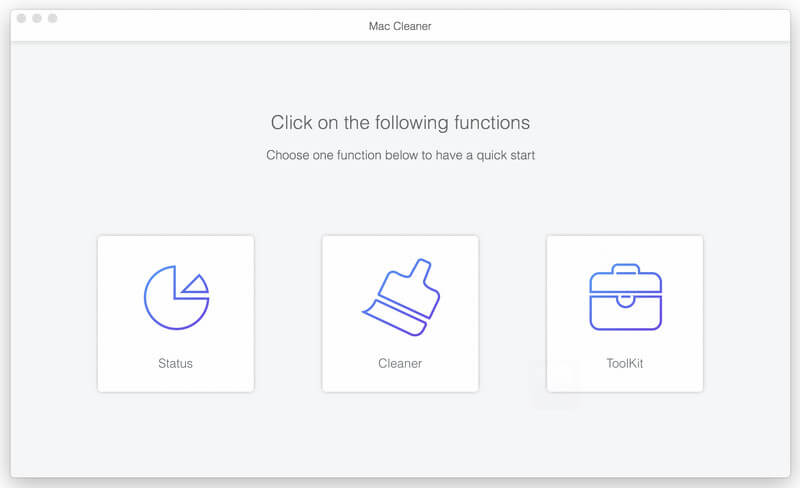 Step 2: Scan iMovie videos and other junk files
Click "Junk Files" in the left panel. Click "Scan" to scan useless files in seconds. When the scanning finishes, click "Review" to preview its result. To be more specific, you can open the certain category manually. And it is also supported to immediately locate the iMovie video by Search field on the top.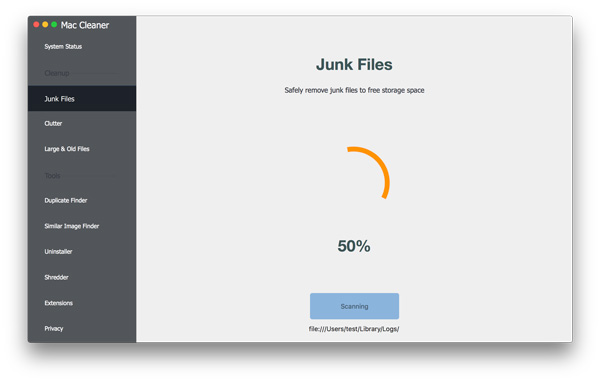 Step 3: Delete videos from iMovie
Well, you can use "Sort By" option on the top right corner to find iMovie videos easier than before. After you have selected which iMovie video you want to delete, click "Clean" to delete iMovie videos and media files permanently.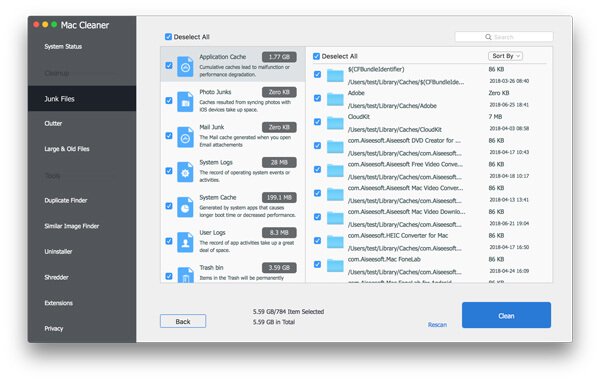 So you can delete a video from iMovie quickly. And it is also supported to delete all videos from iMovie by Mac Cleaner within few clicks.
Don't Miss
How to Delete Downloads on Mac
Bonus Tips

: How Do You Delete Parts of a Video/Clips on iMovie

If you have no idea how to delete clips from iMovie timeline, then you can follow steps below to solve your problem.

Step 1: Click "Event Library" in iMovie program

Step 2: Choose one event you want to remove from iMovie

Step 3: Open "Event Browser" and select the video clips

Step 4: Choose "Delete" or "Reject" on the toolbar

Step 5: Select "All clips", "Favorites Only" or "Favorites Unmarked" from the popping-up "Show" window

Step 6: Choose "Move Rejected to Trash" to delete rejected clips in iMovie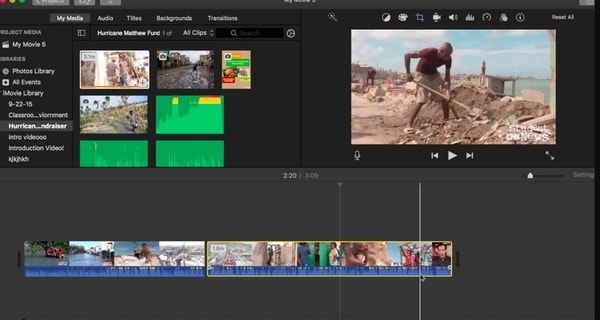 That's all you need to delete videos from iMovie on Mac and portable Apple devices. And you can run Mac Cleaner to keep your Mac health without too much effort. So just free download this powerful program to delete iMovie videos and free up Mac storage space right now.
FAQs of Deleting Videos from iMovie
Can I delete files after importing to iMovie?
Yea, you can. However, if you import a video from your Camera Roll on your iOS device into iMovie for editing, and delete the video from Camera Roll, the video in iMovie will also delete.
How to recover deleted videos from iMovie?
If the videos are deleted just now from iMovie, you can tap or click the undo button to recover it. However, once the videos are deleted from iMovie for a long time, and also wiped from your devices, you have to use the professional data recovery software to recover deleted videos.
How to delete video and keep audio in iMovie?
For keeping the audio only in iMovie, you just need to detach the audio from a video. Step 1. Select the video clip in the Timeline that contains the audio in iMovie. Step 2. Right-clcik the clip to select Modify and choose Detach Audio from the menu bar. Step 3. Choose Detach Audio. Step 4. Move the audio elsewhere or drag and drop into the background track at the bottom of the Timeline. Finally, you just need to delete the video from iMovie.
Can I delete videos when editing iMovie?
If you delete the videos from its local library on your Mac or iOS device while editing it in iMovie, the video will also disappear from the editing panel from iMovie.