You feel like your Mac is cluttered with junk files and every time you open the Mac, it takes a while to boot. Whatever the reasons are that cause the slowing down, deleting the redundant files can be helpful. Disk Clean Pro is widely known for its cleaning function and securing important data on Mac. But does it really perform in the way it claims? Check the overall review below to find out the answer.

Disk Clean Pro Review
Part 1: Mian Features of Disk Clean Pro
Disk Clean Pro for Mac is a popular program that cleans up the garbage files and unnecessary data on your computer. Your significant data is never in danger as it safely deletes unnecessary files. There are also more features about it that should know.
1. One-Click Care
Free your hands as the Disk Clean Pro helps you automatically scan your Mac. After the scanning finishes, you will see a report on how many junk files are on your Mac. With a few clicks, you can clear all the junk files, logs, and Trash.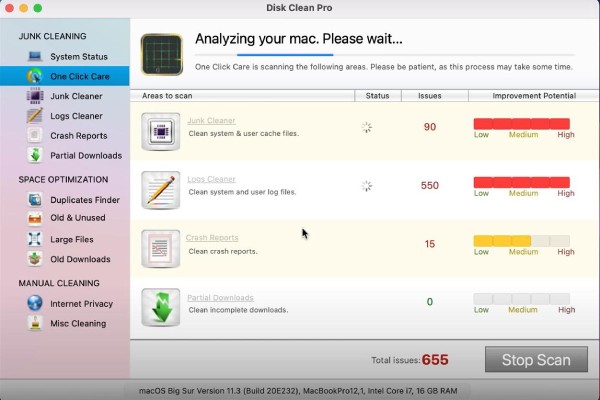 2. Free up RAM
Disk Clean Pro helps free more space in your disk to rescue the slowing down Mac and crashing apps. You can use the Junk Cleaner, Logs Cleaner, and Partial Downloads to view and delete all the unwanted files that clutter up your Mac. Besides, you can also see the crash reports stored on your Mac that you might not aware of.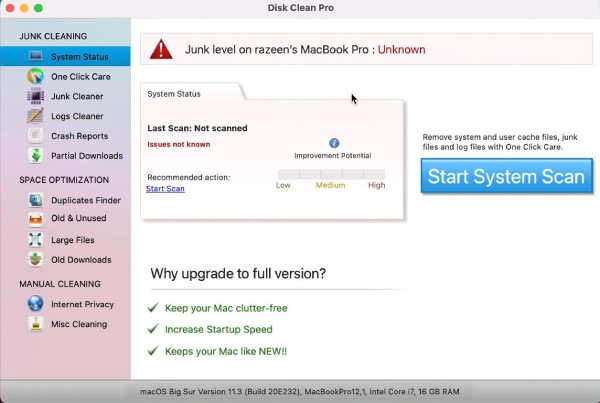 3. Protect Mac Privacy
Manual Cleaning of the Disk Clean Pro is for advanced users who want an in-depth cleaning. This tool can offer you a precise optimization of the data on your Mac. Additionally, it enables you to delete internet cookies and browsing history that may expose you to excessive advertising or malicious content. And many cleaning options are also available like removing old backups in iTunes.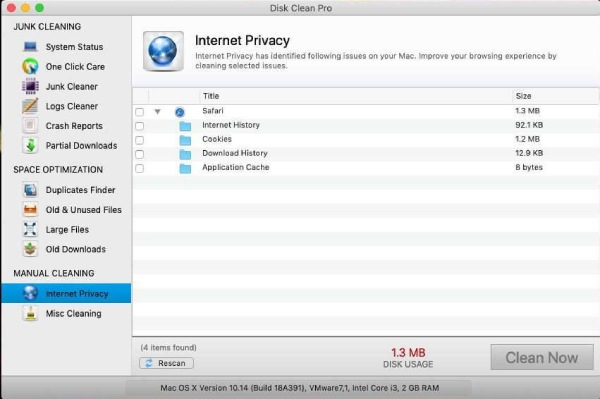 Part 2: Overall Review of Disk Clean Pro
To better review the Disk Clean Pro, you also need to know its pros and cons and other details before opening your wallet, which can also help you understand whether the software is worth the purchase.
OS: macOS 10.7 or Later
Price: No Disk Clean Pro free download or free trial, you can get the software at $26.99 at App Store on Mac
PROS

Share your private data safely.
Clean your Mac automatically and immediately.
Combine multiple cleaning tools in one program
Free your disk space without damaging important data.
CONS

Frequent rating request
Crashes occur after the iOS upgrade
The software might freeze while functioning
Antivirus software will accidentally mark it as a virus
Part 3: Best Alternative to Disk Clean Pro
Disk Clean Pro might be a nice cleaner for Mac, but without any free trial and free download, it can be risky to directly purchase it. Luckily, here comes the best alternative to the cleaning tool. Apeaksoft Mac Cleaner is more stable than the Disk Clean pro and it is a practical cleaning tool for Mac that can remove junk files as well as detect and uninstall malware. It is also a good guardian for your private data on Mac.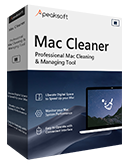 4,000,000+ Downloads
Protect your privacy and important files.
Clear cache and improve Mac performance.
Get extra spaces by removing junk files and data.
Identify similar photos and keep just the good ones.
How to use the Disk Clean Pro alternative?
Step 1 Clean Up Mac
Install and launch the Apeaksoft Mac Cleaner on your Mac. Click the Cleaner menu in the center. Then go to the Duplicate Finder section which can help you find redundant files on Mac, click on it, and next to the Scan button. After it finishes, click the View button, select unwanted files, and click the Clean button.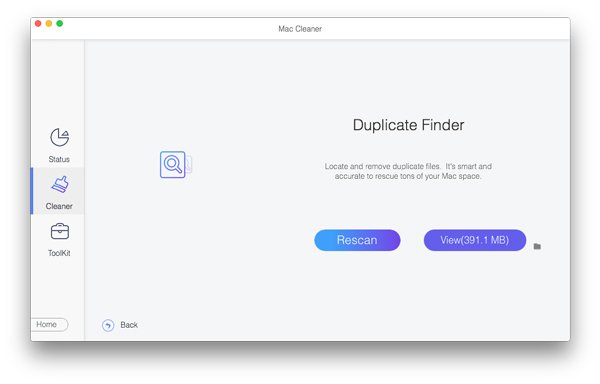 Step 2 Check Mac Status
After cleaning, you can go back to the main interface and click the first button – Status to check the status and working distribution of CPU, memory, and disk. Through this tool, you can see that more space is available now on your Mac.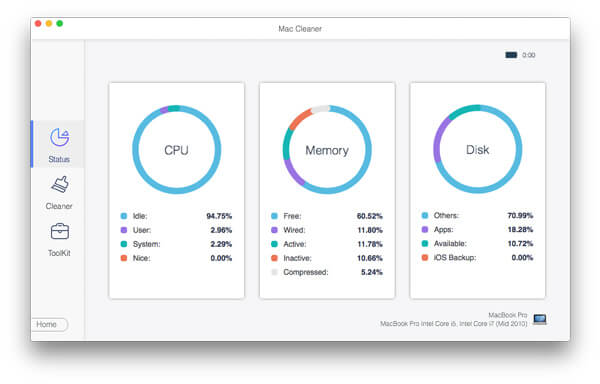 Step 3 Optimize Your Mac
Through this tool, you can promote the efficiency of your Mac and speed it up. Go to the Toolkit section and click the Optimize tool. Then, scan for unnecessary settings like QuickLook, Proxy, Preferences, etc. You may also check the Mac battery in real time and set a time for Mac to open.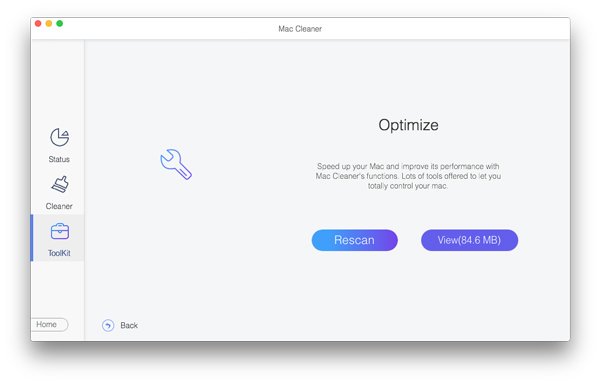 Part 4: FAQs about Disk Clean Pro
How often should I use Disk Clean Pro?
As the IT experts suggest that you can clean your computer at least once a month to remove junk files, cache, cookies, and other stuff that might slow you down. Besides, the program itself offers a System Status option that allows you to clearly see how your Mac is occupied.
Is it safe to use Disk Clean Pro?
Yes, the software only scans your Mac automatically after one click, but it does not delete your files directly. Instead, the choice is on your hand, and you can preview the files after scanning, then decide which one you want to remove so the important data can remain.
How can I clean my Mac via Disk Clean Pro?
After installing and launching the software on Mac, you can click the One Click Care button and then the Start System Scan button, which will scan all the junk files, logs, and other unneeded data on your Mac. Then, click the Clean Now button and confirm the cleaning to remove junk files.
Conclusion
After reading this article, you must know more things about the Disk Clean Pro for Mac as well as its pros and cons. Meanwhile, with the best alternative mentioned above, you do not need to stick to only one choice and find a more suitable one to clean up your Mac to save more space.