There are many Mac cleanup apps offered on the market and you don't know which one is the best one to use. When you want to remove unwanted data and optimize your Mac memory, you may get the Dr. Cleaner for Mac recommendation. However, you can't find an official Dr. Cleaner website to learn more information about it. Meanwhile, you may wonder, if Dr. Cleaner app is safe to use?
This post gives you a full Dr. Cleaner review to know its key features, pros, cons, where to download it, and how to use it. Moreover, we introduce you to a great Dr. Cleaner alternative, Mac Cleaner to better manage Mac data and optimize its performance.

Dr. Cleaner Review
Part 1. Dr. Cleaner for Mac Review
Dr. Cleaner once was a popular Mac disk and memory cleanup app. It is specially designed for removing unwanted files from a Mac and getting more storage space. This Mac cleaner also allows you to optimize the available memory and keep your Mac running smoothly.
Main features of Dr. Cleaner for Mac
Dr. Cleaner is a Mac cleanup and system optimizer utility developed by Trend Micro. It is mainly used to optimize Mac's performance through performing a suite of cleaning and monitoring operations. It offers you a quick scanning and cleaning experience.
This Mac cleaner tool is designed with a concise interface and simple features. In its menu window, you can easily see your Mac's memory usage, CPU usage, network usage, and junk files. Under the menu window, you can access more options to optimize your Mac. When you open it, you can directly use it to remove unwanted files from your Mac, check the available Mac memory, monitor current CPU and Network usage, and more.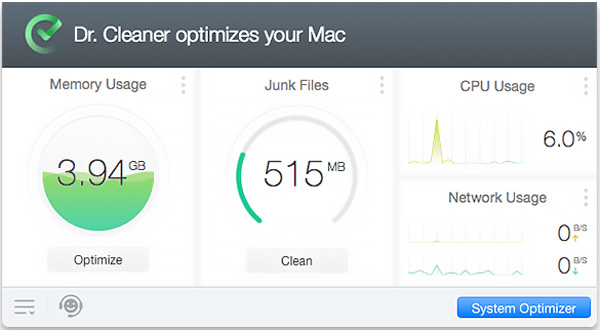 Another important aspect of Dr. Cleaner is System Optimizer. There are several smaller utilities designed in it, such as Junk Files, Big Files, Disk Map, Duplicate Files, App Manager, File Shredder, and more. You can simply select one on the left panel and then use its related feature on the right.
You are recommended many other Trend Micro's family products in the More Tools module, such as Dr. Antivirus, Dr. Unarchiver, Dr. Wifi for iOS, No Sleep, Dr. Battery, Dr. Cleaner for iOS, AR signal master, and more. You can download your preferred one based on your need.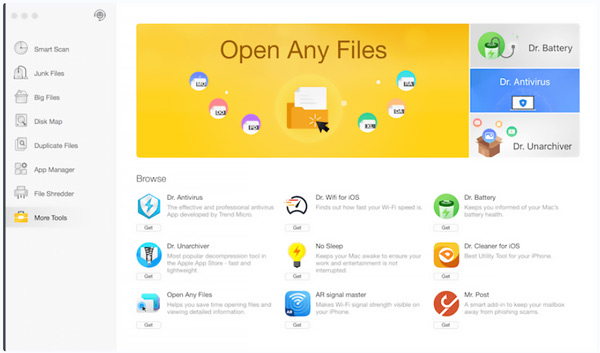 Dr. Cleaner vs Dr. Cleaner Pro
Is Dr. Cleaner for Mac free? Before you choose to install the Mac cleaner, you may want to know if there are some in-app purchases. Truth is, Dr. Cleaner is not completely free. It offers a free version called Dr. Cleaner and a paid version called Dr. Cleaner Pro. There are some feature limits in the free Dr. Cleaner version. For instance, you can only use Smart Scan in Dr. Cleaner Pro. Moreover, the Pro version can help you find duplicate files and manage installed applications.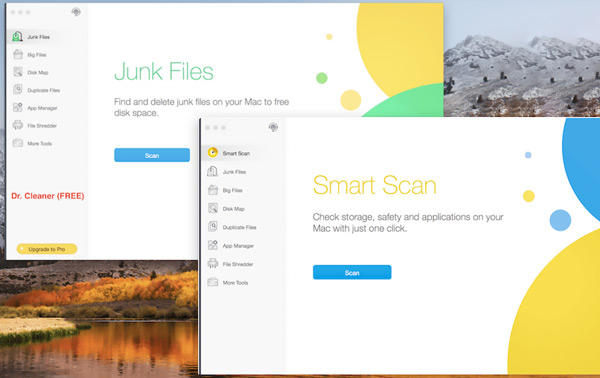 Dr. Cleaner and Cleaner One Pro download
Now there are no longer Dr. Cleaner downloads from the official. You can only download it from some app downloading sites. Truth is, Trend Micro changed the product name to Cleaner One Pro. The source Dr. Cleaner is replaced by Cleaner One Pro for Mac. Cleaner One Pro is designed with the same features and interface as Dr. Cleaner.
When you want to download and use Dr. Cleaner on your Mac, you can go to the official website of Cleaner One Pro for Mac, or the Mac App Store to easily find it. When you get there, click on the Free Download button to install it. As you can see, now it also offers an all-in-one disk cleaning manager for Windows users.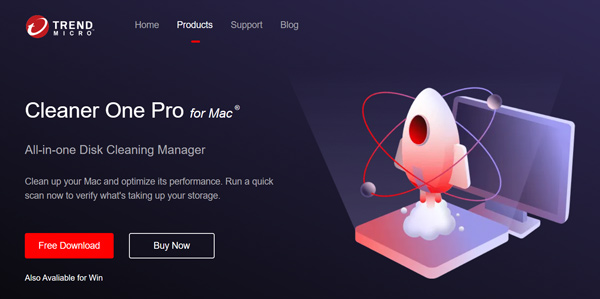 Part 2. Best Dr. Cleaner Mac Alternative to Manage and Optimize Mac
Whether you are using the Dr. Cleaner or Cleaner One Pro for Mac, you may face incomplete cleaning, crash, and other issues. If you are not satisfied with it, you can try the great alternative to Dr. Cleaner, Mac Cleaner.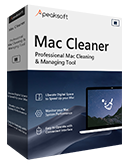 4,000,000+ Downloads
Monitor Mac status like memory, CPU, GPU, and speed up Mac in real-time.
Manage Mac storage and delete unwanted files like junk, duplicates, and others.
Manage all types of applications on Mac and remove unused apps and leftovers.
Optimize Mac performance and protect Mac from viruses, malware, and adware.
You can take the recommended Mac Cleaner as the best Dr. Cleaner alternative. Compared with Dr. Cleaner, it carries more functions. You can free install them on your Mac and compare their features.
Mac Cleaner gathers all its features in 3 categories, Status, Cleaner, and ToolKit. You can choose one category to access more options.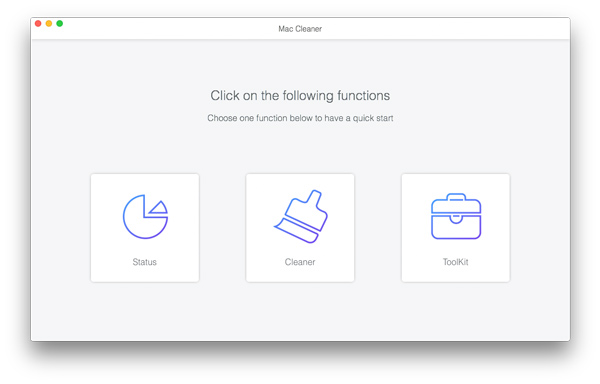 To check the current storage usage, CPU, memory, and other information of your Mac, you can simply click the Status.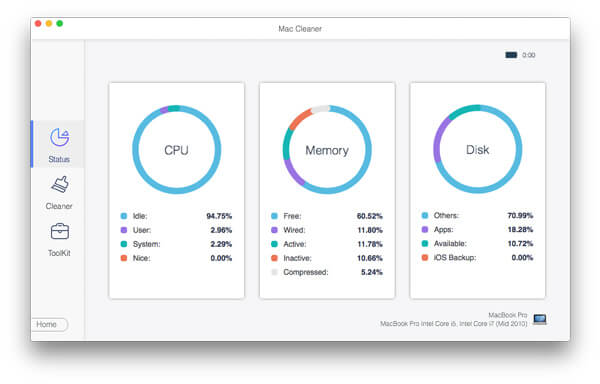 When you want to free up your Mac storage, you can use its Cleaner feature to remove various junk files, duplicates, caches, logs, old and large files, and others from your Mac.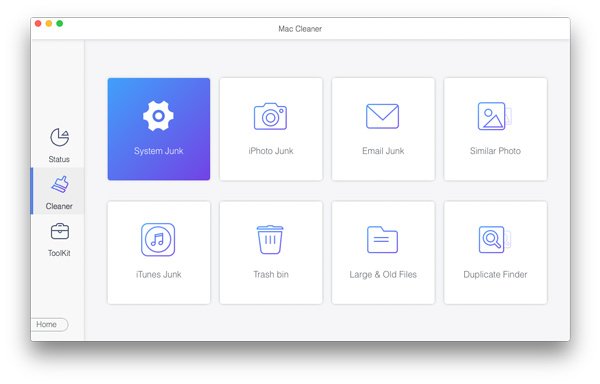 This Dr. Cleaner alternative also offers many useful tools in the ToolKit. You can use them to optimize Mac's performance, manage Mac data, protect personal files and privacy, uninstall unused apps, and more.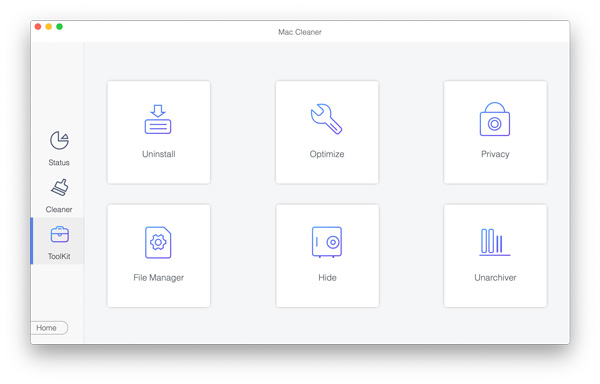 Part 3. FAQs of Dr. Cleaner, Cleaner One Pro, and Mac Cleanup
Question 1. Can Dr. Cleaner remove duplicate photos?
Yes, you can use its Similar Photos feature to quickly locate and remove similar images.
Question 2. Is Dr. Cleaner safe and legit?
Yes. Dr. Cleaner is a trustworthy Mac cleanup app developed by a legit company called Trend Micro. Both Dr. Cleaner and its new product, Cleaner One Pro for Mac are approved by Apple App Store. So, it's safe to use Dr. Cleaner on your Mac.
Question 3. Can Dr. Cleaner remove viruses?
No. Dr. Cleaner does not offer security features to protect your Mac from viruses, adware, or malware. You can use the recommended Mac Cleaner to remove viruses with ease.
Conclusion
You can get a detailed Dr. Cleaner review from this post. To access all its features, you can go to App Store, install Cleaner One Pro, and have a free trial. For more questions about the Mac data cleaning or system optimizing, you can leave us a message.