Drive Genius is a macOS monitoring software that can give you total control over your computer drives and keeps your Mac healthy and virus free. It helps you automatically detect computer problems and potential malware as well as synchronize clones. With the release of its new version Drive Genius 6, upgraded features come in like an updated malware engine, easier speed testing, etc. Therefore, here comes the question. Is it worth buying the Drive Genius with level-up service? You can go on to find out the review of the Drive Genius with its features, price, pros, and cons.

Drive Genius Review
Part 1: Three Main Features of Drive Genius
Although Drive Genius has two latest versions, their functions are basically the same with one difference. That is version 5 is available for macOS 10.11 - 10.14.6 users while version 6 is available on macOS 10.12 or later. The subtle difference does not affect their main features, so keep reading to see the three main features of this software.
1. Protect the Mac from potential malware and repair common errors
Drive Genius can help you monitor your Mac by constantly checking possible file corruption, scanning malware, and detecting and repairing errors to prevent data loss. Meanwhile, the Rebuild function in the software helps you regain access to the file data whose file name is lost. Drive Genius also plays a nice role as a reminder, which will alert you to the files that are in use that may prevent you from shutting down the Mac.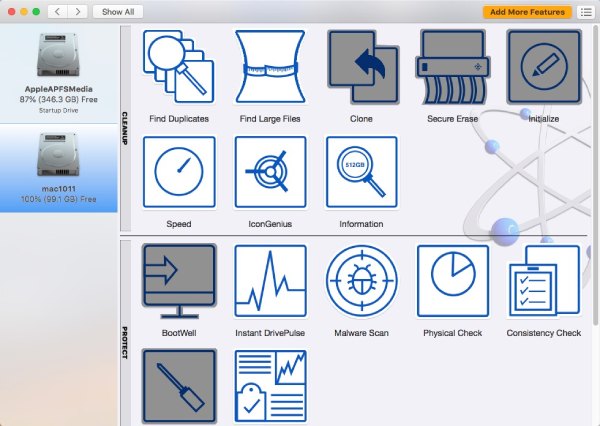 2. Clean up your drive for more spaces and overwrite data safely
You can use Drive Genius to add, delete, hide, expand, or shrink OS X partitions to organize your Mac hard drive. You can also find duplicate files and replace them with an alias or locate large files and delete the ones you no longer need. Additionally, you can erase data safely and duplicate the old drive's configuration to a new drive for better efficiency.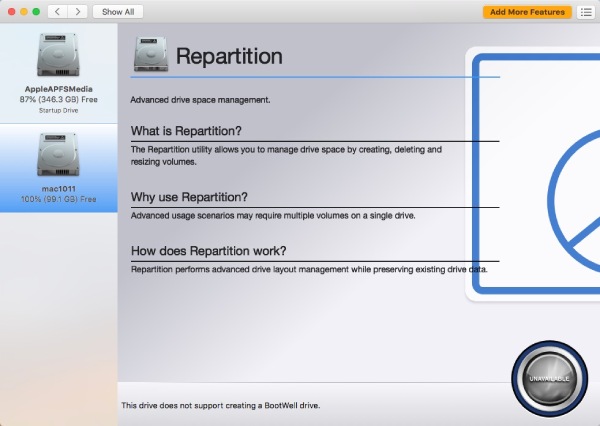 3. Speed up your Mac and offer a better performance
Your Mac might slow down because of the malware you are unaware of. Use Drive Genius to help your search for malware files and downloads and promotes Mac's working efficiency. Moreover, it can also measure the best raw performance for the hard drive connected to your Mac.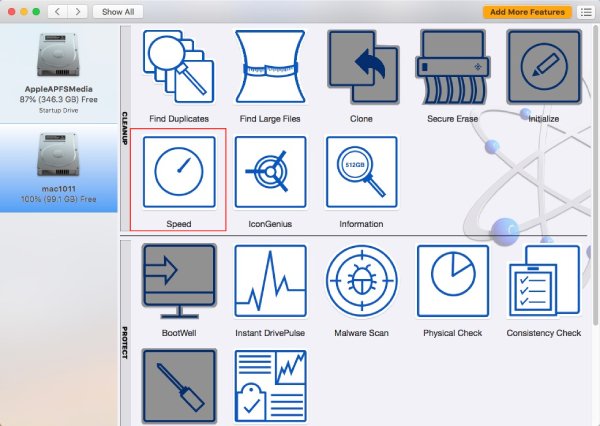 Note: For users of macOS 10.13 or later, the Defragment, Repartition, and Rebuild utilities are not supported on APFS.
Part 2: The Overall Review of Drive Genius
Is the Drive Genius worth buying? To better answer this question, you need to see both the positives and negatives of the software. Hence, the following content lists the pros and cons as well as prices to give you an overall review.
PROS

Protect your Mac from malware.
Early warning for potential problems.
Enable you to scan for problems periodically.
Repair your startup drive, logical files, and folder errors.
CONS

Complex user interface for beginners.
Scanning for malware or large files takes too long.
Move infected files to the Trash may accidentally delete the normal files.
Certain utilities are limited to some macOS versions and need extra products.
Price:
Subscription plans of Drive Genius 5/6 have the same prices but vary a little in device numbers. If you purchased version 5, no further purchase is needed for the update. There are 3 subscription plans in total, which are Standard License, Professional License, and Perpetual License.
Perpetual License: $99 per compute.
Standard License: $79 per year, 3 computer activation. (Drive Genius 5: 2 systems activation)
Professional License: $299 per year, 10 computer activation. (Drive Genius 5: unlimited systems activation)
Note: Perpetual license is a one-time payment license for version 6 only and offers no upgrades.
Is Drive Genius worth buying?
It is worth a purchase if you are quite familiar with the disk protector and want a professional one or want to repair your cluttered disk on Mac. As for beginners, you may take look at the alternatives to the software.
Part 3: The Best Alternative to Drive Genius
Since Drive Genius takes too long in scanning for issues and may accidentally remove normal files when erasing the files infected by a virus, you can also seek protection from the best alternative to it. Apeaksoft Mac Cleaner is user-friendly that can clean up useless data or cookies in Mac to gain more storage space. Compared with Drive Genius, it has a faster scanning speed, a simpler interface, and a clearer storage distribution.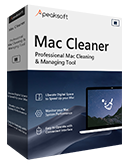 4,000,000+ Downloads
Scan and clean your Mac disk quickly.
View your disk status and utilization in a clear manner.
Turn off unnecessary settings on Mac for faster boot time.
List all the junk files to select and avoid deleting important files.
How to use the Drive Genius Alternative?
Step 1Monitor Mac Status
Free download, install and launch Apeaksoft Mac Cleaner on your Mac. Then click the Status in the main interface. Through the Status tool, you can monitor CPU, Memory, and disk usage. Different colors represent different activities, you can easily check what's taking up your Mac.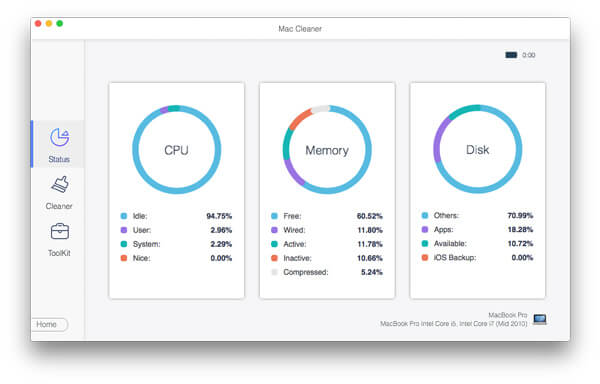 Step 2Clean Mac Junk Files
After launching the Mac Cleaner, click the Cleaner menu in the center of the main interface. Then click the System Junk button, you can choose to click the Clean button to delete files or the View button to see those files. Under the Cleaner menu, you can see many other cleaning tools that can clean junk files stored in iPhoto, email, and iTunes.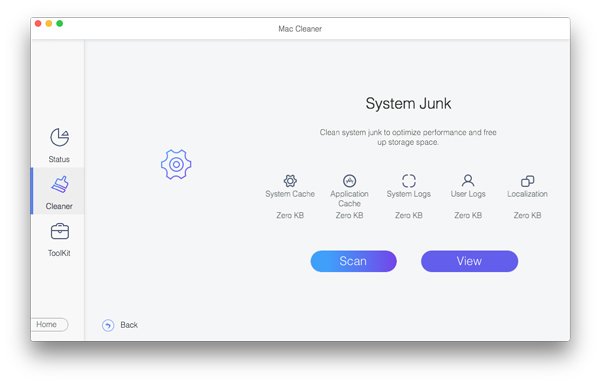 Step 3Uninstall Mac Applications
You can use the Toolkit menu to remove any application on your Mac completely and stop it from collecting your data. First, you need to click on the Toolkit menu on the main interface. Then, find the Uninstall option and click the Scan button. After it finishes, you can click the View button to see the useless apps on Mac and delete them.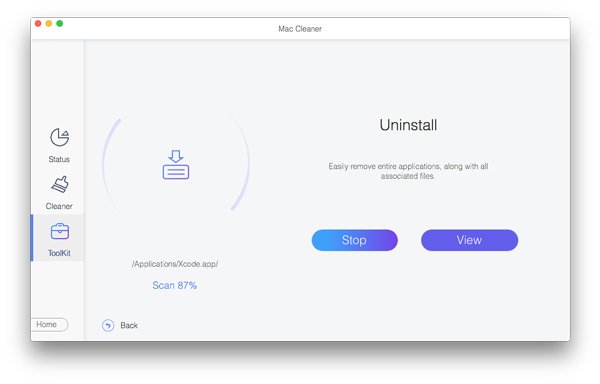 Further Reading:
MacCleaner Pro Review and Best Mac Cleanup Alternative
Check the Detailed Super Mac Cleaner Review
Part 4: FAQs about Drive Genius
How to turn off DrivePulse on the Mac menu bar?
DrivePulse is a mini tool of Drive Genius on the Mac menu bar. To turn it off, you need to go to the Preferences menu in the software just on the left side of the menu bar. Then click on the Disable DrivePulse option.
Does Apple recommend Drive Genius?
Yes, although Apple does not officially recommend this tool, the Genius Bar uses this software, too.
How to uninstall Drive Genius on Mac?
You need to stop all the operations before uninstalling the software. To achieve that, you can use the shortcut keyboard Cmd+opt +Esc, then select Drive Genius and click the Force Quit. After it, move the software to the Trash and confirm the uninstall. You can delete the folder as well to ensure a complete uninstallation.
Conclusion
Drive Genius might be a workable tool to protect your Mac, you may consider it if it really suits you before purchase. Through this Drive Genius review, you can learn more about this tool as well as the best alternative to it and have more options on hand.