"Recently, my MacBook becomes wired and Safari always reset the default search engine to Search Marquis, how to remove it?" If you encounter the same problem, don't worry and continue to read this post. Search Marquis is a new type of virus. It invades your computer and acts as a browser hijacker. Once your macOS is infected, the virus will set it as the default search engine without your permission. This guide helps you get rid of the malware quickly.

Get Rid of Search Marguis
Part 1: What Is Marquis?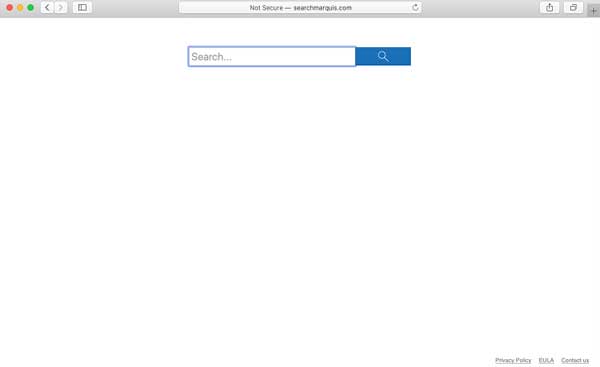 Generally speaking, Search Marquis is a program that looks like a useful add-on or extension for your web browser, such as Safari, Chrome, Firefox, etc. Unlike the standard add-ons, it won't help you improve your browsing experience but deteriorates your experience while surfing on the internet.
As long as Search Marquis gets installed on your macOS, it changes the default search engine without your permissions, as well as install extra features and fake buttons. More importantly, it keeps displaying frustrating ads on your screen in the form of pop-up ads, boxes, banners, and promotional materials.
Part 2: The Easiest Way to Remove Search Marquis
You cannot remove Search Marquis from your macOS like other add-ons. Fortunately, Apeaksoft Mac Cleaner can help you resolve this problem and get rid of Search Marquis from macOS without technical skill.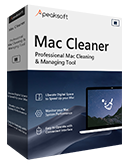 4,000,000+ Downloads
Remove Search Marquis and other malware from macOS in seconds.
Detect junk files, malware, and more automatically.
Speed up macOS and free up your space.
Available to macOS 11, 10.15, 10.14, 10.13, 10.12, etc.
How to Get Rid of Search Marquis from macOS
Step 1Scan Search Marquis
Once you find that your macOS is infected by Search Marquis, install the macOS cleaner software on your hard disk, and launch it. Go to the Toolbox tab from the very left side, and choose the Uninstall option. Next, click the Scan button to begin searching for wired apps on your device.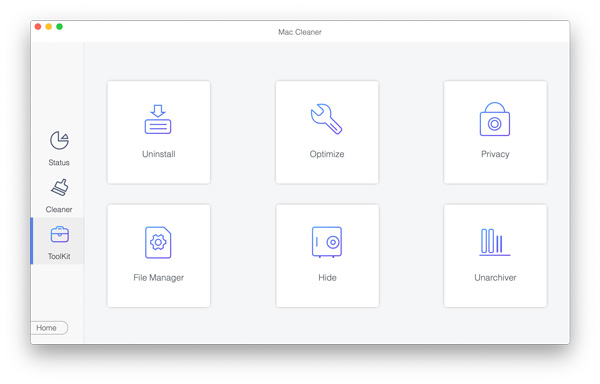 Step 2Remove Search Marquis
As long as you see the result list, scroll down and find the Search Marquis or any wired installers. Check them and click the Clean button to begin removing the virus from macOS. Wait for the process to finish and you have got rid of Search Marquis now.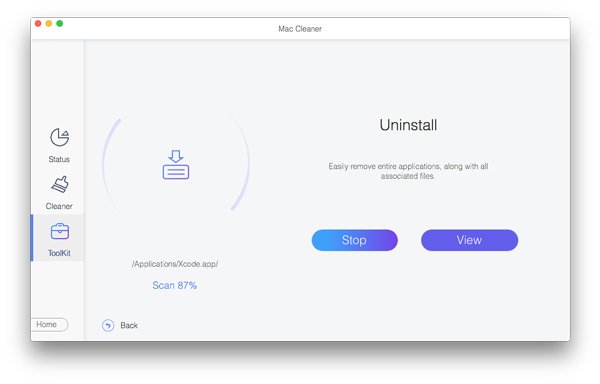 Extended Reading:
Part 3: How to Remove Marquis Manually
Of course, you can get rid of Search Marquis manually from your Safari, Firefox, or Chrome browser. We explain the steps below and you can perform each of them to remove the virus from your Mac.
Step 1Hold down Shift + Command + U keys on your keyboard to open the Activity Monitor dialog. Make sure to quit all processes involved with Search Marquis.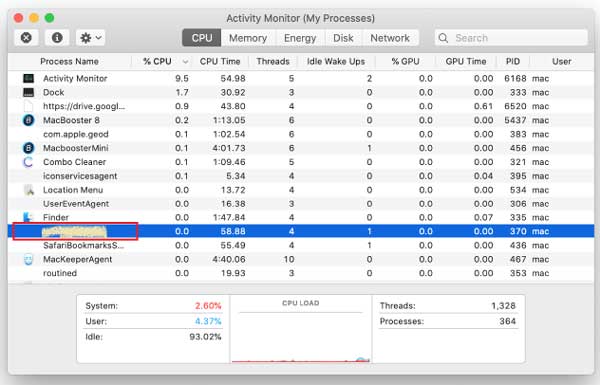 Step 2Next, go to the Applications folder, identify the apps that you are unfamiliar with, and drag them to the Trash.
Step 3Click the Apple menu, System Preferences, and Users & Groups successively. Go to the Login Items tab, and delete anything that should not be there.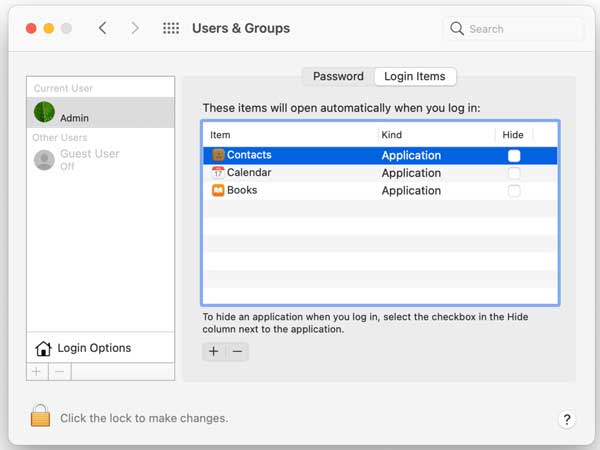 Step 4Then go to Menu and then Go to Folder to run the Go to Folder dialog. Now, access each of the folders below and delete the items with search marquis in the filename:
~/Library/LaunchAgents
/Library/LaunchDaemons
/Library/Application Support
~/Library/Application Support
Step 5The last step is to remove Search Marquis from your browser:
Safari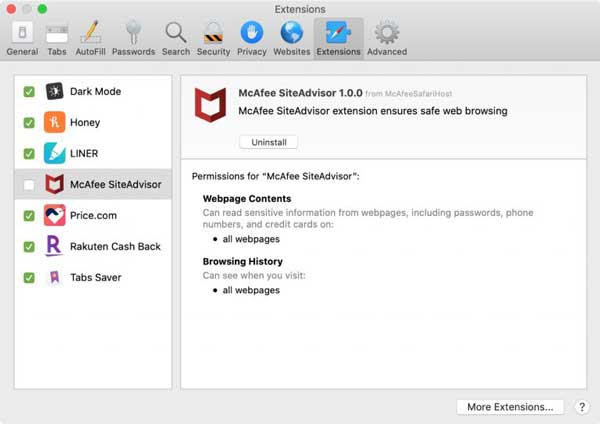 Go to the Safari menu, and select the Preferences entry. Go to the Extensions tab, find an unfamiliar extension in the left panel, and select it. Click the Uninstall button to remove Search Marquis from Safari on Mac. Do the same to other extensions that you did not install.
Next, return to the General tab, and enter a website in the Homepage field. Head to the Search tab, and pick your favorite search engine. To prevent the virus from installing again, you also need to clear all Safari history and cache data.
Firefox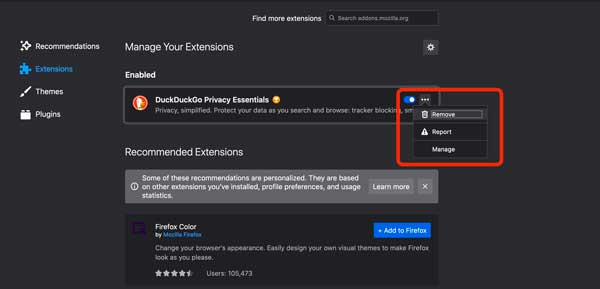 To remove Search Marquis from Mozilla Firefox, type about:addons into the address bar, and select Extensions. Once you discover any extensions that you do not recognize, click the three-dot icon and select Remove.
Next, visit about:preferences in your browser, and reset the desired homepage as well as the search engine. Also, you'd better clean up the website history and cache.
Chrome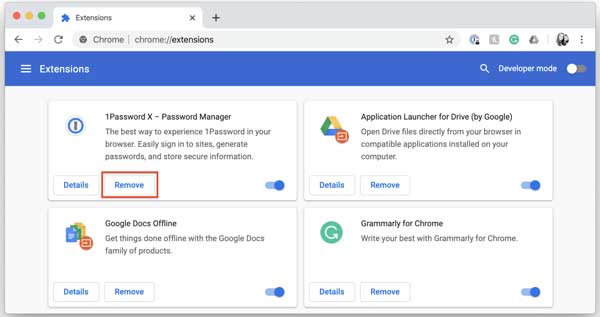 Open the extension page in your Chrome by visiting chrome://extensions in the address bar. Find the extensions related to Search Marquis, and click Remove next to it.
Next, enter chrome://settings into the address bar and hit Enter key. Choose On start-up in the sidebar and set the homepage as you wish. Switch to the Search engine area and pick one according to your preference. Finally, clear the history and cache data to completely remove Search Marquis from Chrome.
Part 4: FAQs about Search Marquis Removal
Why does Safari open Marquis?
Search Marquis is an upgraded version of the Bing redirect virus. As a browser hijacker, it causes unwanted browser changes and endless redirects. Having it on your Mac is not only annoying but unsafe.
What is SearchUp on Mac?
Similar to Search Marquis, SearchUp is a Mac browser hijacker app too. It starts a page-redirecting process in the main browser, aiming to popularize different sites. SearchUp can also look into the history of the browser and generate paid targeted ads that earn money from each click.
How did search Baron get on my Mac?
Baron malware can infect your Mac through a variety of methods, such as you click a fake button on a website, false ads, phishing email and more.
Conclusion
Now, you should understand what Search Marquis is, and how it works. More importantly, we explained how to remove the virus from your computer and web browsers, such as Safari, Firefox, and Chrome. If the manual method is not available to you, try Apeaksoft Mac Cleaner directly. It helps you to remove virus and junk files using advanced technology. If you encounter other problems about Search Marquis, please feel free to leave a message below this post.