"The storage on my Mac is almost full, so I went to manage the storage. Then, I found out that there are 925 GB on the system. I have a macOS X Yosemite 10.10.5. How do I find out what it and is there a way to delete it?"
Many of you may have seen "Your startup disk is almost full" prompt when there is not enough free space on your Mac. It's time to clear your Mac's startup disk. Here, we are going to share with you several solutions to manage and free up your Mac storage.

Manage and Optimize Storage Space on Mac
Part 1. How to Manage Storage on Mac with Storage Tools
To avoid Mac running slow or disk almost full, your Mac needs a thorough cleaning once in a while. Before that, you need to check your Mac storage and see what is taking the space.
For macOS Sierra or later, just click the Apple icon > About This Mac, and select Storage to check your Mac storage. Clearly, there are Photos, Movies, Audio, Apps, Backups and Other on your Mac. (See how to clear Other on Mac)

After that, you can click Manage button to enter Recommendations window. Here are Apple's 4 recommendations for managing your Mac Storage. Options are Store in iCloud, Optimize Storage, Empty Trash Automatically, or Reduce Clutter.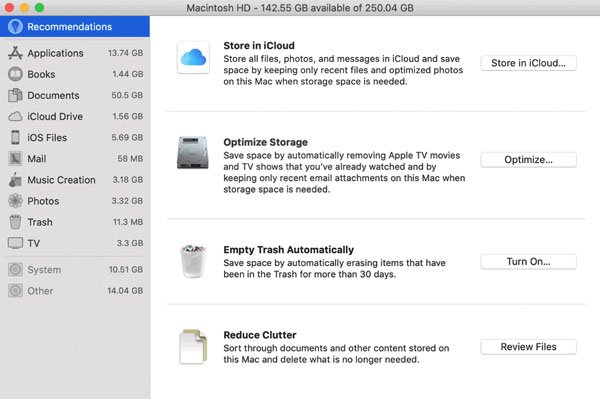 Store in iCloud
Backing up files to iCloud will save a large amount of storage on your Mac. For photos and videos, iCloud Photos helps you back up them to iCloud automatically. If you have enabled iMessages in iCloud, you can back up messages and attachments to iCloud.
Just click Store in iCloud..., and click Store in iCloud button in the popup window. Then, all your Photos, Documents and Videos will be stored in iCloud.

You can also open iCloud, and click "Options" next to "Photos". Check iCloud Photo Library, My Photo Stream, or iCloud Photo Sharing options as you need, and click Done. Then, all recent photos and videos will be synced to iCloud wirelessly.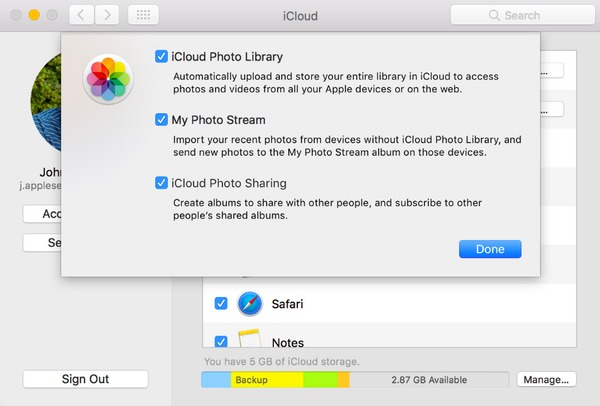 Optimize Storage
More space will be cleared out by optimizing storage on your Mac. You can click Optimize... and tap Optimize button in the popup window. Since document files won't take up much space on your Mac, this option will remove Apple TV movies and shows you recent watched automatically. Meanwhile, your recent email attachments will be kept.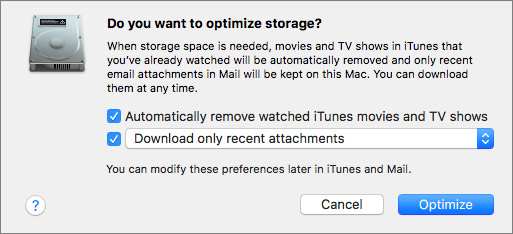 Empty Trash Automatically
Trash bin won't remind you it's getting full, so you may never notice how much deleted files you have dragged to the trash bin. Trash bin is also an important part of your Mac, and you need to clear the trash that stocked for months.
Just click Turn on... next to Empty Trash Automatically, and click Turn On button in the popup window. Then, macOS will erase the wasted files in the Trash for more than 30 days.
Reduce Clutter
Reduce Clutter needs you to view and delete large files manually. Click Review Files in Reduce Clutter section, and select a category in the left sidebar, such as Documents, Applications, Music Creation, Photos, Trash or more. Then, go through the files, apps, books, movies, etc. and delete them one by one.
Part 2. How to Free Up Storage with Mac Cleaning Software
Besides using Mac's default storage tools, you can rely on a third-party software to delete large files on your Mac. Apeaksoft Mac Cleaner is the all-in-one app to optimize storage, empty trash and reduce clutter.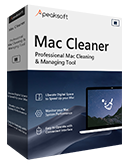 4,000,000+ Downloads
Clean junk, clutter, large files and uninstall useless apps on Mac.
Check battery status, CPU usage, memory usage and disk utilization.
Optimize storage and clear "Other" files on hard drive in 1-click.
Compatible with iMac, iMac Pro, Mac mini, MacBook Pro/Air, etc.
Free up Mac storage with Mac Cleaner
Step 1Free download Mac Cleaner, install and launch it on your Mac. If you want to view your Mac performance, you can click "Status" to check system status.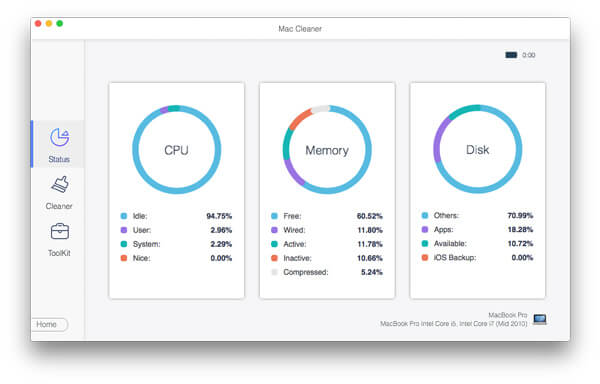 Step 2 Choose Cleaner and you can see all functions in the main interface. You can remove system/iPhoto/email/iTunes junk, delete similar photos, duplicate files, large & old files, clear trash bin.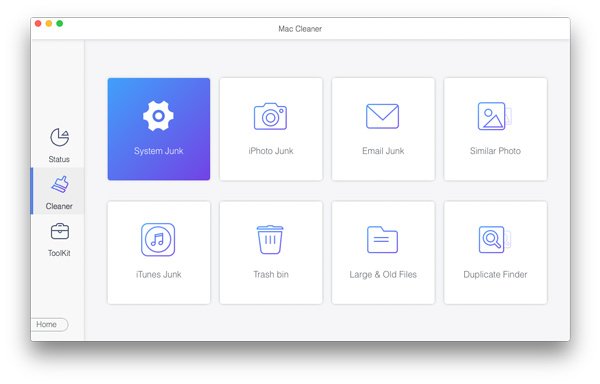 Step 3You can click Large & Old Files to remove useless files on your Mac. Click Scan to find out what is taking up your Mac space.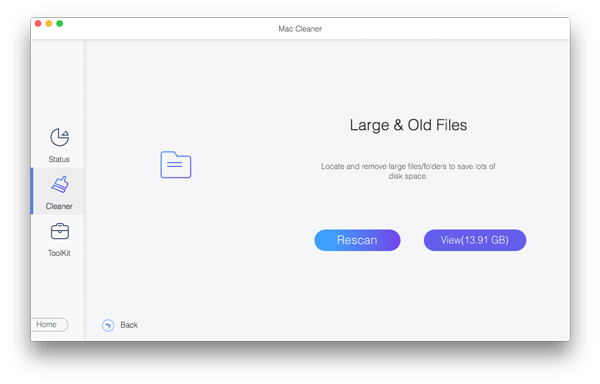 Step 4Click View button, and you can see all large files are listed in the interface. Check the large files you want to remove and click Clean button to clear them.
Clean duplicate files in Duplicate Finder
Duplicate files have taken lots of space on your Mac hard drive. Clearing duplicate files will free up Mac space in a large extent. Duplicate Finder in Mac Cleaner enables you locate and remove the duplicate photos, videos, emails and more.
Just open Mac Cleaner, go to Cleaner > Duplicate Finder. Click Scan button to find and locate the duplicate files. Then, click View button to check and choose the duplicate files to delete.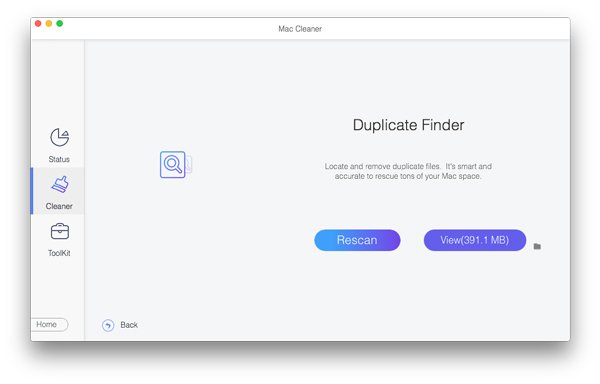 Uninstall apps that not frequently used
If you have installed many applications on your Mac, your computer's storage can get full quickly. As we know, a popular game app can take several dozen GB on your Mac. So, it's a good choice to remove the useless apps for you. With the Uninstall function in Mac Cleaner, you can remove the apps that are not frequently used.
You can open Mac Cleaner, click Toolkit > Uninstall, and click Scan button to find the useless apps. After that, click View button to check and clean the selected apps.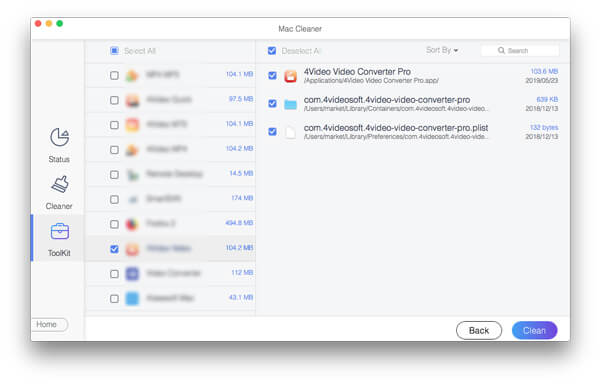 Conclusion
With all these useful tips, you can manage your Mac storage now. You can use Apple's default function for general cleanup. A more professional tool is also mentioned. That is Apeaksoft Mac Cleaner. Many functions you can use in this program, like removing large or old files, deleting junk, clutter, duplicate files, or monitoring Mac performance any time you want.