Chromium is an open-source browser project that is specially designed to build a safer, faster, and more stable way to stream on the web. It can generate the source code used by Edge, Chrome, and other popular internet browsers. Chromium also allows you to customize a browser based on your preference and code. However, due to different reasons, you may want to remove Chromium from your Mac.

Uninstall Chromium on Mac
How to uninstall Chromium on Mac? Here in this post, you can learn 2 different methods to completely remove Chromium from a Mac.
Part 1. Common Way to Manually Uninstall Chromium on a Mac
The built-in uninstalling feature in macOS offers you a convenient way to quickly uninstall various applications. You can uninstall Chromium from your Mac by moving it to the trash. But using this method, you need to manually delete Chromium remaining files.
Step 1 First, you should quit Chromium on your Mac. You can easily close it from the Dock menu. Just right-click on its icon and choose Quit.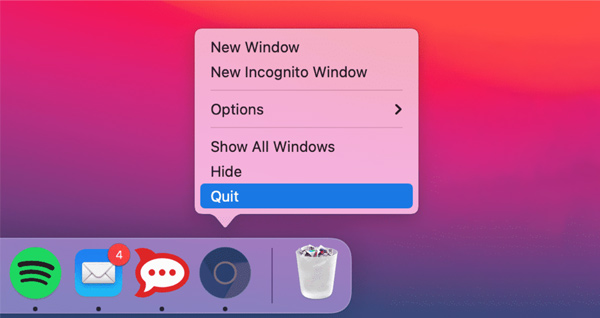 You should also close all programs that might be related to the Chromium browser running in the background. Here you can go to Activity Monitor, click the CPU tab, and then close the processes associated with Chromium.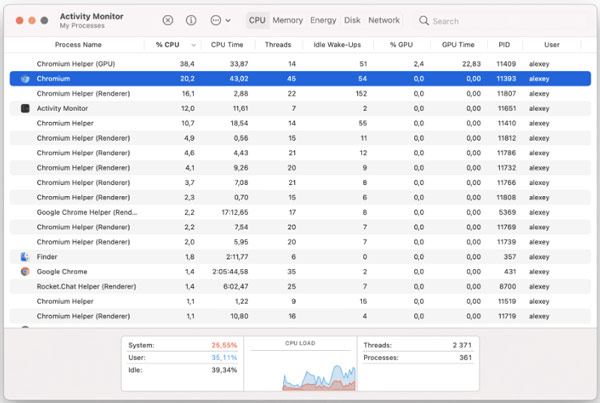 Step 2 Open a new Finder window and then go to the Applications folder. Find the Chromium browser app and right-click on it. You can choose Move to Bin or Move to Trash to uninstall Chromium on your Mac with ease.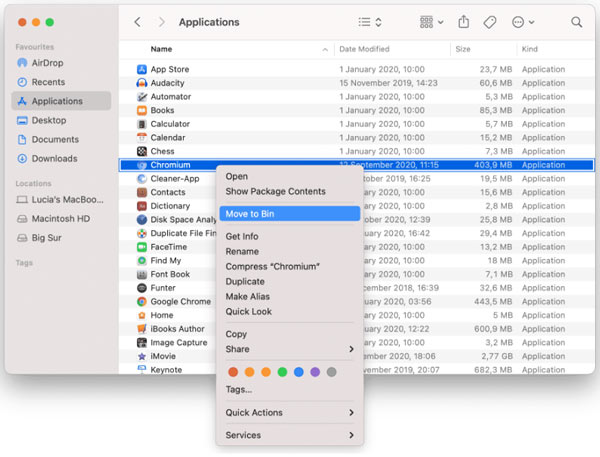 Step 3 Now you need to manually get rid of its leftovers. Open a Finder window again, click on the top Go menu, and then choose Go to Folder. You can type /Library in the box to locate all Chromium service files that still remain on this Mac.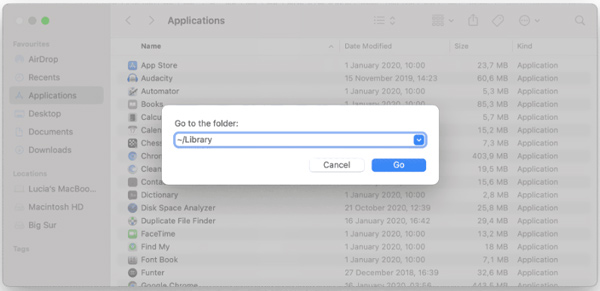 Step 4 You may find the Chromium web browser remaining files under the following subfolders:
~/Library/Caches
~/Library/Cookies
~/Library/Application Support
~/Library/Containers
~/Library/Preferences
After you delete all these Chromium leftovers, you should empty Trash to confirm your operation.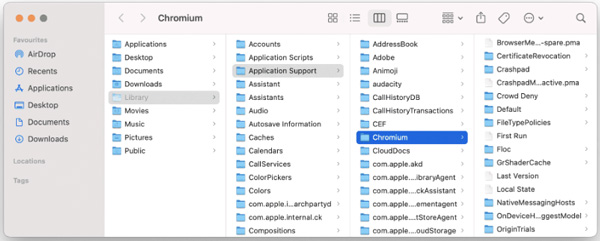 Part 2. Better Way to Completely Remove Chromium from Your Mac
If you prefer a simple way to completely uninstall Chromium on a Mac, you can try using the all-featured Mac Cleaner. It has an individual Uninstall tool for you to remove Chromium and all app leftovers from your Mac.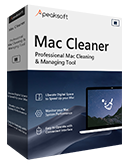 4,000,000+ Downloads
Uninstall Chromium on Mac and remove all remaining files completely.
Offer uninstall, optimize, file manager, Privacy, and more Mac cleanup tools.
Remove system junk, duplicates, similar photos, and others to free up Mac space.
Monitor Mac status, protect Mac from virus, and optimize Mac's performance.
Step 1 To completely uninstall Chromium, you can free install and launch this recommended Mac Cleaner and use its Uninstall tool. You can easily access the Chromium uninstalling tool in ToolKit.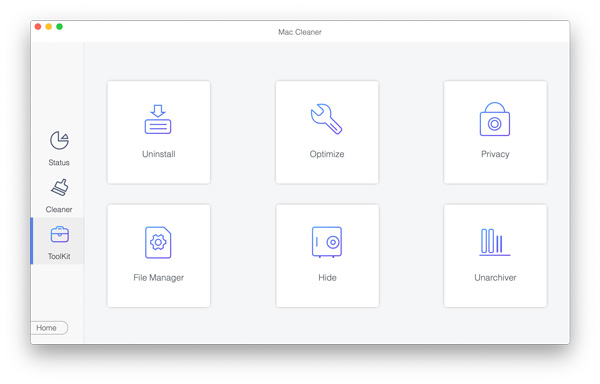 Step 2 Click the Scan button to scan all your Mac applications. After scanning, click on the View button to list them. Select Chromium and then click the Clean button to uninstall it.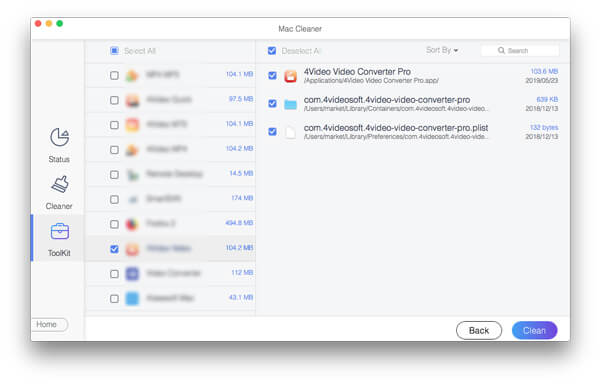 There are other useful tools offered in ToolKit. You can use them to manage your Mac data, protect your privacy, and optimize Mac's performance.
Step 3You can click Status to check the usage of your Mac CPU, Disk, and Memory.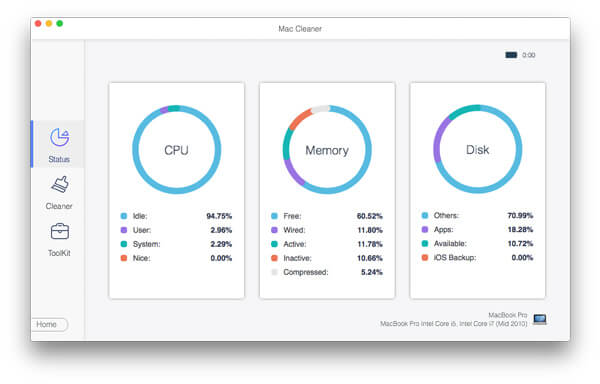 Step 4Mac Cleaner also allows you to remove all types of useless files from a Mac, such as system junk, cache, app leftovers, similar images, old files, and others. You can use these Mac cleanup features in Cleaner.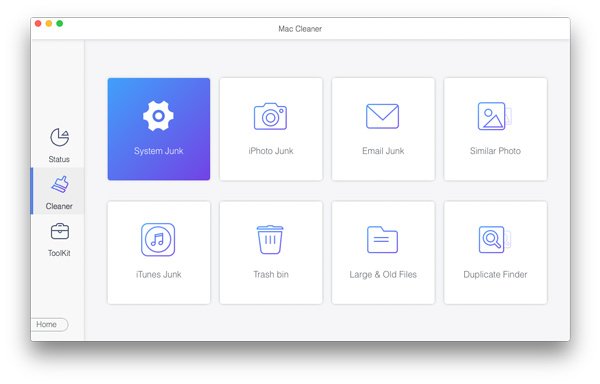 People Also Ask:
How to Completely Uninstall Remove Citrix Receiver on Mac
Remove Firefox - How to Uninstall Firefox on Mac and Windows
Part 3. FAQs of How to Delete Chromium from Mac
Question 1. Is Chromium browser a virus?
No, Chromium is not a virus. Chromium itself is a legitimate Google-funded project that is mainly used as the basis for many popular web browsers. However, considering that there are many fake Chromium downloads offered on the internet, you may mistakenly download a fake Chromium browser. So, you should not download Chromium from an unknown source.
Question 2. Is Chromium better than Google Chrome?
No. For general internet use, the default web browser like Safari or Chrome on your computer is still the best option. Moreover, the standard version of Chromium is less secure than Google Chrome. If you are a developer and need to test new features or create a new web browser, Chromium is better than Chrome.
Question 3. Why I can't uninstall Chromium on my Mac?
Before you remove Chromium from a Mac, you should quit the browser app and shut down all running processes that relate to it. Also, you can reboot your Mac and then try uninstalling Chromium.
Conclusion
How do I get rid of Chromium on my MacBook? This post shares 2 different solutions to uninstall Chromium and remove all the remaining files. You can choose your preferred method to completely uninstall Chromium from your Mac.