This guide tells you how to permanently delete Parallels from Mac. It is well-known that all MacBook computers and laptops come with a Mac system by default. However, you may need to run different systems, such as Windows or Linux too. Parallels Desktop for Mac is virtualization software that makes integrates another system into Mac easily. When you need more space, you can follow this guide to get rid of Parallels quickly.

How to Uninstall Parallels on Mac
Part 1: How to Manually Uninstall Parallels on Mac
Since the virtualization platform is not a single application but usually comes with operating systems, the procedure to uninstall Parallels on Mac is a bit complicated. We demonstrate the workflow with 3 steps.
Step 1Delete Parallels Application on Mac
Open the Parallels Control Center, and select any running machine. Then go to the Actions menu, and click the Shut Down. Next, shut down other machines one by one. Click and expand the Parallels Desktop menu, and choose Quit Parallels Desktop to quit the application completely.
To delete Parallels from Mac, run the Finder app, go to the Applications folder, right-click on the Parallels icon, and choose to Move to Trash on the context menu. Click the Trash Bin icon on the Dock bar, and choose Empty Trash.

Step 2Remove Parallels Virtual Machines
More importantly, you need to delete the virtual machines when deleting Parallels on Mac. Open your Finder app, and enter .pvm to search for files of virtual machines. Highlight all of them on the list, right-click on one of them, and choose Move to Trash. Also, click the Trash Bin icon, and choose Empty Trash to remove Parallels virtual machines. After this step, you will find your Mac saves a large amount of storage.

Step 3Uninstall Parallels and Files
Even if you have deleted the Parallels app on Mac and virtual machines, there are elements and files left. Start the Terminal app from the Applications folder with an administrator account.
Type in the command cd /user/ (your username), and press the Return key to display the app directory. Then execute the command rm -R Applications\ \ (Parallels\) to remove the Parallels folder.
Next, execute cd /user/ (your username)/Applications to navigate to the virtual machine folder, like Windows 10 Applications. Then execute rm -R Windows\ 10\ Applications.app/ to delete the folder.
To delete the Parallels folder from Mac, type in cd /Library and press the Return key. Then execute the command rm -R Parallels/.
Close the Terminal app, and restart your machine to complete Parallels uninstallation on Mac.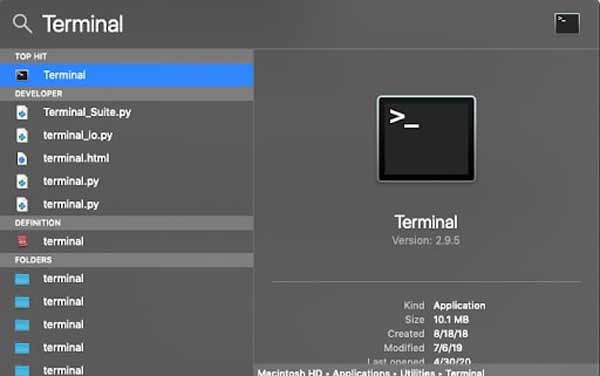 Part 2: One-Click to Uninstall Parallels on Mac
As you can see, the workflow of Parallels uninstalling on Mac is complicated for average people. The good news is that you can get rid of the app with associated files easily with Apeaksoft Mac Cleaner.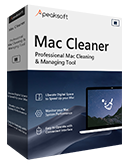 4,000,000+ Downloads
Delete Parallels, relative folders, and files with one click.
Not need technical skills or command lines.
Offer a variety of bonus features.
Available to a wide range of Mac computers and laptops.
How to Uninstall Parallels from Mac
Step 1Scan apps
Download and install the best app uninstaller on your Mac, and then launch it when you want to delete Parallels. There are three buttons in the home interface, Status, Cleaner, and Toolkit. Here we select Toolkit and click on Uninstall. Hit the Scan button to begin scanning all apps on your device.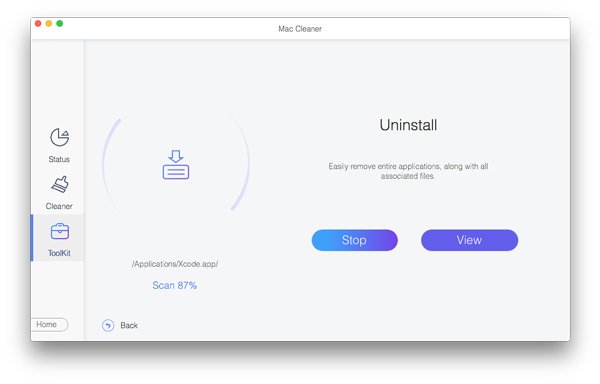 Step 2Delete Parallels from Mac
After app scanning, click the View button to enter the uninstaller window. Locate the Parallels app on the app list, and all the associated files will appear on the right panel. Check the box next to Select All above the right panel, and click the Clean button. If prompted, confirm it and remove Parallels from Mac immediately.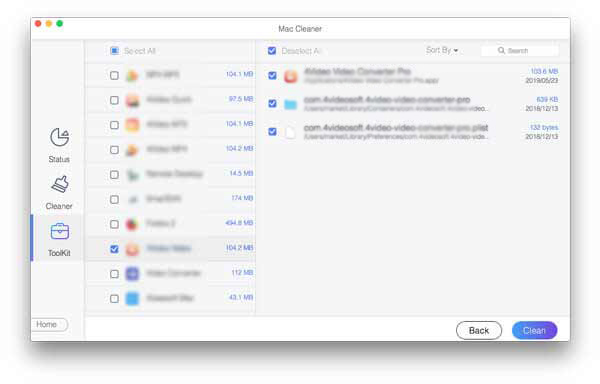 Further Reading:
2 Workable Ways to Delete Roblox on Mac
5 Effective Tips to Clear Disk Space on Your Mac
Part 3: FAQs about Uninstalling Parallel on Mac
Will uninstalling Parallels remove Windows?
Yes. When you remove Parallels, you need to remove the virtual machines at the same time. Then Windows will be removed too. Without virtual machines, you cannot run two operating systems on MacBook.
Where is Parallels data stored on Mac?
By default, you can search for all the files on your Mac with the Spotlight Search bar including virtual machine bundles.
How to unsubscribe from Parallels?
Open your App Store, click the sign-in button, hit View Information at the top of the window, scroll down until you see Subscriptions, and click Manage. Hit the Edit button next to Parallels account, and click Cancel Subscription.
Conclusion
Now, you should learn how to uninstall Parallels from Mac along with associated files. As a virtual machine platform, it allows you to run multiple operating systems on Mac. However, it takes a lot of resources and space too. Luckily, Apeaksoft Mac Cleaner offers the easiest way to remove Parallels. More questions? Please contact us by leaving a message below.