Due to different reasons, you need a Mac system utility, such as lagging system performance, slow startup, lack of storage space, and others. When you search for a Mac cleaner or system utility on the internet, you may get the OnyX recommendation.
This post gives you a full review of the OnyX Mac cleaner. You can know clearly about its main functions, pros, cons, price, and more useful information through the OnyX review. Moreover, we introduce you to a great OnyX Mac alternative, Mac Cleaner to better manage Mac data and optimize its performance.

OnyX Mac Cleaner Review
Part 1. OnyX Mac Review - Best System Utility for macOS
OnyX is a Mac maintenance and optimization tool developed by Titan Software. It is mainly used to offer comprehensive maintenance for Mac devices. From this part, we like to guide you to know its key features, where to download it, and how to use it.
Key features of OnyX
OnyX is a straightforward maintenance and optimization tool for Mac. It is specially designed for verifying the structure of Mac system files, performing a variety of maintenance and cleaning tasks, configuring parameters, rebuilding various databases and indexes, and more. OnyX offers a simple way to keep your Mac running smoothly and effectively. It supports different Mac operating systems including macOS Monterey 12, macOS Big Sur 11, macOS Catalina 10.15, macOS Mojave, macOS High Sierra, macOS Sierra, OS X El Capitan, OS X Yosemite, and many old versions.
OnyX for Mac is designed with a concise dashboard. You can easily figure out and use its functions, such as Maintenance, Utilities, Files, Info, and Parameters.

Features under the Maintenance tab can help you quickly verify the structure of the file system, rebuild the launch services database, spotlight index, clean system, applications, internet, and more.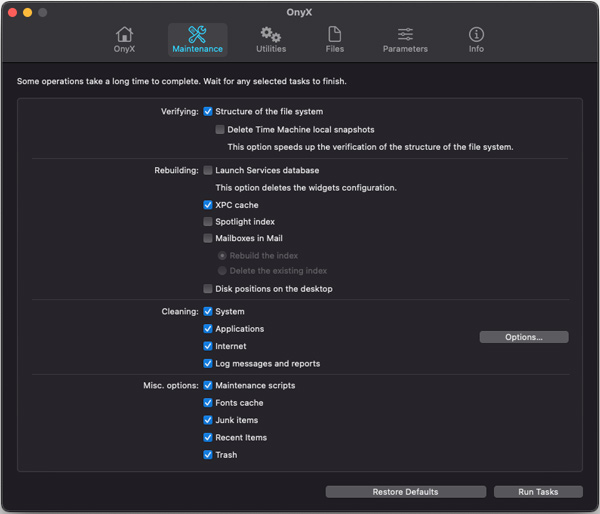 When you go to the Utilities, you are allowed to customize various settings of File System, Time Machine, Process, Applications, and Manuals.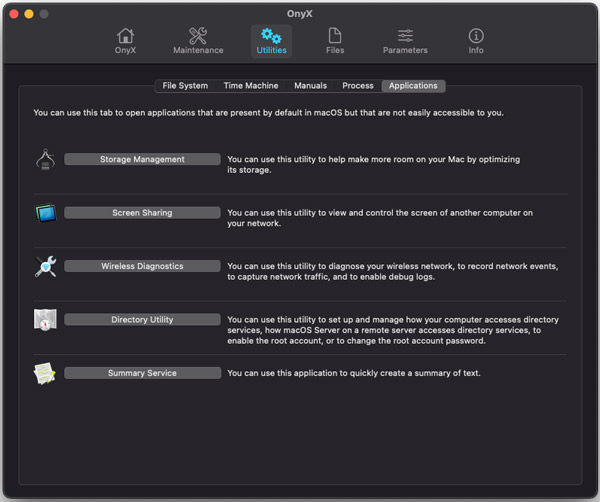 If you want to remove files and folders from your Mac safely, especially for some personal and sensitive data, you can navigate to the Files tab. You can use the related options like Erasing, Visibility, Checksum, Packages, Trash, or AppleDouble to delete your Mac data.
OnyX allows you to modify settings in Finder, Dock, Safari, Login, and other apps, set the file format of various screenshots, and select the destination file folder under the Parameters tab.
One last key feature of OnyX is found under the Info tab. Here you can get to know the necessary information about your Mac hardware, memory, software, profile, and others. You will also find the protection tool. It can detect and list all the malware on your Mac. Also, you can use it to scan any programs and items you have downloaded on the Mac.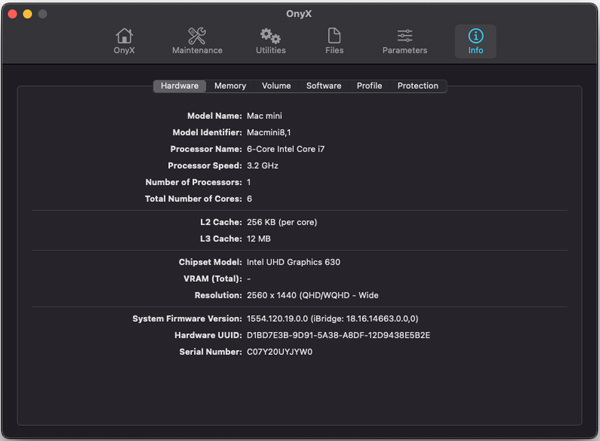 Download OnyX for Mac free
You can go to the official site of Titanium Software and then choose the first OnyX tool. You will be guided to the product page of OnyX. You can scroll down to locate OnyX downloads for different macOS versions. Select the right one based on your Mac system, and then click on the Download button to free install it on your Mac.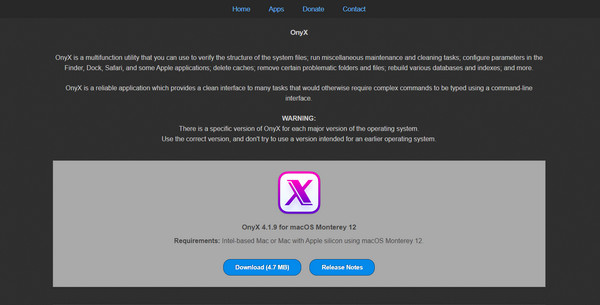 How to use OnyX on Mac
OnyX is designed with many useful features for you to optimize Mac. As mentioned above, you can easily locate the feature you need from its dashboard. So, when you enter OnyX for Mac, you can click on the specific tab, and then use the related functions to perform various maintenance and cleaning tasks.
Part 2. Best OnyX Mac Alternative to Optimize Mac
You can free install OnyX on your Mac and use all its features. If you are not satisfied with it, you can try the best Mac cleaning and maintenance software, Mac Cleaner. Compared with OnyX for Mac, it offers an easier way to speed up Mac and manage various Mac files.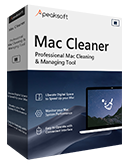 4,000,000+ Downloads
Manage all types of data on Mac and free up Mac storage.
Delete useless Mac data like system junk, duplicates, old files, and others.
Remove unused apps from Mac and delete all their remaining files.
Monitor Mac status, speed up Mac in real-time, and protect data and privacy.
Similar to OnyX for Mac, Mac Cleaner also supports all popular macOS versions and Mac devices. You can free download and use it on any Mac. This OnyX Mac alternative collects all features in 3 categories, Status, Cleaner, and ToolKit.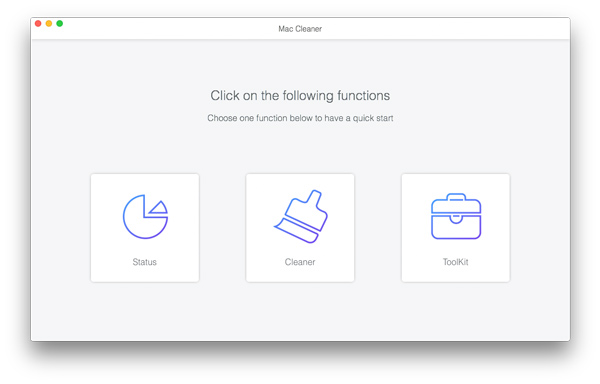 To check your Mac statuses like disk usage, memory, and CPU, you can go to Status.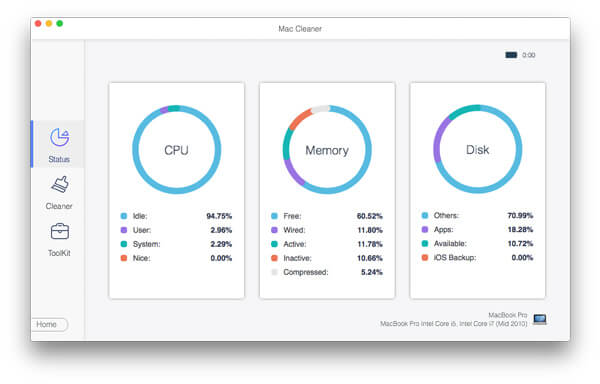 When you want to optimize your Mac's performance, manage all types of Mac files, uninstall apps like Docker, hide some data, adjust Wi-Fi, and protect your privacy, you can enter ToolKit and choose the related tool.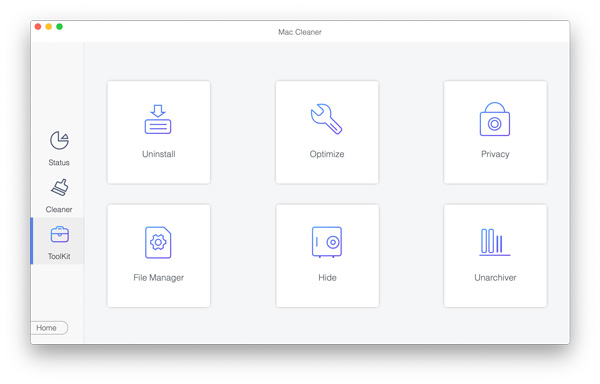 If you want to quickly remove unwanted files from your Mac, you can use the Cleaner feature. With the 8 options, you can easily delete useless Mac data and get more available Mac space.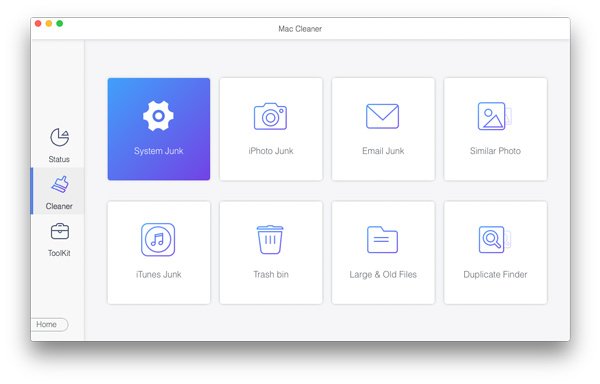 Part 3. FAQs of OnyX for Mac
Question 1. Is OnyX for Mac free to use?
OnyX is completely free to use on any Mac. If you want to reward the developer for OnyX, you can go to its official site and make a donation.
Question 2. Is there an OnyX for Windows?
No. OnyX is only compatible with Mac systems. The OnyX developer, Titanium Software doesn't release a version for Windows.
Question 3. How do you clean Mac with OnyX?
You can open OnyX on your Mac, click on the Maintenance tab, and then use its Cleaning options to clean Mac with ease. You are allowed to clean System, Applications, Internet, and Log messages and reports. You can tick the box ahead of the option, and then click on the Run Tasks button.
Conclusion
Want to speed up your Mac and make it run more smoothly? This post introduces you to the popular Mac maintenance and optimization utility, OnyX. Through the OnyX review, you can know its features. What's more, you can get a great OnyX for Mac alternative from this post.