Performance Should you choose Sensi to enhance the performance of your Mac? MacBook is very well optimized, which means it won't slow down fast over time, unlike Windows. However, if you still need a Mac performance tool for an outdated MacBook, is Sensi the optimal choice for Mac? Here you can go through the Sensei Mac review and find its best alternative.

Sensei Cleaner Review
Part 1: A Simple Review of Sensei Mac
Sensei is a Japanese sentence that means "master" in English, which expresses the powerful enhancing features of your MacBook. Sensei is just like a master in Mac's series of performance tools. Just learn more about the excellent features of the program below.
A Simple Review of Sensei
PROS

Provide multiple methods to monitor and enhance the Mac performance.
Display comprehensive hardware details, including the fan situation.
Optimize and maintain internal SSD performance and enhance Mac.
Make short work of login items and launch agents for optimizing.
CONS

Require macOS Catalina or above to enhance the Mac erformance.
Unable to deal with viruses that make the MacBook slow and stunk.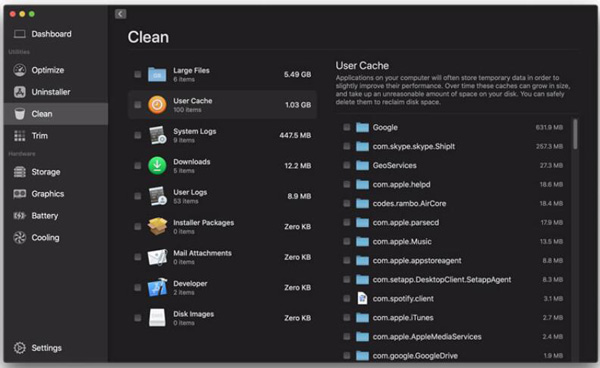 Excellent Features of Sensei
1. Performance Dashboard. It provides a detailed, distinct, and data-driven overview of your Mac, such as the system info, battery consumption, storage overview, RAM usage, CPU resources, and GPU usage.
2. Clean Functions. It removes the junk from your Mac effectively. Sensi will list down the most space-consuming content after scanning. Just choose the desired file to free up the space and enhance the speed of your Mac.
3. Uninstaller. To remove the apps and residuals, Sensei will scan the hard drive to list all software on your Mac, preview the program, and check how much space is on your Mac before a complete uninstallation.
4. Cooling. It is the most advanced function of the Sensei. It enables you to know data from not just the built-in fans but also thermal sensors, which will tell you whether your Mac is overheating or if the fan has any issues.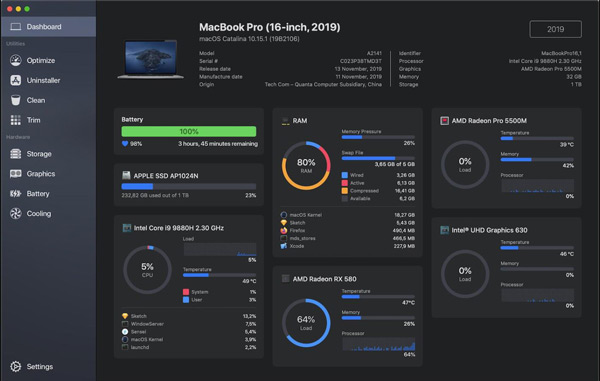 Part 2

: How to speed up Safari on Mac

Is there an all-in-one Sensei alternative for Mac to enhance the performance of your MacBook, including the performance dashboard, clean functions, and more? Just find the 2 best alternatives of Sensei for Mac below.
Method 1: Apeaksoft Mac Cleaner
Apeaksoft Mac Cleaner is another versatile Mac monitor and enhancer to manage the files on your MacBook. Compared to Sensei, it is cheaper and not tedious. Moreover, Mac Cleaner provides 4X faster boot time, faster preview time, and gigabytes of free space. You can also find more advanced features, such as the duplicated photo finder, removing the movies from iMovie, and more.
1. Status. Similar to Sensei, it has the overview status of your Mac, including CPU usage, Memory usage, and disk usage will be displayed. You can check what is taking up your Mac space easily.
2. Cleaner. It has excellent cleaning features to clean junk, similar photos, duplicate files, and large and old files in the cleaner interface, which enables you to release up to Gigabytes of free space.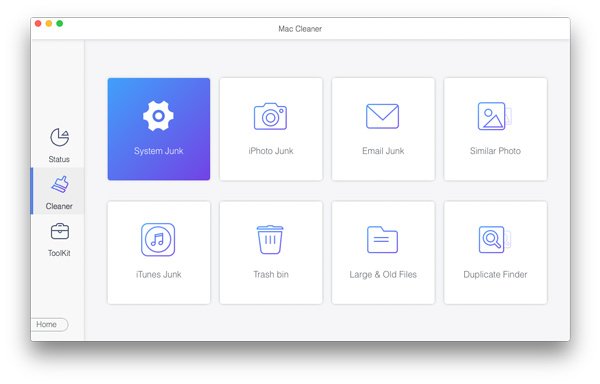 3. Uninstall. There are multiple tools to uninstall apps, optimize the MacBook performance, protect privacy, manage files, hide files, and unarchive. And the steps to uninstall software are also easy to operate.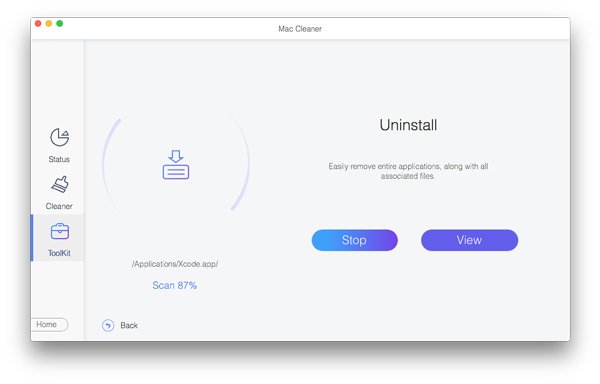 Step 1Once you have installed Apeaksoft Mac Cleaner, you can launch the program and click the Status button to view the status for the detailed CPU usage, Memory usage, and disk usage.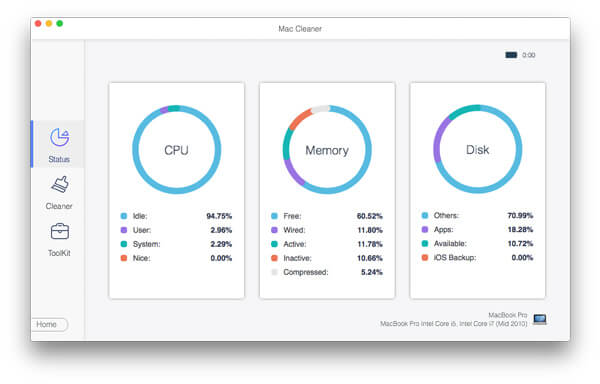 Step 2If you want to clean the system junk, you just click the Cleaner option and choose the System Junk button to scan your hard drive. Select the files and click the Clean button to remove them completely.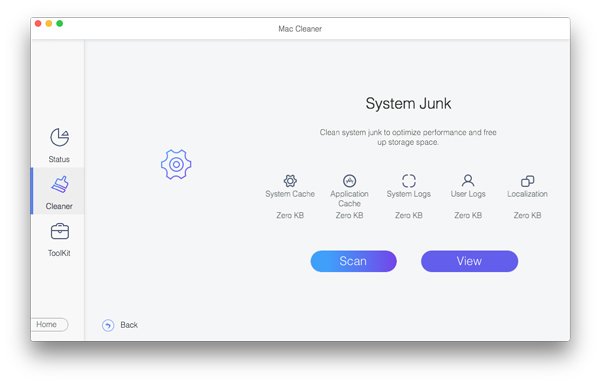 Step 3When you need to uninstall a program completely, choose the Toolkit menu and choose the Uninstall option. Click the Scan button to see the list of your software on the Mac to remove the unwanted app.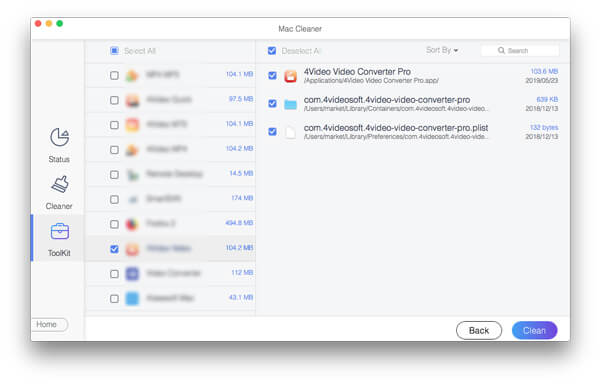 Method 2: Sensei Macs Alternative for Fan Control
If you only want to cool your Mac down and monitor the situation of your fan. Fan Control is the Sensi alternative to manage the fan of your MacBook. It can control the fan speed values manually or automatically based on your Mac's temperature sensor readings. It comes with pre-defined presets and lets you create your own presets so that you can quickly switch fan profiles when gaming, editing, or performing other demanding tasks.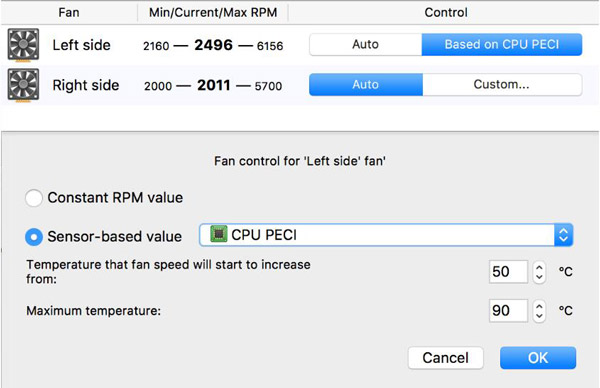 Further Reading:
8 Best Free and Paid Virus Scanning Applications for Mac Users
Use Finder and Mac File Manager to Organize Your Mac Files
Part 3: FAQs about Sensei Mac
Can Sensei work with Thunderbolt?
No. Sensei does not work well with Thunderbolt 3 devices. When you connect your portable HDD via a USB Type C adaptor, Sense cannot even pick up the primary partition in the drive.
Could Sensei do the schedule scanning?
No. There is no schedule option in the Sensei. It does not have the features to scan the virus or malware on your Mac. Instead, the program is featured for monitoring every aspect of the Mac performance.
Does Sensei support an M1 Mac fan and temperature monitoring?
Yes. Sensei has already released a new version for M1 compatibility, which adds support for real-time monitoring of fan and temperature sensors in the new M1-powered Mac.
Conclusion
Should you choose Sensei as the default Mac enhancing software? You can have the answer after reading the review. If you need a performance tool for your Mac, Sensei could be a great option for you. It can keep your Mac performing well. When you are looking for an all-in-one enhancing program for Mac, Apeaksoft Mac Cleaner is the desired choice you should consider.