"I have barely any files on my Mac, although apps take up 40% of it, but nearly 60% of everything else comes from "other". Is there a way to see if they are running in the background without me knowing it?"

"I want to free up more space on my Mac. What is this 'other' data storage on my Mac from, and how can I clean it up without destroying my hardware in the process? I tried looking this up but confused."

You may have the same problems as the above one. Even though you have no idea of what "Other" files are, they have already taken up a large amount of storage on your Mac. However, there is no need to worry about. Because we are going you tell you what "Other" on your Mac storage is. What's more, we are going to share 5 solutions to get rid of it and well maintain your Mac performance.
Part 1. What Is "Other" on Mac Storage and How to Find It
"Other" is taking up a lot of space on your Mac, similar to Other on iPhone. Generally, Mac OS X/11 will classify files into Audio, Movies, Photos, Apps, Mail, Backup and Other automatically. The files that Mac OS X/11 doesn't allocate or recognize will be regarded as "Other" files.
To check the storage on your Mac, you can open Finder, click Apple icon on the menu bar, then click on About This Mac. You can select Storage to check your Mac storage.

You can check the following "Other" files to help you know better "Other" on Mac storage. They may include:
Documents and files types like DOC, PDF, PSD, etc.
Disk images and archives like zips, dmg, iso, etc.
Files like Fonts, App Accessories, App Plugins, and App Extensions.
User library items like Application Support, Screen Savers, iCloud files, etc.
Anything in the Mac OS X/11 system folder, including temporary files, swap. Voices, etc.
Files that cannot be found by Spotlight, including a virtual machine hard drive, Windows Boot Camp partitions, etc.
Part 2. Remove "Other" files with Third-Party Software on Mac
When talking about deleting "Other" files on Mac, nothing could be more convenient than installing a third-party program. No matter you want to delete caches, or remove unused apps, you can try the professional software Mac Cleaner. It is an all-in-one app to clean and optimize your Mac.
Step 1
Preview "Others" storage
Free download, install and launch Mac Cleaner on your Mac. You can click "Status" to preview the status of CPU, Memory and disk usage. You can clearly check "Others" is taking up your Mac storage.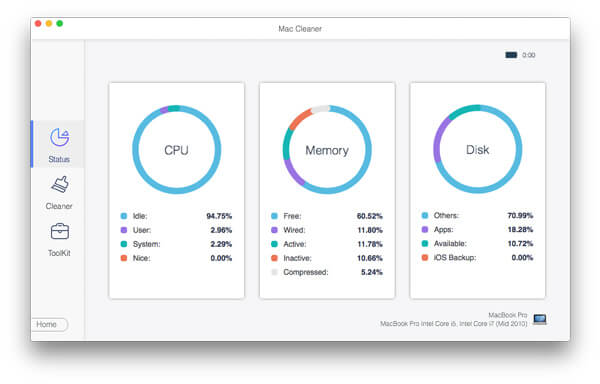 Step 2
Remove junk files
You can clean your Mac by click "Cleaner". Here, you can check and delete System Junk, iPhone Junk, Email Junk, Similar Photo, iTunes Junk, Trash bin, Large & Old Files, Duplicate Files.
For example, System Junk includes System Cache from DNS, Application Cache, System Logs, User Log, and Localization. You can click "System Junk" to remove "Other" files.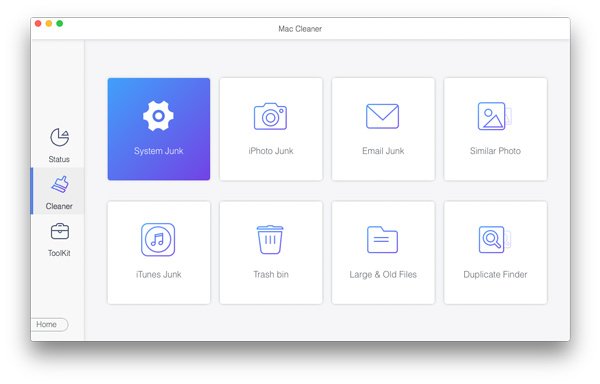 Step 3
Scan System Junk
Click "Scan" to scan system junk on your Mac. After scanning, click "View" to preview the "Other" files.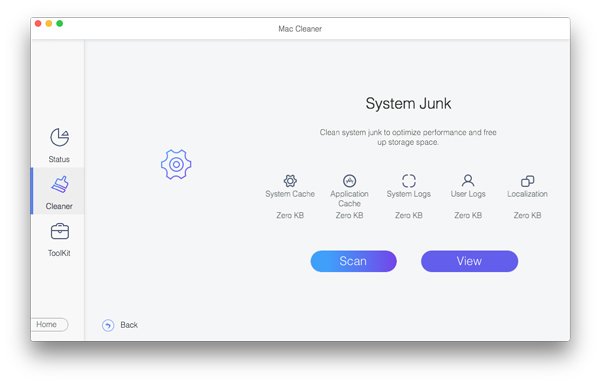 Step 4
Delete junk files
Check the "Other" files you want to delete and click "Clean". To make sure you have though thoroughly to delete the selected system junk, a pop-up window will show up to notice you to confirm the deletion. Just click "Confirm" to remove "Other" files.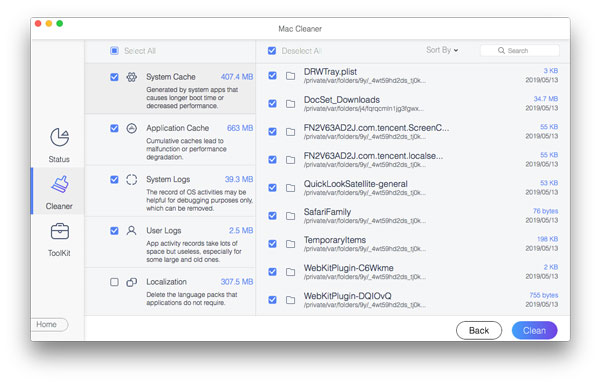 To remove "Other" files like downloads on Mac, you can go to "Toolkit" > "Privacy".
To erase the Login settings, you can go to "Toolkit" > "Optimize".
To uninstall unneeded apps, you can go to "Toolkit" > "Uninstall".
Part 3. Delete "Other" Storage with Built-in Features on Mac
If you want to delete "Other" files manually, you can find them and drag them to Trash Bin.
1. Remove cache files on Mac
Step 1Click Finder icon on your Mac, and select Go > Go to Folder…
Step 2Type ~/Library/caches into the text box. A lot of cache files will show up.
Step 3Select the App folder and drag the "Other" files you want to remove to Trash.
2. Delete downloaded files on Mac
Step 1Click Finder icon on your Mac.
Step 2Find and click Downloads to view all downloaded files on Mac.
Step 3Choose the downloads you want to remove and right-click on the selected files. Then, choose Move to Trash to delete downloaded files.
3. Delete temporary files on Mac
It is inevitable to maintain temporary files as long as you use Mac. You can remove the temporary files manually on Mac.
Step 1Navigate to Go to Folder, and type in "~/Users/User/Library/Application Support/".
Step 2You can view applications and the temporary files. Select the files and drag them to Trash.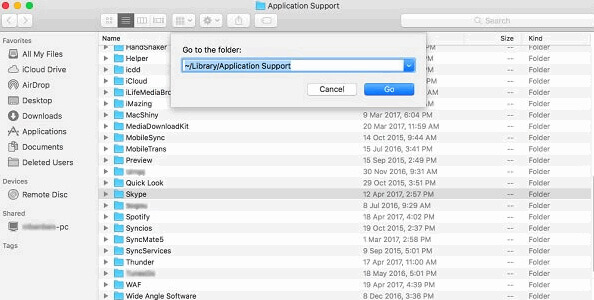 4. Remove app plugins and extensions
Plug-ins or add-ons are commonly used in web browsers to display new type files, play video, or scan virus (e.g. Safe Finder). You can delete extensions and plugins from Safari, Chrome, and Firefox.
Safari
Step 1Launch Safari browser and tap on Safari menu.
Step 2Click Preferences… > Extensions
Step 3Click Uninstall to remove the extensions.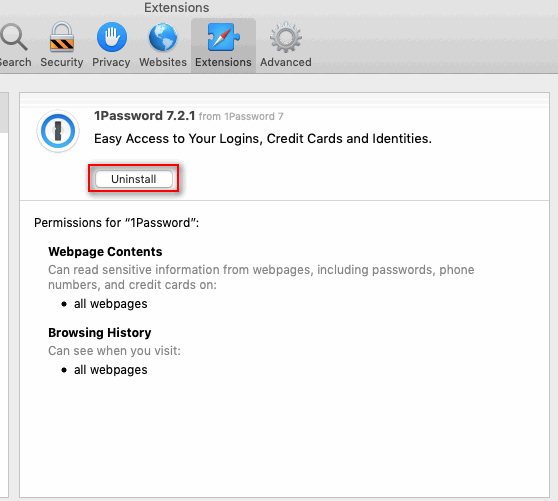 Chrome
Step 1Launch Google Chrome and type the three-dot icon.
Step 2Click More Tools > Extensions.
Step 3Select and delete the extensions as you want.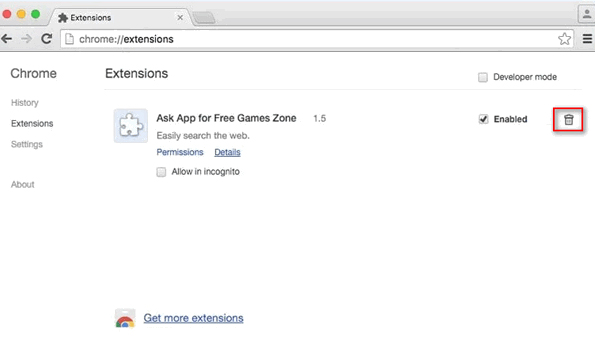 Firefox
Step 1Open Firefox and click on the three-line icon.
Step 2Click Add-ons > Extensions.
Step 3Click Remove to delete the extensions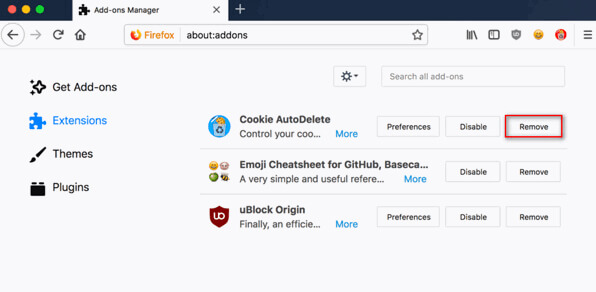 Conclusion
After reading the passage, it seems easier to delete "Other' files on your Mac. With the professional Mac cleaner, you can delete the "Other" files on your Mac storage in one click. You can also need to protect your Mac clean and organized by monitoring and cleaning your Mac regularly.