"I need a tool to make flowcharts and my colleagues recommended Lucidchart, but I don't know this app at all, any suggestions?" As an online diagramming app, Lucidchart is popular among students, small businesses, and professionals. However, there are still many questions about it, such as what Lucidchart can do, how much it cost, etc. This article will introduce and review Lucidchart in detail, and tell everything that users should know about this tool.

Review Lucidchart
Part 1: Review of Lucidchart
As mentioned previously, Lucidchart is an intuitive workspace to create diagrams, visualize data, and make collaboration designs with a team. Since it was released in 2010, Lucidchart has attracted over 30 million users in 180 countries, including large enterprises, partly because of its impressive features and great collaboration functionalities.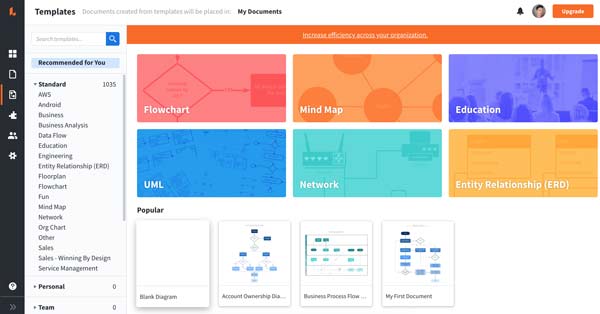 Main Features of Lucidchart
1. Make diagrams and graphics online in a web browser.
2. Include tons of templates to simplify the workflow.
3. Integrate with third-party apps and services, like Google apps.
4. Offer team collaboration functionalities for teamwork.
5. Support working offline with a Google Chrome browser.
6. Use hotkeys to create graphics on Mac.
7. Organize diagrams using Swimlanes.
8. Protect privacy by SAMIL and SSO, Okta, Ping, etc.
9. Add text, shapes, and interactive content to diagrams.
10. Import and export files from other apps, like Visio.
11. Download diagrams as PDFs, images, documents, etc.
12. Produce graphics for embedding into webpages.
Brief Review of Lucidchart
PROS

It allows you to make diagrams online and offline.
The interface has been improved and is more straightforward.
Lucidchart has built-in plentiful object libraries and templates.
The collaboration features are great.
It can work with many apps and services.
Users can link to data in other apps to make diagrams.
It provides a free version and flexible subscription plans.
This tool is available in German, English, French, etc.
CONS

The Lucidchart app is only available online and it lacks a desktop client.
The templates lack education, healthcare, and legal fields.
The free plan is too simple for professional work.
Users cannot share in-progress documents without collaboration accounts.
Some features still need to improve, such as the arrow tool.
The customer service and support are slightly poor and it does not offer any online live chart.
Prices of Lucidchart
Generally speaking, Lucidchart has four plans, Free, Individual, Team, and Enterprise. For beginners, you can sign up for a free account, and try the basic features with some limits. For example, you can only get three editable documents at one time, 100 templates, and basic collaboration features. It lacks the feature of generating charts with existing data.
The Individual plan costs $9.95 per month or $95.40 per year. It unlocks the number of editable documents, templates, and integration features. This plan also supports basic automatic chart generation.
The Team plan starts at $11 per month per user or $108 per year per user. The more users on the account, the lower the per-user rate. With a Team plan, you can get every feature in the Individual account without advanced collaboration features and admin controls.
The Enterprise plan requires custom pricing. It gives users full features including admin controls and automation.
The Bottom Line
Lucidchart is excellent as an online diagramming app. It enables you to do collaborative editing in real-time, and make diagrams with templates, objects, and more. The exporting and publishing options are diverse. It offers flexible plans for a variety of users too.
Part 2: Top 5 Alternatives to Lucidchart
Top 1: MindOnMap
MindOnMap is the best free alternative to Lucidchart. MindOnMap is completely free to use with the full features. It means that you can enjoy all diagramming features without paying a penny.
PROS

Include lots of customizable templates.
Generate charts and diagrams online for free.
Host charts and graphics to cloud servers.
Offer a wide range of useful tools.
Integrate an intuitive interface.
CONS

You need a good internet connection.
How to Use the Best Alternative to Lucidchart
Step 1Visit https://www.mindonmap.com/ in a browser to access the app. Log in to your account. If you do not have one, create a new one for free.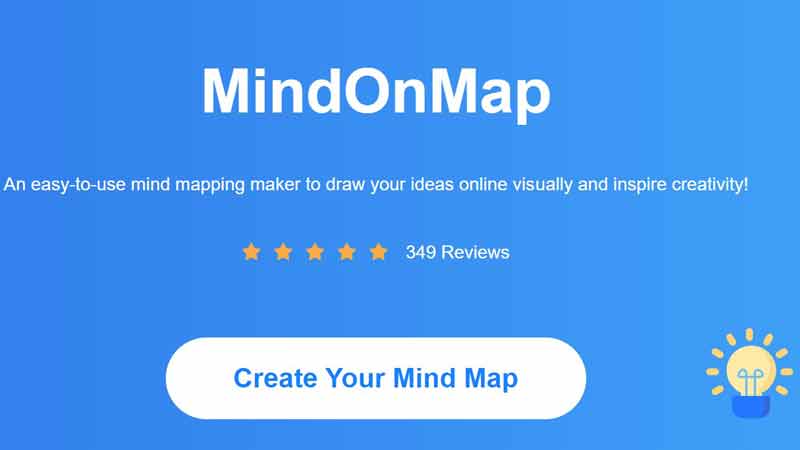 Step 2Click the Create Your Mind Map button to move to the next page. Then go to the New tab from the left side, and choose a proper chart or template to enter the editor page.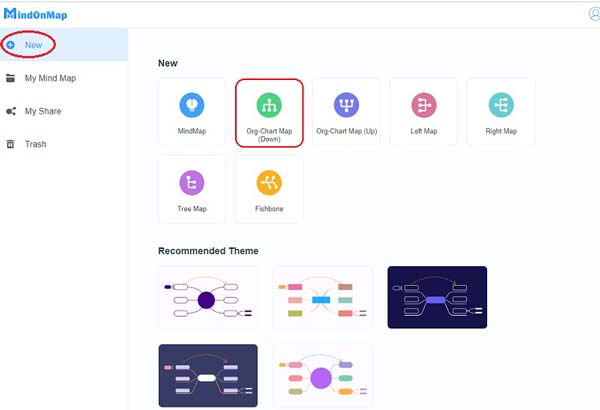 Step 3Now, customize the template with nodes, images, links, and other elements. You can get them on the top menu bar and right toolbar.

Step 4Finally, save the diagram by hitting the Export button at the top right side or publish it by clicking the Share button directly.
Top 2: Microsoft Visio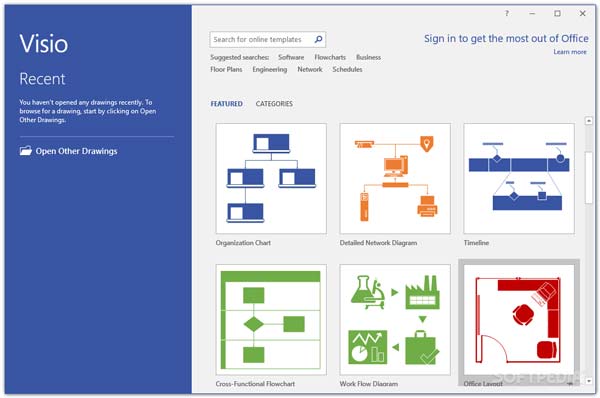 Microsoft Visio is the alternative to Lucidchart from Microsoft released in 1992. It is a part of the Microsoft Office suite. Unlike online apps, desktop software enables you to create diagrams and flowcharts easily.
PROS

Include comprehensive templates.
Integrate with other Microsoft apps.
Support a wide array of export formats.
Come with a clear interface.
CONS

It is expensive.
It is only available for Windows.
Top 3: SmartDraw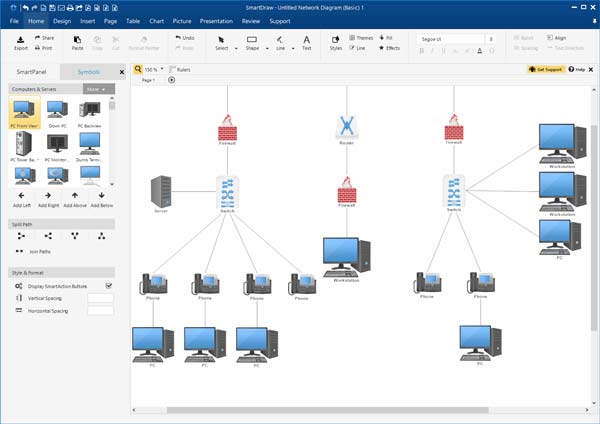 SmartDraw is another alternative to Lucidchart for making diagrams and flowcharts on a desktop. As its name indicated, it is a smart way to draw graphics with high-quality templates quickly.
PROS

Include powerful CAD features.
Sync graphics with Google.
Integrate an intuitive interface.
Automatic draw graphics with data.
CONS

Some features are only available on the desktop version.
The price is high.
Top 4: Draw.io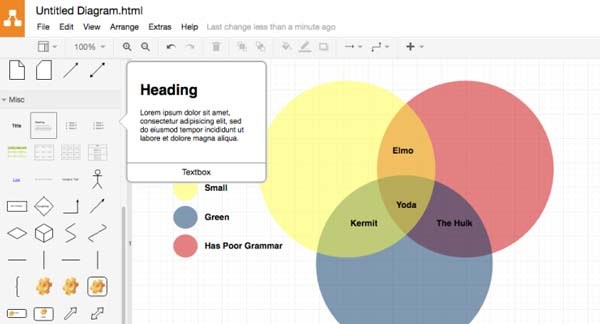 Draw.io is a free alternative to Lucidchart to make and edit diagrams, so it is popular among students. Moreover, it allows you to create high-quality designs, flowcharts, diagrams, and more.
PROS

Free to use.
Include plenty of layouts.
Export plentiful image formats.
Work with Google docs.
CONS

It lacks technical support.
The interface needs to improve.
Top 5: Creately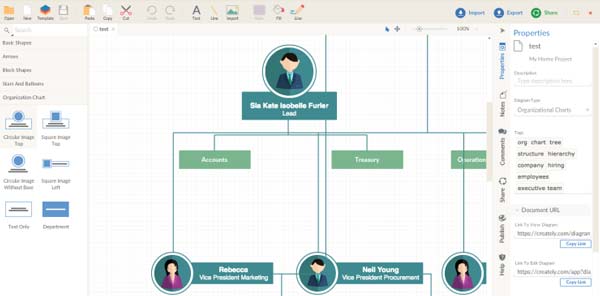 If you need an alternative to Lucidchart to make diagrams with a team, Creately is one of the best options. The cloud-based software is working for small, medium, and large size businesses, and personnel.
PROS

Support real-time collaboration.
Offer web and desktop apps.
Include high-quality templates.
Available to Windows, Mac, and Linux.
CONS

The templates are limited.
It is difficult to cancel an account.
Part 3: FAQs about Lucidchart Review
Is Lucidchart better than Visio?
Yes, Lucidchart is far superior to Visio and other traditional flowchart software. The simple layout, modern templates, easy sharing, and ability to make complex flowcharts make Lucidchart stand out.
Is Lucidchart free to use?
It is not completely free, but it does offer a free version with basic features.
Is Lucidchart owned by Google?
No, Lucidchart is a product of Lucid software company, but you can install it from the Chrome Web Store.
Conclusion
This guide has reviewed Lucidchart, one of the best flowchart makers. You can make the best decision following our review and introduction. If you need a more straightforward option, MindOnMap is a good choice. More any questions about this application? Please feel free to leave a message below this post.