This article will talk about one of the most important visualization tools, the user journey map. Today, users have become the core of each industry. The user journey insights including user experience let businesses improve their products and services, adjust operations, and stand out from the competition. User journey maps draw the experience of your potential users. That makes it essential for business success. Fortunately, you can learn everything you should know about this kind of chart.

User Journey Maps
Part 1: What Is the User Journey Map
What is user journey mapping in design thinking? It is also known as customer journey maps or user experience journey maps. As a significant way to visually structure the information of potential audiences and their experiences, a user journey map draws the process that a user goes through to accomplish a goal while using your product or service.
Main Elements of a User Journey Map
1. The rule of the user, who are your customers and experiences the journey.
2. Scenario. The imagination of the actual journey that a user goes through.
3. Goals. Your customers expect to accomplish this at the end of the journey.
4. Process. A customer decides what and where to buy, how to get there, how to pay for products, get home, how to use the products, and feedback.
5. Opportunities. Generate insights from the user journey.
6. Ownership. Who bears what responsibility during the journey?
Main Elements of a User Journey Map
As the user journey map definition indicated, it draws the entire process of the user journey, produces insights, improves products, attains current customers and gets new customers, and finally succeeds in business. The main benefits of user journey maps include:
1. Create a better user experience.
2. Help customers achieve their goals.
3. Help product teams to improve products and services.
4. Get the big picture of a single user.
5. Discover blind spots and opportunities.
6. Demonstrate user journey to stakeholders.
User Journey vs User Flow
Both user journey maps and user flows are significant in the customer experience industry, but their focus of them is different. A user journey map concentrates on the different steps and scenarios a user will experience. It displays a macro view of the interactions during the process. A user flow, on the other hand, focuses on the actual route that users experience during shopping. It describes the micro view and specific stages.
Part 2: User Journey Map Examples
According to our research, one of the differences between successful businesses and others is the user journey map. Successful businesses are better at making user journey maps and generating insights. We identify some best-designed user journey map examples and templates below.
1. Dapper Apps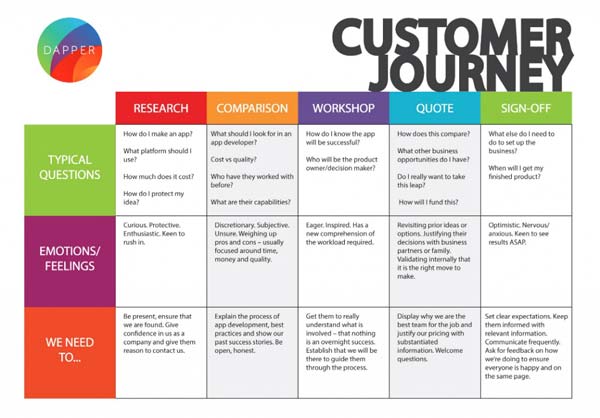 2. IdeaRocket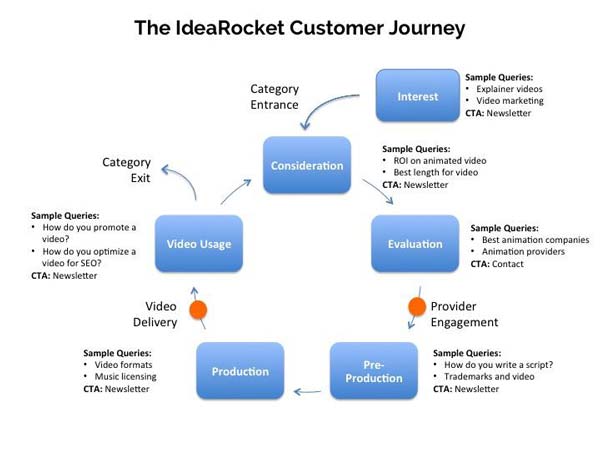 3. Digital Experience Journey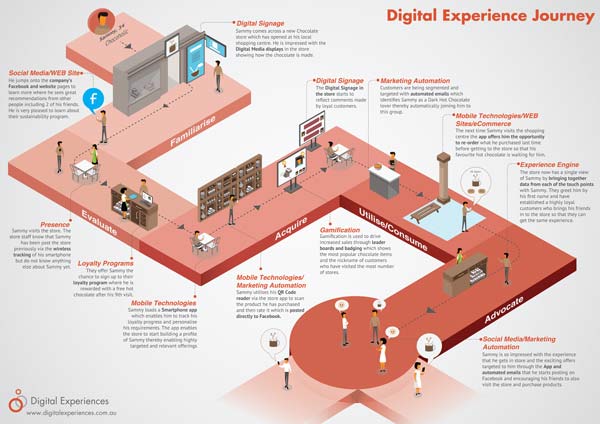 4. Customer Experience Map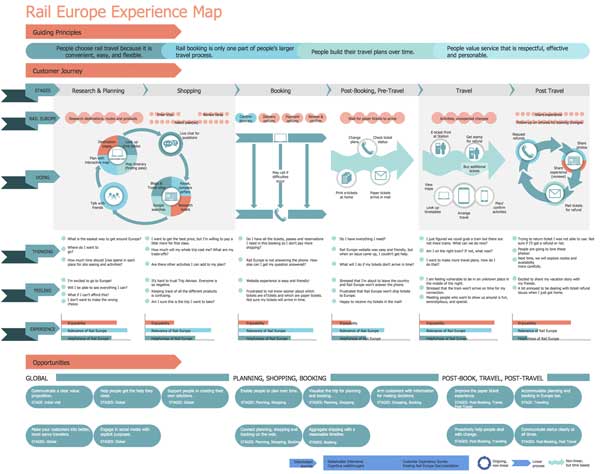 5. Journey Map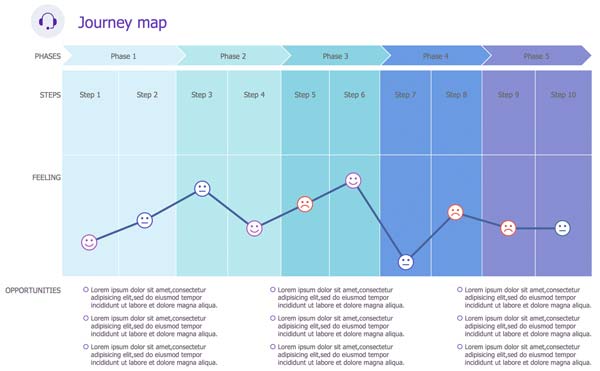 6. Customer Journey Map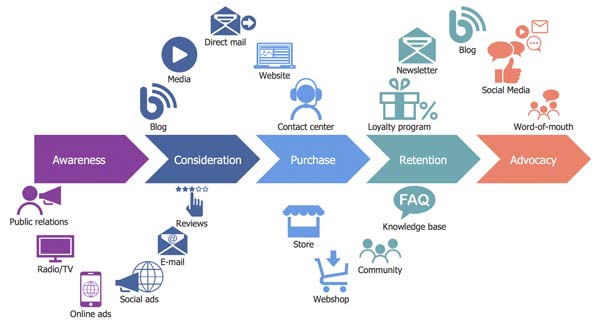 Part 3: How to Make a User Journey Map
When it comes to how to make a user journey map, we divide the process into 7 steps. Firstly, you need to decide on the business goals. The map must align with your business goals and generate valuable insights. Secondly, define the scope of your map or what your map will be. Thirdly, collect data about users' journeys. Next, decide the rule of your customers and the scenario. Furthermore, list all the touchpoints and channels of customer experience. Then consider the emotion or feedback of each stage. Last but not least thing is to draw a user journey map with a proper tool.
MindOnMap, for instance, is one of the most convenient user journey map makers online. It enables you to draw journey maps online for free without signup or other restrictions. It won't add watermarks to your maps. Moreover, users can get lots of templates to simplify the job. Here are the basic steps to visualize your user journey map.
Step 1 Access MindOnMap in a web browser. It is available in Chrome, Firefox, Safari, and other major browsers. Sign into your account. If you do not have one, create a new one with your email address.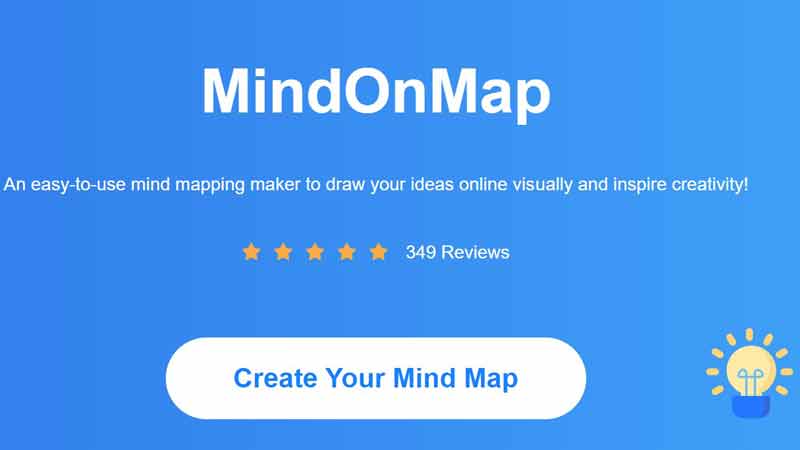 Step 2 Hit the Create Your Mind Map button on the home page. Then click the New menu on the left side, and pick an appropriate template from the right panel.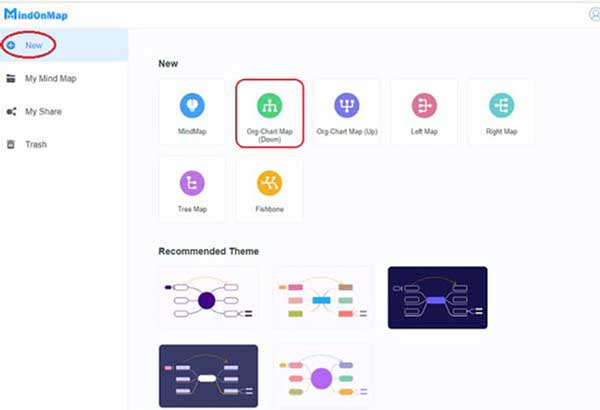 Step 3 Next, you will be taken to the drawer page with the main node in the center. Locate the top ribbon, and add nodes and sub-nodes by hitting the Node and Sub Node buttons. Then arrange them and add relationships between them.

Step 4 If you want to create an engaging user journey map, add images and links from the Insert section on the menu bar.
Step 5 Click and expand the toolbar on the right side, and the tools enable you to decorate your map with colors, icons, fonts, etc.
Step 6 At last, click the Export button and choose a format to save the user journey map. It allows you to publish the map with the Share button.
Further Reading:
What Is Flowchart and The Easiest Way to Make a Flowchart for Beginners
Visme Review – Is Visme Your Best Designing Tool for Business
Part 4: FAQs about User Journey Maps
What is the purpose of user journey maps?
Briefly, a user journey map is used to create a better user experience. That plays a key role in business success today.
What are the types of journey maps?
The main types of journey maps include: A user experience journey map about the user experience of a specific product; A sales journey map follows the buyer's journey; Website user journey map to describe visitors' experiences of a specific website.
Can I make a user journey map in Word?
Office Word is definitely a proper tool to make user journey maps. It includes shapes, lines, labels, and other elements for a journey map. However, it lacks templates and is not suitable for beginners.
Conclusion
This article has introduced one of the important maps, user journey maps. It helps businesses and stakeholders to understand their user experiences, improve the products and services, and finally succeed on market. MindOnMap is the easiest tool to make user journey maps online without paying a penny. More questions about this topic? Please feel free to write them down below.