PDF is a great way to save documents with the format and text locked in place. However, it draws you a hard line on editing a PDF file, e.g., crop.
If you want to crop a PDF file for a uniform format, signature removal, file resize, or other reasons, you have to turn to a PDF cropper for help.
No special tech knowledge is required. What you should do is follow the step-by-step guide as following.

Crop PDF
Part 1. How to Crop a PDF File with Adobe Acrobat Pro
You can adjust the visible page area with the paid services of Adobe Acrobat Pro.
Step 1
Open the PDF file that you want to resize in Adobe Acrobat Pro, choose Tools from the menu, and click Edit PDF to open the toolset.
Step 3
Drag a rectangle on the page that you want to crop, and drag the corner handles to resize the PDF page you want.
Step 4
Double-click the cropping rectangle, then the Set Page Boxes dialog appears, which means the page to be cropped. Click OK to confirm the cropping or make new selections by overriding the crop area.
Step 5
Follow the above operations to crop a PDF page one by one. Alternatively, to crop all the PDF pages in the same cropping size, just set the page range or click All under Page Range.
Cropping a PDF file does not reduce file size because the information is merely hidden, not discarded in Adobe Acrobat Pro. Learn here to compress a PDF file into a smaller size.
Part 2. How to Free Crop PDF Pages with Online PDF Cropper Tools
If you do not plan to spend some dollars on buying Adobe Acrobat Pro, this part is exactly for you.
There are various online PDF cropping tools that can change PDF canvas size and trim margins. What's most important, they are free to use. Without Adobe Acrobat, you can crop a PDF file easily online with the free PDF croppers.
PDF Cropper Tools Online
Sejda Crop PDF Online
Sejda is a free online PDF management tool. It offers almost all editing tools for PDF, like compress PDF, converter PDF, merge PDF, crop PDF, and more.
It offers free services for PDF file pages up to 200 pages or 50MB and 3 tasks per hour.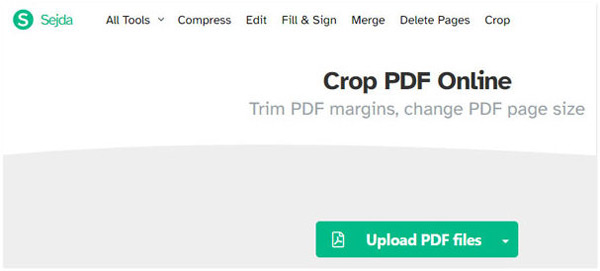 AvePDF Crop PDF
Similar to Sejda, AvePDF is another free PDF manager online. It crops a PDF file at the maximum file size of 500MB. Whether your PDF file is stored locally on Windows or Mac computer, or kept in such cloud services as Dropbox and Google Drive, it can crop the PDF file easily.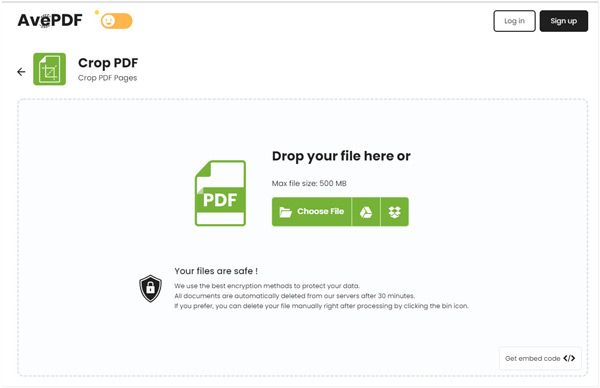 PDFCandy Crop PDF
PDFCandy is a Sejda like software for cropping PDF. Not only working on Windows, Mac, Linux, but also it supports iOS and Android. This PDF scissor cuts the parts of all the pages in a PDF file without any selection of a specific page.

DeftPDF Crop PDF Tool
DeftPDF is another PDF cropper option online. It is free to trim and reduce PDF margins and change the PDF page size by cropping. It can crop the whole PDF document and crop pages individually.
However, the maximum PDF file size is limited to 50MB, and you should compress the large file size into smaller with a PDF compressor before uploading.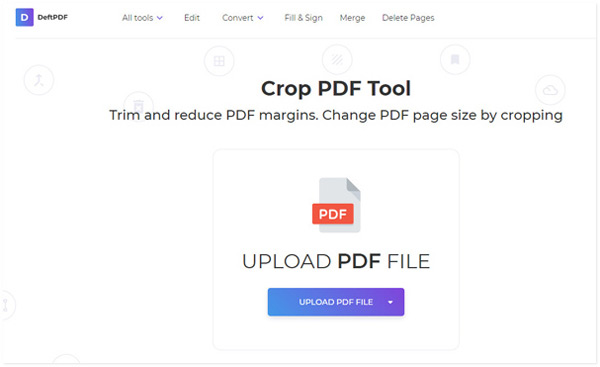 EasePDF
EasePDF is also a free online PDF resizer tool. It is easy and fast to snip a PDF file. It supports batch cropping to upload more PDF files and crop all the pages at one time. Compared with other free online PDF croppers, this tool is 100% free without any size or file number limits.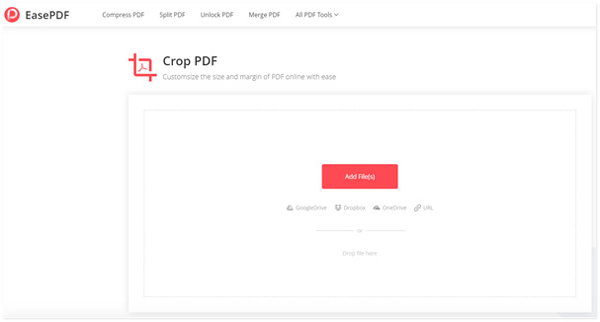 How to Crop a PDF File Online
The above PDF file croppers can help you resize your PDF file to remove the margins or signatures. Here, we will take Sejda as an example to show you how to snip a PDF file.
Step 1
Open this free online PDF cropper (https://www.sejda.com/crop-pdf) on your browser on Windows or Mac computer.
Step 2
Drag and drop a PDF file from your computer, or open it from your cloud service.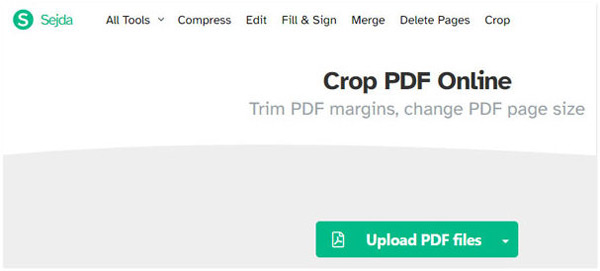 Step 3
Choose the cropping option from Automatic, Automatic maximum crop, or Preview pages & select you want.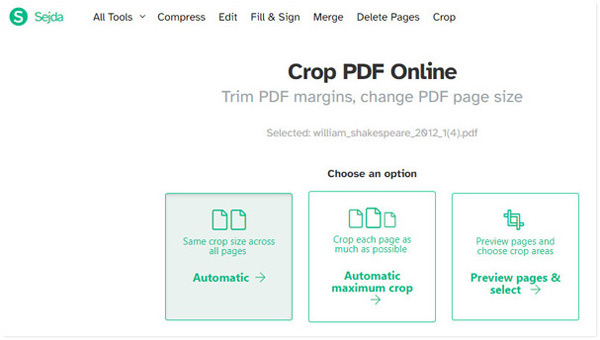 Step 4
Then the first 30 pages of a PDF file will display by Blended, Page by page or Odd & even as you wish.
Step 5
Drag the rectangle to confirm the cropping area and set the cropping size for an individual page.
Finally, click the Crop PDF button to start cropping the PDF file and click the Download button after the process is done to save it on your computer.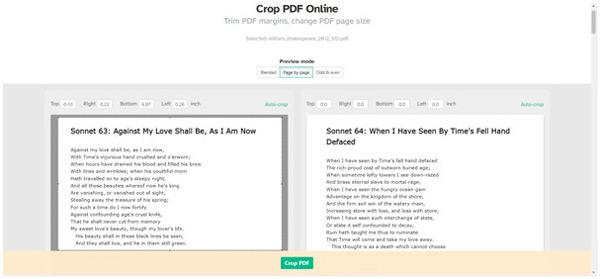 After that, you can open the cropped PDF file on computer or transfer it to iPad iPhone for reading.
Part 3. FAQs of Cropping PDF File
Does Google have a PDF editor?
No. Google Drive does not offer any PDF editing, and you cannot change a PDF layout. To edit a PDF text or change its format, you have to convert PDF to Word for further editing with a PDF to Word converter.
Can I get Adobe Acrobat for free?
The Adobe Acrobat offers a free trial version. With which, you can use the most recent version of the program along with the full functionalities. After the free trial version expired, you should upgrade to its pro version to enjoy the full functions.
Are online PDF tools safe?
It seems not to be safe to upload a confidential PDF file online for cropping. But those online PDF coppers claim that they will delete the uploaded PDF file within hours. You should think twice before cropping an important PDF file online.
Conclusion
There are various reasons for you to crop PDF file pages. This post shares some easy ways of resizing a PDF file with the PDF cropper software. You can use the paid service of Adobe Acrobat Pro to crop the page on your computer. Alternatively, you can upload the PDF file online to cut parts of a PDF file with the free croppers.
No matter which way you choose, you should take care of your important PDF files with confidential information in them.
Do you have other recommended solutions to crop a PDF file?
Let us know by leaving your comments below.