When you edit images, you often need to reduce the noise, especially for some low-light or low-resolution pictures. While in some cases, you will be looking to do just the opposite of that. You like to add some noise or film grain to your image file and get a vintage effect. This post will tell you how to add noise to image step by step.

Add Noise to Image
How to Add Noise to Image Online for Free
Adding noise helps impart a certain emotion to an image. For instance, black and white photographs can look especially great after you apply noise effect to them. There are many image editor apps and online tools that can help you add noise to images. Here in this part, we like to recommend the popular Pixelied for you to add noise to an image online.
Step 1Open your web browser, search for the Pixelied, and then go to its individual Add Noise to Image page. When you enter the page, you can scroll down to view key features of Pixelied's free online photo editor. You can click on the Upload Your Image button to add your picture to it.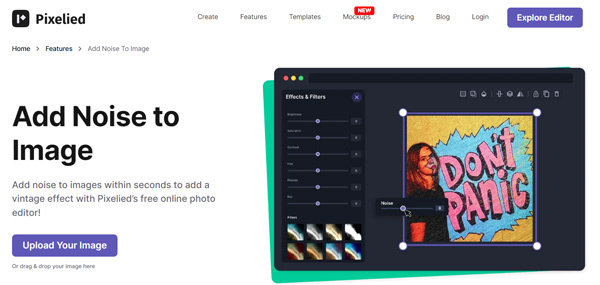 Step 2When your image file is uploaded, you will be guided to its main editing page. On the left panel, you can access the Noise feature under the Effects tab. Just move its button to add noise to your picture. You are allowed to directly view the noise-adding effect.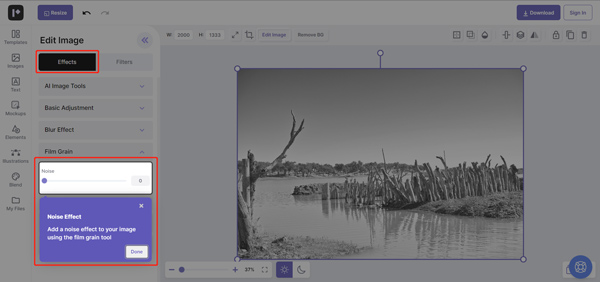 Step 3As you can see, Pixelied also offers other filters, effects, and editing features. You can use them to edit your picture with ease. After that, you can click on the Download button in the upper-right corner to save this edited image on your device. During this step, you can select the output format, adjust its quality, and resize it based on your need.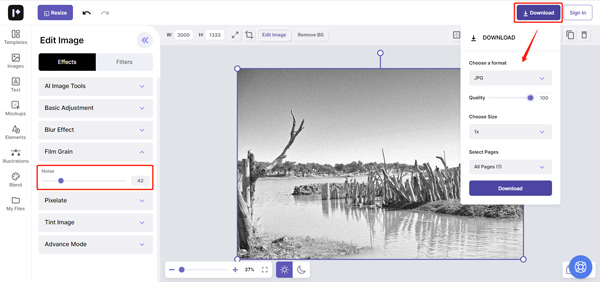 Part 2. How to Add Noise to Image Using Adobe Photoshop
Photoshop is a popular image editor that can help you deal with various editing jobs. When you want to add some noise or film grain effect to your picture, you can rely on it. You can free download Photoshop from its official website and have a 7-day free trial.
Step 1Launch Photoshop, create a new layer, and load your picture onto it.
Step 2To quickly add noise to an image, you can click on the top Filter menu. From its dropdown, click Noise, and then select the Add Noise option. In the Add Noise popup, you can freely drag the Amount bar to control the noise-adding effect. Here you can choose the distribution as Gaussian or Uniform based on your need. Photoshop also offers a Monochromatic option to ensure that the grain doesn't have any color to it.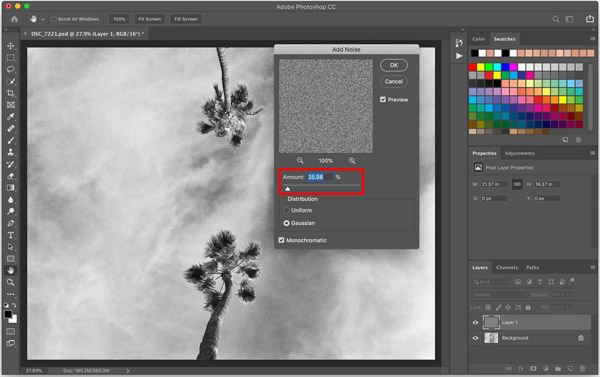 Step 3When you are satisfied with the result, you can click the OK button to save your changes. Select File on the top menu bar and then use its Save feature to store this edited image file on your device.
Part 3. How to Remove Noise from Image Online for Free
If you want to reduce noise from images, you can rely on the easy-to-use Free Image Upscaler. It allows you to remove noise from your photo online for free and enhance its quality. With the adoption of advanced AI technology and deep learning algorithms, it can effectively fix old or low-resolution pictures, get rid of background noise, and upscale it.
Step 1Open a web browser and enter the official Free Image Upscaler website. Click the Upload your photo button to add your image to it. It highly supports all popular image formats, including JPG, JPEG, BMP, PNG, TIF, and TIFF.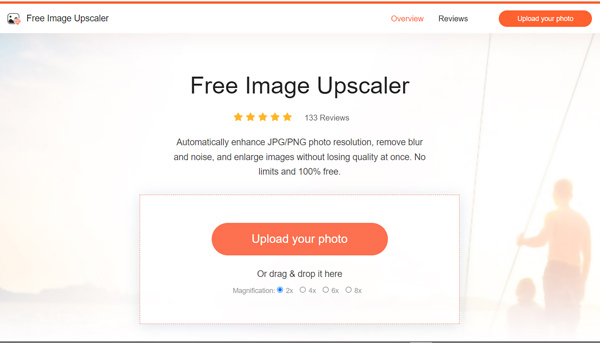 Step 2When the image file is uploaded, it will automatically remove noise from the image and enlarge it to 2x by default. You can view both the source image and the enhanced one. You can also select another size from Magnification according to your need.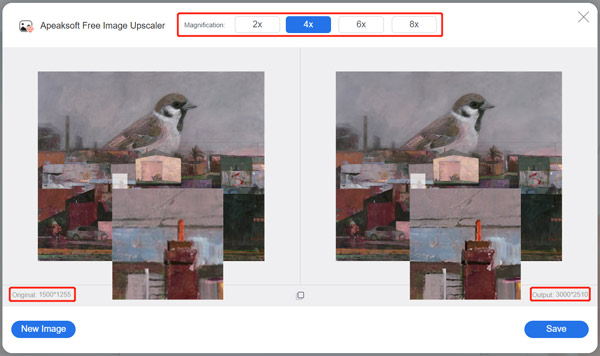 Step 3Click the Save button to save this edited picture without losing quality. You can use it on Windows and Mac computers, iPhone, iPad, or Android phones for free.
Related to:
Part 4. FAQs of How to Add Noise to Image
Question 1. What is the image noise?
Image noise refers to the random variation of brightness or color information in an image. It is generally an aspect of electronic noise.
Question 2. What are the main types of image noise?
Image noise is mainly divided into three main types, random noise, fixed pattern noise, and banding noise.
Question 3. How do you add noise to the image on an Android phone?
Besides using an online image editor like the recommended Pixelied above, you can also use some third-party apps to add noise to your photos on an Android device. You can easily find associated ones in Google Play Store.
Conclusion
In some cases, you want to add noise to images to get a vintage effect. This post shares two simple ways to do that. Also, you can learn how to get rid of unwanted noise from your picture.