An AI photo editor can help you easily enhance the image quality and visual appeal without the hassle of learning. It is specifically designed for those who want to quickly and easily edit images and achieve excellent editing results. Are you searching for an artificial intelligence photo editor?
AI Photo Editor
This post recommends the five best AI photo editors on the market today for you to choose from. You can check their key features and then select your preferred one to edit pictures with advanced artificial intelligence technology.
Part 1. Free Online AI Photo Editor for Computer, iPhone, iPad, and Android
Free Image Upscaler is a popular online photo editor and enhancer that can help you remove noise and blur, enhance colors, increase resolution, highlight focus, resize images, and more. As an artificial intelligence photo editor, it can automatically fix low-resolution photos and improve image quality.
Based on advanced AI technology and deep learning algorithms at your disposal, this AI photo editor can easily beautify your portrait photos and denoise images, improve picture quality, sharpen blurry photos, and restore your old photos to make them HD. It can offer you the relatively best image editing result through dynamic range and sharpness boosting, exposure and white balance adjustment, colors and contrast optimization, and more.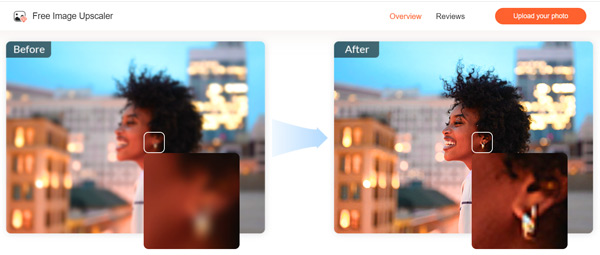 This online AI photo editing tool is totally free. Moreover, it has no limits on your uploaded image file size and format. It supports many frequently-used image formats, including JPG, JPEG, PNG, BMP, TIF, and TIFF. You can use the artificial intelligence photo editor for printing, e-commerce, gaming, and other purposes.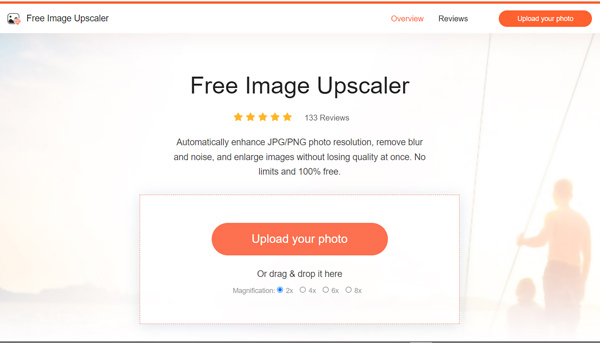 When you want to edit a photo and enhance its quality, you can navigate to the Apeaksoft Free Image Upscaler page and then click on the Upload your photo button to upload your image file. This AI image editor will do various operations to optimize your picture. You can see the source image file and enhanced photo. If you are satisfied with the editing result, you can click the Save button to store the edited photo on your device.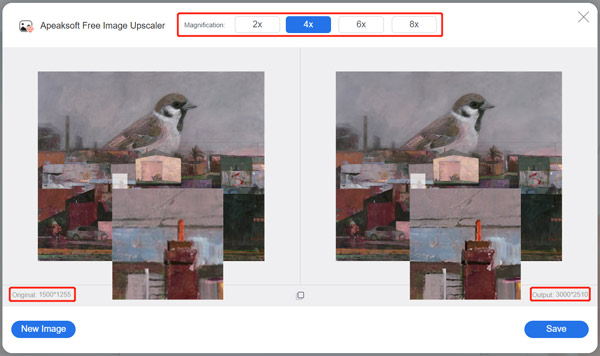 Part 2. Professional AI Photo Editor - Adobe Photoshop
Adobe Photoshop is one of the best and most powerful photo editing software for professionals. As an all-featured AI photo editor, it is equipped with almost all the image editing and creating functions you will need. It is compatible with Windows, macOS, and ipadOS. You can free use it to edit photos for seven days.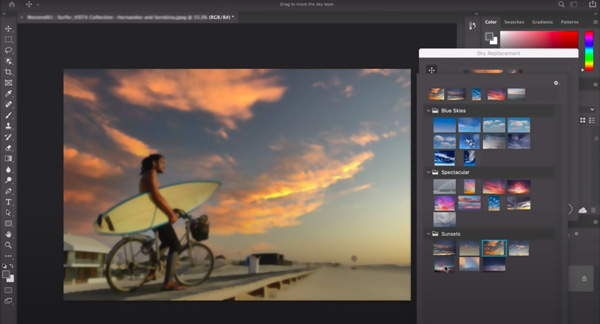 Adobe Photoshop has a new set of useful AI tools to help you retouch and stylize photos. For instance, it enables you to handily change the subject's facial expression, hair thickness and more using its Neural Filters feature. Also, this AI photo editor offers a Colorize filter to automatically colorize black and white photos. It can easily remove unwanted stuff and change your image background to an exotic paradise based on your need. You also can use Photoshop to make an image in high resolution.
Part 3. Online AI Photo Editor - Adobe Express
Adobe Express is a cloud-based image editing platform powered by Adobe Photoshop. It allows you to edit and create professional-quality designs directly on your web browser. This AI photo editor carries many basic editing features for you to edit JPG/PNG/SVG images, videos, and PDF files. For picture editing, it offers specific tools, including background remover, photo resizer, cropper, images converter, and more.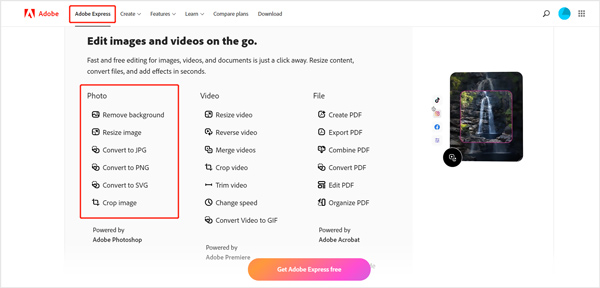 When you want to edit your picture online, you can go to the official website of Adobe Express and then use its features to do that. After you upload a photo to it, you can easily access many image editing options on the right side. As you can see, besides resizing, cropping, and rotating an image, you are also allowed to adjust its effects like contrast, brightness, saturation, shadow, and others. Some advanced features are limited to its Premium version. You can freely use them for 30 days.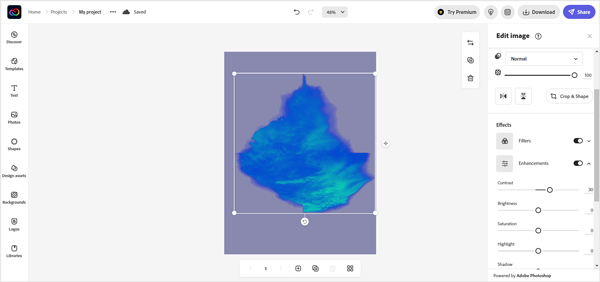 Part 4. AI Photo Editing Apps for iPhone, iPad, and Android Phone
If you want to edit captured photos directly on your portable iOS/Android devices, you can rely on some third-party AI photo editing apps. There are a large number of associated artificial intelligence photo editors offered in the App Store and Google Play Store. You can go there and search for image editor ai to easily locate them. Here in this part, we like to recommend two popular AI photo editor apps for you.
KADA - AI Photo Editor
KADA - AI Photo Editor is an easy-to-use intelligent image processing app for iOS users. It has the capability to accurately identify lots of scenes. With its AI Accurate Recognition feature, it can quickly recognize thousands of objects and match the most appropriate filters and effects packages for you.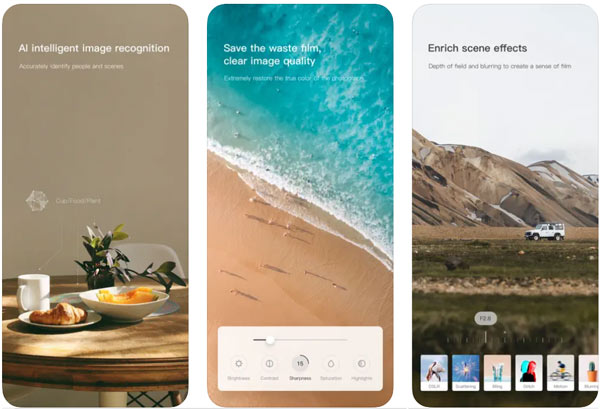 This AI photo editing app gives you a simple way to make multiple parameter adjustments like hue, brightness, contrast, and saturation. What's more, it is designed with many deep editing functions to help you fix shooting mistakes. KADA - AI Photo Editor carries microdermabrasion, bright eyes, and refined facial options for you to beautify your photos. It also offers other advanced effects, such as BlingBling, Floodlight, Faults, and more. You can install it from App Store for free.
YouCam Perfect - AI editor app for iOS and Android
YouCam Perfect is one of the most popular photo editor and beauty camera apps. It provides you with plenty of photo editing and beautifying tools to edit and optimize your pictures with ease. It enables you to improve your photos through various aesthetic filters, templates, stickers, collages, frames, animated effects, face retouch tools, and others. You can use this AI photo editing app on iPhone, iPad, and Android devices.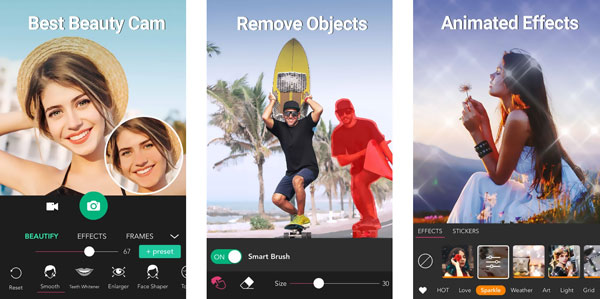 YouCam Perfect is designed with advanced AI features to quickly identify the areas you want to edit. It is specially used for beautifying your selfies. With this AI editor, you can handily remove blemishes, whiten teeth, smooth skin, edit your face shape, slim body, custom background, and do other operations to optimize your photo. In addition, it gives you a simple way to add animated effects to your pictures for posting on different social platforms like TikTok, Instagram, Facebook, and more.
Part 5. FAQs of AI Photo Editor
Question 1. How do you edit a photo on iPhone?
As an iPhone user, when you want to edit a photo and adjust its image effects, you can rely on the built-in editing features in iOS. You can open your picture in the Photos app, tap on the Edit button, and then use related options to optimize it.
Question 2. Can I free edit a picture on my Android phone?
Android does not come with built-in image or video editing functions. But you can rely on the built-in Google Photos app to free edit a picture. Also, you can go to Google Play Store and find a useful app to help you edit photos.
Question 3. Is there a free AI image editor like Photoshop?
Adobe Photoshop is a professional image editor that carries many editing features. When you want to look for a free and powerful photo editing tool like Photoshop, you can give the open-source GIMP a try.
Conclusion
The above 5 AI photo editors can help you edit your photos and improve their quality without doing a majority of the work. You can check the key features of each AI photo editing software and then pick your preferred one to optimize your pictures.