When you want to easily upscale your image resolution, optimize its effects, and enhance the quality, you can rely on some artificial intelligence image editors. There are many image upscaler, enhancer, and enlarger tools offered on the market that can help you enhance images with AI. What is the best AI photo enhancer?

AI Photo Enhancer
This post makes a list of the seven best AI image enhancers for you to choose from. You can check their key features, pros, cons, and other related information. Just keep reading and select your preferred one to edit and enhance your photos with artificial intelligence technology.
Part 1. Free AI Image Enhancers to Edit, Upscale, and Resize Photos Online
There are plenty of online AI image editors offered on the internet that can help you easily enhance your photos and get excellent editing results without the hassle of learning. However, most of them can't give you a good image editing experience due to unsupported formats, file size and feature limits, ads, watermarks, and other issues. Considering that, we like to introduce you to 3 verified online AI image enhancers.
Free Image Upscaler
Free Image Upscaler is an easy-to-use and 100% free online photo upscaler and enhancer. It offers you a one-click way to upscale your image file, optimize it, and enhance its quality. With this AI photo enhancer, you can handily resize your photo based on your need, reduce background noise and blur parts, adjust colors, customize resolution, highlight focus, and more. It requires no account sign-in or sign-up. More importantly, this free AI image upscaler won't add any watermark to your edited photo.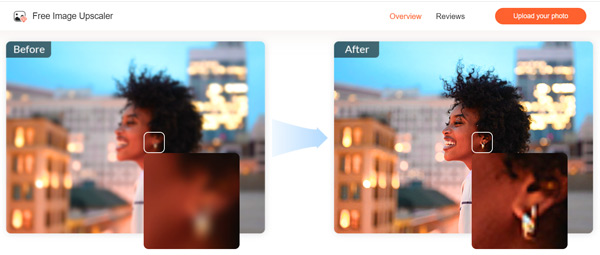 Free Image Upscaler adopts advanced AI technology and deep learning algorithms. It can beautify your portrait photos and restore old photos to high quality with ease. All frequently-used image formats are supported, such as JPG, JPEG, PNG, BMP, TIF, TIFF, and others. You can use it to enhance your pictures on Windows 11/10/8/7 PC, Mac, iPhone, iPad, and Android devices.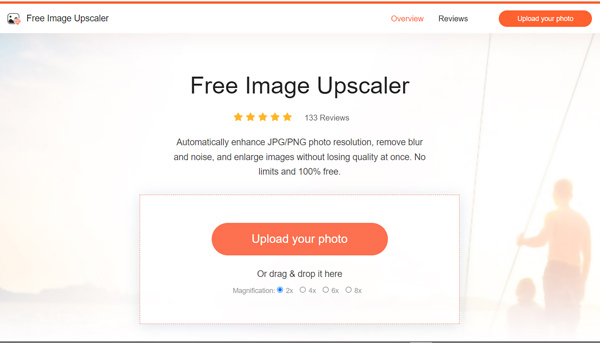 When you want to resize, upscale, or enhance a photo online, you can go to the official Apeaksoft Free Image Upscaler website and then click the Upload your photo> button to add your image file to it. It will automatically start the image enhancement as soon as your photo is uploaded. With dynamic range and sharpness boosting, exposure and white balance adjustment, and color and contrast optimization, it can give you the relatively best image-enhancing result.
To resize a photo online, you can select 2x, 4x, 6x, or 8x from Magnification according to your need. This AI photo enhancer will show you both the source image file and the enhanced photo for comparison.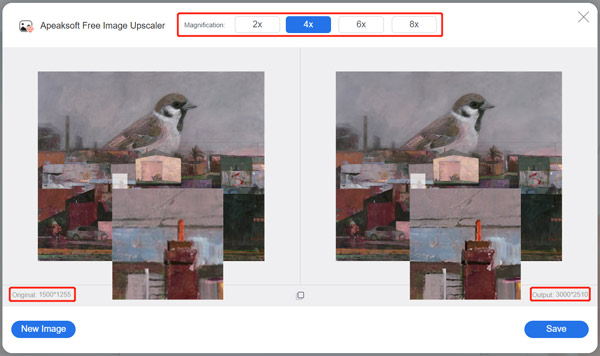 Adobe Express
Adobe Express is a free web and mobile design AI photo enhancer powered by Adobe Photoshop. You can take it as the online and weaker version of Photoshop. It works well on many web browsers, including Chrome, IE, Edge, Yahoo, Firefox, and Safari. It allows you to edit and enhance images in JPG, PNG, PDF, and SVG. It is designed with specific AI tools to resize, crop, optimize, and convert photos.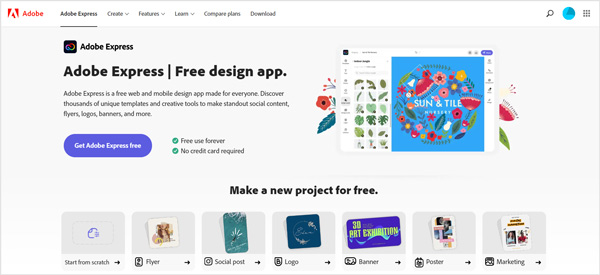 When you get to the Adobe Express website, you can easily access various useful tools from the Features tab. For instance, you can use it to crop, resize, convert pictures, and remove the background from images. After uploading a photo to Adobe Express, you can get various editing options on the right side to edit and enhance your photo. For some advanced features, you can upgrade to its Premium version, and free use them for 30 days. And you can use it to increase photo resolution online.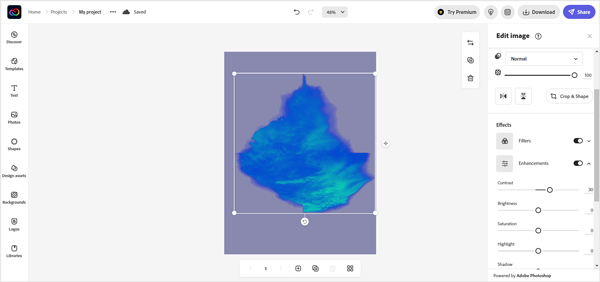 UpscalePics
UpscalePics is specially designed for increasing image resolution using AI image processing. It supports JPG, PNG, and WebP images up to 4500px x 4500px. With its Super Resolution feature, this online AI photo enhancer can clarify, sharpen, and upscale your photo without losing the content and defining characteristics. UpscalePics uses machine learning and AI to quickly analyze your JPEG photo and reduce noise and artifacts. This operation will automatically remove digital noise while maintaining the details.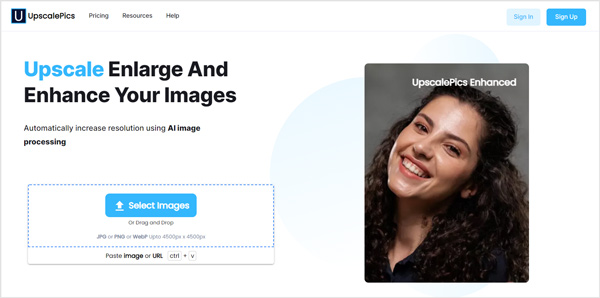 UpscalePics is not a totally-free artificial intelligence photo enhancer. You are only allowed to free upscale five images. After that, you need to buy a subscription to get unlimited images. It enables you to specify a particular width or height or define fixed image dimensions. Moreover, it allows you to output an upscaled full HD image of any file size.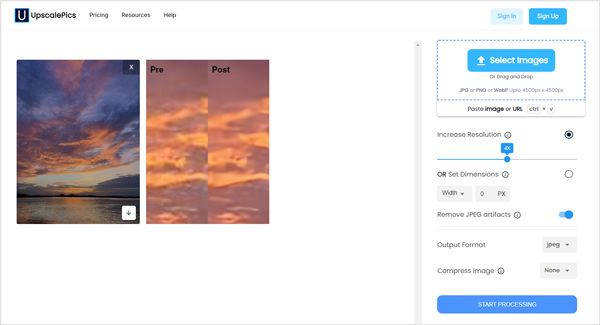 Part 2. Professional AI Photo Enhancer - Adobe Photoshop
Adobe Photoshop will first come to your mind when you search for an image editor. It can be the world's most advanced AI application for creatives. As an all-featured AI photo enhancer, Photoshop carries almost all the image editing and creating features you will need. Surely it is designed with many AI tools for you to easily enhance your photos. You can use it on Windows and Mac computers.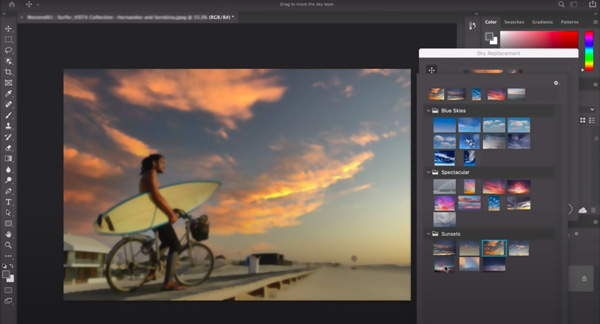 Adobe Photoshop offers a 7-day free trial. During the free trial, you are allowed to use a set of editing functions and AI tools to edit pictures. This AI photo enhancer highly supports almost all image formats like JPG, PNG, SVG, PSD, GIF, PDF, IFF, TIFF, and more. For the AI technology, Photoshop features robust Adobe Sensei AI and machine learning. You can easily access its Neural Filters, Sky Replacement, Discover panel, Refine Edge Selections, and other artificial intelligence features.
Part 3. Open-source AI Photo Enhancer - GIMP
GIMP is a cross-platform image editor that provides you with sophisticated tools to edit and enhance photos. You can use it in Windows, Linux, macOS, and more operating systems. As an open-source AI image enhancer, GIMP allows you to freely change its source code and distribute your changes. So you can easily get many useful AI and Machine Learning Python plugins for GIMP.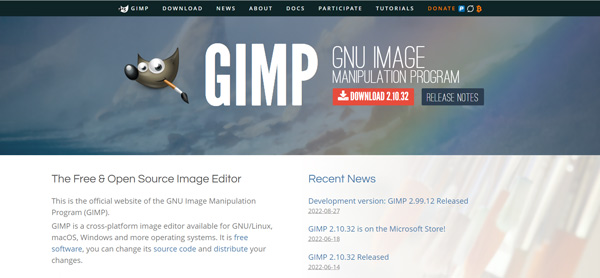 Similar to Adobe Photoshop, GIMP is equipped with many editing features for you to optimize and create images. You can handily click on the Image, Layer, Colors, Tools, and Filters to access them. For instance, when you want to enhance your picture, you can simply click on the top Filters menu, choose Enhance, and then use the related feature you need to optimize it quickly.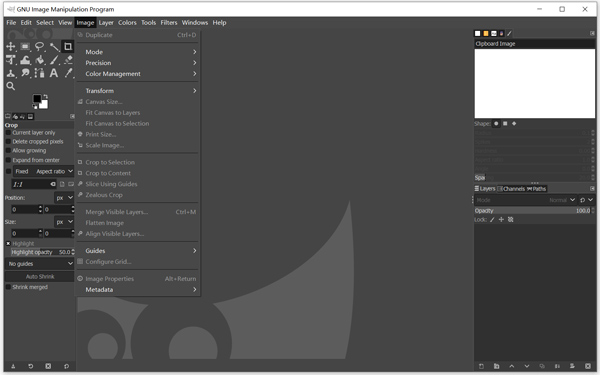 Part 4. AI Photo Enhancer Apps for iPhone, iPad, and Android Phone
If you prefer to directly enhance captured photos on your portable iOS and Android devices, you can turn to some third-party AI photo enhancer apps. There are plenty of associated artificial intelligence photo upscalers offered in the App Store and Google Play Store. Here in this part, we like to recommend two popular AI photo enhancer apps for you.
Remini - AI Photo Enhancer
Remini - AI Photo Enhancer is a popular AI image upscaler app for Android and iOS users. It offers a simple way to turn your old, pixelated, blurred, or damaged photos into high-definition ones within one tap. With its artificial intelligence, you can easily reduce blur, restore, upscale, and enhance your photos. This AI photo enhancer app can increase the number of pixels in your low-quality photos. It also has a web version for you to enhance images online.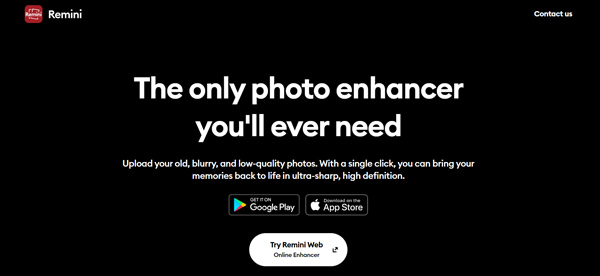 When you want to enhance your photos, you can free install the Remini - AI Photo Enhancer from App Store or Google Play Store first. Then you can add your image file to it and use its state-of-the-art AI technology to optimize your photos. It can accurately detect facial details and reconstructs them. It provides you with a simple way to save a shot where the focus was missed. Some advanced AI features are limited to the premium version.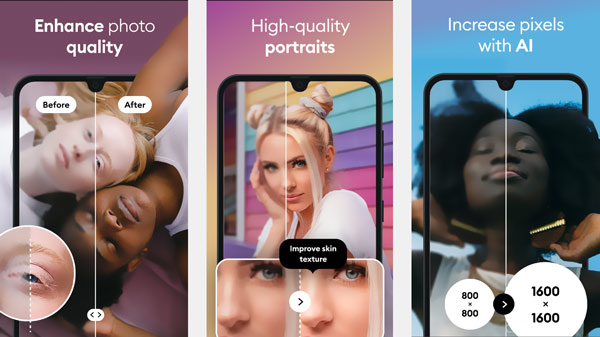 YouCam Perfect
YouCam Perfect is a free AI photo upscaler app that is mainly used to beautify selfies. It offers many commonly-used editing and beautifying tools to help you optimize your photos. You can use it on both iOS and Android devices. Various aesthetic filters, templates, stickers, collages, frames, animated effects, and face retouch tools are designed in this AI photo enhancer app for you to enhance images.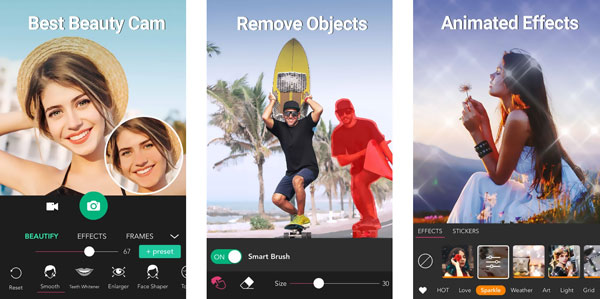 With this AI photo enhancer, you can easily whiten teeth, smooth skin, remove blemishes, slim body, shape your face, custom background, and do other operations to beautify your photos. What's more, it gives you a convenient way to add various animated effects to your photos. After enhancing a photo, you can directly share it on TikTok, Instagram, Facebook, and other social platforms.
Part 5. FAQs of Artificial Intelligence Photo Enhancer
Question 1. Does iPhone have a built-in AI photo editor?
iOS comes with many basic editing features in the Photos app for you to quickly edit your photos and videos. You are allowed to freely crop, rotate, and flip a photo, customize its brightness, contrast, and shadow, and apply different filters. In the new iOS 16/17, Apple adds more AI tools like the Visual Look Up feature to help you better edit your photos.
Question 2. How to free edit a photo on an Android phone?
As an Android user, you can rely on the built-in Google Photos app to free edit your pictures. Also, you can find some useful AI photo enhancer apps in the Google Play Store.
Question 3. Is there any image editor like Photoshop but free?
Adobe Photoshop is one of the most powerful image editors that carries almost all the editing features you may need. In that case, Photoshop is quite expensive. If you want to get a free Photoshop alternative that is also equipped with many editing functions, you can try using the recommended GIMP.
Question 4. How does an AI photo enhancer work?
An AI photo enhancer uses artificial intelligence and machine learning to improve the quality of your photos with ease. You can simply upload your image file to it and let AI do the editing work. Generally, it will analyze your picture, accurately detect the blur or noise part, reduce blur and sharpen the focus. Also, an AI photo enhancer can quickly optimize the colors or effects of your photo based on your early editing operations.
Conclusion
Here in this post, you get the seven best AI photo enhancer recommendations. You can check their key features and select your desired one to optimize and enhance photos on your devices. If you have any other good AI photo editors, please share them in the comment with other readers.