The most fundamental element and the most critical one about digital photos is clarity, especially for your selfie. If your photo looks blurry, your image will also be affected. Why not try and use an image resolution enhancer to make your picture clearer? Some of the best image resolution enhancers are even equipped with AI technology that increases the resolution of all your images including selfies, old photos, and blurry memes from the Internet. Consider the 5 best online resolution enhancers and check their detailed features below.

Best Image Resolution Enhancer
Part 1: Top 5 Image Resolution Enhancers Online
What is the quickest way to upscale your photos? The answer must be the online image resolution enhancers. Online enhancer offers you quick and easy-to-access service. Whether you are using a mobile phone or computer, you can easily turn to an online tool for help. Hence, take the 5 best image resolution enhancers below into consideration and check out their main features as well.
Top 1: Apeaksoft Free Image Upscaler
Free Image Upscaler is a free photo resolution enhancer from Apeaksoft. This online enhancer is totally free and has no watermark. You can upscale your picture's resolution without any quality loss. Besides, you can use this website every day for free since there is no limitation on your file numbers. Within a few clicks, your blurry pictures will be fixed and upgraded perfectly.
Price: Free
More Features:
Support uncommon image formats like BMP.
Allow batch upscaling for photo resolution.
Fix picture quality with AI and deep learning algorithms.
Remove blur and noise in the picture to make it clearer.
Step 1Go to the website of Free Image Upscaler. In the middle of the page, choose an enlargement option or not, this will also upscale your photo size. Then, click the Upload Your Photo button to import an image.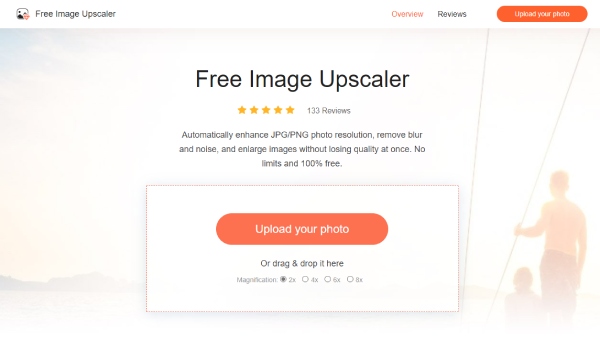 Step 2Choose an image from your folder in the pop-up window and click the Open button to import. Once you successfully upload the images, this upscaler will automatically start processing and increasing resolution.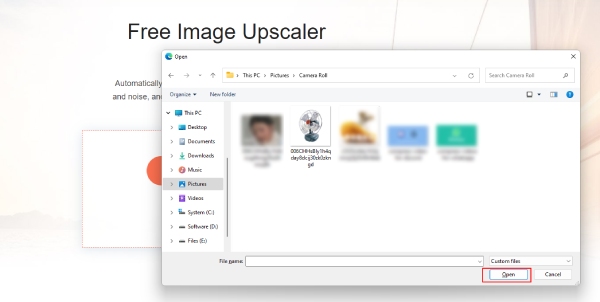 Step 3After the loading process finishes, you will see the comparison between the old image and the upgraded one. Click the Save button on the right corner to download it to your computer.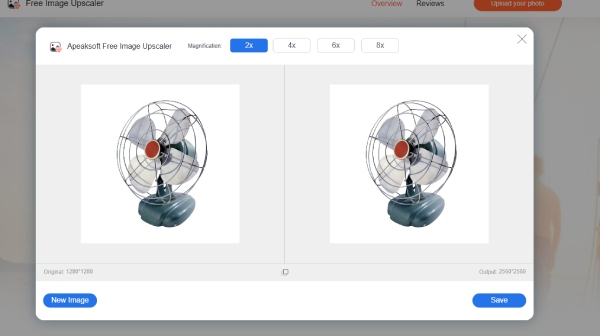 Top 2: Canva – Image Enhancer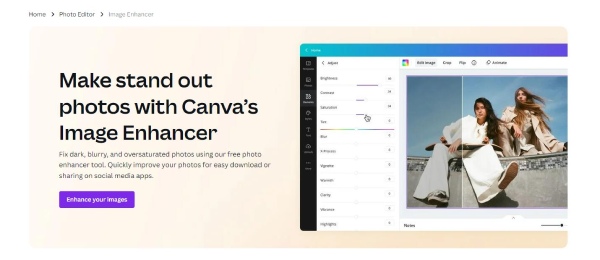 Canva is a professional photo editor that has plenty of features including enhancing your images. Therefore, Canva can also work as your resolution enhancer. By tweaking the settings, you can improve the clarity of your picture to a certain degree as you wish. You need to sign in to upload images. And the only con of this enhancer is that it might be too professional for beginners.
Price: Free
More Features:
Fix dark, blurry, and oversaturated photos.
Offer specific solutions to improve image quality.
Adjust photo clarity with great flexibility.
Top 3: Zyro – AI Image Upscaler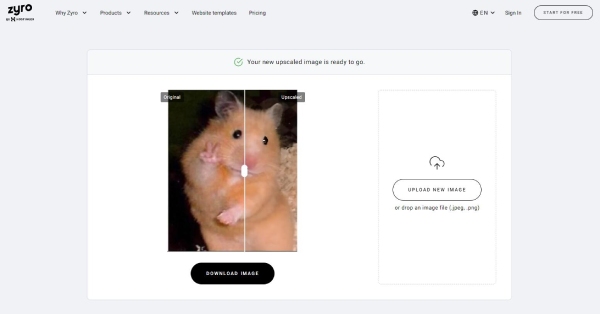 Zyro, another online resolution enhancer, allows you to increase photo resolution online for free. Zyro also uses artificial intelligence for upscaling images with unlimited service. But, for image formats, it only supports the common ones like JPG and PNG.
Price: Free
More Features:
Integrate AI API tools into your app for better workflow.
Enhance image resolution in a few seconds.
Increase resolution for only one picture at a time.
Top 4: Deep Image AI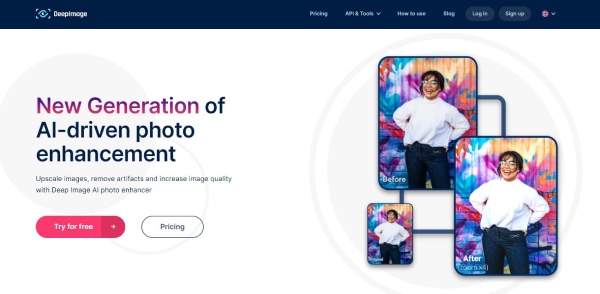 How to fix a blurry picture? Go to the Deep Image AI website for help and upscale your pictures in this resolution enhancer within a minute. As a new user, you can get a free trial and upscale 5 photos only. For businessmen, you can also apply the API from this website to your own work and improve resolutions for website images.
Price: Free trial – five photos with a watermark
At least 7.5$ per month for more file accessibility.
More Features:
Make your picture look more sharpened for product display.
Correct color and light for badly taken photos.
Remove image background while upscaling with AI
Top 5: Cutout.Pro – Photo Enhancer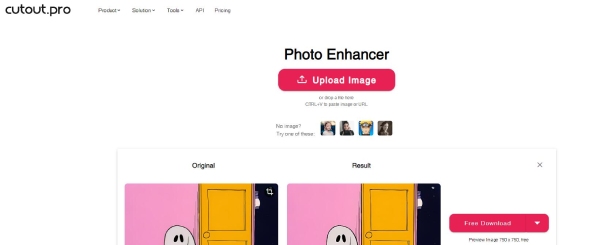 The last best image resolution enhancer on the list is the Cutout.Pro who also claims to improve your image resolution without losing quality. This also helps you see everything in detail in every picture you have. This enhancer employs computing technology to add pixels to your picture for better clarity and make images cleaner and sharper.
Price: Only free for preview.
More Features:
Enhance photo resolution for different scenarios.
Provide image examples to practice photo enhancing.
Improve image quality both online and offline on smartphones.
Part 2: Comparison of Online Best Image Resolution Enhancers
| | Price | Image Format | Max Resolution | Account Needed |
| --- | --- | --- | --- | --- |
| Free Image Upscaler | Free | JPG, JPEG, PNG, BMP, and WebP | 3000*3000 | No |
| Canva | Partly Free | JPEG, PNG, WebP, and HEIC/HEIF | 10000*10000 | Yes |
| Zyro | Free | JPG and PNG | 750*750 | No |
| Deep Image AI | Paid | JPG and PNG | 5000*5000 | No |
| Cutout.Pro | Partly Free | JPG, JPEG, PNG, and WebP | 750*750(free) 2160*2160(paid) | Yes |
Through the chart above, you can see a clear comparison of the 5 best image resolution enhancers from 4 aspects: price, supported image format, max resolution, and if the account is required. Then, you can find that among all the best enhancers, the Free Image Upscaler is the most convenient one, supporting relatively more image formats and requiring no sign-up while offering free service.
Part 3: FAQs of Best Image Resolution Enhancer
Which is the best image resolution enhancer for the computer?
Whether you are using Mac or Windows, Photoshop is undoubtedly the best resolution enhancer you can find for your images. It is a professional image processor software for computer users and takes care of all the details when upscaling images.
Is it possible to upscale the image to 4K?
Yes, it is. If you want to change your image to 3840*2160(4K) online, Canva, as one of the best image resolution enhancers, can help you out. But you can not see the exact resolution when upscaling in Canva, so you can use Photoshop on your computer and enter the exact resolution you want.
Which is the best resolution enhancer for Android?
Picsart might be the answer you are looking for. This is a professional editing application accessible on Android. The Resize tool in this application enables you to precisely adjust and upscale the resolution of an image.
Conclusion
In the end, you can clearly know which is the most suitable image resolution enhancer for you through the main features above as well as the comprehensive comparison among the 5 online resolution boosters. If you want a free enhancer that can upscale pictures in many formats without quality loss and sing-up demand, Apeaksoft Free Image Upscaler is the best one for you.