Want to increase your image quality but don't know which photo enhancer you should use?
Suppose that you don't would like to install any third-party image editor on your device or only have a few pictures to enhance, you can turn to some free image quality increasers online. The thing is, there are plenty of online image quality increasing tools offered on the internet, and most of them are not totally free. Considering that, this post lists the three best online image enhancers for you to choose from.

Best Photo Enhancer Online
Part 1. Best Image Quality Increaser Online - Free Image Upscaler
You may face the situation that the online image quality increaser you are using only allows you to edit several pictures. Or the free photo enhancer has some feature or file size limits. You can't get a good user experience. So here in the first part, we like to introduce you to a 100% free image enhancing tool, Free Image Upscaler. This tool supports any common-used image formats, including JPG, JPEG, PNG, SVG, BMP, TIF, TIFF, and others. More importantly, it is totally free and requires no account sign-up or sign-in. You can directly start your image editing on your web browser.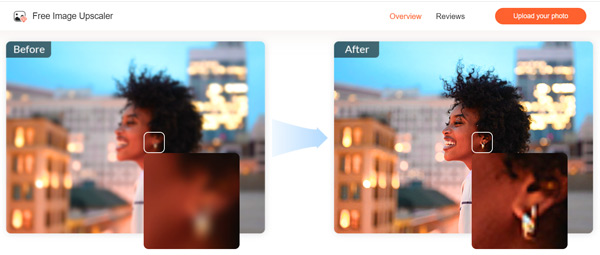 Free Image Upscaler is designed with advanced AI technology and deep learning algorithms. After you upload your photo, it will immediately analyze the image, reduce noise and blur, adjust its colors, adjust exposure and white balance, highlight focus, upscale resolution, and do other associated work to optimize it. You can easily get a great image-enhancing result without complex operations. All you need is to open this free online photo enhancer on any web browser of your computer, iOS, or Android device and upload your photo to it.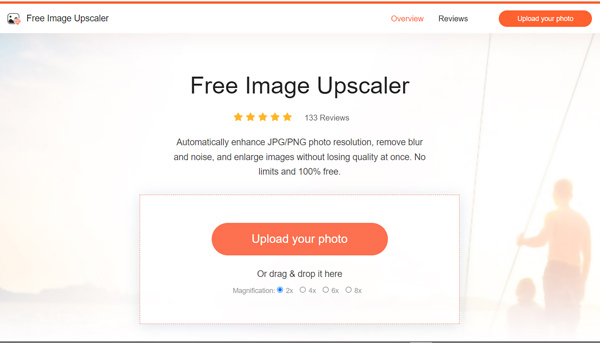 You can select 2x, 4x, 6x, or 8x from Magnification to easily resize your picture and upscale resolution. This online image quality increase will show you both the source photo and enhanced image for you to compare. If you are satisfied with the photo you edited, you can simply download it on your device without any watermark.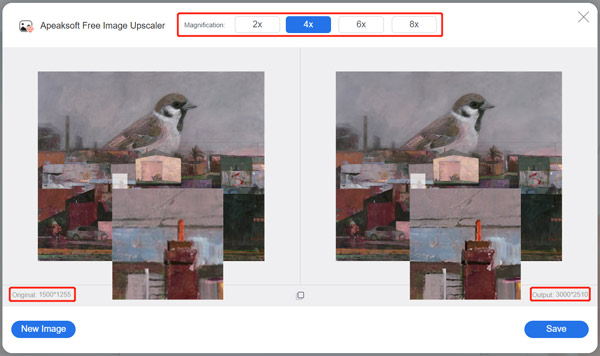 Part 2. AI Photo Enhancer Online - BeFunky
BeFunky is an all-in-one online image creative platform that carries many useful functions for you to edit photos, create graphic designs, and make photo collages. This image editing and design tool have an individual Online Photo Enhancer to help you enhance images. BeFunky's online image enhancer uses complex photo editing tools to correct colors, balance exposure, and optimize the image.

BeFunky Online Photo Enhancer is powered by the latest Artificial Intelligence technology. Moreover, it has paired with unrivaled photo editing expertise to ensure you easily get a great photo enhancement. When you enter its website and upload your photo, you can handily correct low lighting issues, enhance contrast, balance image exposure, adjust highlights and shadows, and more. Using its AI Image Enhancer, you can simply drag the amount bar to enhance your photo.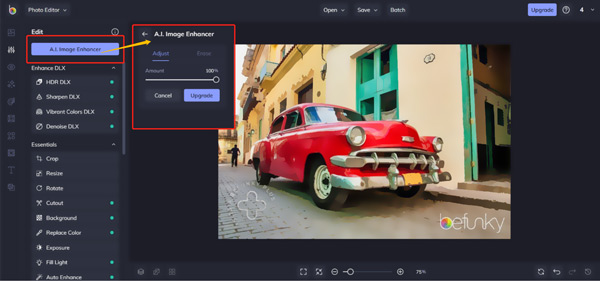 You can also get many other options to enhance DLX and edit your image. All these features are listed on the left panel. You can scroll down to find your needed one and use it. However, most advanced functions, including the AI Image Enhancer and Enhance DLX, are limited to its Plus version. You have to get the paid version to use them. If you are using its free features, your output image file will be inserted into a funky watermark.
Part 3. Free Online Photo Enhancer - UpscalePics
UpscalePics> is a free online image quality increase tool that is mainly used for increasing image resolution. You can use all its features to enhance five photos. After that, you are required to purchase a subscription to break the limit. This online photo enhancer is compatible with JPG, PNG, and WebP images up to 4500px x 4500px. It is designed with a Super Resolution feature to help you can clarify, sharpen, and upscale images without decreasing the content and defining characteristics.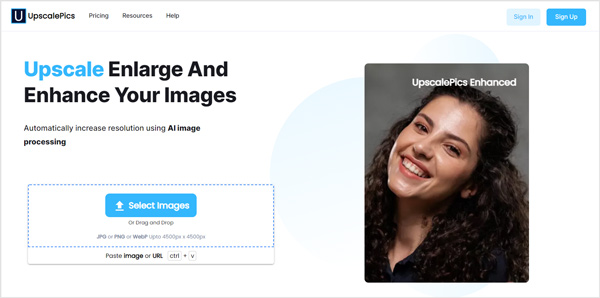 After you upload your photo to this online image quality increaser, you can freely move the Increase Resolution bar or directly set dimensions to upscale the image. Also, you can select a suitable output format for your enhanced photo and decide if you want to compress it based on your need.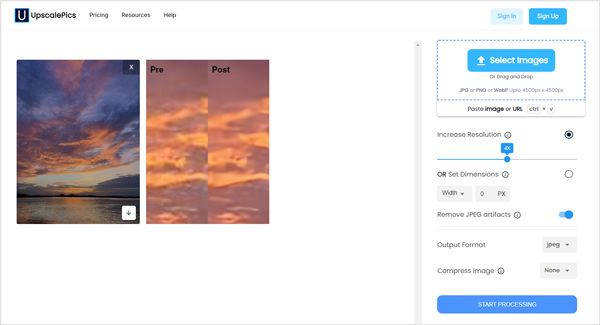 UpscalePics uses AI technology and machine learning to analyze your photo, reduce noise and artifacts, and finally output an upscaled full HD image. Compared with other online image enhancers, UpscalePics takes a relatively long time to process and edit your photo. While the free trial of this online photo enhancer won't add a watermark to your edited image file.
Part 4. FAQs of Image Quality Increaser Online
Question 1. Can you enhance a photo on iPhone?
iPhone has many commonly-used editing features in the Photos app. It does not offer a built-in photo enhancer or a specific enhancement option for you to increase the image quality. But you can use its Auto, Exposure, brilliance, highlights, shadows, contrast, brightness, saturation, vibrancy, warmth, sharpness, definition, and others to optimize your photo manually.
Question 2. How to upscale a picture and enhance its quality in Photoshop?
You can open your picture in Photoshop, click on the top Image menu and then select the Image Size option from its dropdown. Now you can customize the pixel dimensions, document size, or resolution in the Image Size dialog box according to your need. To enhance a photo, you can use the features in Adjustments, Auto Tone, Auto Contrast, or Auto Color.
Question 3. How do you enhance a blurry photo?
You can use the recommended online photo enhancer like Free Image Upscaler to help you fix a blurry photo. Also, you can go to Adobe Photoshop and use its Sharpness to reduce blur.
Conclusion
When you choose to enhance a picture online, you can try using the three recommended free image quality increasers online above. If you still have any questions about the online image enhancement, you can leave us a message.